Things to do in Sapa
Sapa, a long forgone French hill station in Lao Cai should be on your bucket list during your Vietnam trip. Sapa is 380 KM northwest of Hanoi and can easily reached by a comfortable train journey in 8 hours. Overlooking the gorgeous Muong Hoa valley in the foot of Mount Fansipan, and surrounded by the tribal villages, this green marvel is a treat for the eyes and must not be missed! The post Things to do in Sapa appeared first on A Walk in the World.
It was the month of December in the northern hemisphere, I alighted from the train in Sapa (or Sa Pa) in Vietnam. This overnight sleeper train brought me there from Hanoi in less than 8 hours. Had it been to Europe or in the USA, I might have seen snow outside. In Southeast Asia, that's a rare thing. However, one thing didn't change. It was chilly with dense fog all around. With a heavy bag in my back, I prepared to explore Sapa on my own and it was a great couple of days for me. Based on my experience, I have listed the top things to do in Sapa for you!
Learn about how to go to Sapa from Hanoi by Train
Trekking Mount Fansipan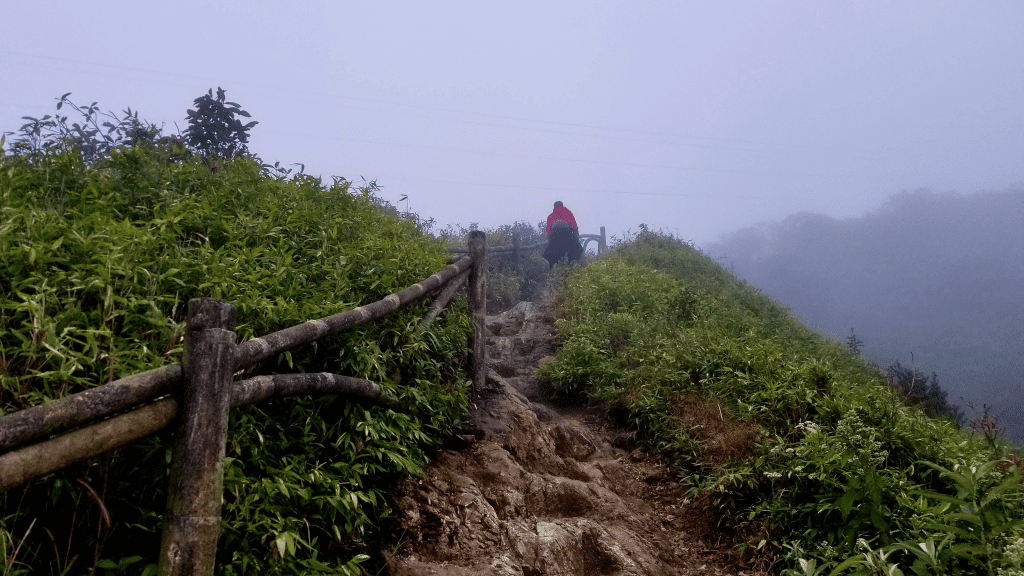 Mount Fansipan is the highest mountain not only in Vietnam but in the entire Indochina region. Trekking to this 3,147 meters high mountain might be not as attractive as trekking some high-altitude mountains like ABC Basecamp, but, it's highly popular for two reasons. Number one is the ease of the hike – anyone with a relatively good fitness level can do this trek. Number two is the shorter amount of time it takes to complete the trek. You can complete it in one or two days. The starting point for this trek is Sapa and you will get some good views of the green mountains. You have to go through a jungle, climb up the stairs, and stay overnight in a basecamp. While getting down, I suggest you take the cable car. It will add a different perspective to your trek. See the photos and read my trekking guide to mount Fansipan from here.
Book your guided trek to Mount Fansipan
Visit a village in Sapa
Sapa town is nothing special, it's as yet another typical small town in Southeast Asia. What makes it interesting is the beautiful villages near the town. The most prominent of them is Cat Cat village (20 minutes walk from the town) and Ta Van village. A good way of exploring the village is by hiking. You can also take a bicycle for a ride (motorbike is not usually allowed). Besides, many people stay overnight in a homestay or boutique hotel to get a taste of the lifestyle of the local tribes. You can shop, taste wines, see the lifestyle of the villagers, and enjoy waterfalls in the village. This gives a fantastic opportunity to spend time with nature.
Book your guided tour in Cat Cat village
Silver Waterfall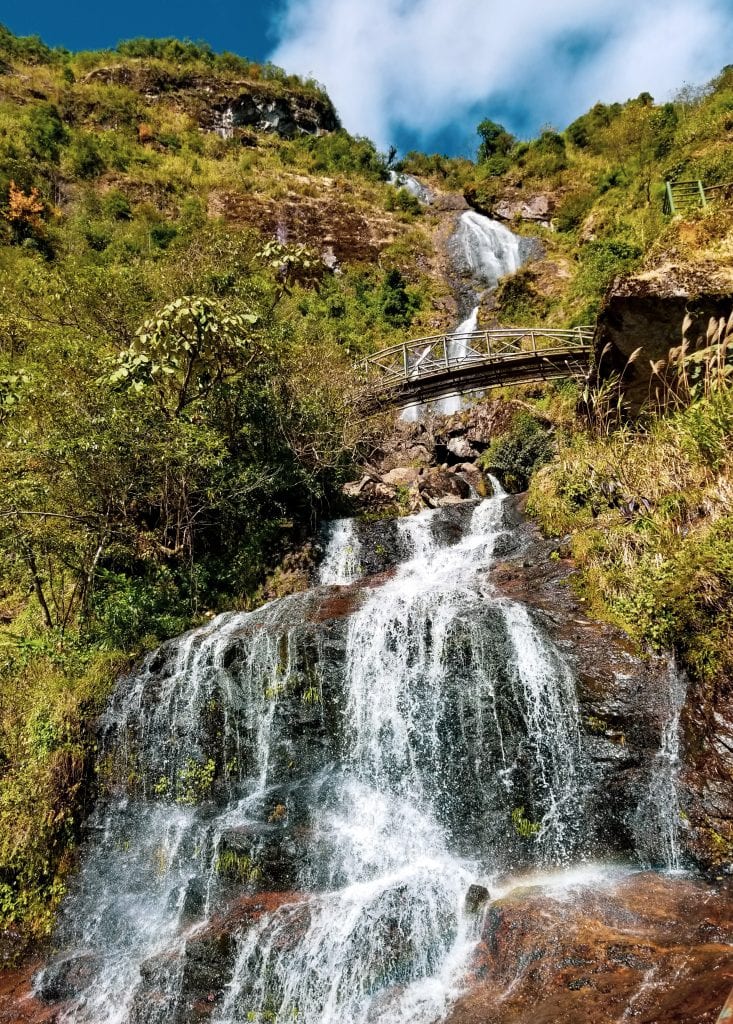 Silver Waterfall or Thac Bac Waterfall is a three-tiered waterfall and one of the most popular waterfalls in Vietnam. If you drive for half an hour to the north of Sapa, you will reach this waterfall. I suggest renting a bike as it will present you with some fantastic sceneries along the way. The entrance of the waterfalls is from the roadside, so, you don't need to hike further. You will find people selling their stuff in the street just at the entrance. You need to buy a ticket for entering the site. Walk further, you will reach a small arched bridge. Enjoy this 200 meters high silver waterfall from there and request people to take your photo on the bridge from down. This is the most photogenic place in the waterfall. This area will also present a great view of the surrounding mountains.
Entrance fee of Silver Waterfall
20,000 VND/US$ 0.90/Euro 0.70
Book youe Silver waterfall trip from the town.
Taste the street foods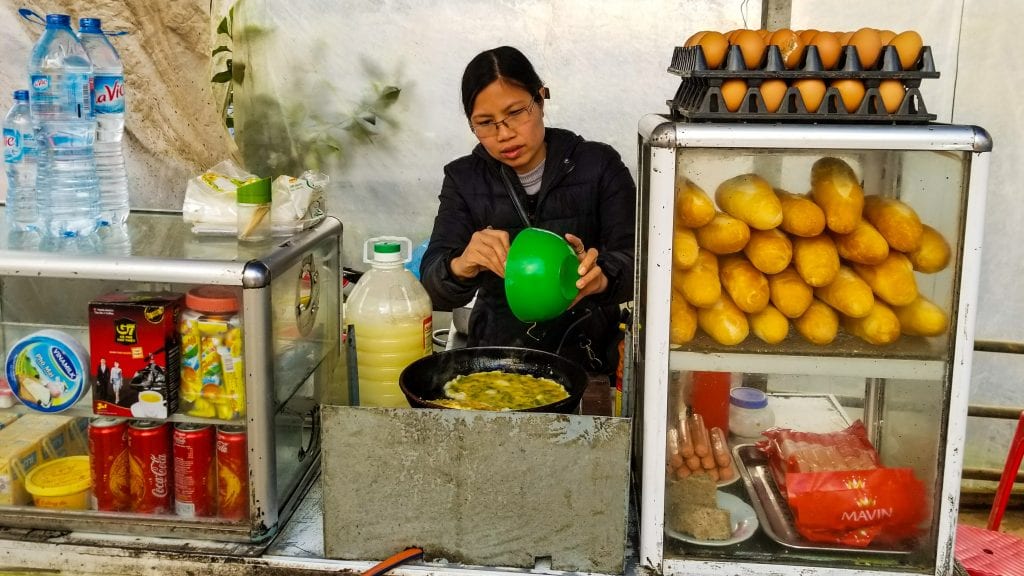 When you will be in Sapa, don't waste your money by going to any expensive restaurant. This is specifically true during breakfast. As long as I was there, I had my breakfast from the street. The eggs inside a bun were my most favorite. It's clean, cheap, healthy, and enough to take you over for several hours.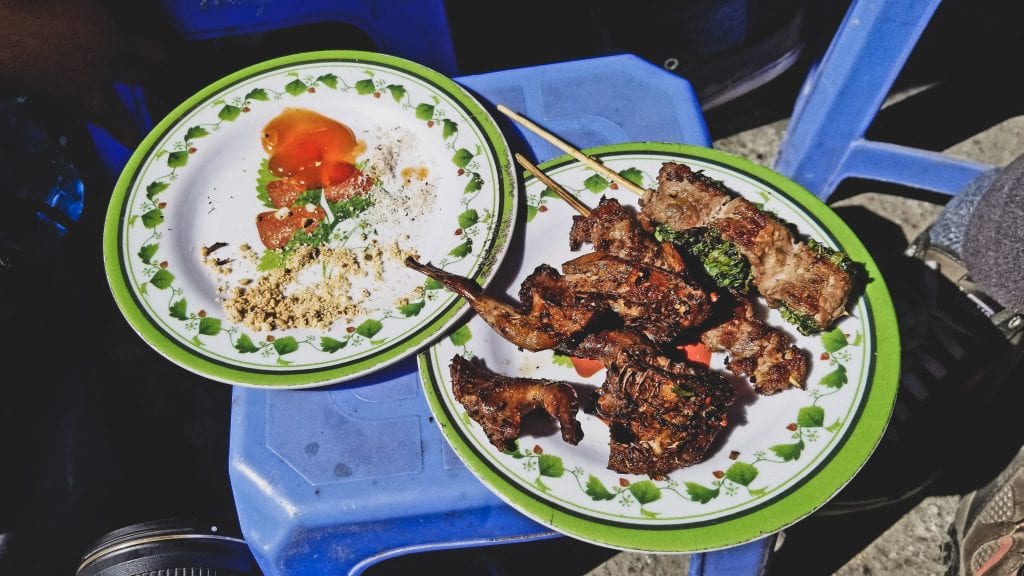 You will also find a variety of grilled food. They are made with different spices and with a stick attached to them. I ate chicken and birds mostly. Pork and vegetables were also available. Do not forget to try colorful sticky rice (Xôi Bảy Màu), bamboo tube rice (Cơm Lam), smoked water buffalo flesh (Thịt Trâu Hun Khói), and the delicious salmon hotpot (Lẩu Cá Hồi). You will find most of the foods mentioned here at Ham Rong Street.
Visit Tram Ton Pass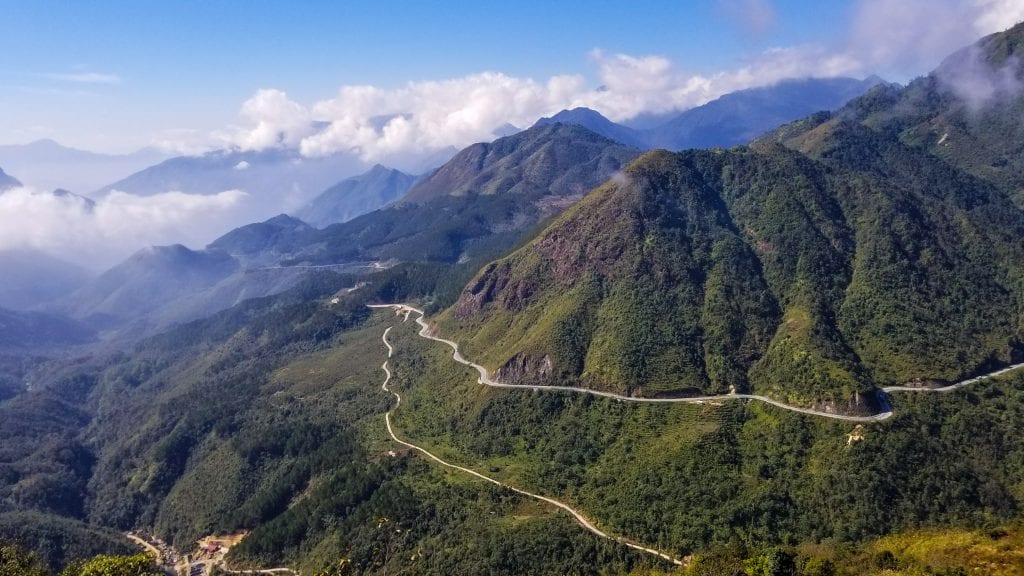 Head towards the west of Sapa for 15 Kilometers and you will reach the Tram Ton pass which connects Sapa with Lai Chau. It's a dreamy place to be. Imagine yourself surrounded by the lush green Mount Fansipan. The purest of clouds are hovering around. You are on top of a street and can see a thin white curvy thread at the bottom – that's the road you need to take in a couple of minutes. Yes, that's the Tram Ton pass for you! You can easily spend several hours there in peace watching the clouds move in the green mountains.
Ride a Bike and Enjoy the views!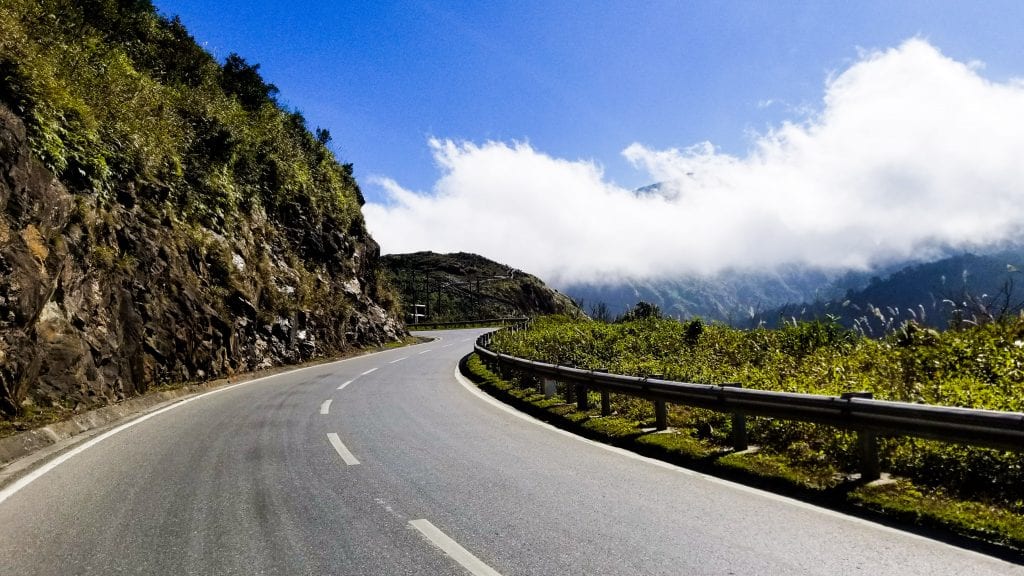 Renting a bike, and riding it on the highway is the best thing to do in Sapa! This was my most favorite thing to do in Sapa! During the start of the ride in the morning, it was misty with a hint of rain. We progressed towards the Tran Tom pass from the town with a bike and the day turned bright and sunny. In Sapa, they say that you can experience four seasons in a single day. The roads were in good condition but extremely curvy. Besides, as it was a hilly terrain, uphill followed by a downhill was a common trend. The wind was pretty strong so one has to wear a warm jacket.
Rent your Motorbike in Sapa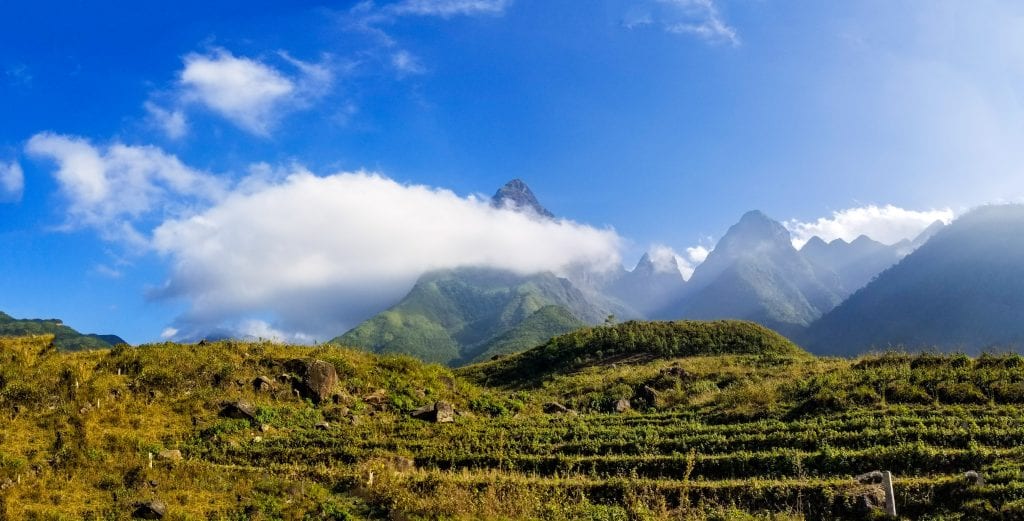 We stopped in a while to enjoy the surrounding views. From many places, you will get a panoramic view of the Muong Hoa valley. We stopped several times to take photos. For most of the time, we could see the valley along with mountains at one side and a big rock adjacent to the road to the other side. You will also find smaller shops to buy snacks or even a full meal like grilled chicken. We were so excited while riding the bike, we lost track of the distance we covered. Suddenly our bike stopped and we could not make it alive again. Later, we found, we were out of fuel and had to seek the help of locals for refueling. Below is a video of my ride – you will get a glimpse of the journey from this clip.
Never forget to buy travel insurance before your trip, see my bike accident incidence in the Philippines. I suggest Worldnomads for travel insurance, they are reliable.
Trip to a Rice Field in Sapa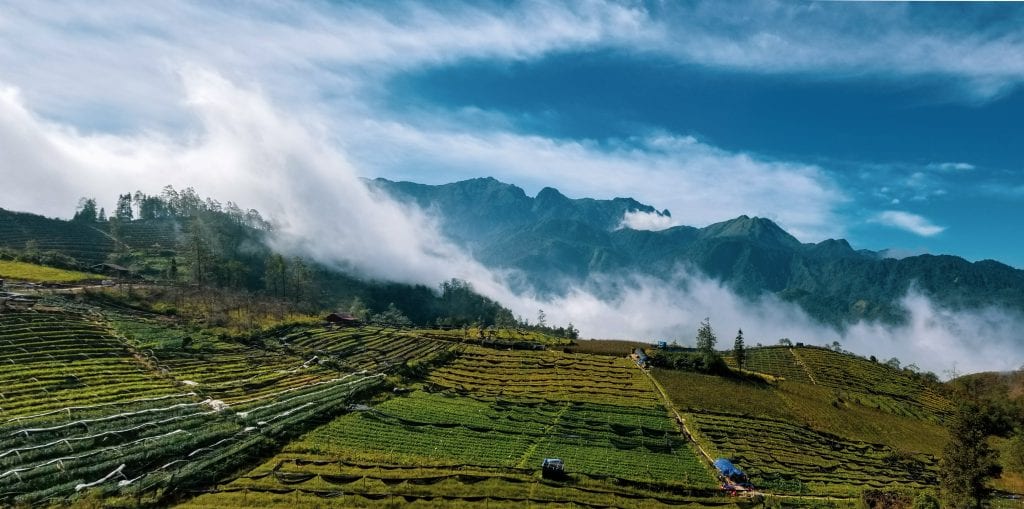 The rice terrace of Sapa is comparable to that of Ubud in Indonesia. In order to irrigate in the mountainous area, the paddy is planted on a slope. When it spreads over a longer area, the rice field looks like a green piece of art. You must visit one of them during your trip to Sapa.
Hotels in Sapa
Sapa does not offer super luxurious hotels. You cannot expect 5-star hotels here. However, it offers quite a good number of hotels to choose from and the hospitality offsets luxury.
Aira Boutique Sapa Hotel & Spa
This is a top ranked hotel in Sapa near the edge of a mountain having a fantastic view. You can reach there within several minutes of walk from the Catholic Stone Church. The rooms are spacious and offer modern amenities.
My Boutique Hotel & Spa
This is a modern and cozy hotel with a comfortable bed located in Muong Hoa street which is the center. The staffs are very friendly and you can expect a top-notch service from them.
Eco Palms House
This hotel is located in one of the most beautiful places in the valley. This is far from the city center but offers such a nice view, you can't simply leave this gem of a place. If you are on a honeymoon or looking for a romantic gateway, look no further, this is your place to stay during your trip to Sapa.
Sapa Clay House
This is a high-end hotel in Sapa. Built with a mix of modern architecture and traditional design of Vietnamese housing, this hotel offers a great view of the surroundings. It's about 2 Kilometers from town and one of the best places Sapa could offer.
Sapa Dragon Hotel
This is an excellent hotel in the center of Sapa. The rooms are clean, beds are comfortable and offer hot water which is a must to combat the cold.
Botanic Sapa Hotel
This is an extremely popular Inn in Sapa. What makes this place so special is the warmth of the family who owns the hotel. The rooms are clean and offers a small balcony. It's located in the center, so, you can easily get around.
Little View Homestay
A fantastic option for the budget traveler. Located in the Sapa town, only a couple of minutes walk from the Sapa Stone Church, this 5 rooms homestay is highly recommended.
Tavan Family Homestay
This is a top-ranked specialty lodging located 7 Kilometers from Sapa in a village named Tavan. It's set on the side of a hill. If you want to stay away from the crowd and enjoy a homestay.
Sapa Airbnb
If you do not want to stay in a hotel and wanna experience staying with locals, Airbnb is a great option. If you do not have an Airbnb account open on using this link, you will get US$50 credit! In many places, my Airbnb experience exceeded far and those were much better than staying in a hotel. Below are the links to the top 5 Airbnb in Sapa which I curated by going through their reviews. You can book any of them, I hope, you won't regret it!
Best Restaurants in Sapa
Aira Sapa Restaurant & Bar
Chicago Pizza Sapa
Moment Romantic Restaurant
Good Morning View Restaurant
1991 French Bistrot
Important Facts about Sapa
When was Sapa founded?
It was founded in 1922 by the French as a hill station.
Where can I go next from Sapa?
I strongly suggest you to visit Cat Ba island from here, it's a marvelous place to visit!
How is the weather in Sapa?
Sapa is cold! In fact, this is the coldest place in Vietnam. The temperature drops to zero degrees during winter. Besides, snowfall is not uncommon here during the winter.
When is the best time for visiting Sapa?
Spring and Autumn are the best time for visiting there.
Where can I get the best views of Sapa easily?
Visit the Sapa radio tower. It's easy to go there and offers a fantastic view of the surroundings.
Liked the Blog? Pin it!
The post Things to do in Sapa appeared first on A Walk in the World.