Places to visit in Punakha
Punakha is a beautiful valley and one of the most visited tourist destinations in Bhutan. While the Punakha Dzong is a gorgeous architecture, Punakha offers some naturally beautiful places to visit. The post Places to visit in Punakha appeared first on A Walk in the World.
I have been to more than 35 countries in the world, among them Bhutan is significantly different. It's a small country of 7 million people where people still wear their traditional dresses. It's a carbon-negative country, which means, they produce more oxygen than they consume carbon dioxide. You will realize it as soon as you land at the Paro Airport. As long as you will be in Bhutan, you will be surrounded by greeneries. While most of the tourists start their journey in Paro or Thimphu, a valley named Punakha offers many fantastic places to visit.
Punakha Suspension Bridge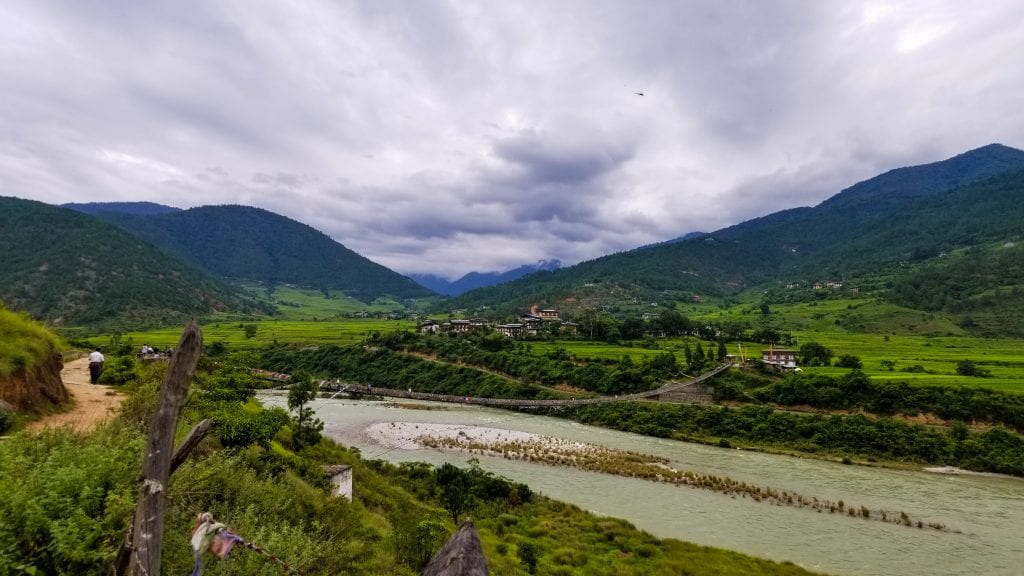 Green Punakha valley, white clouds, flowing river, and the suspension bridge – is there anything missing?
Start your Punakha exploration from the Punakha suspension bridge. From this location, you will be able to enjoy a panoramic view of the gorgeous Punakha valley. As long as your eyes go, you will see the green mountains. In the lap of the mountains, only a handful of typical houses of Bhutan are announcing the existence of human beings.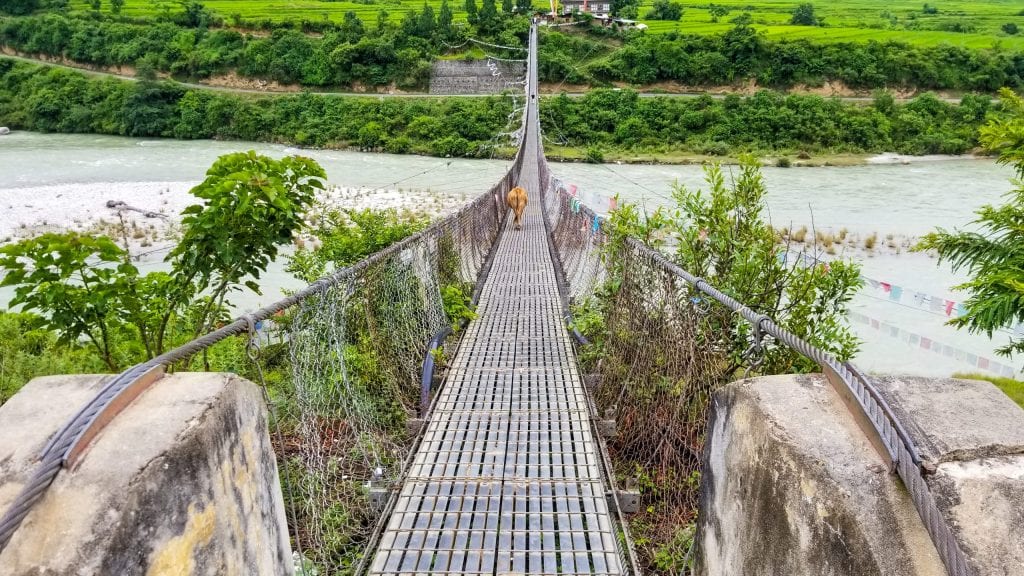 The long suspension bridge in Punakha.
A mud road will take you near the suspension bridge. It's one of the longest suspension bridges in Bhutan. The bridge is wrapped with prayer flags. It's for the pedestrian mostly, but, animals understand the use of it too. The bridge will start to shake as soon as you start walking on it.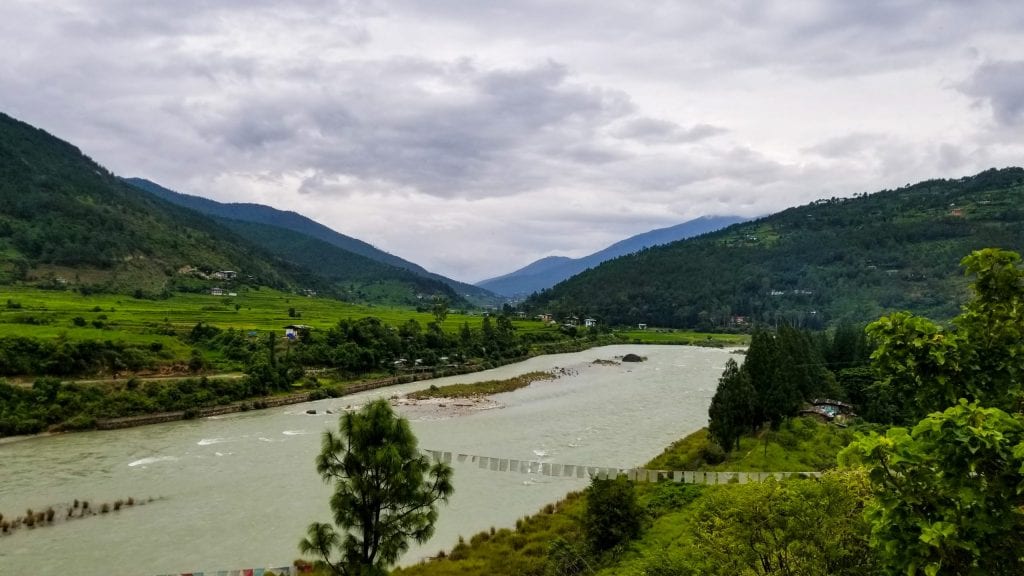 You will get this view from the Punakha suspension bridge.
Don't forget to stop in the midway of the bridge and enjoy the surroundings. From the bridge, you will get a better view of the Puna Tsang Chu river and another part of the valley.
Punakha Dzong – Most Beautiful Place to visit in Punakha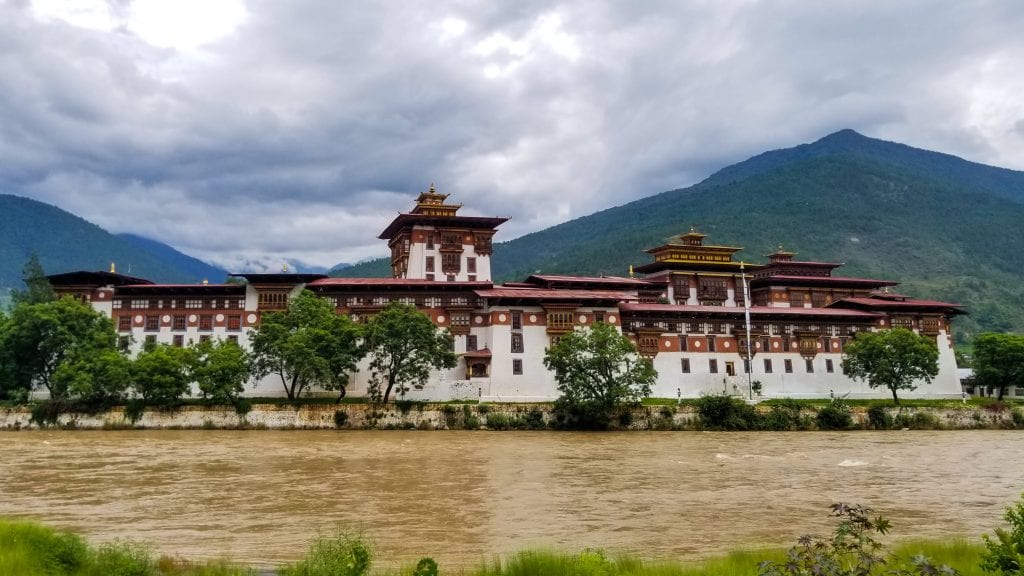 I simply loved Punakha Dzong!
Punakha Dzong is not only among the most beautiful places to visit in Punakha but the most majestic Dzong in entire Bhutan. This majestic Dzong is located on the bank of Mo Chhu and Pho Chhu river. The great Guru Rimpoche once predicted that a person will come to a mountain look-alike an elephant and construct a temple. The tip of the elephant trunk-like Punakha hill was chosen while building the dzong later.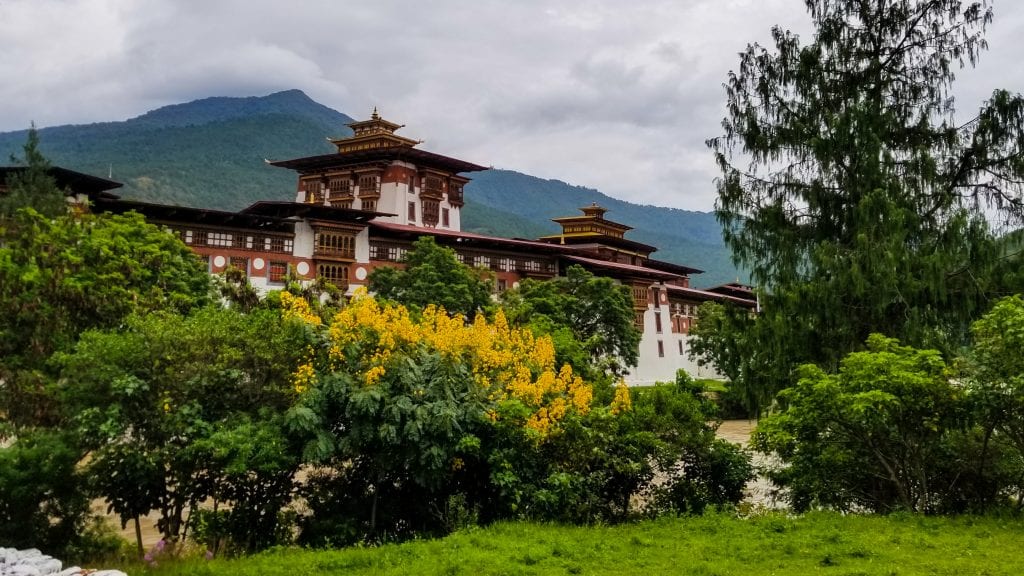 Green, yellow, red, and white – another angle of Punakha Dzong.
For those who don't know, Dzong is a special kind of architecture for the fortress in Tibet and Bhutan. This Punakha Dzong was built about 500 years ago in 1637 without using a single nail!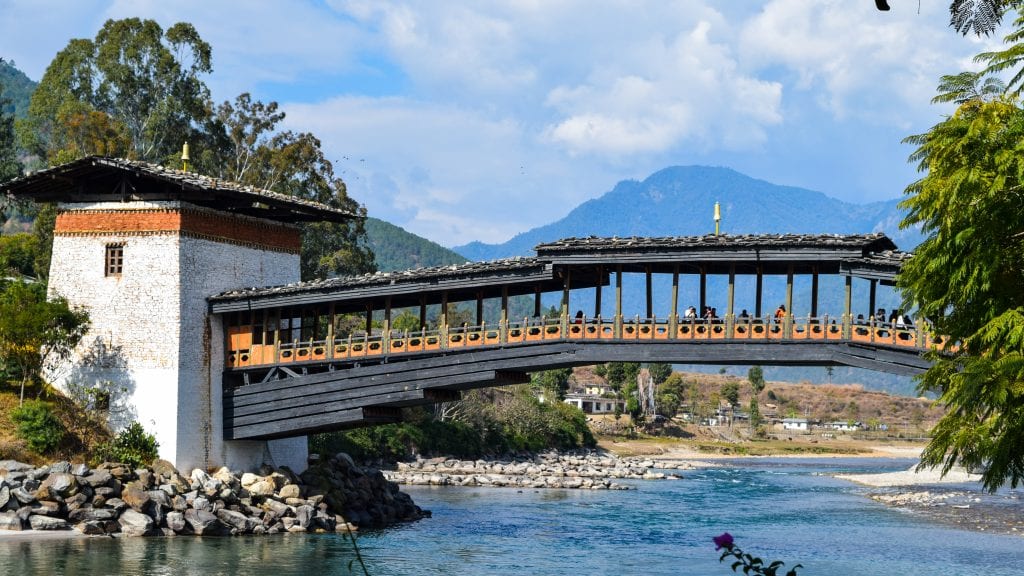 This wooden bridge connects the Punakha Dzong with the entrance gate.
As there is a river flowing between the Dzong and the main gate, you need to cross a bridge. The original bridge was swept away by a massive flood and the current one was built recently.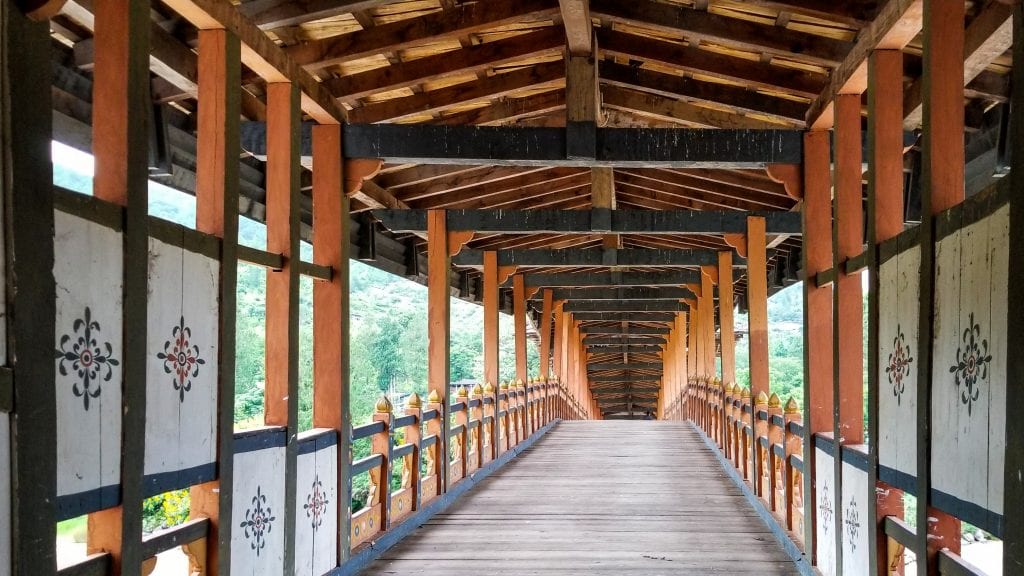 The bridge (locally known as Bazam) to Punakha Dzong is pretty.
The bridge is made of wood, well designed, and has a curve. From this 55 meters long bridge, you can see the rivers closely. Walking on it is quite an experience as you will feel like entering into a new world.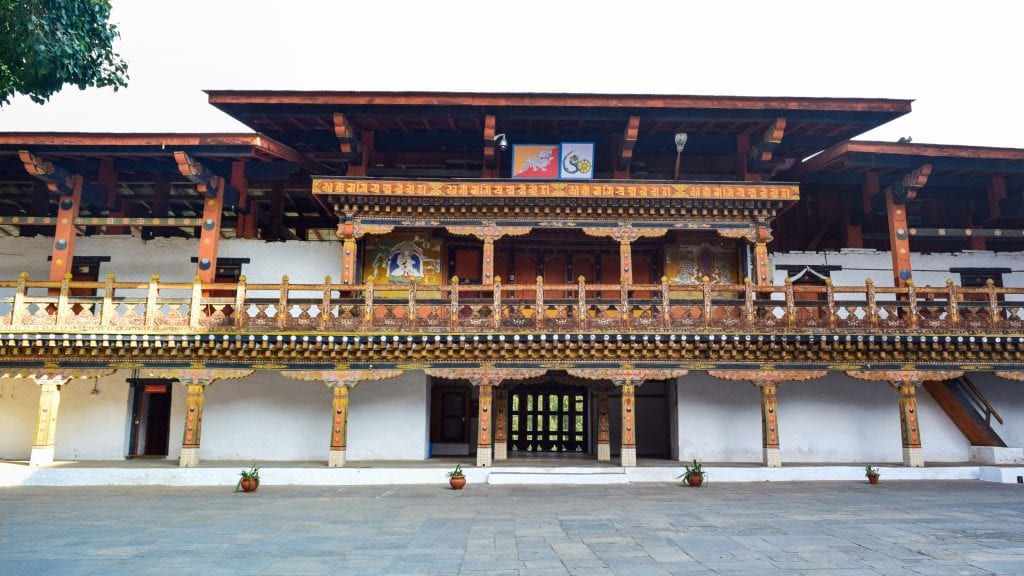 Courtyard of Punakha Dzong
Once you will be inside, you will find a courtyard surrounded by massive architecture. The buildings are painted white and have an intricate wooden design. No wonder Punakha Dzong is one of the most popular places to visit in Bhutan along with the Taktsang monastery.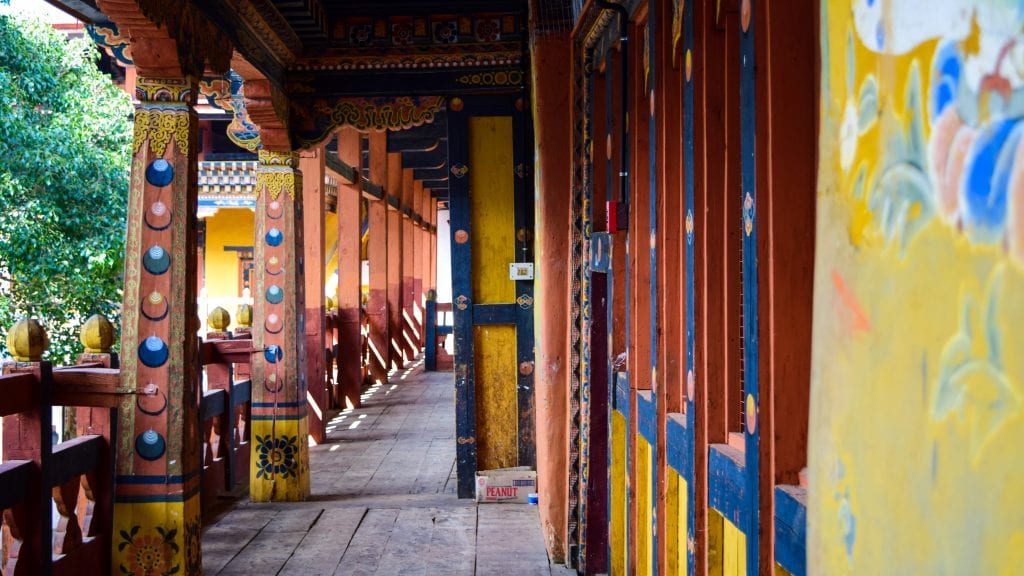 You are on the first floor, this passage leads to different rooms.
A part of Punakha Dzong is used as the administrative center of the Punakha district. It was the seat of the Bhutanese government before the capital moved to Thimphu in 1955. Whenever Bhutan has a new king, his crown is handed over in Punakha Dzong. The most recent king of Bhutan got married here in 2011 and every Bhutanese reminiscence about it.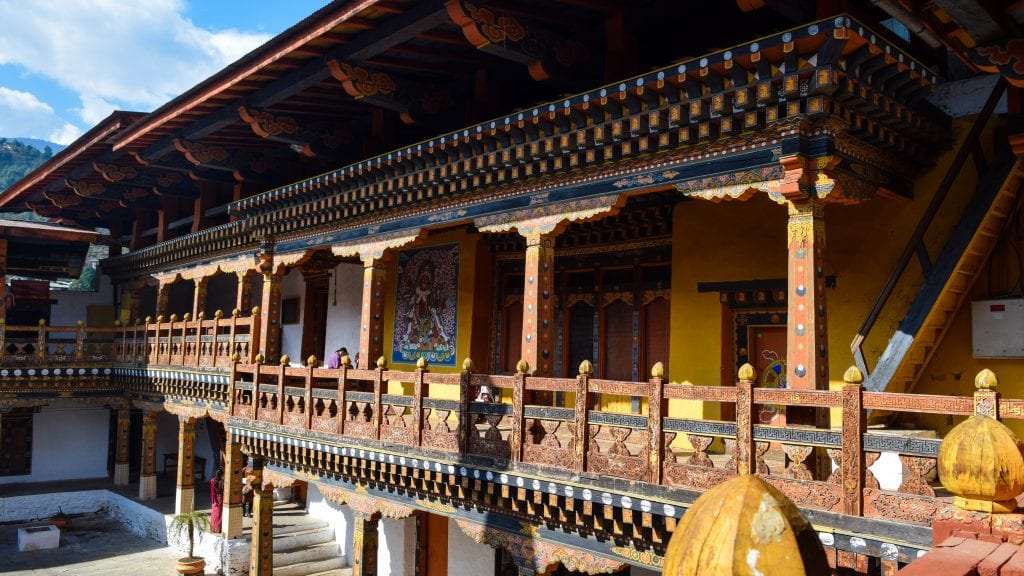 The rectangular shape of the corridor will take you to any places of the building.
The Dzong is 180 meters in length and 72 meters wide. Unlike two courtyards in most of the Dzong, Punakha Dzong has three courtyards. The central tower is also known as Utse and it is six stories high.
The young Lamas are taking a walk in the Dzong.
Sadly, the beautiful Punakha Dzong got affected by some calamities. It's been the victim of flood, earthquake, and fire. So it had to go through several reconstruction works. Punakha Dzong acts as the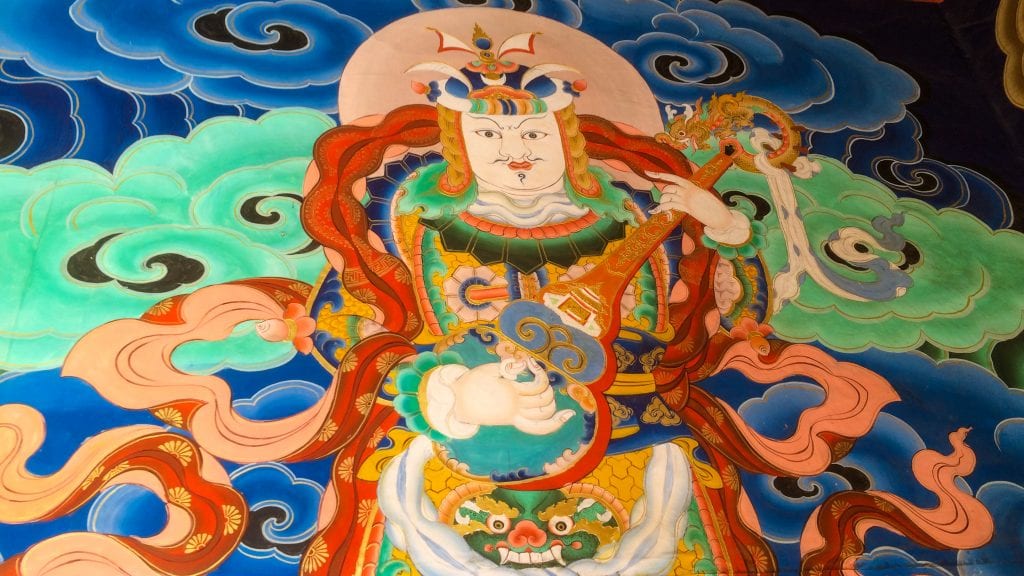 A colorful painting on a wall in Punakha Dzong.
You will find colorful paintings on the wall. All of them are telling some stories and containing different creatures – some of them are from the real world, some seemed imaginary.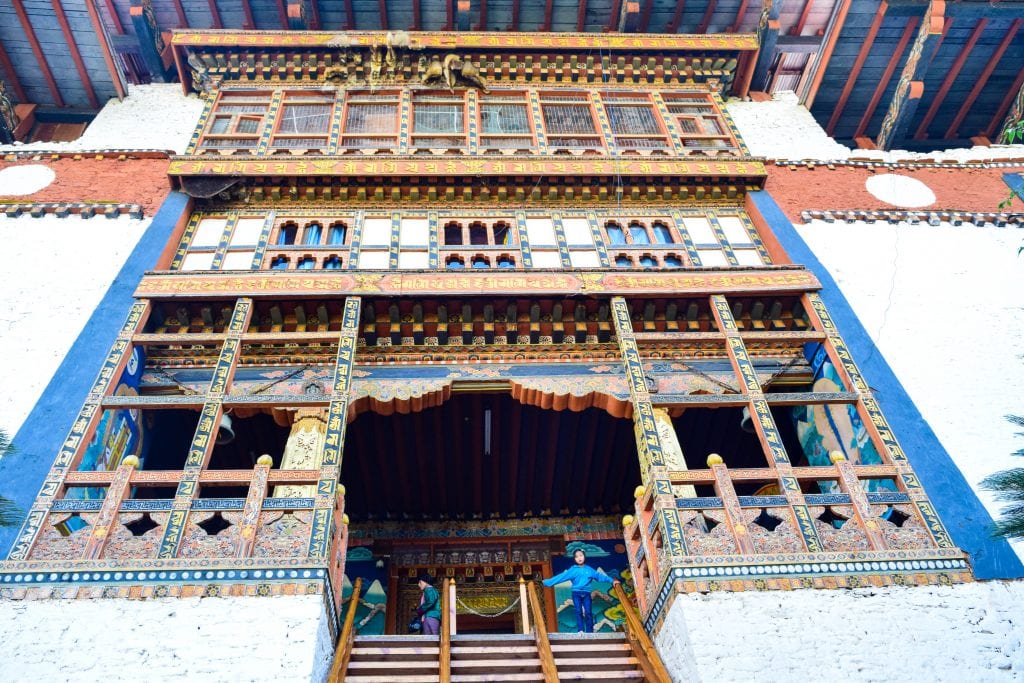 A part of the Punakha Dzong where you can enter with a steep stair.
As mentioned earlier, the Dzongs are built as a fort. This Dzong has two entrances. One is through the bridge that I showed you earlier. This one is the other side. The gate is very high with steep stairs. If the Dzong is under attack, one can take the stairs inside, and it will be merely impossible to get in.
Chimi Lhakhang – One of the interesting Places to visit in Punakha
This place is for adults!
The yellow roofed Chimi Lhakhang is also known as the fertility temple where the newlyweds and childless women come and pray for children. You will understand it from the painting of the wall (A penis with hairy testicle throwing seamen). You might find it a bit odd if you take kids with you but it's well worth a visit. People also come here to name their kids and leave with the name Chimi. You need to reach there by hiking.
Hike to Khamsum Yulley Namgyal Chorten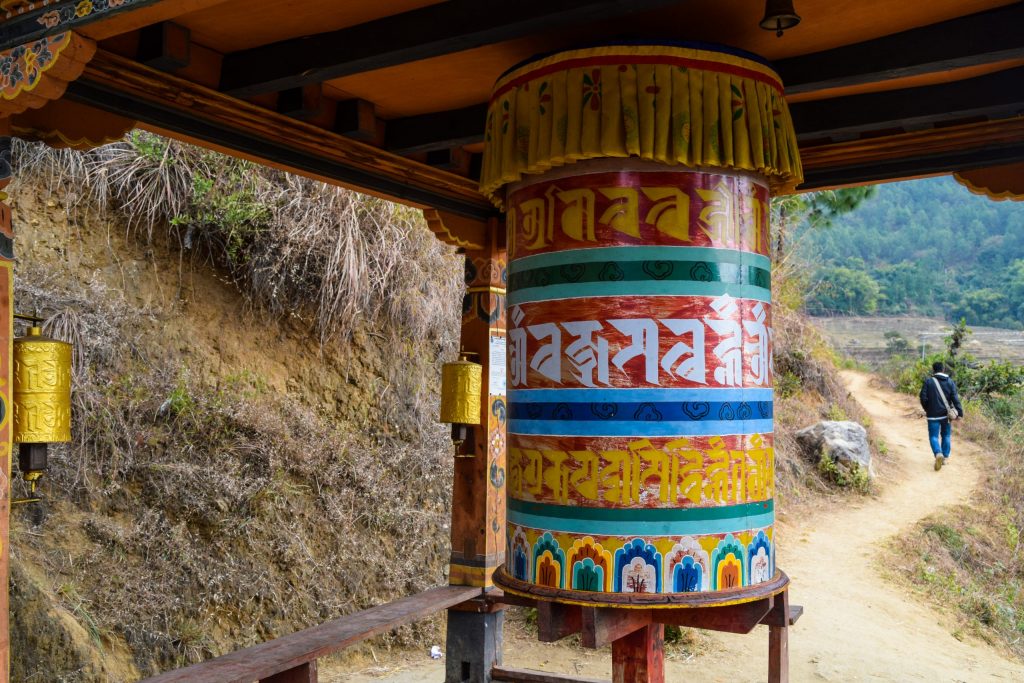 On my way to Khamsum Yulley Namgyal Chorten – that's the big prayer wheel.
I love to hike! It gives me pleasure and provides me with a better view of the areas I am traveling. So, I asked the locals about a short hike and they suggested visiting Khamsum Yulley Namgyal Chorten. So, my journey began on a narrow muddy path crossing a big prayer wheel.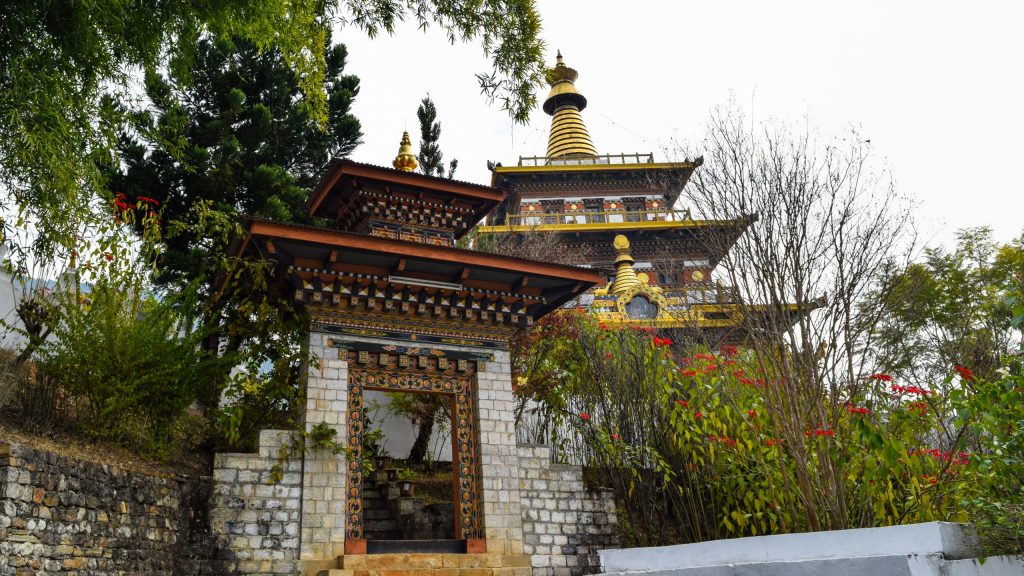 Entrance of Khamsum Yulley Namgyal Chorten, Bhutan
About 15 minutes of quick hike brought me to the top of the chorten. I love the entry gate of Bhutanese architecture, they are simple but colorful and majestic.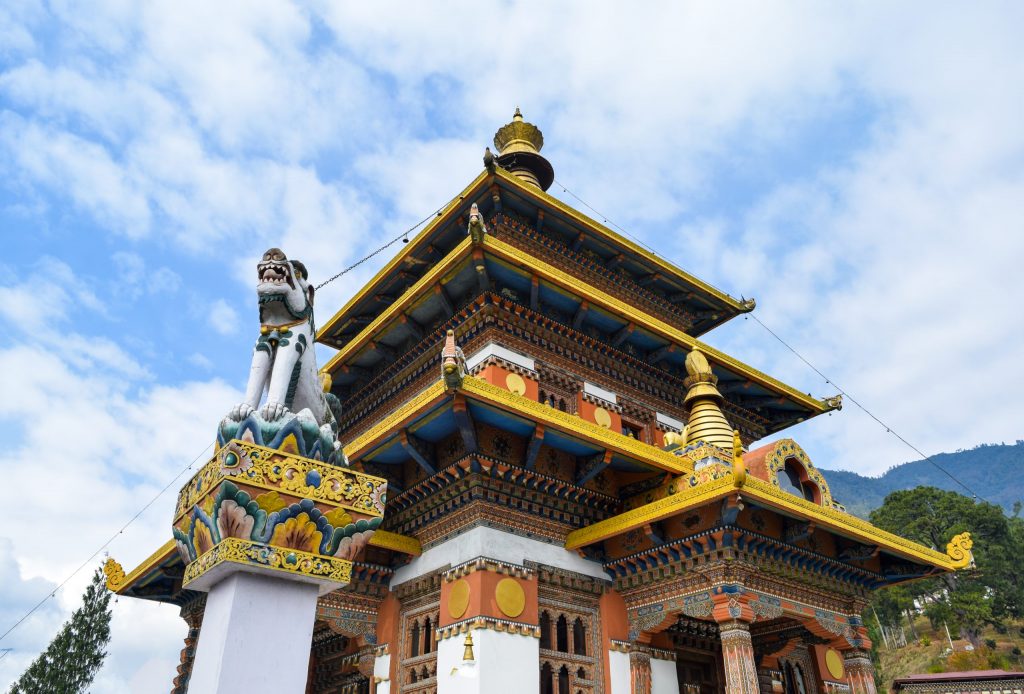 Khamsum Yulley Namgyal Chorten lies on top of a hill in Punakha.
There was not a soul present in the chorten. So, we got it all by ourselves. You will get a panoramic view of the valley from here as it is located on a hilltop. The queen of Bhutan built-in 2004 to bring peach and drive away from the evil spirits.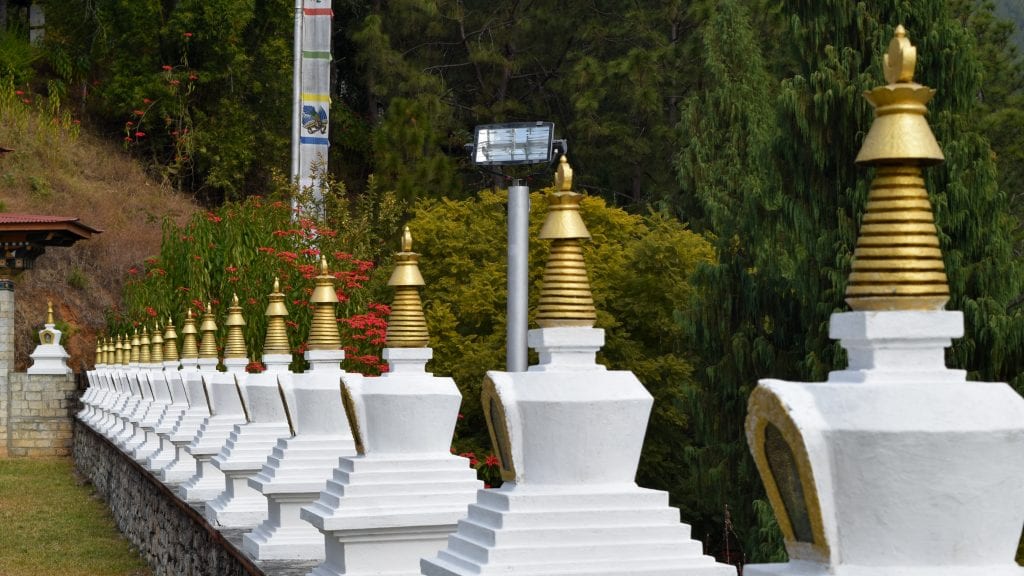 Simple but beautiful golden stupa.
The boundary of this stupa is made of a white base with a golden head. Although it was built in recent times, the Bhutanese make sure to adhere to the tradition. It is opened 7 days a week from 6 to 6.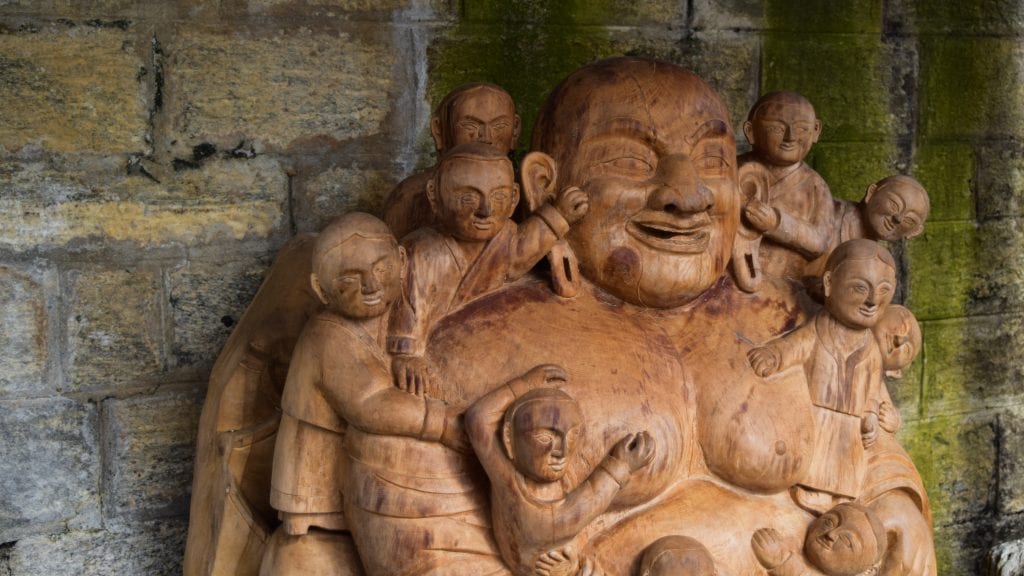 A funny wooden sculpture in Khamsum Yulley Namgyal Chorten
I found this funny wooden sculpture nearby. Here a big fat person with large ears and boobs was smiling. Many smaller people were holding him, some of them were hanging, too. I couldn't find the inner meaning of it, maybe, they portrait God this way? I am not sure though!
Sit in the Lap of Mo Chu and Pho Chu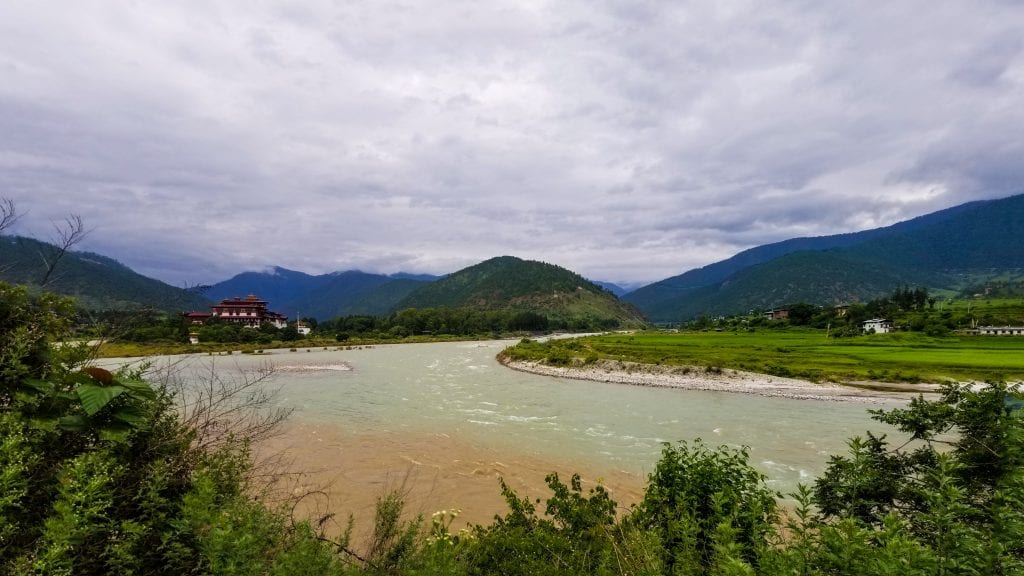 Calm and serene river with strong flow in Punakha
Just outside of Punakha Dzong, you will find plenty of peaceful places to sit, relax and appreciate the surrounding nature in the lap of the river. In fact, the place is a confluence of two rivers – Mo Chhu and Pho Chhu. Mo Chu is considered as a female (mother) river while Pho Chu is a male (father) river. If you look at the river carefully, you will see two kinds of colors.
Water Rafting – Trigger Your Adrenaline Rush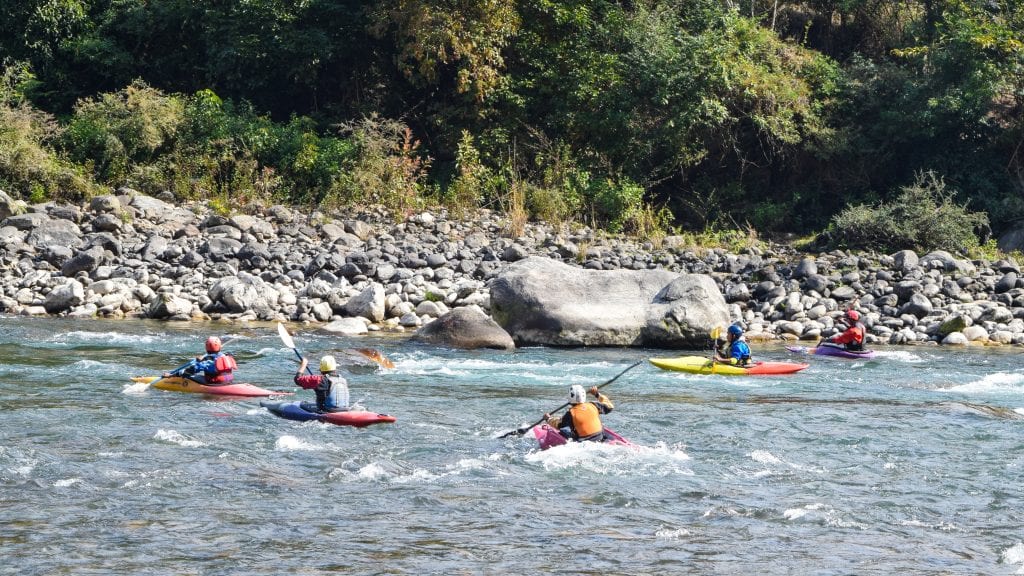 A group of people are busy with handling their vessel in Punakha
If you are an adventure seeker, Punakha is a fantastic place for you. You can experience white water rafting here in the Mo Chu and Pho Chu. With the only 4th to 5th degrees rapid and 10 to 12 Kilometers of range, you can easily do it. It usually ends at the Punakha Dzong and it's great to have the view of the Dzong from another angle with a different perspective.
Photowalk in Punakha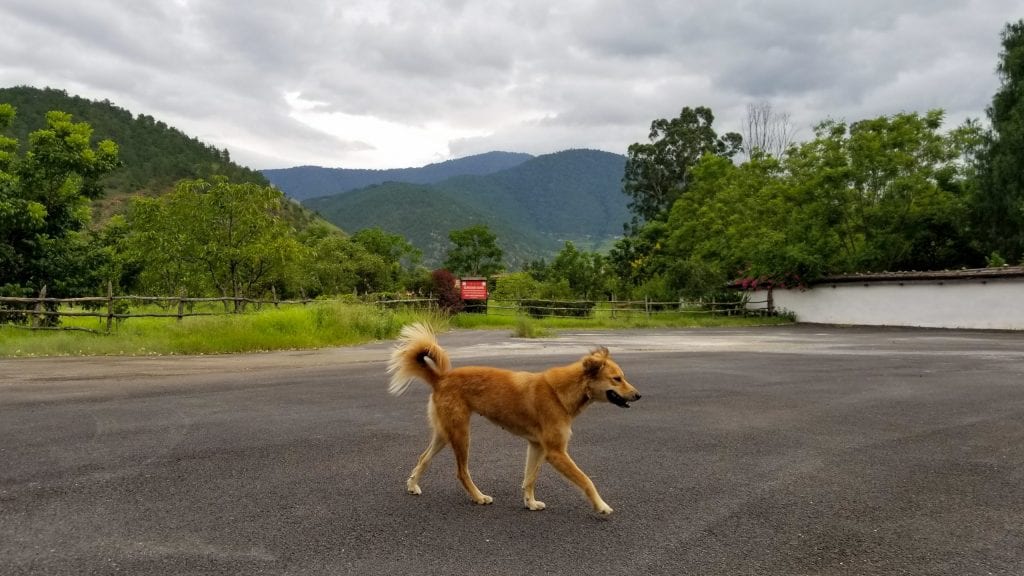 You will find plenty of Dogs in Bhutan.
Punakha offers plenty of Photowalk opportunities. Unlike other conventional places, it does not have any specific trail for capturing good moments.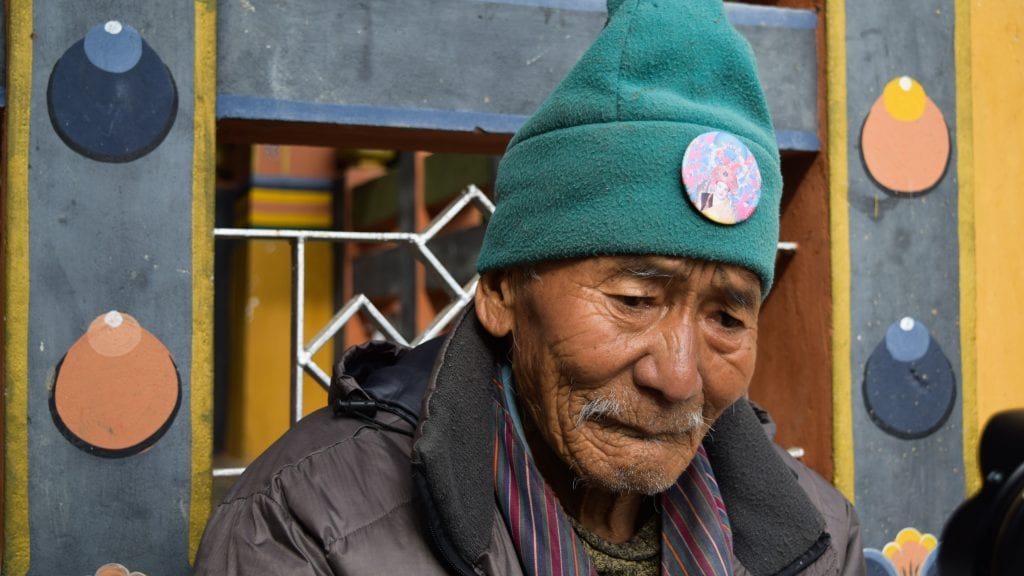 This old man was sitting on his own wearing a badge on his hat.
You can walk randomly in any place, you will find countless good frames. My suggestion would be to go to small chortens, and walk in the village.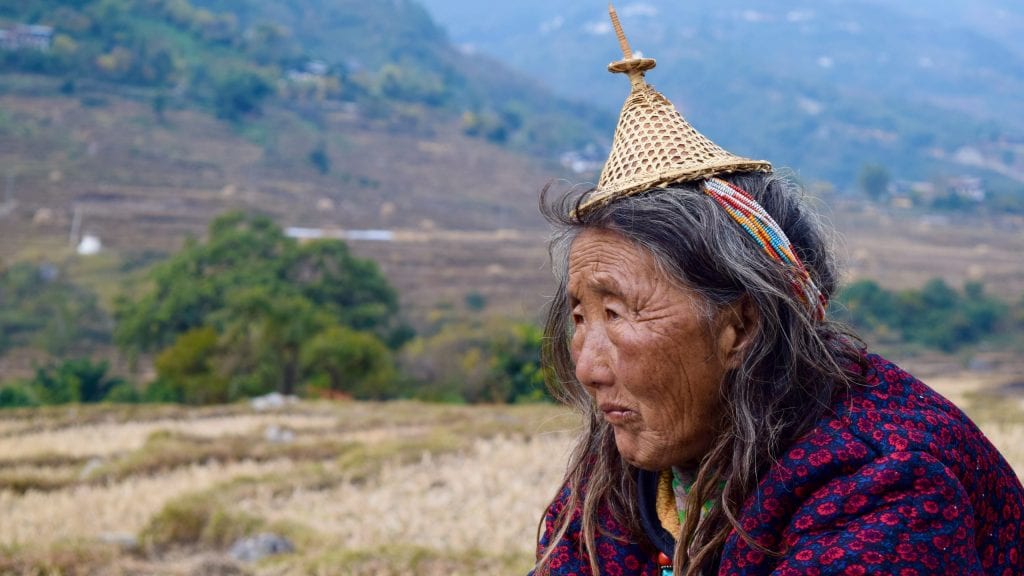 How old is she? She couldn't tell but she reminds me of my Grandmother.
I am not comfortable capturing humans, however, if you are a portrait lover, you will surely be able to take some good photos of the locals. While taking photos, some of them asked for money, I just ignored them as it can cultivate a bad culture in the long run.
Did you like the Places to visit in Punakha?
I visited different places of Punakha twice – once in August and once in December. If you look at the photos carefully, you should be able to detect the differences. Some of them are brownish while others are lush green. I wrote a guide about the best time to visit Bhutan, you might wanna read it before planning your trip to Bhutan.
Locations of Places to Visit in Punakha
Liked the Places to Visit in Punakha? Pin It!
The post Places to visit in Punakha appeared first on A Walk in the World.