Things to do in Nusa Penida
Hilly, rugged, aerial ocean views with with spectacular Kelingking beach sums Nusa Penida Island in Indonesia. This limestone plateau near Bali is an absolute gem and must be on your bucket list during your visit in Indonesia. The post Things to do in Nusa Penida appeared first on A Walk in the World.
There are three Nusa islands with close proximity to each other in Indonesia. Nusa Penida is the biggest of them all (the rest of the two are Nusa Lembongan and Nusa Ceningan). Saying so, it's not that big – the size of Nusa Penida is 202 square Kilometers. To many, Nusa islands give a more authentic traveling experience comparing to Bali – it's the Bali of 20 years back. Traveling to most of the places, I can vouch that, Nusa Penida and the rest of the Nusa Islands are breathtakingly beautiful. Yost put Nusa islands in your itinerary and bucket list during your Indonesia trip.
Kelingking Beach Nusa Penida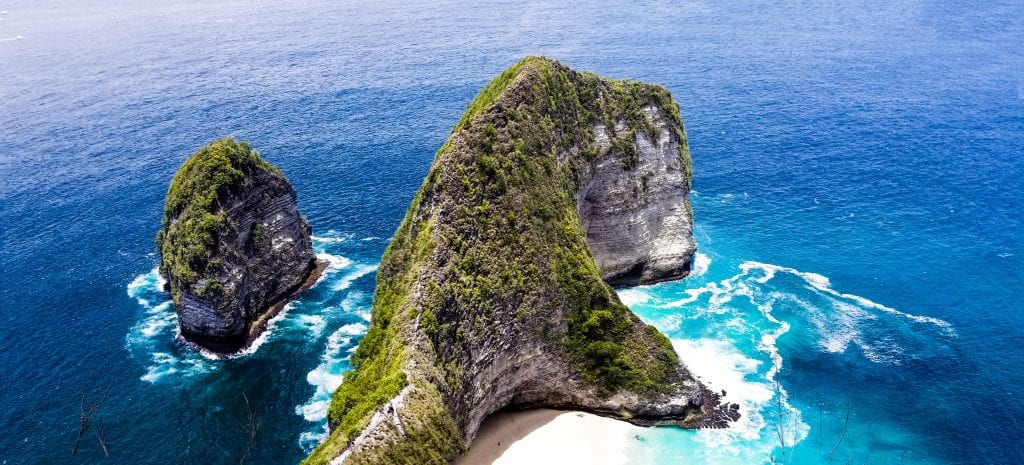 Had there been no other attraction on the island, I could have gone there only to see the Kelingking beach. Although the name implies a beach, the main draw is the view of the T-Rex shaped mountains. You don't need to take a helicopter or hike to enjoy this aerial view. You can reach the viewpoint with a bike. It's a steep ascend to the point from where you can see an open ocean, blue water, and a green mountain with the shape of a dinosaur.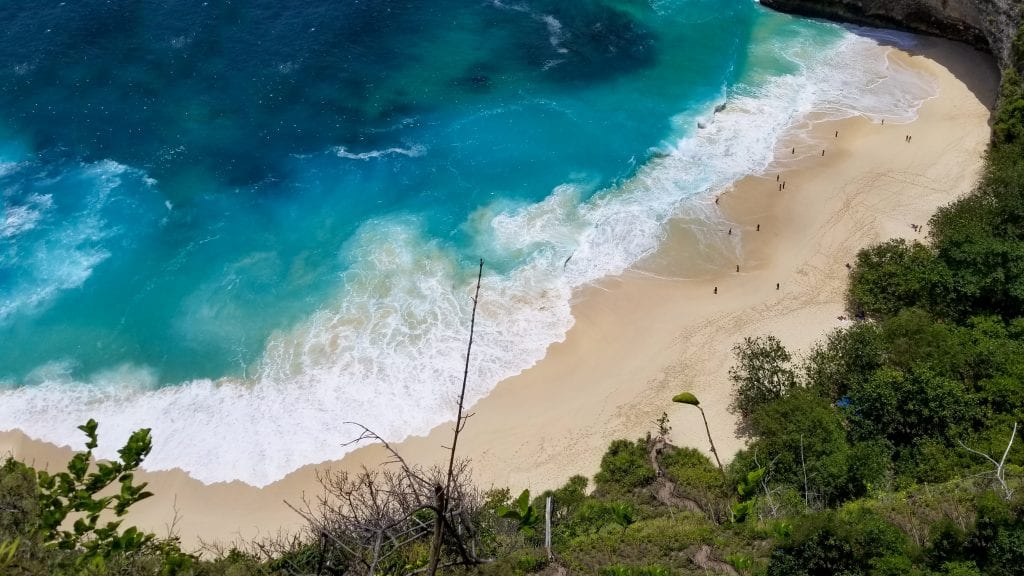 Adjacent to the T-Rex, there is a nice beach. You will find a narrow passage for going there. It will take a toll on your knee for getting down all the way to the beach. Coming back will be another level of challenge as it will be a steep ascend. Once you will be there, you will understand if this hike is right for you. I went halfway and came back, to me, the view from the top was more satisfying rather than spending time on the beach.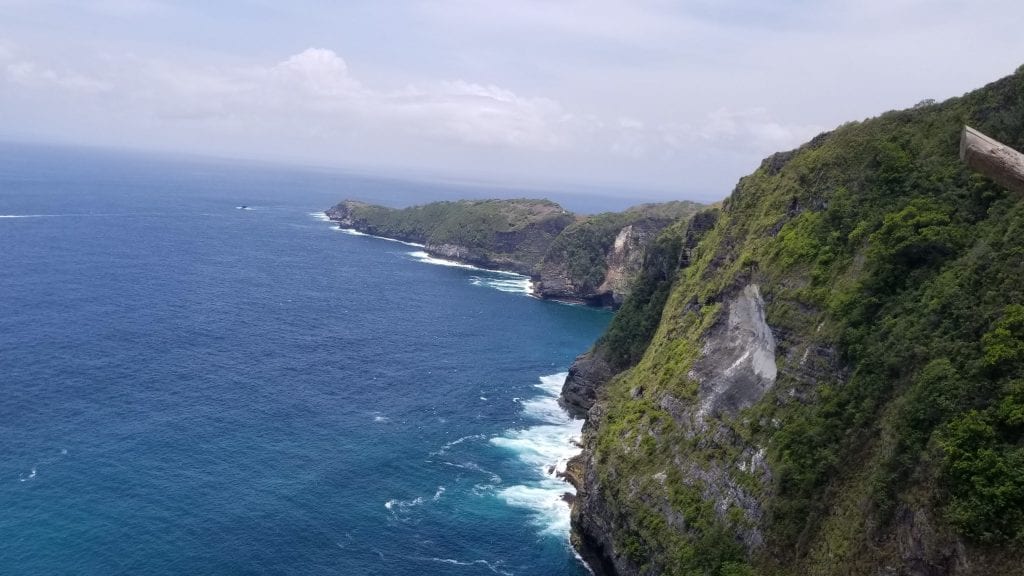 I was awestruck in Kelingking Beach, it was more beautiful than I expected. I am pretty sure, it will also happen to you, too. I suggest you take your sweet time and watch this place from different angles. The view changes as you move in different directions. A part of the viewpoint will be crowded, however, you can always find a place where there will be fewer people. The water was so blue, I saw some manta ray swimming from the top.
Broken Beach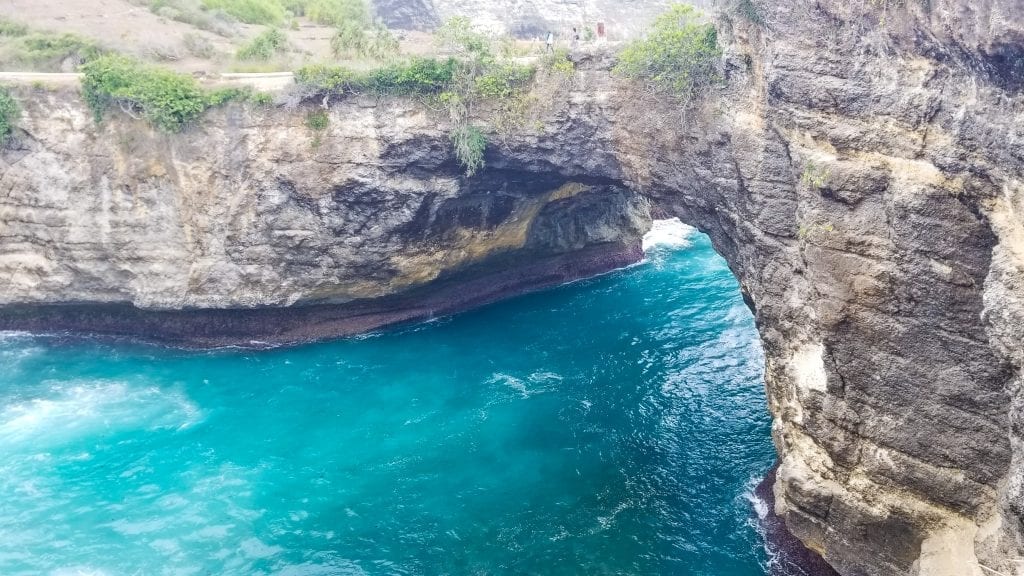 It's kind of funny, but, the broken beach is not a beach! However, It does not make it any less beautiful. Broken beach is a cove, a tunnel-like formation where the ocean passes through a big rock. This archway is a major attraction for taking photos in Nusa Penida.
Angel's Billabong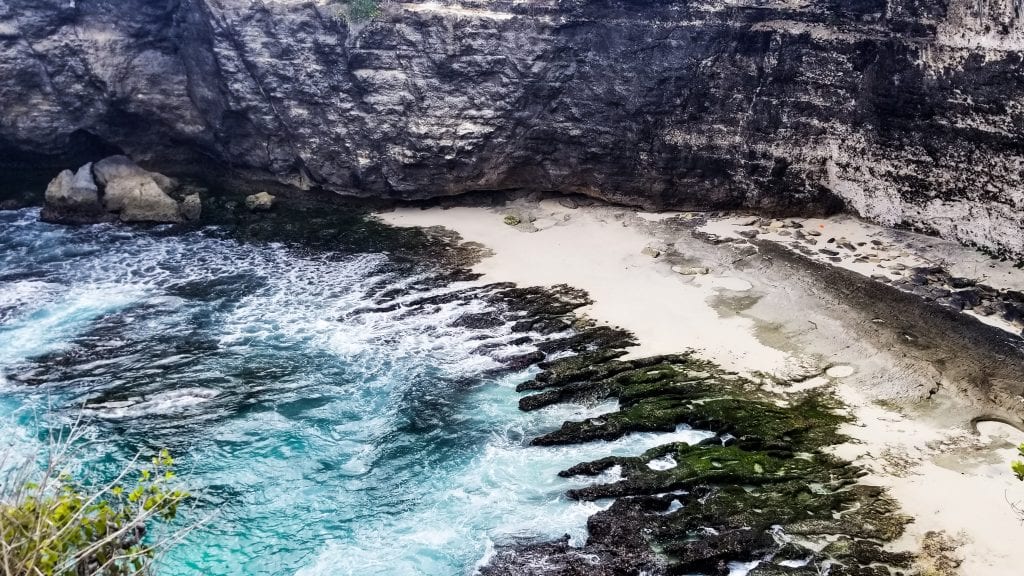 Both the broken beach and the Angel's Billabong are basically in the same place, just 2 minutes walk away. You can consider Angel's billabong like a swimming pool. It's a part of the ocean which is popular for swimmers perceived as an infinite natural swimming pool. Like other places on this gorgeous island, the rock formations are amazing. Don't forget to take a set of swimming costumes if you do not wanna left out.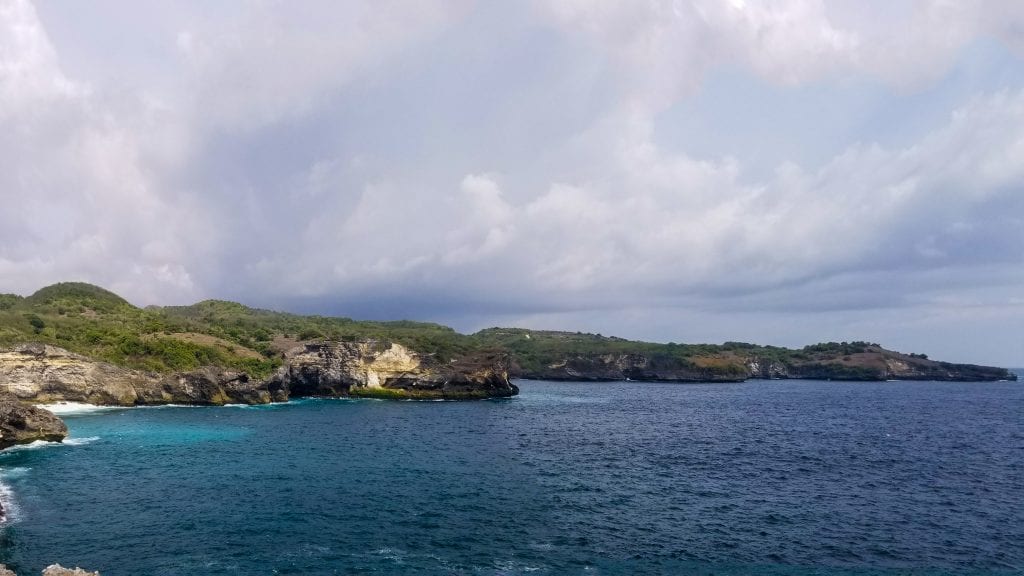 I loved the surroundings of Angel's Billabong and the Broken beach. If you take a walk around, you will be gifted with an unobtrusive view of the ocean surrounded by small mountainous cliffs. Here, the oceans are so lively, you will always hear a thunderous sound.
Crystal Bay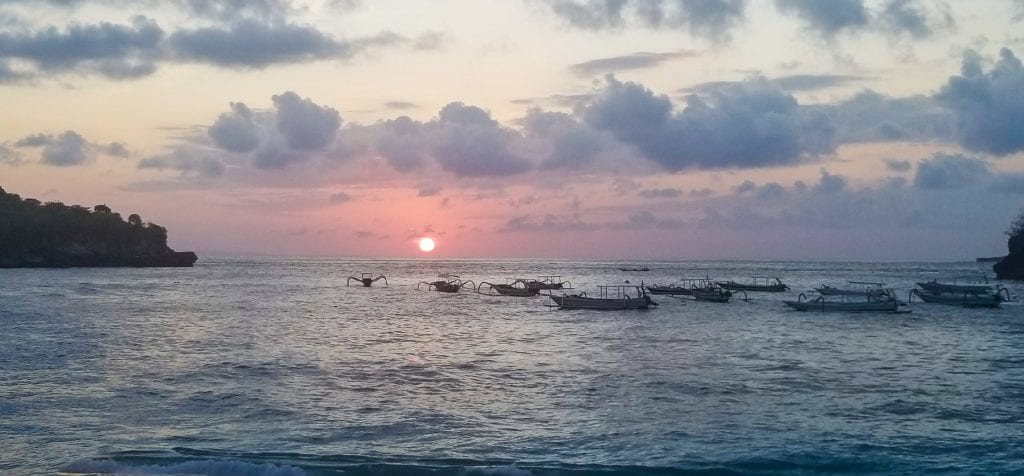 Crystal Bay has a decent beach with palm trees, not the most spectacular I saw in Indonesia. The sand of the beaches is more blackish than pure gold. It's one of the most popular places for snorkeling (beware of the strong current). A small island will allure you not so far from the bay.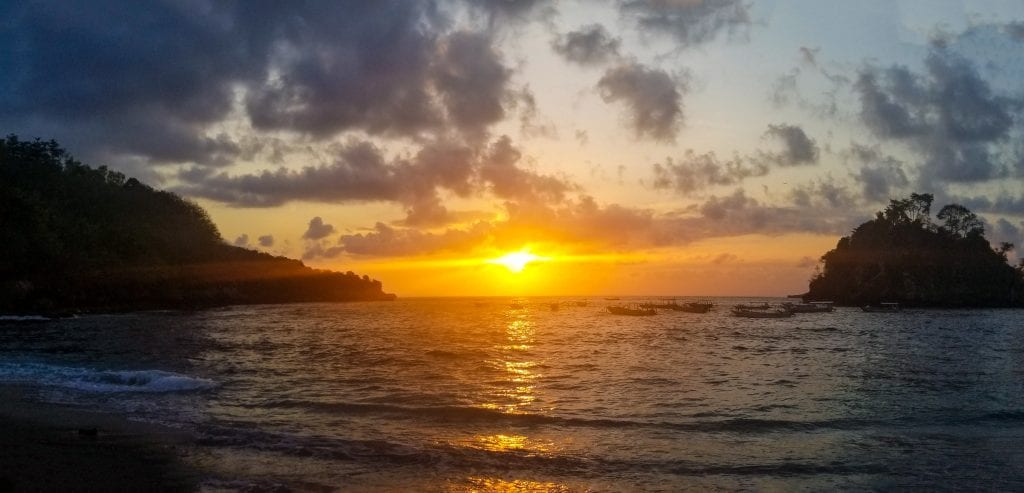 Make sure to visit the bay during the evening. Crystal bay is one of the best places in Nusa Penida for enjoying a spectacular sunset. The golden sun will just melt inside the big ocean keeping you speechless. This beach is easily accessible by motorbike so expect some crowds during sunset.
Tip: Climb up the hill and trek for 10-15 minutes, it will take you to a beautiful secret beach.
Peguyangan Waterfall
I would suggest you visit this place not to see the waterfall, but, the dramatic cliff view of the ocean. A staircase will take you to the waterfall. Don't go to the fall hastily, because the journey will present you with some mesmerizing scenery to the ocean.
The Thousand Islands Viewpoint
The Thousand Islands Viewpoint is a collection of places from where you can see small islands. Those are mainly limestone karst or big boulders. As fewer people visit this part of the area, the place can be all yours'. So sit back, relax, and enjoy the sublime views of the coastal areas of Nusa Penida.
Diamond Beach Nusa Penida
The stairway to Diamond beach will present you with some scenic photos. Once you are on the beach, you will see many rocks in the ocean. One of them is diamond-shaped and that is how this beach got its name. This place is a gem and was inaccessible until 2018. During high tide, it's difficult to visit the beach, so, plan your trip during the low tide.
Atuh Beach
If you make it all the way to Diamond beach, Atuh beach will be within your reach. Do not miss it during your east side exploration of the island. A short hike of 10 minutes using stairs will take you to the beach. It looks different during high and low tide, depending on the time of your journey, you can describe the scenery of it.
While all the major attractions of the island are located to the west side of the island (heading in the direction of Bali), Diamond beach, Atuh Beach, and The Thousand Islands Viewpoint are located in the opposite direction, to the east side (towards the direction of Lombok). This side of the island is remote. Book you East Island Trip from here.
Diving and Snorkelling
Nusa Penida has some of the most beautiful diving spots in Indonesia, it will be heaven for you if you are into diving. You will get an opportunity of swimming with two big fishes – the Manta ray and Mola Mola. The manta point and crystal bay are the two best spots for trying diving. You have to cautious while diving as the currents can become strong.
Book Scuba Diving in Nusa Penida. Afraid to dive? Don't worry. You can book Snorkelling or Freediving in Nusa Penida.
Location of the tourist spots in Nusa Penida
Nusa Penida Hotel
Adiwana Warnakali Resort
Adiwana Warnakali Resort is arguably the best resort in Nusa Penida. It's a relatively new hotel and offers a gorgeous view from the balcony. You can see Mount Agung and the expansive ocean. The rooms are spacious and sparkling clean. The employees are well trained, friendly, and care for small details. Stay here without any hesitation if you can afford it.
Semabu Hills Hotel Nusa Penida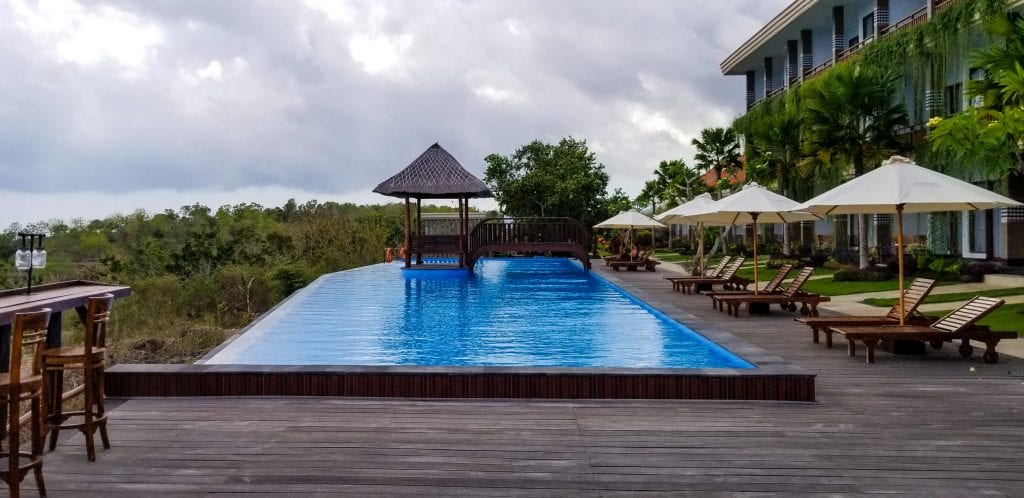 This small hotel is located on a hilltop. It's not right beside any beach. Due to its height, you can see greeneries and the ocean far. It has a big infinity swimming pool. The seating arrangements of the dining table are towards the horizon. The rooms are spacious and the foods are delicious. You can stay here if you do not have a preference for staying beside a beach.
Coco Resort Penida
Coco Resort Penida is a highly rated and acclaimed hotel on the island. Like Adiwana Warnakali Resort, you can enjoy unobtrusive views of the ocean right from the balcony. Crystal Bay is 2 Kilometers from here, you can enjoy that mesmerizing sunset every day by reaching there. The wonderful swimming pool will make you plunge into the water.
Hotel Arsa Santhi Nusa Penida
If you want to stay in a fantastic hotel without burning your pocket then Hotel Arsa Santhi Nusa Penida is your best bet on this island. The rooms of the hotel are comfortable, clean, and provides splendid service. If you are a diver, then this hotel gets a plus. It's near the Toya Pakeh harbor. Their food is also delicious. They have a swimming pool and offer a free shuttle for dropping at the harbor.
The Mesare Resort
This resort is built in a lovely setting in the middle of a jungle. If you love calmness and tranquility, this is a good place. They serve delicious breakfast and one of the best on the island. The building materials of this hotel are mostly natural. The Mesare Resort is located in the middle of the island, so the ferry pier and some of the locations are far. This is not a problem for me but letting you know in case it is an issue for you.
Rumah Pohon Treehouse
This is not a hotel, this is a very basic treehouse. Then, why should you stay there? Because Rumah Pohon treehouse offers the most breathtaking and fascinating views of the island. There is no other place on the island that will present you with such scenic beauty and atmosphere than this treehouse itself. There are only 3 available treehouses, you have to book them way ahead otherwise, you will miss it. Just keep in mind that, you won't find any amenities in a hotel, however, you will take unforgettable memories with yourself if you stay here.
Location of the Best Hotels in Nusa Penida
Airbnb in Nusa Penida
If you do not want to stay in a hotel and wanna experience staying with locals, Airbnb is a great option. If you do not have an Airbnb account open on using this link, you will get US$50 credit! In many places, my Airbnb experience exceeded far and those were much better than staying in a hotel. Below are the links to the top 5 Airbnb in Nusa Penida which I curated by going through their reviews. You can book any of them, I hope, you won't regret it!
Best Restaurants in Nusa Penida
Warung Jungle – Cheap eats, Indonesian cuisine
Secret Penida Cafe
Warung Lonto
Coco Penida Bar & Restaurant
Amok Sunset
Penida Colada Beach Bar
How to Get around?
Renting a motorbike and driving it on your own is the best way of exploring the island. However, there are some words of caution. The roads of Nusa Penida are hilly, you need to go uphill at some point and downhill on some occasions with a sharp curve. The last leg of some of the journeys towards attractions is not so good. You have to be extremely cautious. Another option is to hire a local as your driver. You can sit behind as a pillion in that case. You can always charter a car with a chauffeur, it costs you more than renting a bike but will be super convenient as well as safer especially if you travel with a family.
Never forget to buy travel insurance before your trip, see my bike accident incidence in the Philippines. I suggest Worldnomads for travel insurance, they are reliable.
How to go to Nusa Penida?
As Nusa Penida is an island, the only way of going there is with a water vessel.
Nusa Lembongan to Nusa Penida

By a boat, will take only 15 minutes.

Bali to Nusa Penida

By a boat, will take about an hour. You need to come to Sanur for taking the boat.

Ubud to Nusa Penida

You have to come to Sanur in Bali first by taxi, it will take 45 minutes. Then, it will take an hour by boat.

Seminyak to Nusa Penida

A 45 minutes journey with a bluebird taxi will take you to Sanur. From Sanur, Nusa Penida is an hour of journey.
Book your ticket from Bali to Nusa Penida
Wanna book Nusa Penida Day Tour?
Loved Nusa Penida? Pin It!
The post Things to do in Nusa Penida appeared first on A Walk in the World.