2 Days in Bangkok – Best two days Bangkok Itinerary
Whenever we think of Thailand, we think of pristine beaches, and exotic islands, and, I can't blame anyone for that. Thailand has some of the best islands in the world, like Koh Lanta or Koh Kood. However, Thailand is not all about beaches. Welcome to Bangkok, a city that never fails to captivate its visitors […] The post 2 Days in Bangkok – Best two days Bangkok Itinerary appeared first on A Walk in the World.
Whenever we think of Thailand, we think of pristine beaches, and exotic islands, and, I can't blame anyone for that. Thailand has some of the best islands in the world, like Koh Lanta or Koh Kood. However, Thailand is not all about beaches. Welcome to Bangkok, a city that never fails to captivate its visitors with its vibrant energy and rich cultural heritage. In just three days, you can uncover the hidden gems that make this city so enchanting. Immerse yourself in its intricate tapestry of ancient temples, vibrant markets, and mouthwatering street food. From the iconic Grand Palace to the peaceful Wat Arun, each temple tells a story of Thailand's history and spirituality. Get ready for an adventure that will leave you awestruck and longing for more. This is your ultimate travel guide and itinerary for how to spend the best 2 days of your life in Bangkok.
2 Days in Bangkok Itinerary: Day 1
If you are from a colder country and Bangkok is your first Thai destination, then take the first day slowly because, the heat of Bangkok can be brutal and unforgiving.
Wat Arun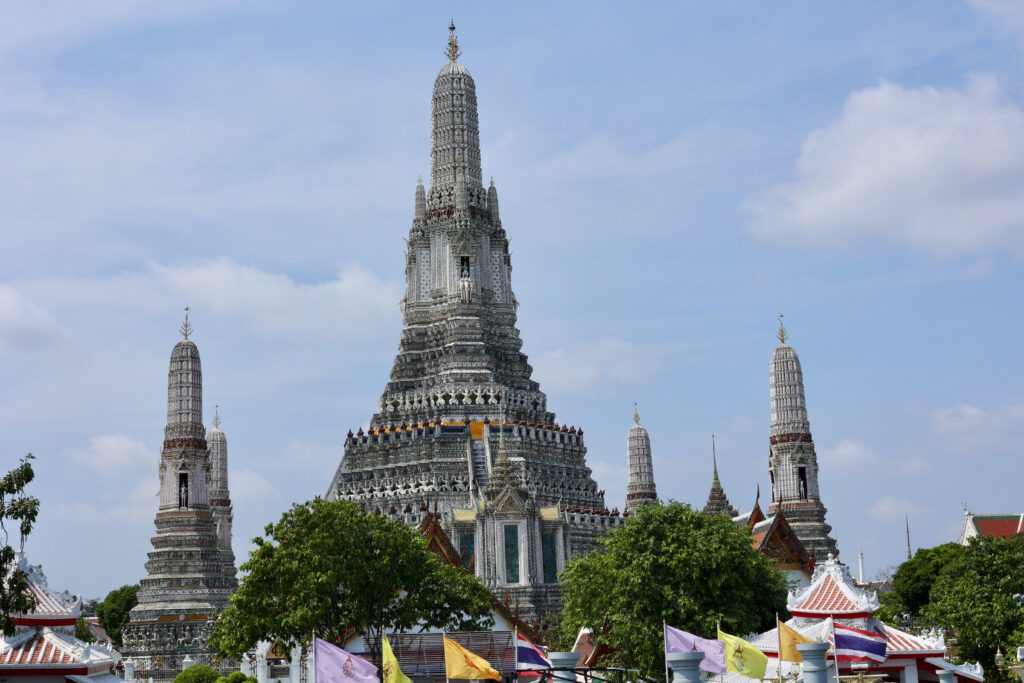 Wat Arun is the most beautiful temple in Bangkok.
There are countless temples in Bangkok, but Wat Arun is the best value for money, in my opinion. On the west bank of the Chao Phraya River, there is a beautiful looking Buddhist temple – and that is Wat Arun. I took a public boat across the river and arrived at my destination.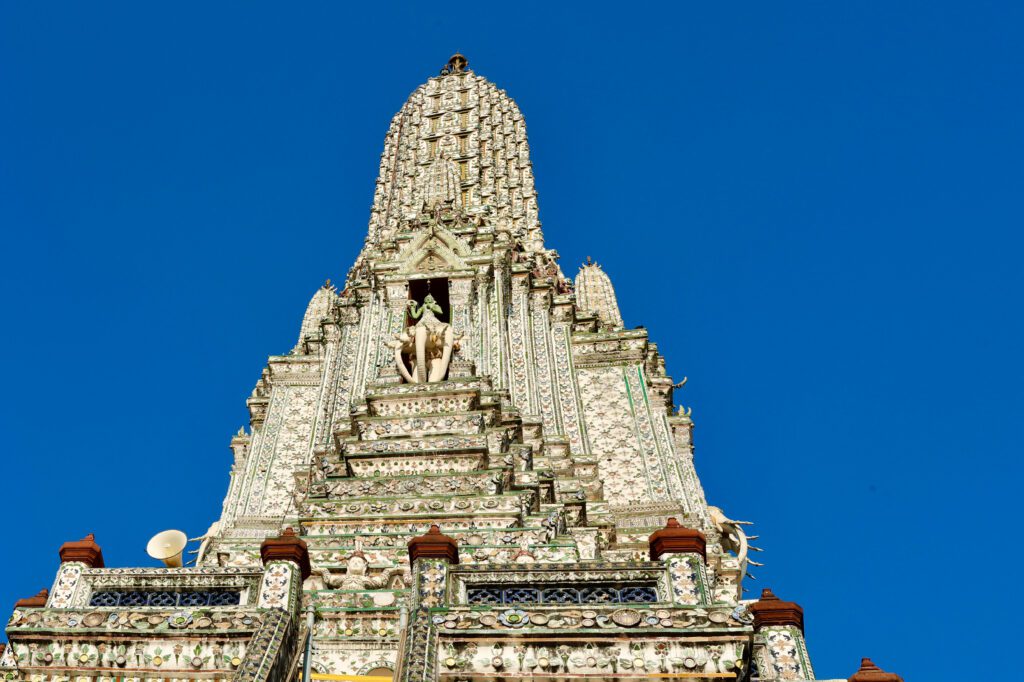 An elephant is visible inside a Prang in Wat Arun
The term "Arun" means "Dawn" in Thai, therefore, Wat Arun is the dawn temple. It's no surprise that the best time to see this temple is at dawn. This temple was built in the 17th century, destroyed by the Barmese, and rebuilt again in the early 19th century.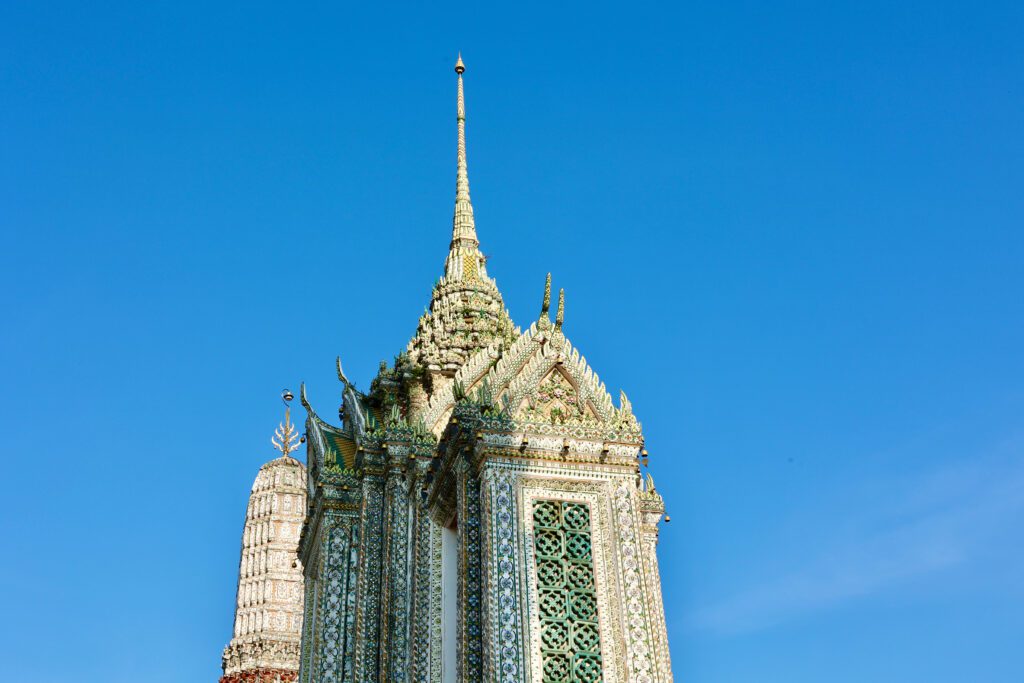 You need to put your focus on the smaller details in Wat Arun; they are beautiful!
Inside, there are tower-like constructions composed of colorful mosaics and polcelin. There are numerous intricate designs to be seen there. These structures are known as Prang.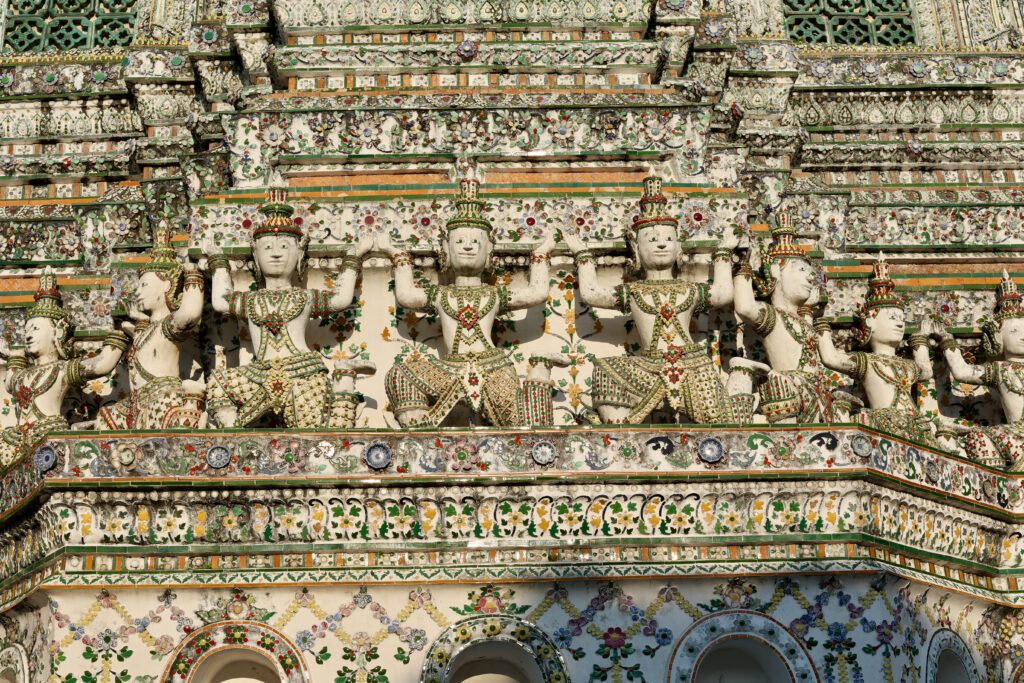 Intricate design on porcelain in Wat Arun
The primary attraction of Wat Arun is the central Prang, which stands more than 70 meters tall. The center Prang is thought to represent Mount Meru, a sacred peak.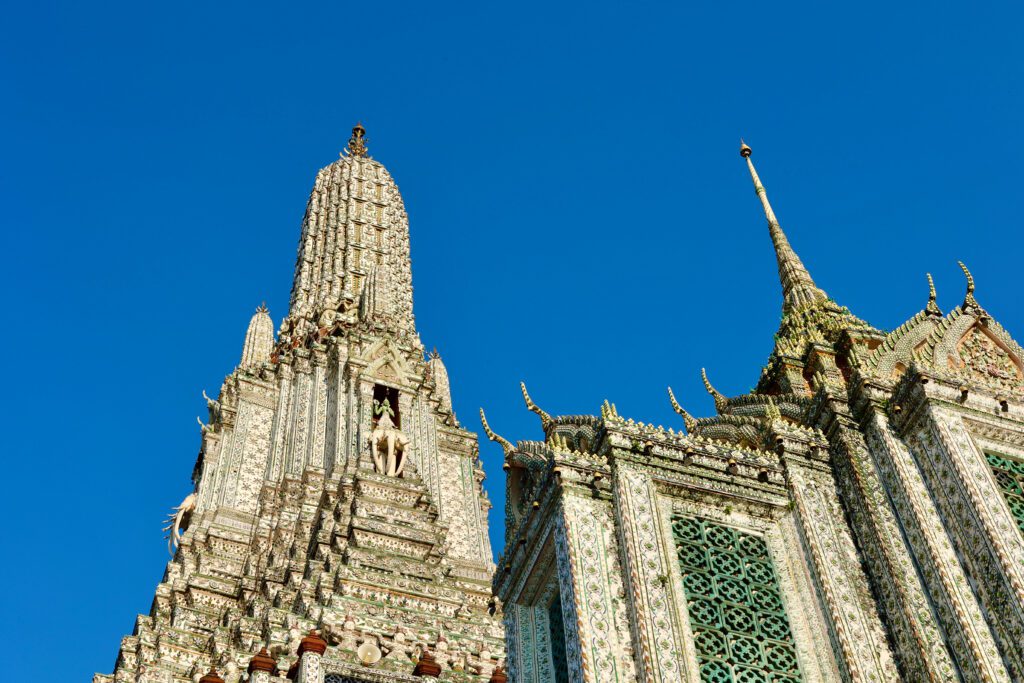 If you look carefully, you will find four smaller towers, or prangs, surrounding the central Prang. All of them are dedicated to a Hindu God and have intricate designs.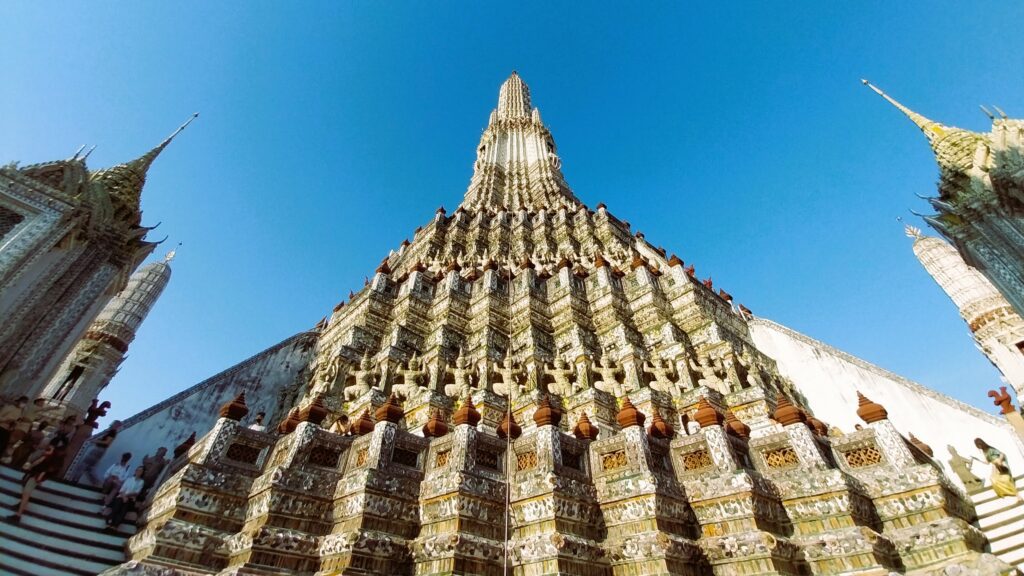 You can ascend the stairs to get a better view of the temples from various viewpoints. When there are a lot of tourists, space may be limited, but if you have patience, you will have it all to yourself.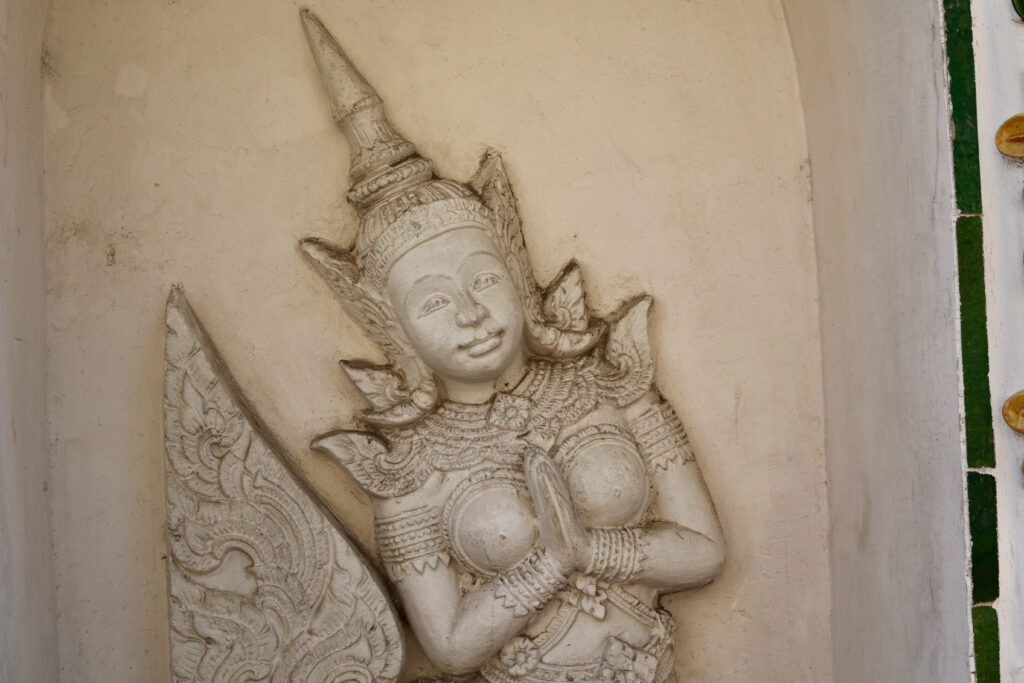 A Goddess sculpture on the wall of Wat Arun
So, the best way to explore the temple is to go up the steps, investigate it, and then go back down. Because it appears differently from the top than it does from the ground. You will find some fantastic sculptures on the wall as well.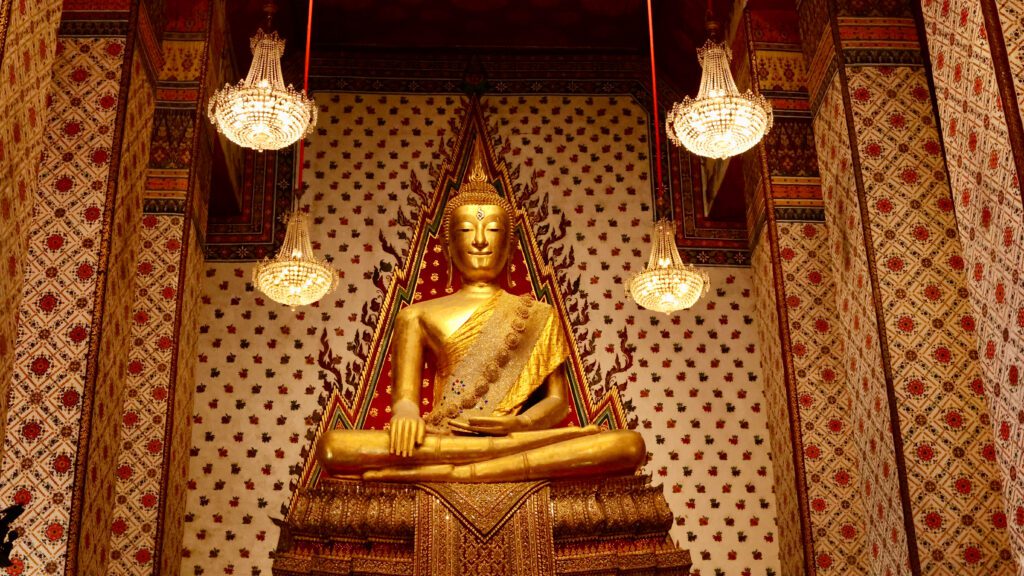 The largest Buddha statue in Wat Arun was pretty big!
Inside the temple, there is a hall. The main attraction is a Big Buddha statue. You will find the Buddha in deep thought.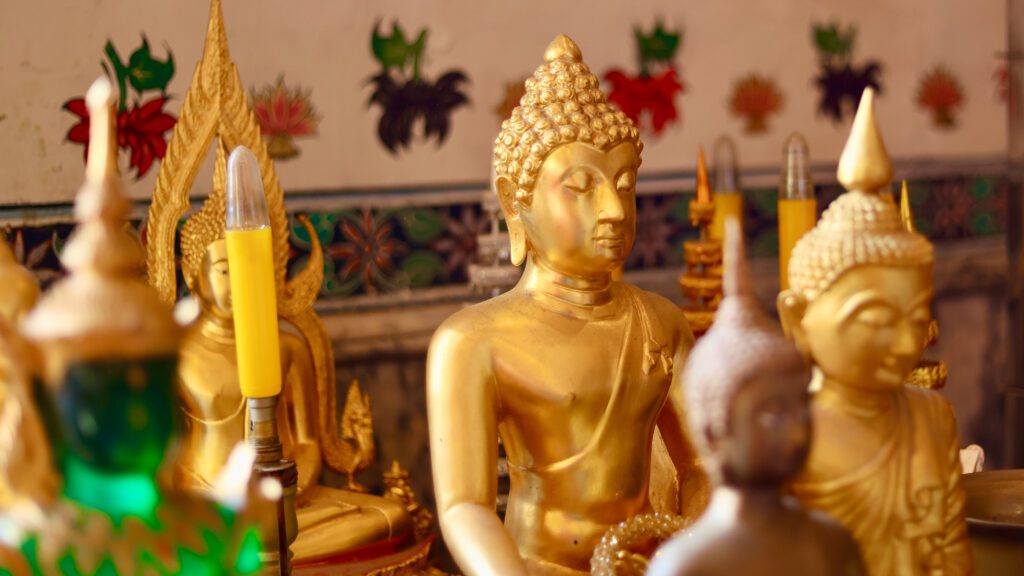 Gautam Buddha in different ages
There are several smaller statues in front of the Buddha. If you look closely, you will notice that the ordination hall is filled with murals of Buddhas of all ages.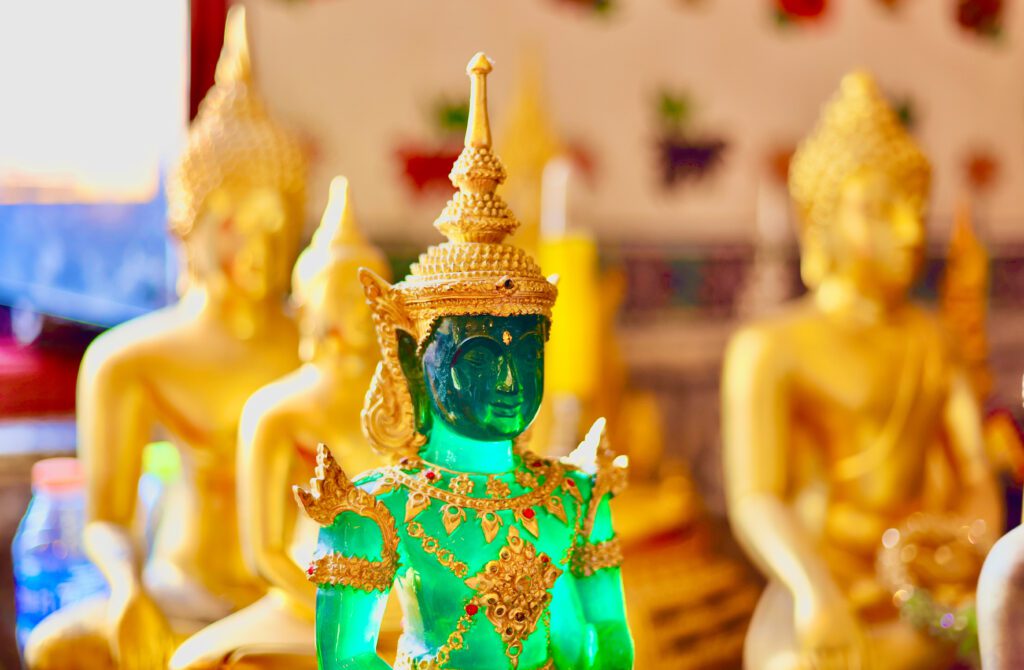 This was an extraordinary Buddha sculpture inside Wat Arun
Surprisingly, among the golden-colored conventional Buddha sculptures, I discovered one that is all green! He wore a separate crown on his head and had several trinkets on his body. It was as if we were visiting Earth from another planet!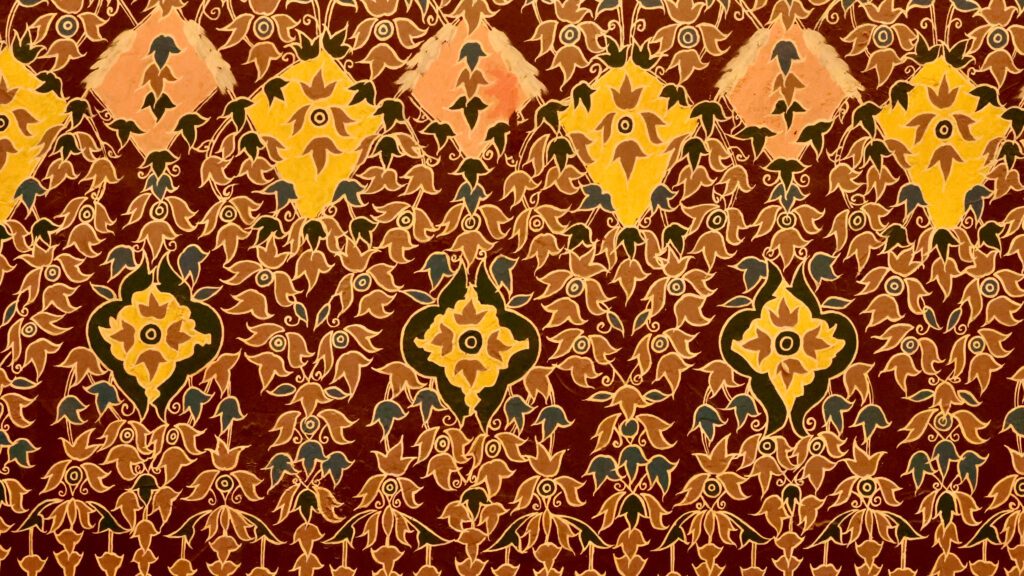 A colorful wall in Wat Arun in Bangkok
Wat Arun also has a large courtyard, which is ideal for taking photos with the temple in the background. After visiting the temple, you will be able to rest here as well. You will also find colorful photos on the wall.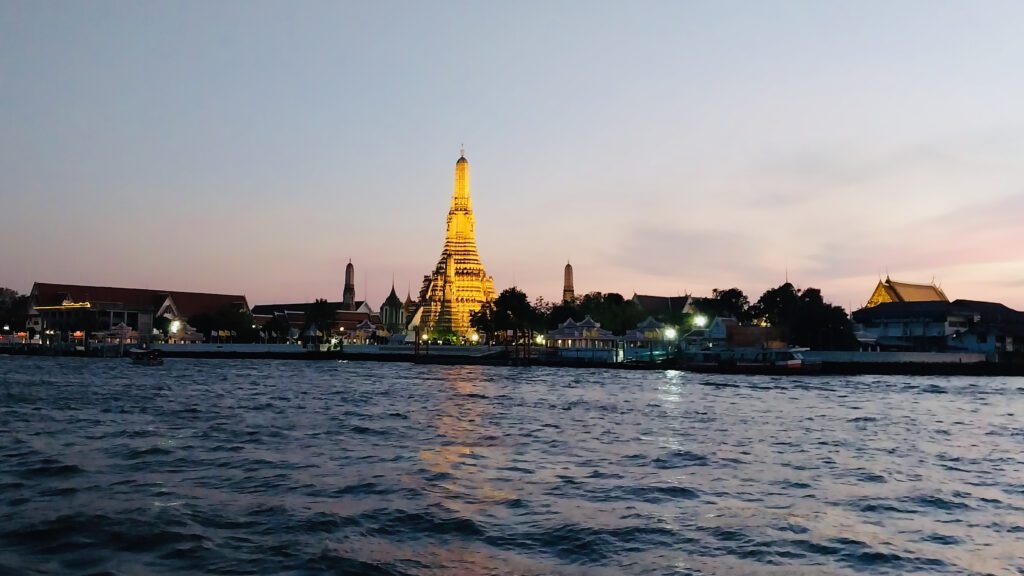 You will get a different view of Wat Arun at night
If you've already seen Wat Arun during the day, you should see it again at night. When turned on at night, the light literally glitters, and the golden color looks fantastic!
Grand Palace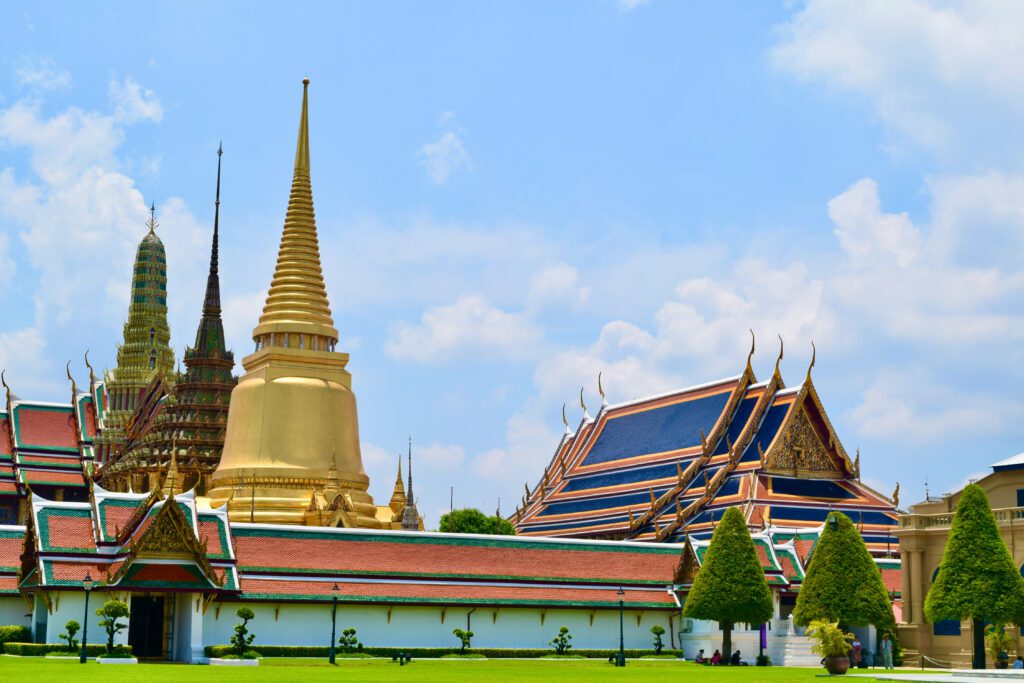 The Grand Palace is really grand! If you want to observe the beauty of traditional Thai architecture, then you've got to love this place. This was made in 1782, which makes it more than 500 years old.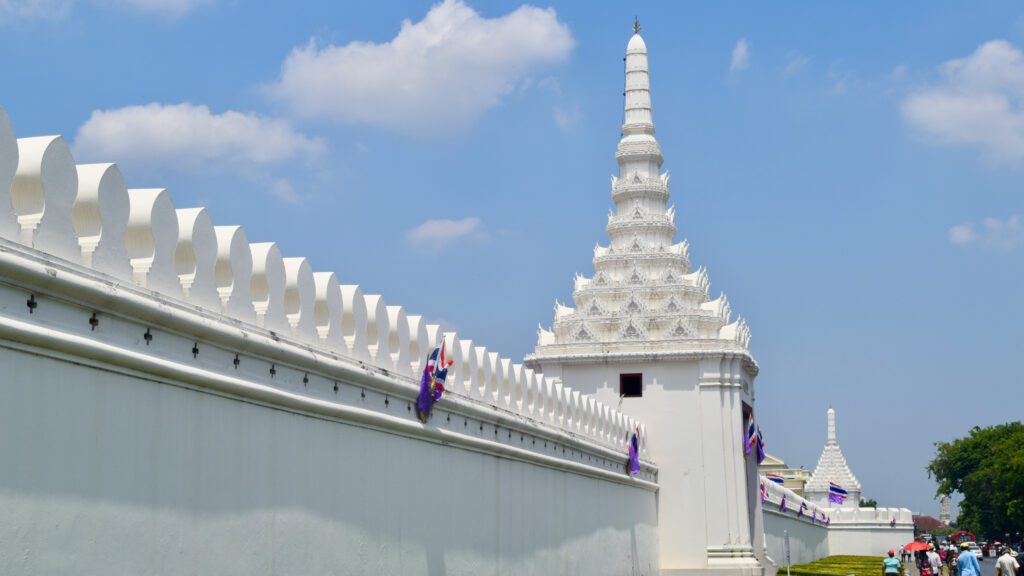 The old name of Thailand was Siam, and the Grand Palace was the the former residence of the Kings of Siam. The king, royal courts, and royal Government were based here until 1925.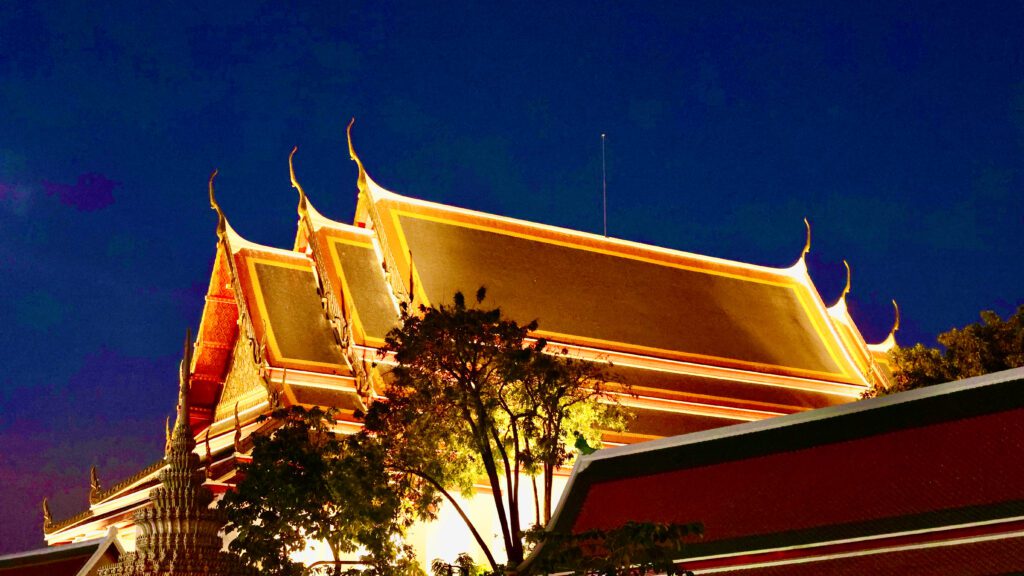 You can just roam around the complex to enjoy it. However, you should visit the Temple of the Emerald Buddha (Wat Phra Kaew), which is considered to be one of the most sacred Buddhist relics in Thailand. The Grand Palace is a UNESCO World Heritage Site. Just like, Wat Arun, the grand palace looks lovely at night, and you should pay a visit there.
Enjoy the Bangkok Skyline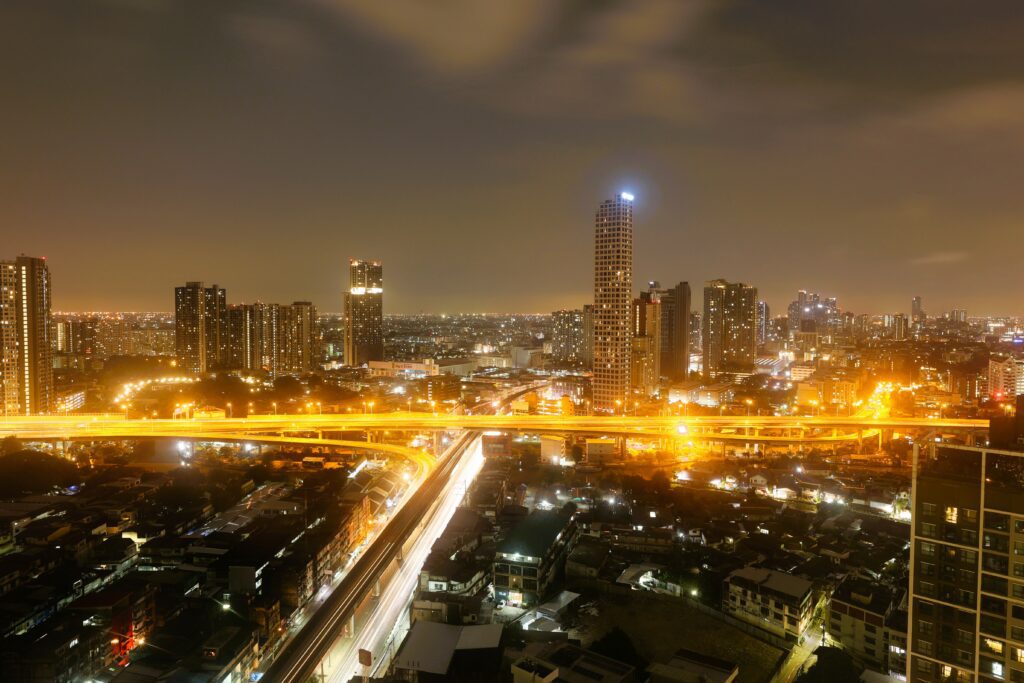 This photo is taken from the High Street Rooftop in Bangkok
While visiting Wat Arun, and the Grand Palace, you should have walked a lot in the immense heat. Now is the time to enjoy the impressive skyline of Bangkok. You have plenty of options to choose from, however, the best way to enjoy it is to visit King Power Mahanakhon. This SkyWalk is Thailand's tallest observatory deck and one of the best places to enjoy a sunset in Bangkok.
Get a Thai Massage
Even if you dislike the notion of someone else touching your body, you must get a Thai massage while in Thailand. It's a must-do, and it's so rejuvenating that I wanted to take it again and again. Many people believe that receiving a Thai massage will result in sexual participation. It's not entirely correct; you just need to make sure you're not headed to a bad area. Thai massage can be painful to your body, but this pain presents immense pleasure; If this is your first time, you can tone it down with a neck or foot massage.
2 Days in Bangkok Itinerary: Day 2
Jim Thompson House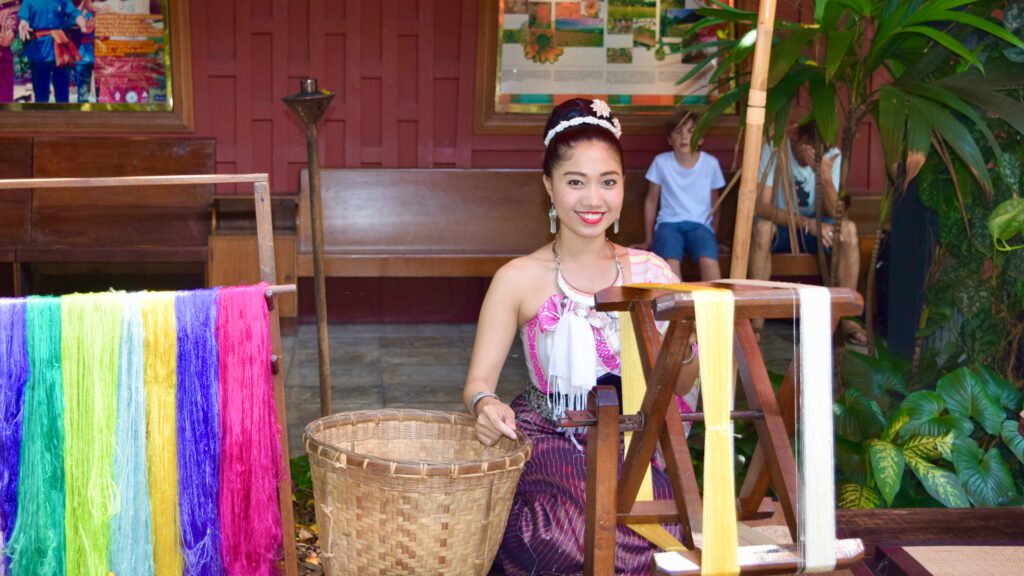 In Jim Thompson House Museum, a Thai girl is weaving in traditional Thai attire
Jim Thompson is an American businessman and the gentleman who made Thai silk and Thai craftsmanship popular in the outside world. You should visit Jim Thompson House, which is now a museum, to learn about its history and culture. In the museum, you will find the art collection of Jim Thompson.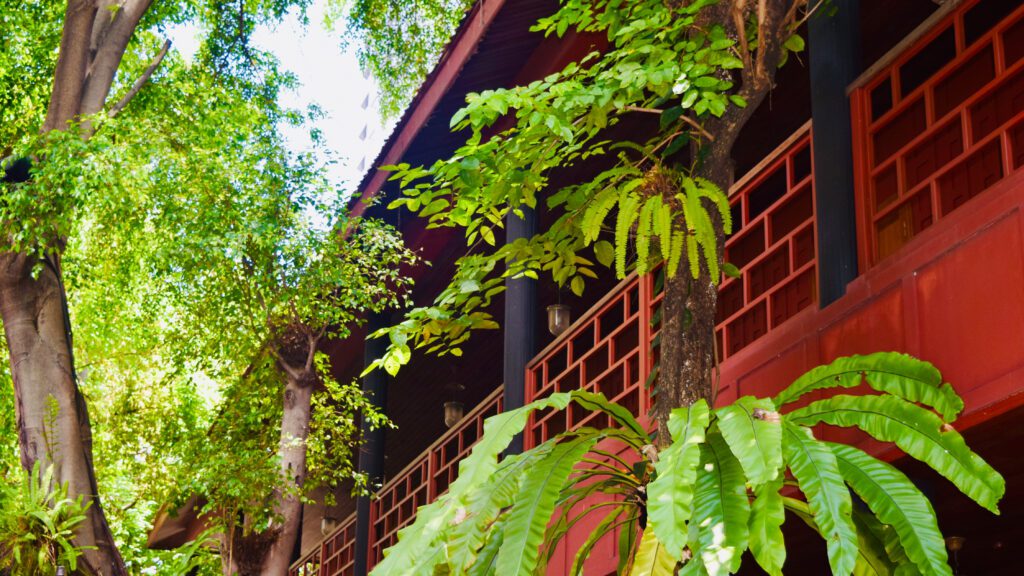 A part of a building in the Jim Thompson House Museum in Bangkok
But, that's not the only reason for visiting this place. It hosts several interconnected teakwood houses surrounded by gardens and greenery. The architecture is a mix of Thai and Western cultures, which gives it a great look.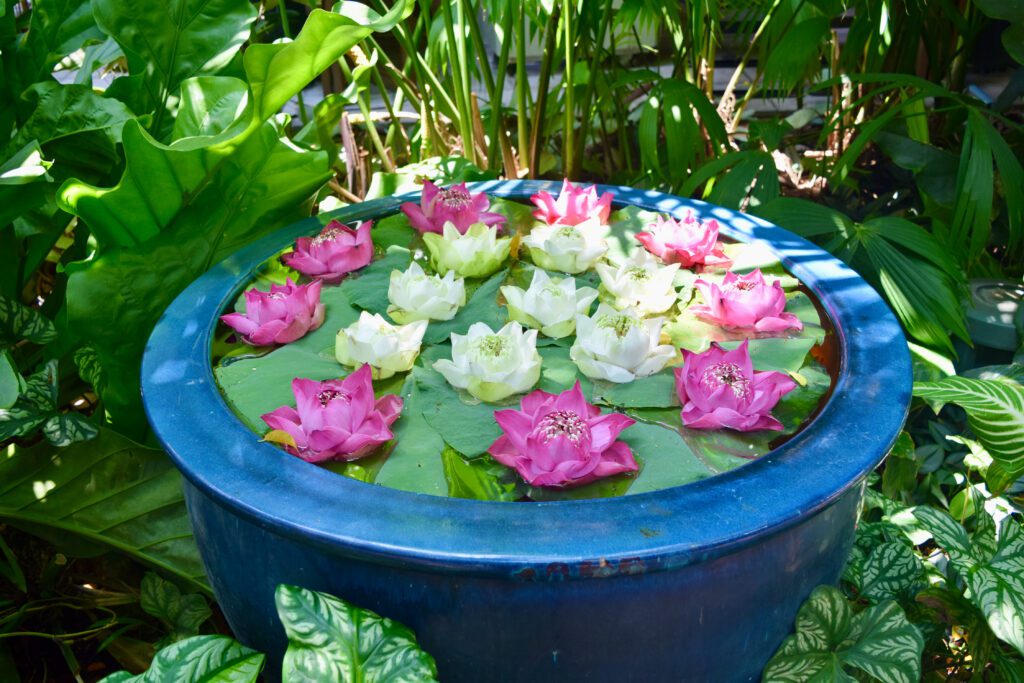 If you love flowers, and tranquility, Jim Thompson Museum is for you
The complex has some ponds as well, along with decorative statues. You will find flowers, frogs, and whatnot. It will take you to nature instantly in the hustle and bustle of Bangkok.
Boat Trip on the Chao Phraya River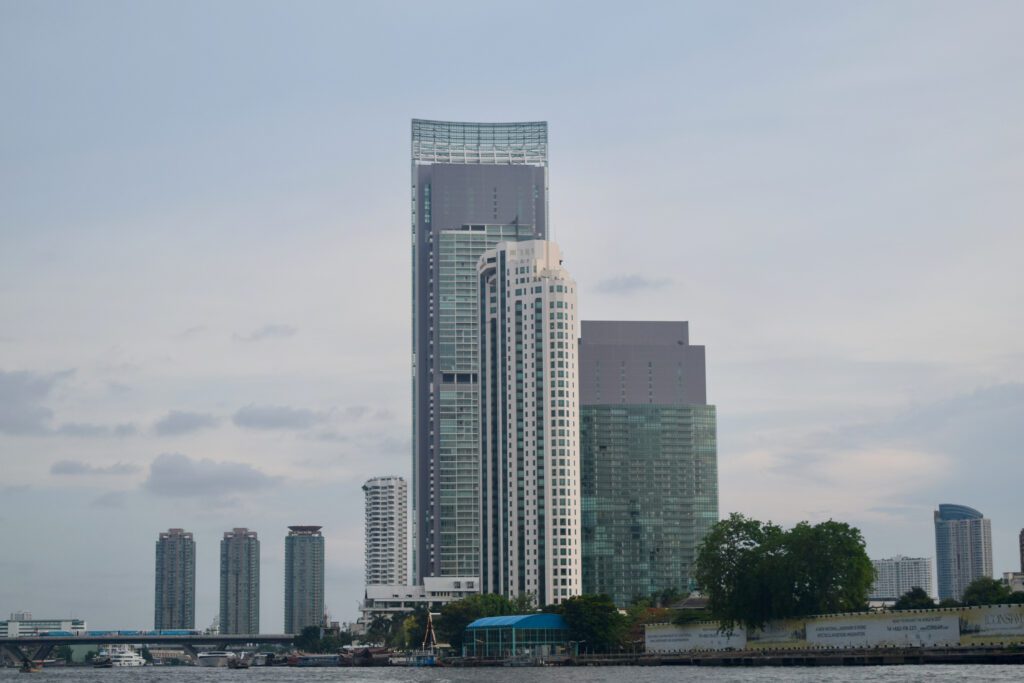 Taking a boat tour along the Chao Phraya River is one of the best ways to see the Bangkok cityscape.
The Chao Phraya River is the lifeline of Bangkok. It plays a significant role in carrying people and goods in Bangkok. If you look at the map of Bangkok, you will find it like an artery. It is a must to hop on a boat or take a river cruise to enjoy Bangkok. It has two advantages, you won't need to walk, which provides relief from the heat. On top of it, you will get panoramic views of the city.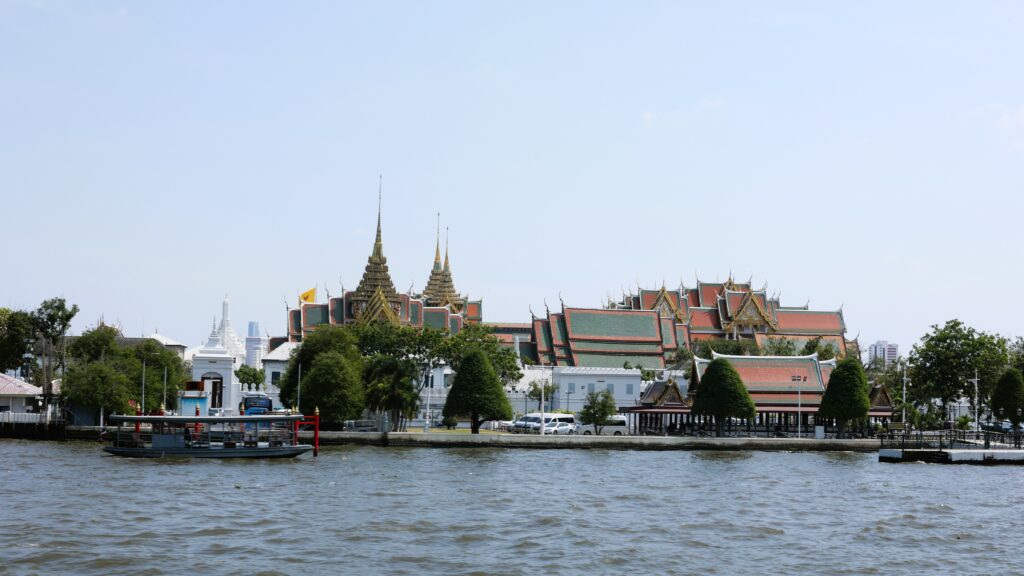 Many of Bangkok's most prominent landmarks and cultural attractions can be located along the Chao Phraya River's banks. Among them are the Grand Palace, Wat Pho (Temple of the Reclining Buddha), Wat Arun (Temple of Dawn), and a number of luxury hotels and restaurants with stunning riverfront views. You can book a cruise online.
Shopping and IMAX experience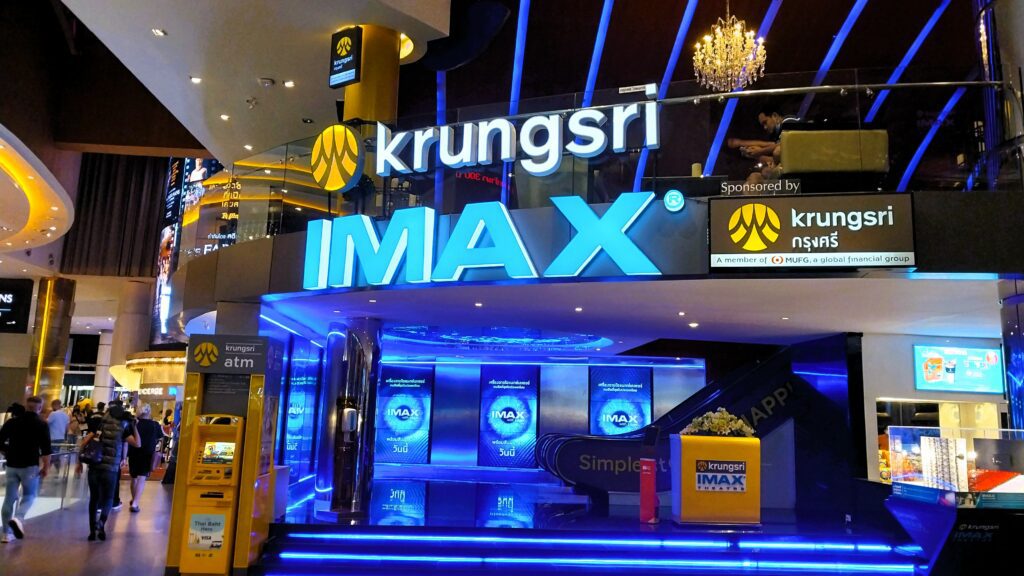 Paragon Cineplex is a heaven for movie lovers in Bangkok
Bangkok offers numerous wonderful shopping centers where you can buy almost anything. You should go there to see the difference between street shops and malls. A movie in IMAX will also keep you cool in Bangkok's heat. The best IMAX theater in Bangkok is located in the Paragon Cineplex.
The street food of Bangkok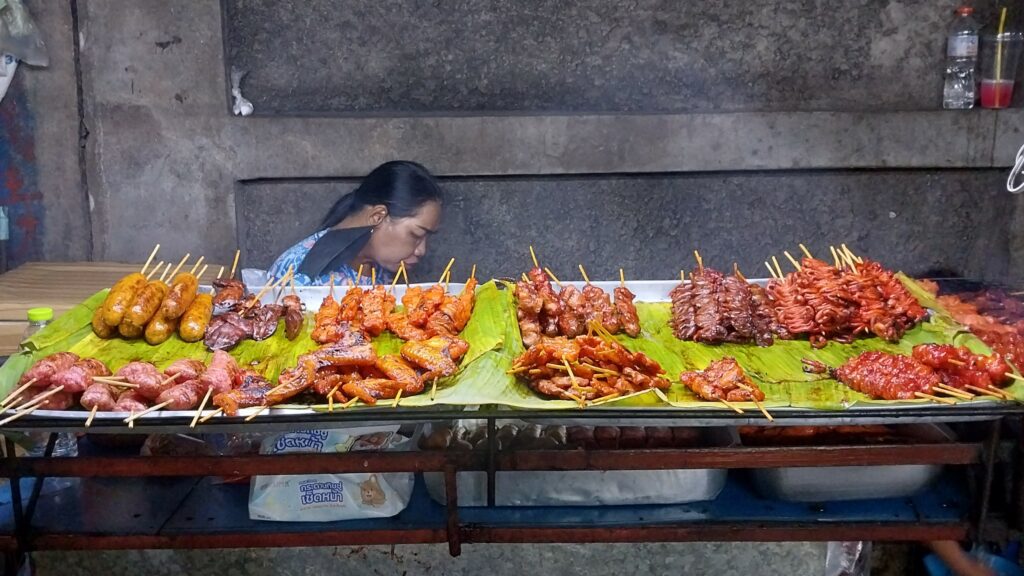 This type of food can be found in the alleys. of Bangkok
It takes a couple of hours to experience Bangkok's street dishes, which are really excellent! My favourite was a variety of grilled chicken. There was also pork available. You will receive not only the chicken itself or the wings, but also the gizzard, liver, and skin.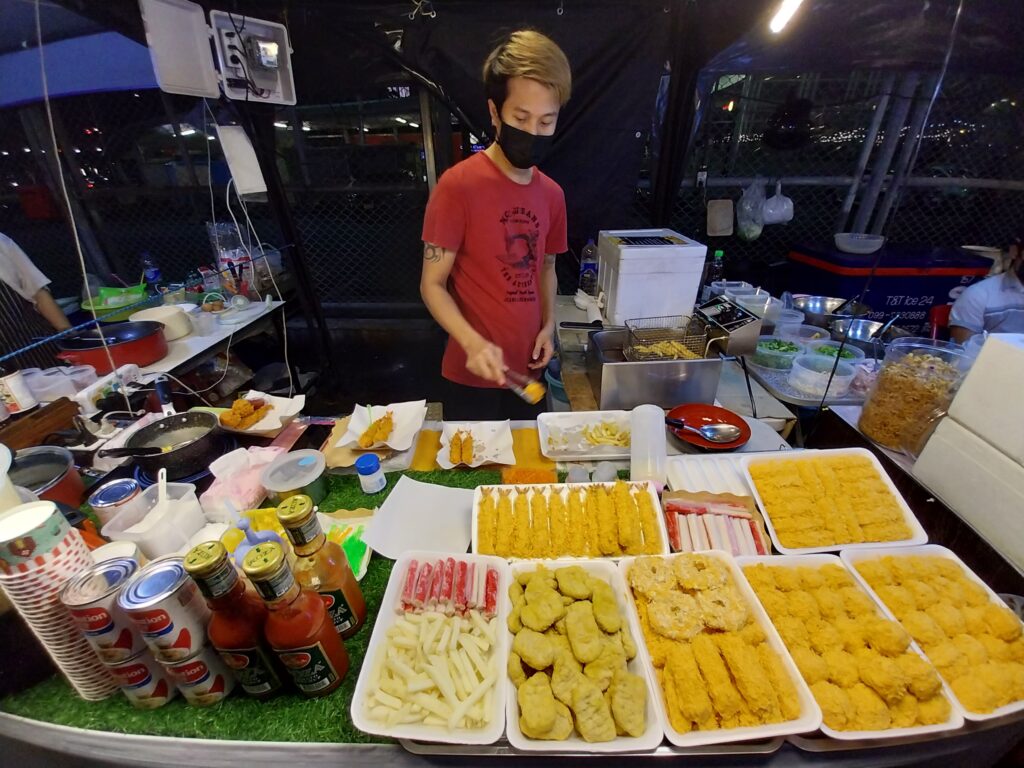 Some markets in Bangkok have food carts like these.
It's not just about the chicken pieces, it's also about tempura, waffles, and cutlets.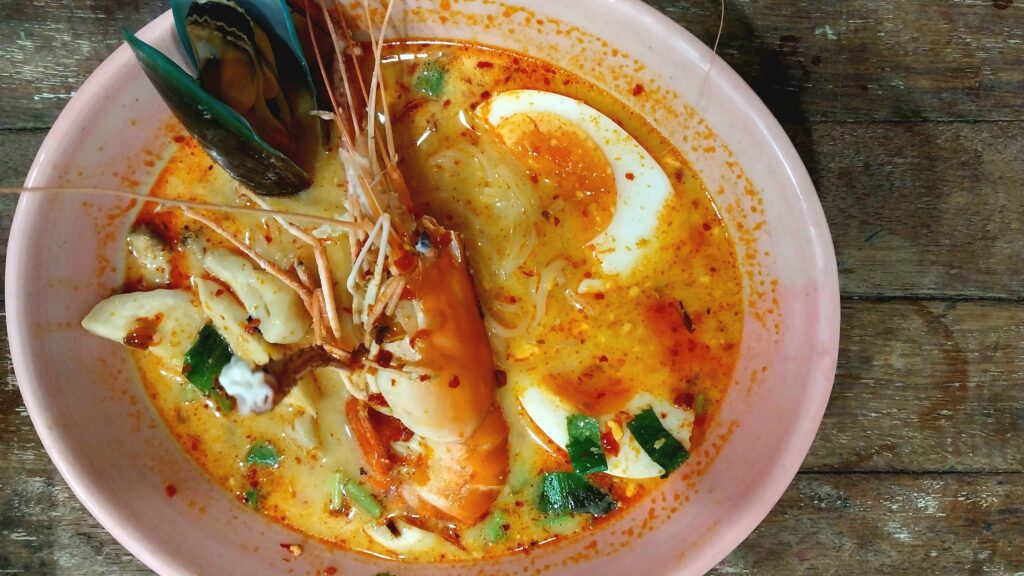 Hot, spicy, yummy – Tom Yum Goong in 3 words
Tom Yum Goong was my favorite cuisine. It's a hot and sour soup made with three herbs. You have the option of ordering fish or prawns. If you choose wisely, they will also include an egg. If you can tolerate spicy cuisine, this is an excellent food to have. Try Pe Aor restaurant for a bowl of Tom Yum Goong.
Enjoy the nightlife of Sukhumvit 11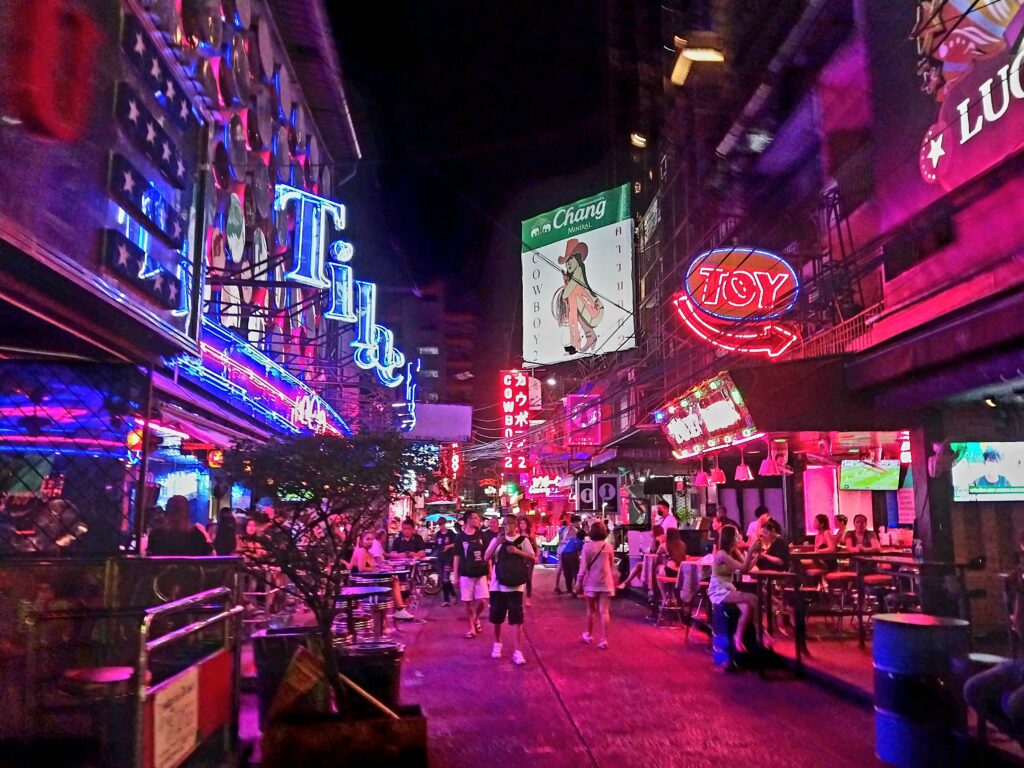 Sukhumvit 11 is one of the most exciting streets in Bangkok
Sukhumvit is a district in Thailand, and Sukhumvit 11 is a street inside it. You won't want to leave this colorful, lively, and entertaining location if you are a party lover. Sukhumvit 11 is widely regarded as Bangkok's most dynamic street. Get off at Nana BTS station and walk a short distance to reach this 800-meter-long boulevard filled with bars, restaurants, nightclubs, and live music. You must visit this location after sunset to experience its genuine character.
Best Places to stay in Bangkok
Bangkok has a very efficient public transportation system. So, if you book your hotel near a BTS station, you can visit many places. Make sure to buy a BTS card beforehand.
Ibis Style Sukhumvit is near a BTS and a good value for your money.
Grand Mercure Bangkok Atrium is a big hotel with fantastic buffet breakfast options. I found it good value for money as well.
Siam Subway Hostel and Cafe is an excellent choice if you want to stay in a hostel. It's just stone away from the Samyot MRT station.
Peaceful house is perfect for you if you are traveling in a group.
Kimpton Maa-Lai, Carlton Hotel Sukhumbhit, Siam Kempinski Hotel Bangkok, and Sheraton Grande Sukhumvit are some of the best options if you prefer luxury.
The post 2 Days in Bangkok – Best two days Bangkok Itinerary appeared first on A Walk in the World.