The 20 Best Cultural Festivals Around the World
Original content owned & copyrighted by Green Global Travel. Across the world each year, there are hundreds of cultural festivals that celebrate the unique beliefs and traditions belonging to a specific region. For those of us who are not local to the area, visiting these festivals can be a great way to immerse ourselves in other cultures and join in on unique celebrations for Keep Reading The post The 20 Best Cultural Festivals Around the World appeared first on Green Global Travel.
Original content owned & copyrighted by Green Global Travel.
Across the world each year, there are hundreds of cultural festivals that celebrate the unique beliefs and traditions belonging to a specific region.
For those of us who are not local to the area, visiting these festivals can be a great way to immerse ourselves in other cultures and join in on unique celebrations for a truly unforgettable experience.
So whether you're hoping to visit these celebrations yourself or just learn more about other people's cultural traditions, here's an in-depth guide to the best cultural festivals around the world.
READ MORE: 20 Best Festivals in the World (For Your World Travel Bucket List)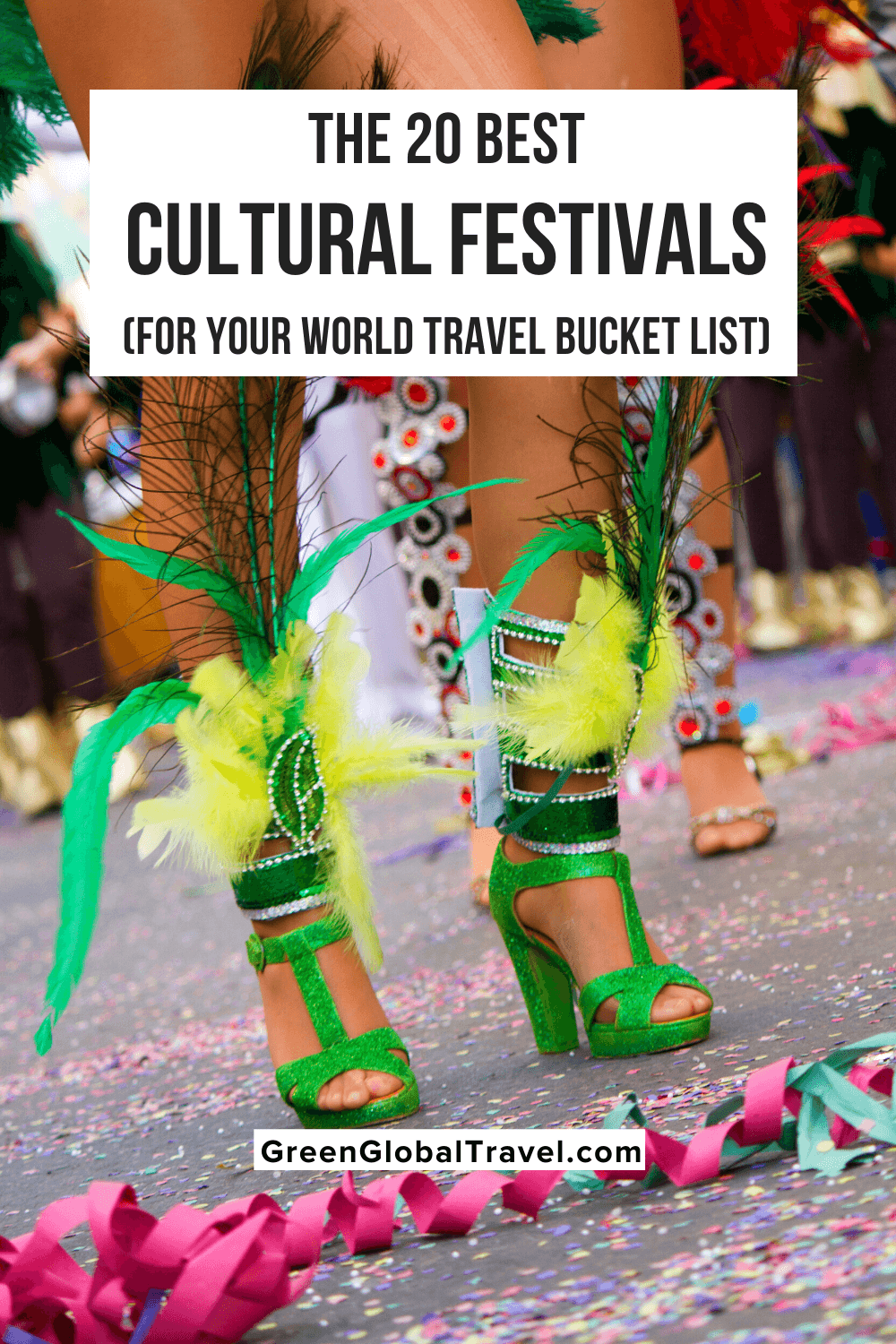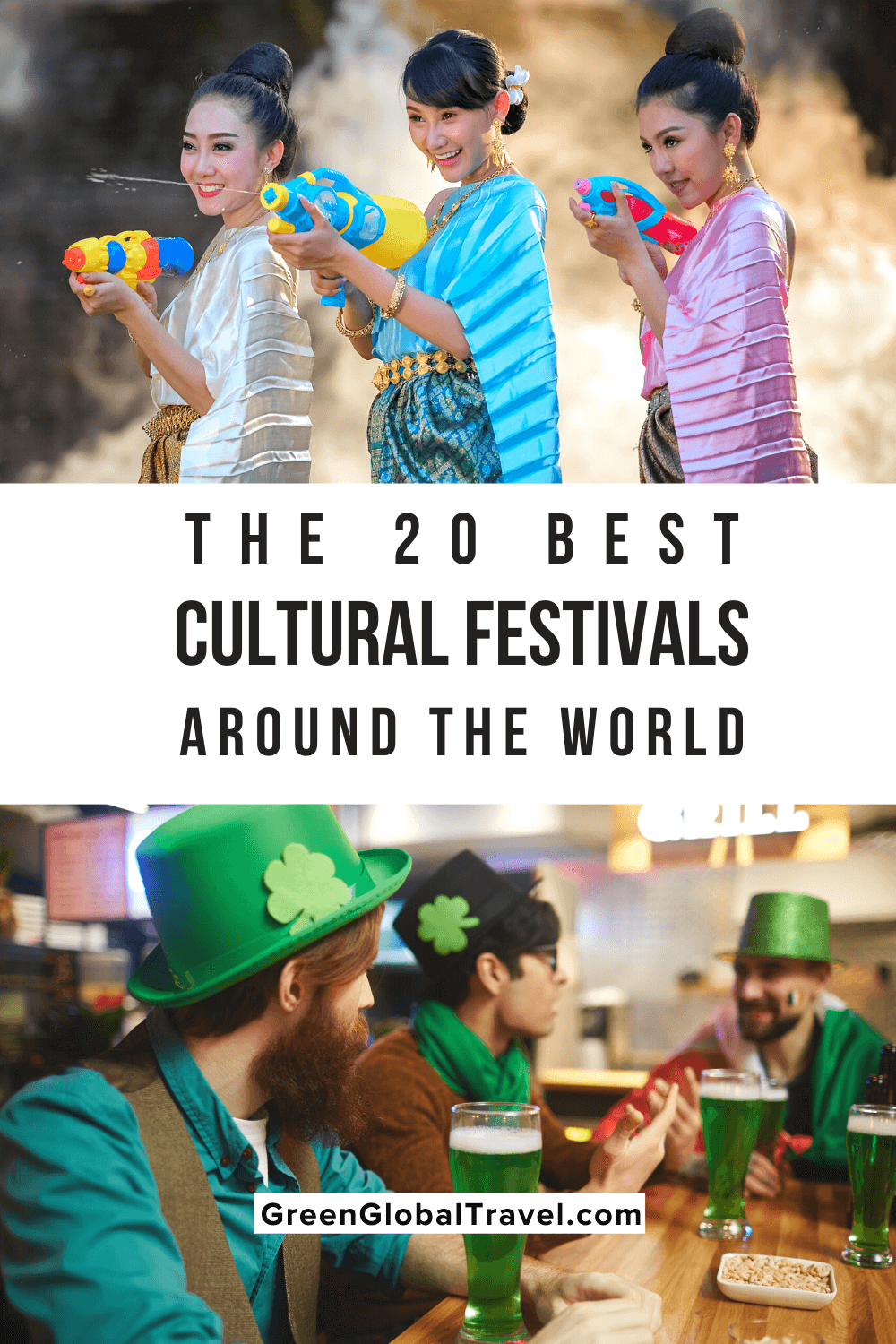 Cultural Festivals Around the World Guide
Asian Cultural Festivals
African Cultural Festivals
European Cultural Festivals
Latin American Festivals
North American Cultural Festivals
Asian Cultural Festivals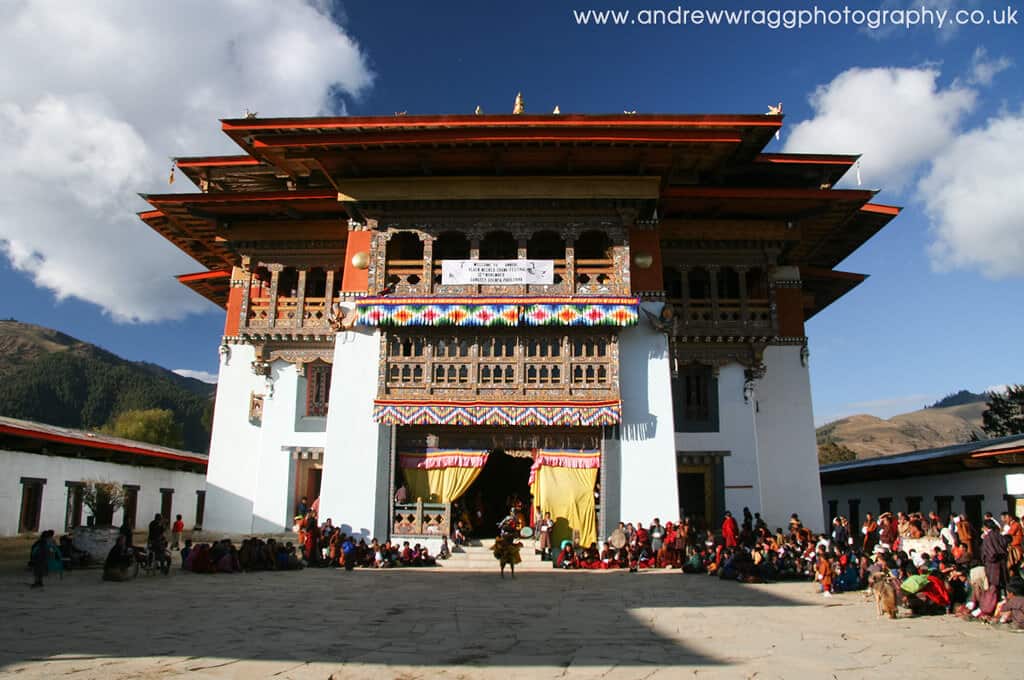 "Gangtey Gompa – Bhutan" by Andrew Wragg is licensed under CC BY-NC-ND 2.0
1. Black-necked Crane Festival (Bhutan)
Celebrated in the courtyard of Gangtey Goemba, one of the oldest and largest Nyingmapa monasteries in Bhutan, the Black-necked Crane Festival draws in large crowds of locals to celebrate the arrival of the endangered birds.
These majestic birds are considered sacred and a symbol of longevity in Bhutan, where they are the subject of many folktales and songs. Images of the Black-necked Crane can also be found painted on the walls of temples across the country.
The birds' arrival (after migrating from their summer home on the Tibetan Plateau) is widely celebrated because they're believed to bring prosperity and bountiful harvests to the farms of the Phobjikha Valley.
The festival celebrating their arrival is a one-day event that takes place every November. It features various folk dances and songs, children dressed up in crane costumes and masks, and local school kids performing plays that raise awareness for environmental conservation.
This year the Black-necked Crane Festival will be held on November 11, 2021.
READ MORE: 10 Steps To Bhutan Happiness: A Nature Lover's Travel Guide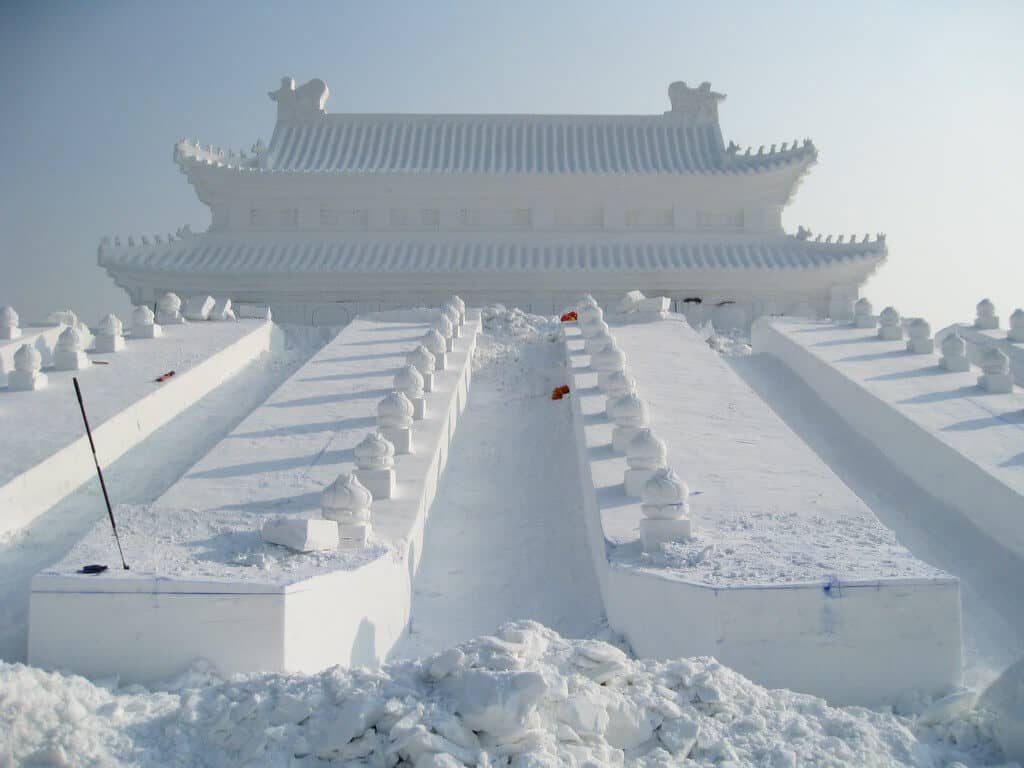 "Harbin Snow & Ice Festival" by Trent Strohm is licensed under CC BY-NC-ND 2.0
2. Harbin International Ice & Snow Sculpture Festival (China)
Located in Northeast China, Harbin experiences frigid winter winds blowing in from Siberia. This accounts for its Arctic climate, with daily temperatures in winter averaging to around 1.8 ºF!
While these temperatures might seem daunting, it's also what allows the city to host one of the most famous winter festivals in the world, the Harbin International Ice & Snow Sculpture Festival.
The month-long festival recently celebrated its 37th anniversary, taking place in January 5th to February 5th in 2021. The beloved event takes over the entire city, as the ice sculptures are some of the largest in the world.
There are two main exhibitions where you can explore the exquisite scenes. The first is Sun Island, which is situated along the Songhua River, from which 2- to 3-foot ice blocks are pulled to create massive displays.
Next there is the Ice and Snow World, which opens at night to reveal full-sized buildings made of ice blocks illuminated by colorful computer-controlled LED lights.
There are an array of other winter activities that you can enjoy while at the festival, including alpine skiing,  touring the ice lantern exhibitions in Zhaolin Park, and swimming in the river's freezing waters.
READ MORE: Top 7 Things to Do in China for Nature Lovers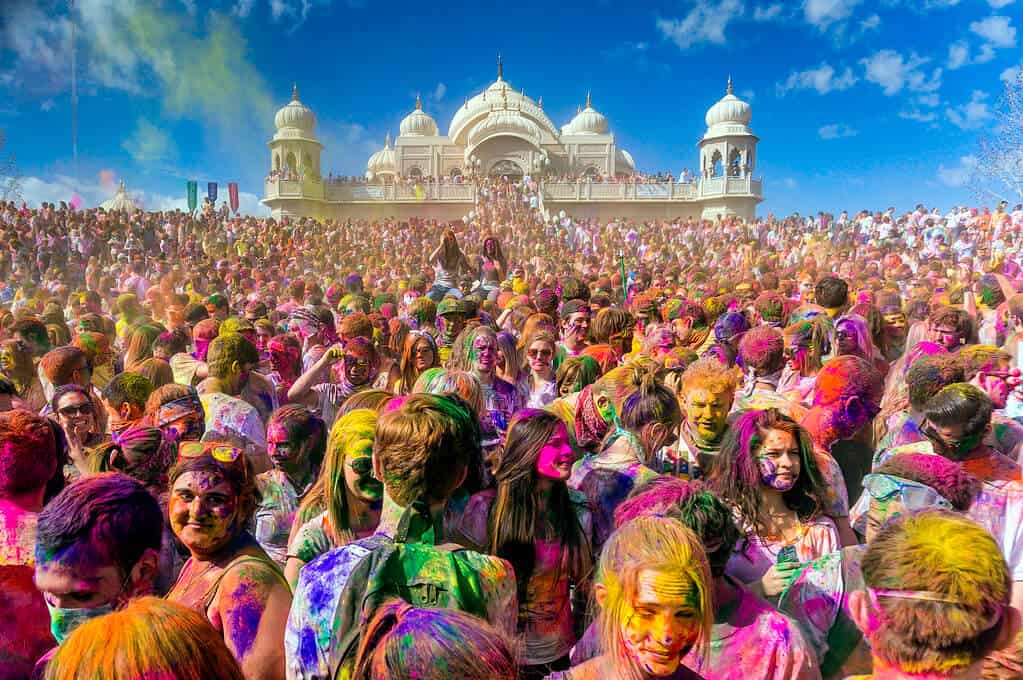 "Holi / Festival of Colors 2013" by Steven Gerner is licensed under CC BY-SA 2.0
3. Holi Festival (India/Pakistan)
Known as  the "festival of colors" or "the festival of love," Holi is an ancient Hindu festival that celebrates the end of winter and the triumph of good over evil. In 2021, it takes place March 28th and 29th. 
There are various legends attached to the festival. One suggests it pays tribute to the Hindu God Visnu and his follower, Prahlada, after their defeat of Prahlada's tyrannical father, the demon King Hiranyakashipu.
Another suggests it is a celebration of the intense love Radha had for the deity Krishna, while others believe it is associated with Shiva, who is known as a powerful transformer and destroyer of evil.
On the night of the festival, which is known as Holika Dahan or Chhoti Holi, people gather to perform religious rituals around huge bonfires that symbolize the cleansing and forgiveness of the past.
The following day, known as Holi, is when the celebration truly erupts. People swarm the streets of India with water guns and water-filled balloons to drench each other with, along with a vibrant array of colored powders.
The festive occasion also often includes traditional food and drinks, marching bands, and dancing that brings people together in joyous celebration.
READ MORE: 50 Fascinating Facts About Indian Culture (By Region)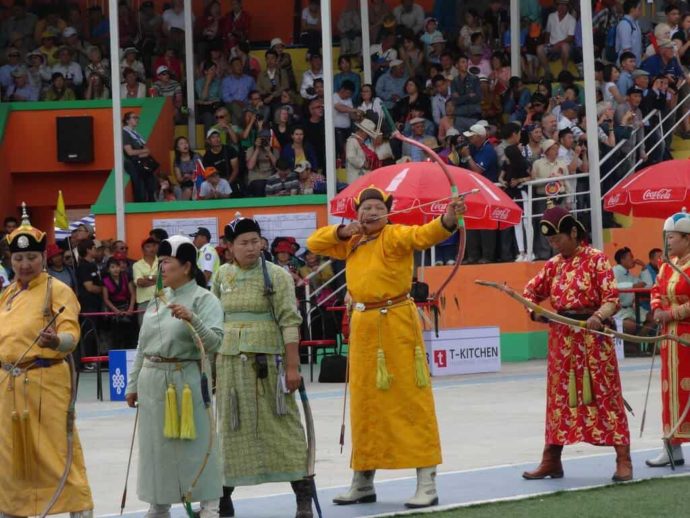 Naadam Festival in Ulaanbaatar, Mongolia, photo by amanderson2 is licensed under CC BY 2.0
4. Naadam Festival (Mongolia)
Held in the capital city of Ulaanbaatar in early July, the Naadam Festival is a combination of arts and sports that celebrate Mongolia's National Holiday and unique nomadic culture.
The festival is believed to date back centuries to the era when Mongolia was ruled by the Qing Dynasty, and features events that were popular during the great Genghis Khaan's era in the 13th century.
Locally known as eriin gurvan naadam ("the three games of men"), the event features three primary sports: wrestling, archery, and horse racing.
The competition begins after an elaborate opening ceremony with performances from various dancers, musicians, horseback riders, and other athletes.
The wrestling event features 500 to 1000+ men competing in single-elimination rounds. The archery event features male and female athletes aiming for small targets, known as surs, located up to 75 meters away.
The Mongolian horse race features up to 1,000 horses running 10 to 17 miles. In 2021, the extraordinary event will take place from July 11 to July 15.
READ MORE: How to Experience Traditional Mongolian Culture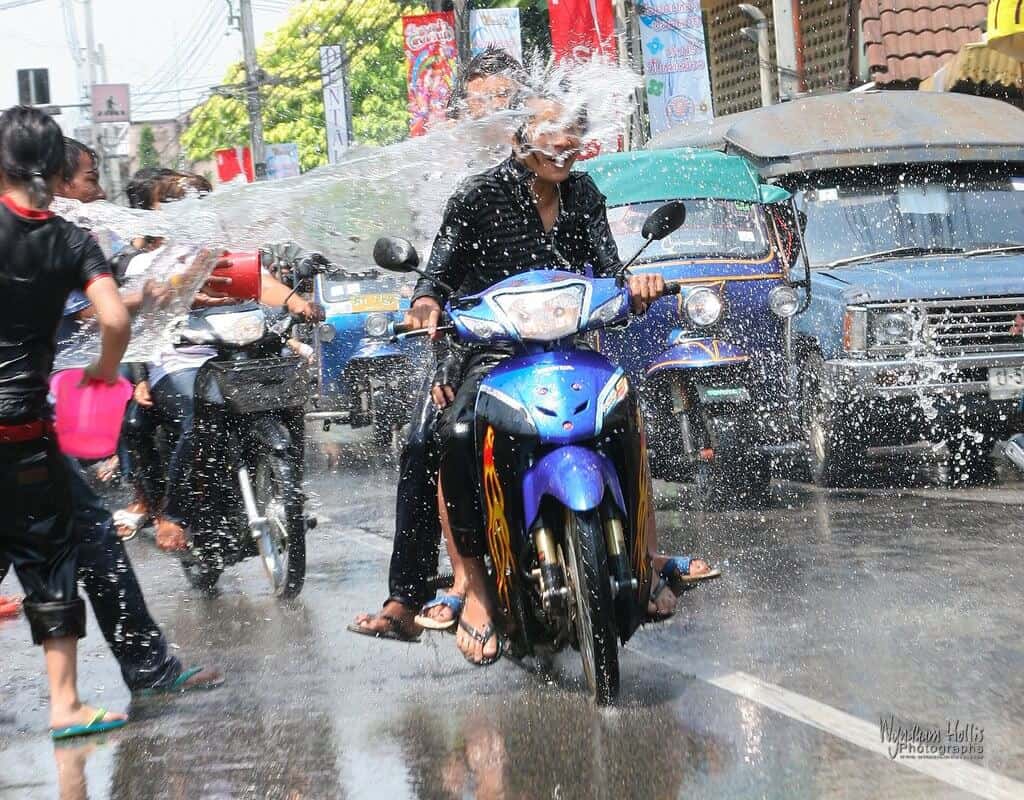 "Songkran Festival" by Wyndham is licensed under CC BY 2.0
5. Songkran Festival (Thailand)
The word Songkran derives from the Sanksrit word for "astrological passage," and represents a time of strong transformation or change.
It's a fitting name for this festival, which is celebrated April 13-15 throughout Southeast Asia, marking the beginning of the traditional New Year.
Family members who have moved away will usually return for the Songkran Festival to pay respect to their ancestors. People dress in their best clothes and clean their houses in preparation for the new year.
The mornings begin with families visiting the local Buddhist temples to offer food to the Monks. A ritual is also often performed wherein water is poured on statues of the Buddha, young children, and the elderly, symbolizing purification and cleansing.
Some regions host traditional parades and beauty contests, while others set off fireworks in an effort to ward off bad luck in the coming year. But the event that's most well-known is the celebration in Thailand.
All major streets are shut down as swarms of people gather with water balloons and Super Soakers in hand, ready to drench anyone in sight. It is truly a wild and cheerful way to have fun and celebrate the new year!
READ MORE: The 13 Most Beautiful National Parks in Thailand
African Cultural Festivals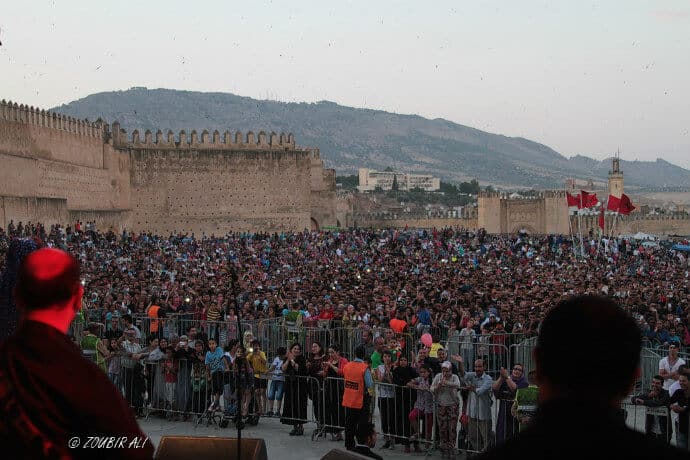 Fes Festival of World Sacred Music, photo by Zoubir Ali via Flickr CC 2.0
6. Fes Festival of World Sacred Music (Morocco)
Launched in 1994, with Morocco's King Mohammed VI as its royal patron, the Fes Festival of World Sacred Music has grown to be one of the best music festivals in the world, attracting 100,000+ attendees each year.
This festival was created to showcase the ancient city of Fes' rich traditions in arts, knowledge, and spirituality. Which is fitting since the city's influence dates back to Medieval times, when Popes and philosophers would travel to Fes in order to study and teach.
Each year there are around 60 different concerts on offer, featuring a diverse array of musicians and poets (including icons like Björk, Patti Smith, Joan Baez, Salif Keita, and Ravi Shankar).
The concerts are held in beautiful historical venues, including local riads and the grand courtyard of Bab al Makina, where the official ceremonies of the royal palace once took place.
The advocacy of music as a means of bringing disparate people together was recognized by the UN in 2001. They declared the Fes Festival as one of the most outstanding events contributing to the dialogue between different cultures around the world.
This year the festival will take place from June 4 to June 12.
READ MORE: Hassan Hakmoun on Morocco's Gnawa Music & Culture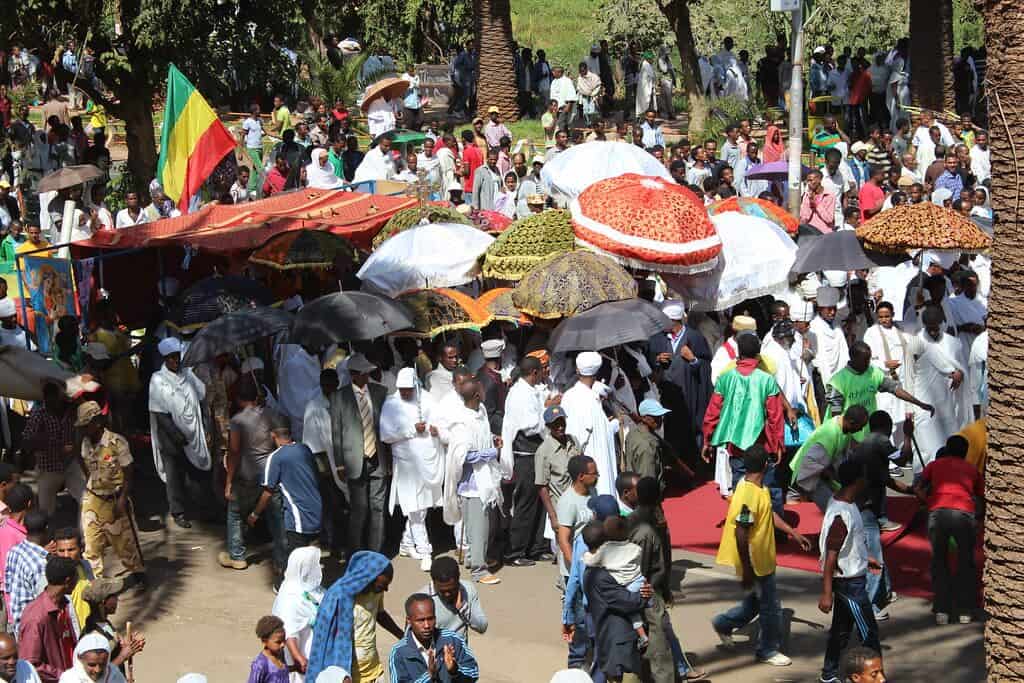 "Timket celebration" by moi@warrior ant press is licensed under CC BY-NC 2.0
7. Timket Festival (Ethiopia)
Timket (named after the Amharic word for "baptism") is an Orthodox Christian celebration of the Epiphany to commemorate the baptism of Jesus in the Jordan River.
Beginning on the 18th of January, the annual festival begins with a processional. Models of the Ark of the Covenant, called Tabots, are taken from churches and wrapped in fine cloth and silks to be carried on the heads of priests to the river or bath.
The water is blessed at dawn, and the priests then sprinkle the crowd with it. Many participants will also submerge themselves in the water in order to symbolically renew their baptismal vows.
The second day of Timket is when the main celebrations take place. People come out in droves, marching through the streets in an exuberant display of singing, dancing, and all-around celebration.
Everyone is dressed in their finest clothes– usually white with gold crosses– carrying beautifully colored embroidered umbrellas that are believed to signify the presence of the Holy Spirit.
On the final day of Timket, which is known as the feast of St. Michael the Archangel, the Tabots are carried back to the churches, accompanied by a procession of priests and believers.
READ MORE: Why I'd Prefer to Forget Visiting the Dead Sea, Jordan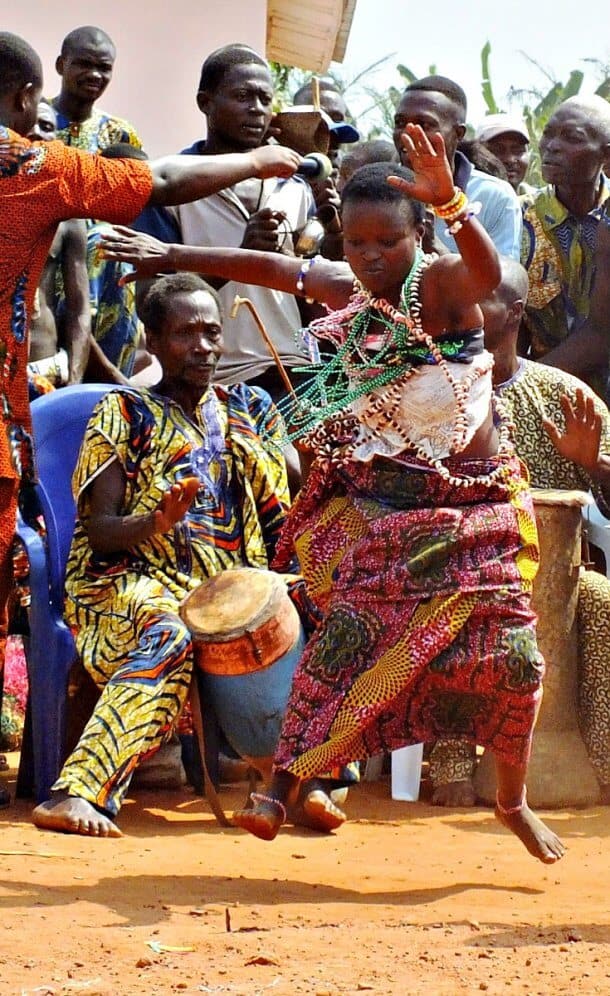 Ouidah Voodoo Festival via pixabay
8. Ouidah International Voodoo Festival (Benin)
Held each year on January 10 in the West African country of Benin, the Ouidah International Voodoo Festival is the world's largest gathering of Voodoo (a.k.a Vodun) practitioners and devotees. It attracts nearly 10,000 people from around the world and all walks of life.
Benin is widely regarded as the birthplace of West African Vodun, which is a an ancient religion based around the belief that there are sacred spirits (known as vodun) that govern the Earth.
There is a hierarchy of power, with major deities governing nature and society and lesser spirits in trees, streams, rivers, and rocks. There are also vodun dedicated to specific tribes and nations.
The Ouidah International Voodoo Festival begins with the ritualistic slaughter of a goat in honor of the spirits. Then there's the sound of ceremonial drums, which develops into an upbeat gathering with traditional dances.
Devotees who participate may be decorated with local powder and palm oil, and women will often be dressed in vibrant colors .
There are also markets filled with wood carvings, masks, and fetishes, which are objects believed to be inhabited by spirits that have healing and spiritually significant properties.
READ MORE: The 20 Safest Countries in Africa to Visit
European Cultural Festivals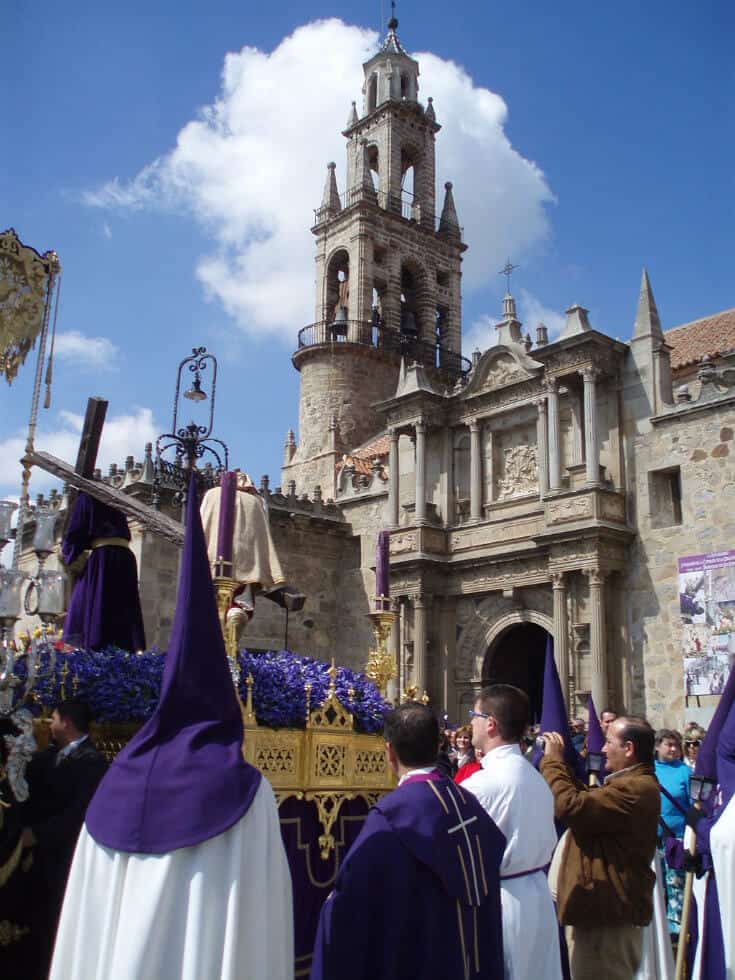 photo by ROJOPUBICO GFDL via Wikimedia Commons
9. Semana Santa (Spain)
The week between Palm Sunday and Easter (commonly called Holy Week) is known in much of Latin America as Semana Santa. This is a time to commemorate the last week in the life of Christ.
Semana Santa's celebrations in Spain vary from region to region: Festivals held in Málaga and Seville are some of the most elaborate, while those held in Valladolid and Zamora tend to be more somber.
But however they're celebrated, the central meaning and elements of these religious festivals are mostly the same, with processionals of Catholic brotherhoods or fraternities walking through the streets.
Penitents, or nazarenos, march in the streets dressed in colorful robes, covering their faces and carrying processional candles or crosses.
Many walk barefoot, bound by shackles and chains: This is a testament to their devotion, because the processionals can sometimes last over 10 hours!
Along their journey, the nazarenos carry large floats known as pasos, some of which have been used by the brotherhoods for centuries. These are decorated with elaborate sculptures that depict scenes from relevant passages of the Bible, like the Passion of Christ and the mourning of Virgin Mary.
READ MORE: Working Holidays In Andalusia, Spain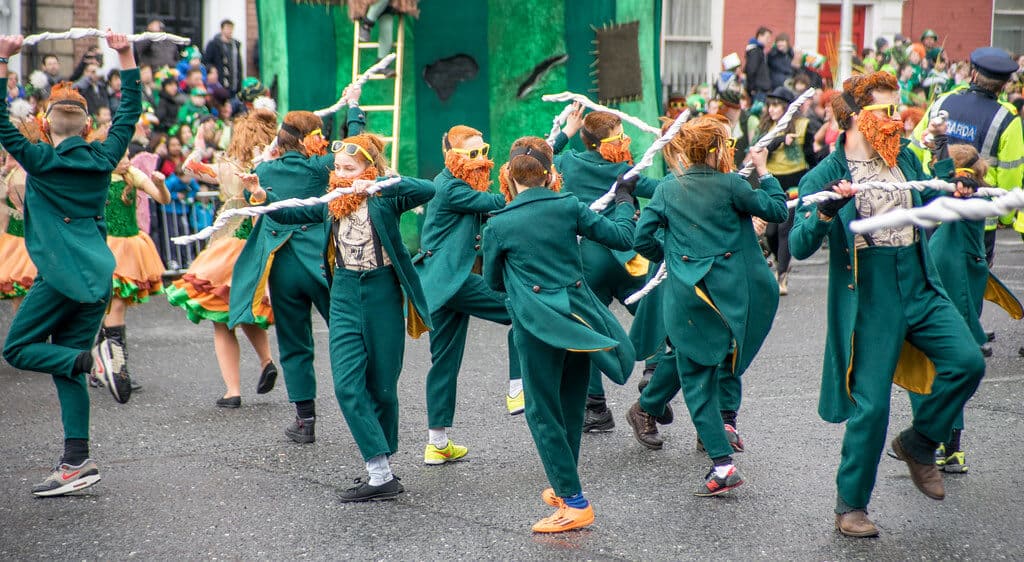 St Patrick's Day in Dublin, Ireland, photo by Giuseppe Milo (www.pixael.com) via CC BY 2.0
10. St. Patrick's Day (Ireland)
The beloved celebration most Americans associate with St. Patrick's Day actually originated as a religious occasion to honor the death of Ireland's patron saint.
Born to a religious family sometime around 385 AD in Roman Britain, Saint Patrick was kidnapped at the age of 16 and taken to Gaelic Ireland. There he worked for six years as a shepherd before escaping.
After making his way home, he ultimately became a priest. He later returned to Ireland, where he converted many pagans to Christianity by using the three leaves of the shamrock to explain the Holy Trinity.
The St. Patrick's Day festival has grown to be one of the most celebrated holidays around the world. In fact,  it's actually celebrated in more countries than any other national festival. But of course experiencing it in Ireland is a truly unforgettable affair!
Every year on March 17, people throw on as much green clothing and shamrocks as they can to either join in or watch lavish parades filled with performers that march through the streets.
Dublin's massive St. Patrick's Day Parade is one of the most famous, attracting more than half a million people each year! Traditional Irish folk music fills the streets, and of course there's plenty of food and drink to indulge in as the Lenten restrictions are officially lifted for the day.
READ MORE: One Week In Ireland (The Perfect Ireland Road Trip Itinerary)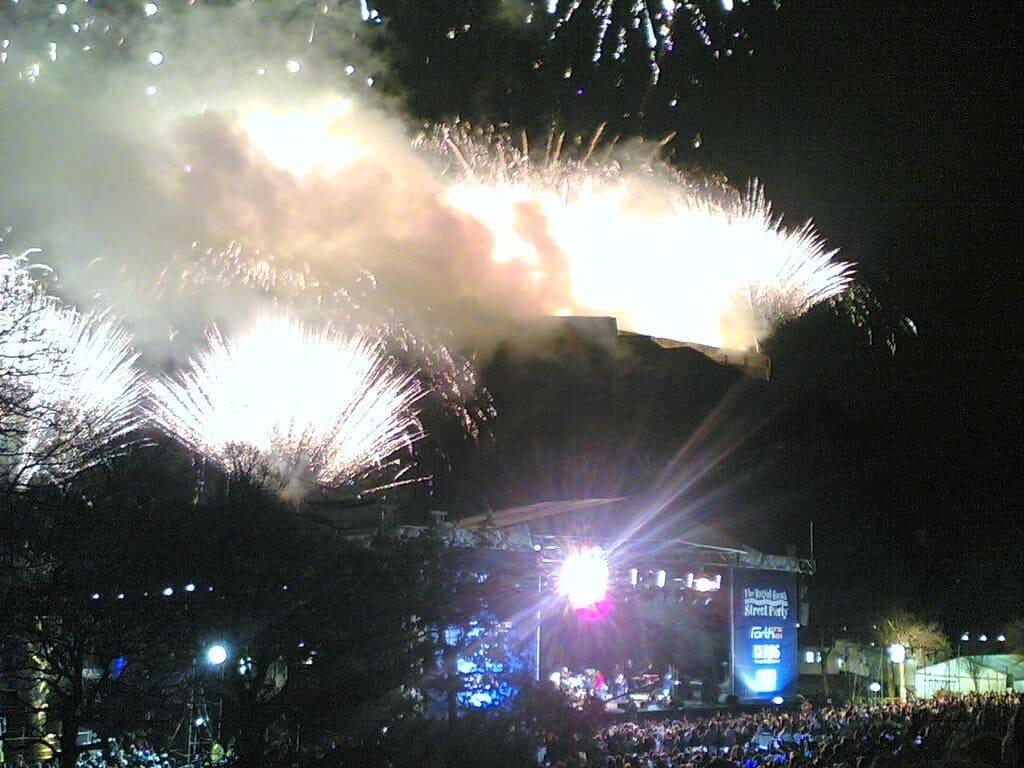 Hogmanay Party in Princes Street Gardens, Edinburgh, photo by smudie via CC BY-SA 2.0
11. Hogmanay (Scotland)
Hogmanay is Scotland's New Years celebration, which lasts from December 31 to January 2.
Its origins are unclear, but the celebration gained popularity when the Church of Scotland outlawed Christmas traditions, believing that there was no basis for the holiday in the Bible.
Christmas has since been declared a Scottish holiday, but some Scots still see Hogmanay as a more important occasion. 
It's a great celebration that begins with a massive torchlit parade and continues through street festivals, concerts, fireworks, and gathering to sing the traditional Scottish song "Auld Lang Syne."
There are also more mellow Hogmanay traditions. Many families do a thorough house cleaning, removing old ashes in the fire and blessing the house with holy water from a local stream to prepare for the New Year.
Another tradition is known as "first footing," wherein neighbors visit each other just after midnight with traditional food gifts such as shortbread or black bun. In return, the visitor will be gifted a small whisky.
To ensure luck in the New Year, the first footer should be a dark-haired male, as fair-haired first footers were not always welcome after the Viking invasions of ancient times.
READ MORE: Top 10 Things to Do on the Isle of Skye, Scotland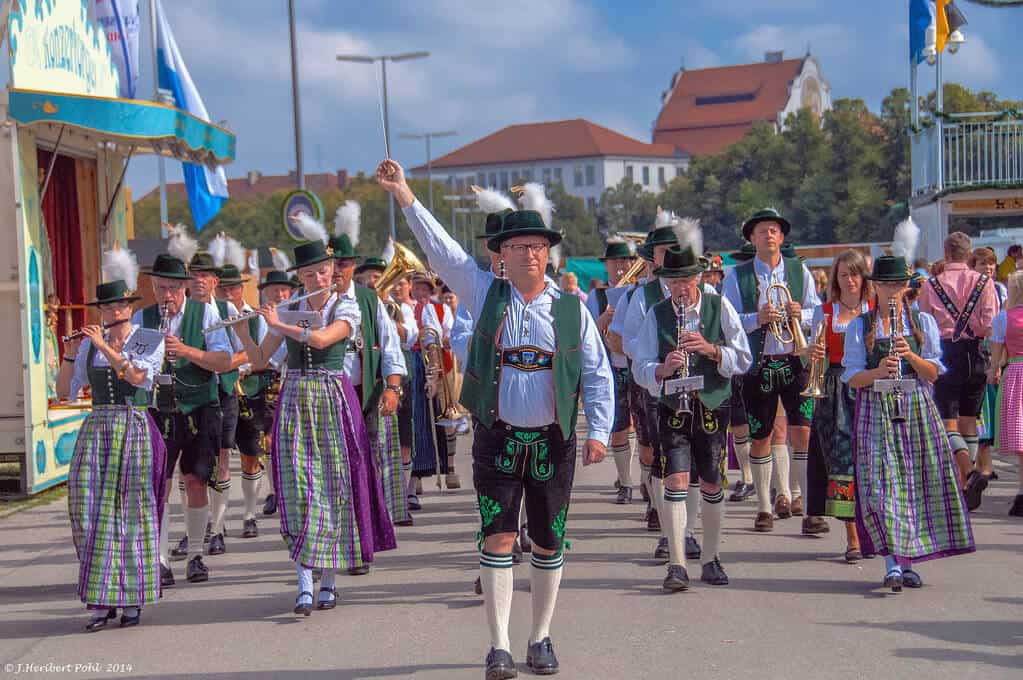 München Oktoberfest 2014, photo by Polybert49 via CC BY-SA 2.0
12. Oktoberfest (Germany)
Taking place in 2021 from September 18 through October 3, Oktoberfest is the largest folk festival in the world. It attracts over six million people to the Theresienwiese Fairground in Munich each year.
The Oktoberfest Festival is an important part of Bavarian culture and history.
It was first held in 1810 to celebrate the marriage of the crown Prince of Bavaria and Princess Therese von Sachsen-Hildburghausen through days of feasting, drinking, and horse racing.
Today, Oktoberfest is celebrated with the same joyous spirit. People come dressed in traditional Bavarian clothing– such as dirndls and lederhosen– to enjoy tons of different attractions, amusement rides, games, and plenty of music and dancing.
Of course Oktoberfest would not be the same without the food and drink, including Bretzn' (chewy pretzels), Weisswurst (white veal sausages), Lebkuchen (heart-shaped gingerbread cookies), and of course beer.
In fact, around 2 million gallons of beer are consumed during Oktoberfest each year. Talk about a celebration!
READ MORE: 30 Ways You Can Travel the World Without Leaving Home
Latin American Cultural Festivals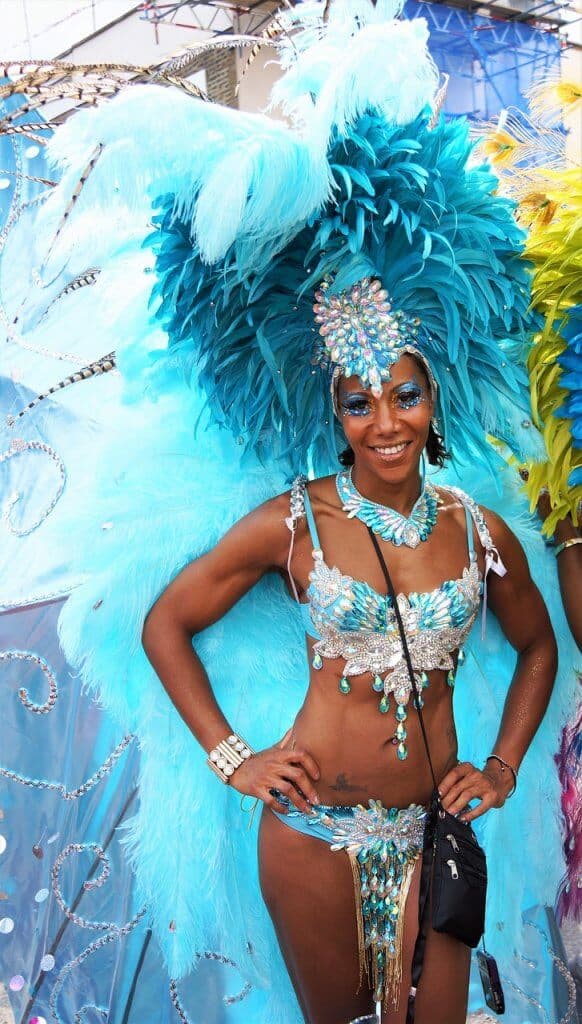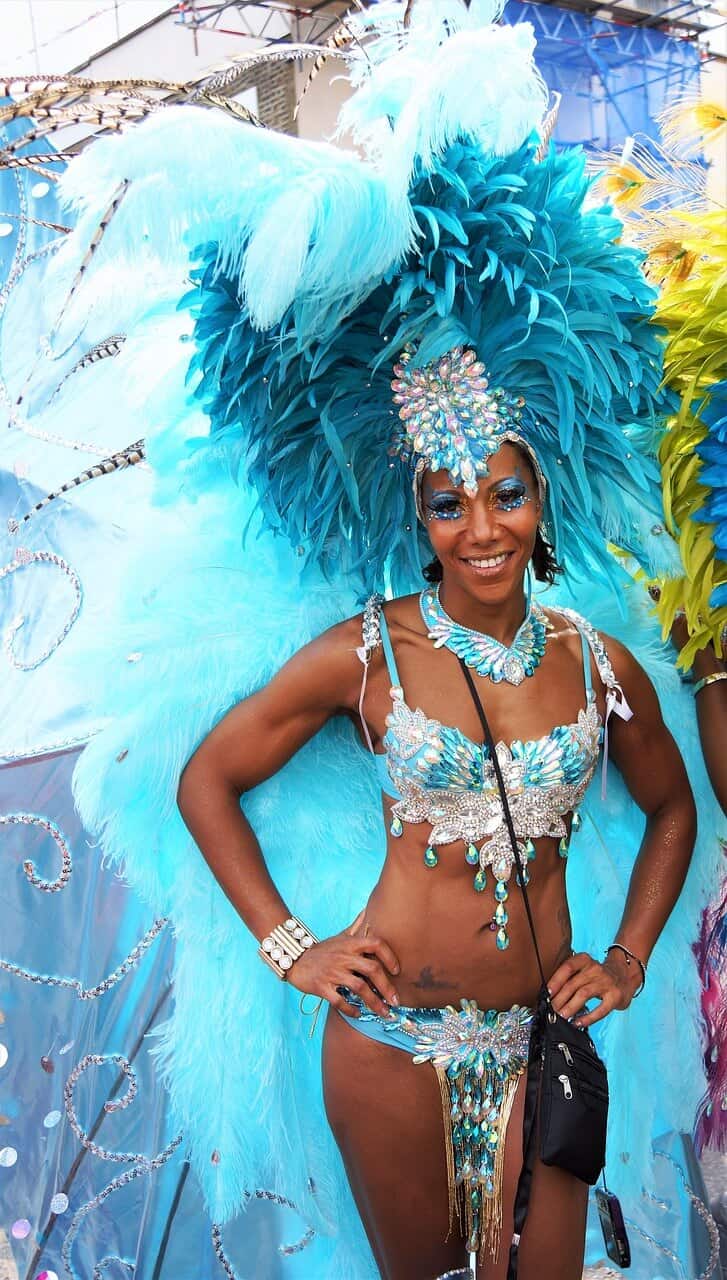 Carnival in Rio, photo via Pixabay
13. Carnival (Brazil)
Between the dazzling costumes, upbeat music, spirited dancing, and overall contagious energy, it's no wonder Carnival is widely considered to be "the greatest show on Earth."
The vivacious event, which now draws nearly 5 million attendees each year, originally started as a religious affair for Catholics, It took place five days before the beginning of Lent, which is 40 days before Easter.
While you'll find street parties around every corner filled with large crowds dancing to the tune of Samba, the height of Carnival today takes place at Rio's Sambadrome.
There, over 100,000 spectators pay top dollar to watch as the city's top 12 samba schools compete for a grand prize. Each school represents a different neighborhood that has come to showcase their insane talent and a year's worth of hard work.
The competition has a different theme each year, but entertainment is guaranteed! While originally scheduled for February 13 through 16, unfortunately the 2021 Carnival was cancelled due to Covid-19 concerns.
READ MORE: Recife, Brazil: One of the World's Top 10 Shark Infested Beaches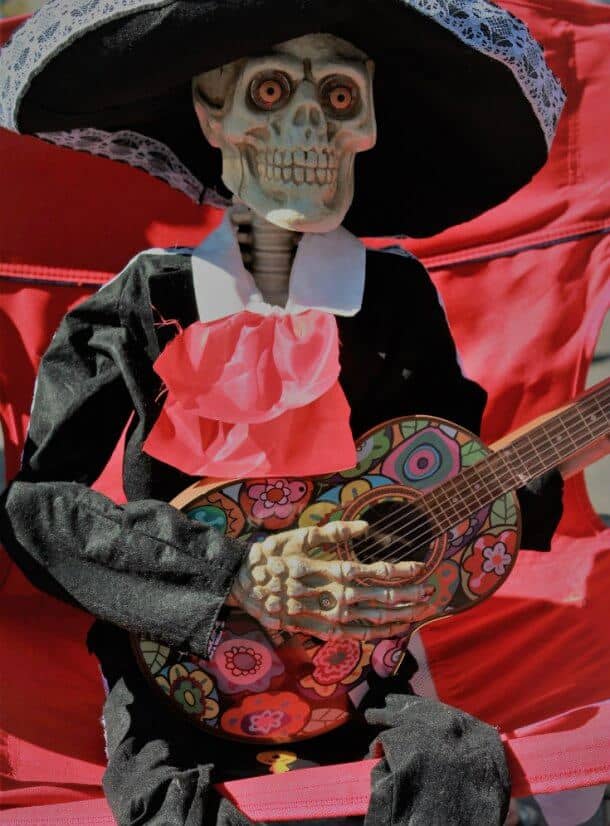 Mexico's Day of the Dead float via pixabay
14. Día de Los Muertos (Mexico)
Commonly known in English-speaking countries as the Day of the Dead, Día de Los Muertos (which lasts from October 31 through November 2) is one of Mexico's most important holidays.
The origin of this holiday dates back around 3,000 years to rituals that were done in honor of the dead in pre-Colombian Mesoamerica. The cultural festival has since grown to be so influential, it was added to UNESCO's Representative List of the Intangible Cultural Heritage of Humanity in 2008.
On the Day of the Dead, it is believed that the border between the spirit world and physical world dissolve. During this time, the souls of the dead can return to the living world for a reunion with their loved ones.
To honor those who have passed, people build private altars (known as ofrendas) in their homes.On it, they put photos of the dead along with their favorite food and drink, Aztec Marigolds, and calavareas (sugar skulls).
They'll also visit their loved ones' graves in order to honor their memory and leave gifts.
Other celebrations differ depending on the region. Some areas host parades and lively celebrations, while others keep it a mellow holiday more focused on the religious overtones, as it coincides with All Saint's Day.
READ MORE: 40 Fascinating Christmas Traditions in Mexico

Inti Raymi at Sacsayhuaman, photo by 10b travelling/Carsten ten Brink is licensed under CC BY-NC-ND 2.0
15. Inti Raymi (Peru)
Inti Raymi is a traditional religious ceremony dating back to the Inca Empire in Peru. It honors the most esteemed deity in Inca religion– Inti, the God of the Sun.
The ceremony was established by the Inca Pachacútec in 1412. It continues to be celebrated each year on the Southern Hemisphere's Winter Solstice (June 24th), in a re-enactment designed to honor the history and culture of the ancient empire.
The celebrations begin in the morning in front of the Inca Temple of the Sun, which is known as Korikancha. Representatives and performers from the four suyos (provinces) of the former Inca Empire make their way to the large opening in front of the temple before invoking praise to the Sun God.
After a processional through the center of Cusco and a few more rituals, they begin the final part of the ceremony at the ancient archaeological site of Sacsahuamán. There, thousands of spectators watch from the surrounding hills as the Inca leader says his final words before the ritual sacrifice of a llama.
When the Inti Raymi Festival comes to a close, the sound of horns, panpipes, and drums fill the air, with dances and performances representative of the four suyos.
READ MORE: A Strange Shaman's Blessing & Peruvian Amazon Village Life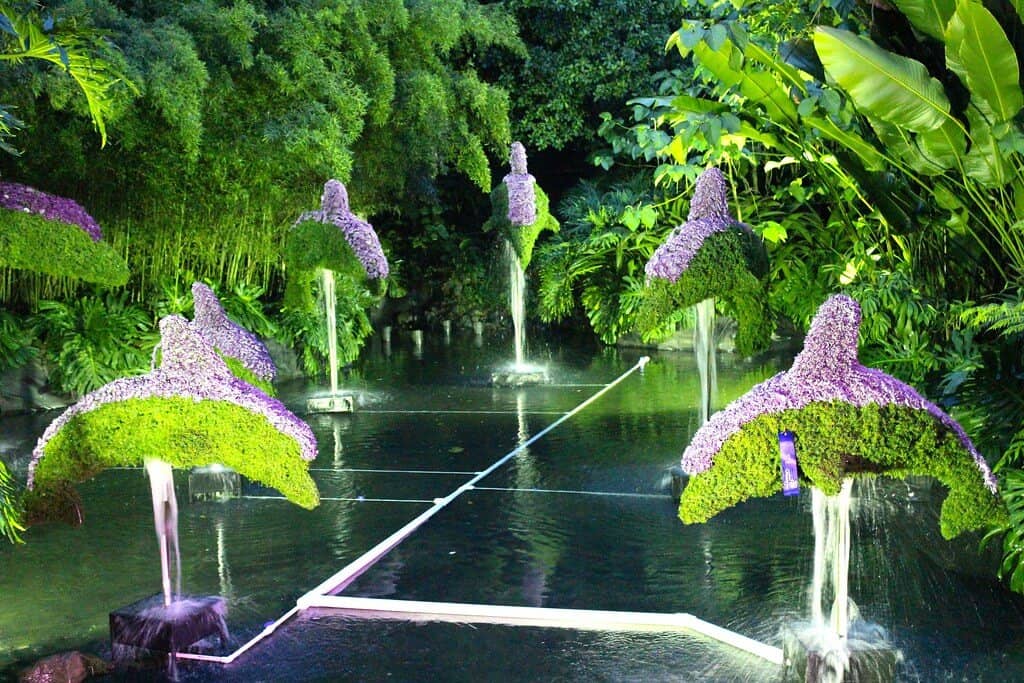 Medellin Flower Festival, photo by This Gringo Travels via CC BY-NC-ND 2.0
16. Medellín Flower Festival (Colombia)
Known as the "city of eternal spring," Medellín hosts one of Colombia's most important regional cultural events, the Medellín Flower Festival.
In late July and early August (2021 dates TBD), the city blooms with a vast array of vibrant and unique flowers across every balcony, terrace, and garden throughout the city.
Since it was launched in 1957, the festival has grown to include over 150 events. These include various flower competitions, folkloric performances, a horse fair, orchestra festival, classic car parade, live music shows, and more that attract thousands of locals and tourists each year.
All the different flower displays and events are truly special, but the highlight of the festival is the Desfile de Silleteros or "Flower Grower's Parade."
Local flower growers create intricate arrangements, which they mount on a silleta– a unique contraption that lets them carry the elaborate displays on their back.
As they march through the city streets, people join in to chant, "Cuando pasan los silleteros, es Antioquia la que pasa," which translates to "When the silleteros go by, it's Antioquia going by!"
READ MORE: Guide to the Best Attractions in Cartagena Colombia
North American Cultural Festivals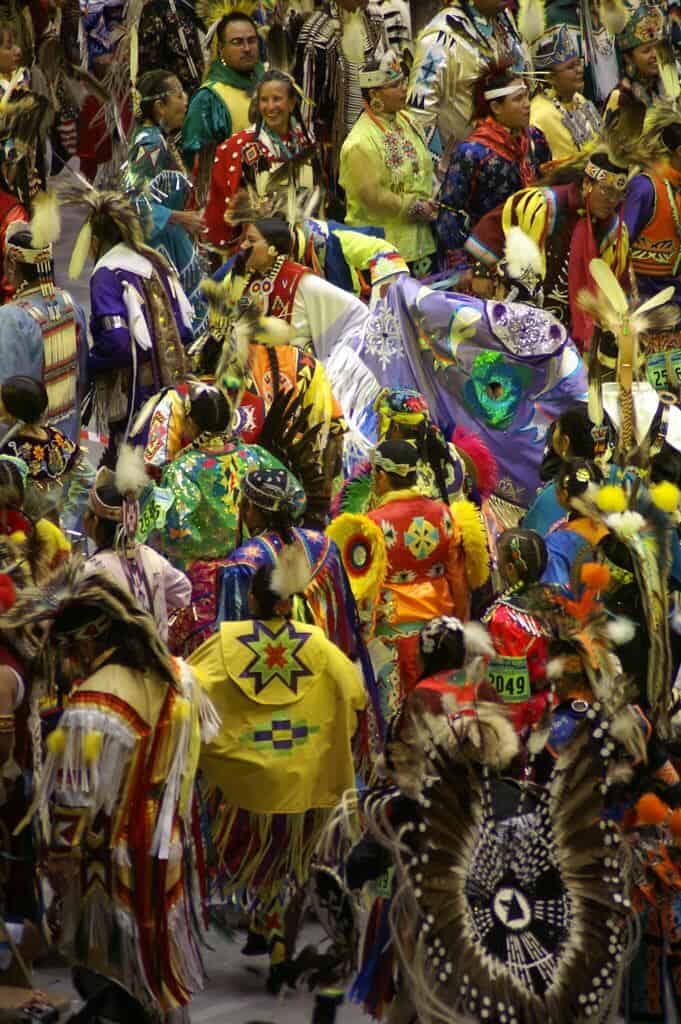 Gathering of Nations, photo via CC BY 2.0
17. The Gathering of Nations (USA)
For the past 37 years, the Gathering of the Nations has been an event where Native American people come together to celebrate their culture through performances, dancing, singing, and camaraderie.
Unofficially launched in 1983, the event officially took on the name Gathering of Nations in 1984.
Since then it has been held each year in Albuquerque, New Mexico. It regularly attracts members of over 565 tribes from around the US and 220 from Canada, making it the largest pow-wow in the USA.
This cultural celebration always features numerous dancing, singing, and drum performances. There's also a Miss Indian World pageant, wherein women can compete for the crown based on their personality, dancing ability, and knowledge of tribal traditions.
Attendees can also visit Stage 49, a contemporary performance space where indigenous musicians can perform in front of a large audience. Those seeking souvenirs can shop the Indian Traders Market, which features various vendors selling Native American arts and crafts.
While normally a public event, this year the Gathering of Nations will be a virtual live-streamed event held on April 23 and 24.
READ MORE: 30 Facts About Tlingit Art, Culture & the History of Alaska's Native Tribes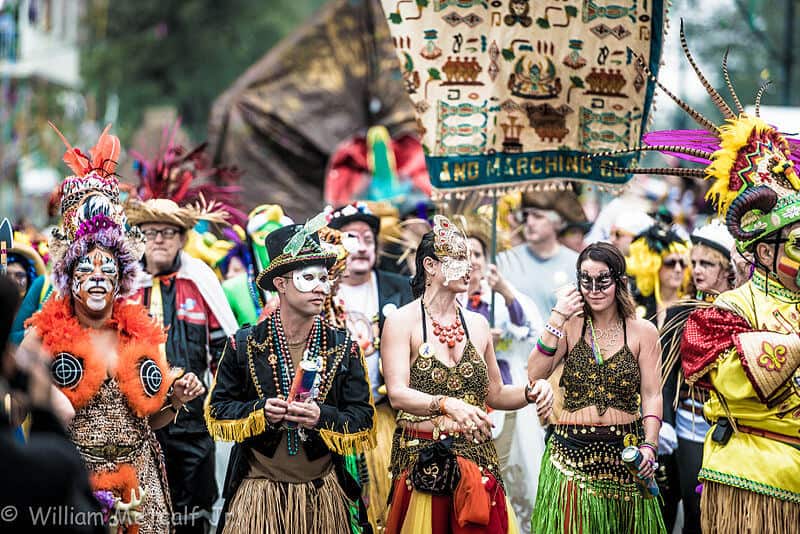 Mardi Gras photo by Billy Metcalf Photography via CC-BY-NC-ND 2.0
18. Mardi Gras (USA)
One of the most famous cultural festivals in the United States, Mardi Gras is celebrated all over the world. But nowhere is it quite as raucous as in New Orleans, Louisiana. 
Mardi Gras is a tradition dating back thousands of years to ancient pagan celebrations of spring and fertility. When Christianity arrived in Rome, these popular traditions were incorporated into the new faith.
Mardi Gras takes place on "Fat Tuesday," the Tuesday before Ash Wednesday. Basically, it's a time where people can let loose and over-indulge before the moderation that comes with Lent.
There are masked Mardi Gras balls and lavish dinners leading up to the big day. But the highlight of the festival is the wild neighborhood street parades, which include marching bands and large floats with people decked out in extravagant costumes tossing beads into the crowd.
Another popular Mardi Gras tradition is King Cake parties. Cakes with purple, green, and gold icing (symbolizing justice, faith, and power) are baked with a plastic baby inside, representing the baby Jesus.
Whoever gets the piece of cake with the baby in it gets the responsibility of buying the next King Cake.
Due to Covid-19, there were no Mardi Gras parades in 2021. But there were other ways to celebrate, including the Krewe of House Floats, where neighborhoods across New Orleans decorated their houses like the lavish floats that usually pass by in the streets.
READ MORE: The History & Culture of New Orleans' Mardi Gras Indians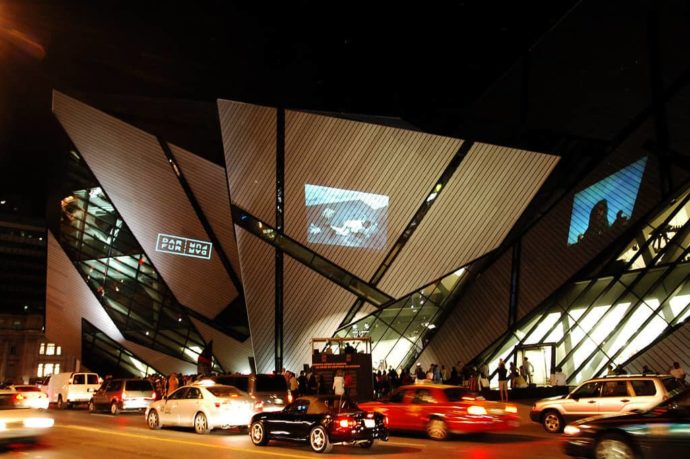 Toronto International Film Festival photo by pmorgan via CC BY-NC-ND 2.0
19. Toronto International Film Festival (Canada)
Attracting nearly half a million attendees each year, the Toronto International Film Festival is one of the largest film festivals in the world. Its mission is "to transform the way people see the world through film."
The festival was founded in 1976 by Bill Marshal, Dustry Cohl, and Henk Van der Kolk, and was originally just a showing of the best films from other festivals around the world for Toronto audiences.
Over time, it has grown to premiere hundreds of award-winning films in a broad variety of genres.
There are juried awards for the Best Canadian Film, Best Canadian Short Film, and Best International Short Film. But perhaps the most coveted  award is the People's Choice, which is based on audience balloting.
The People's Choice Award is often regarded as a predictor of a film's future success in the Academy Awards, with movies like American Beauty, La La Land, Crouching Tiger Hidden Dragon, and 12 Years a Slave coming out on top in both competitions.
In 2021, the festival was held online from February 12 to 15, with film fans signing up to watch the events and movies virtually from home.
READ MORE: The Top 10 Oscar-Nominated Environmental Documentaries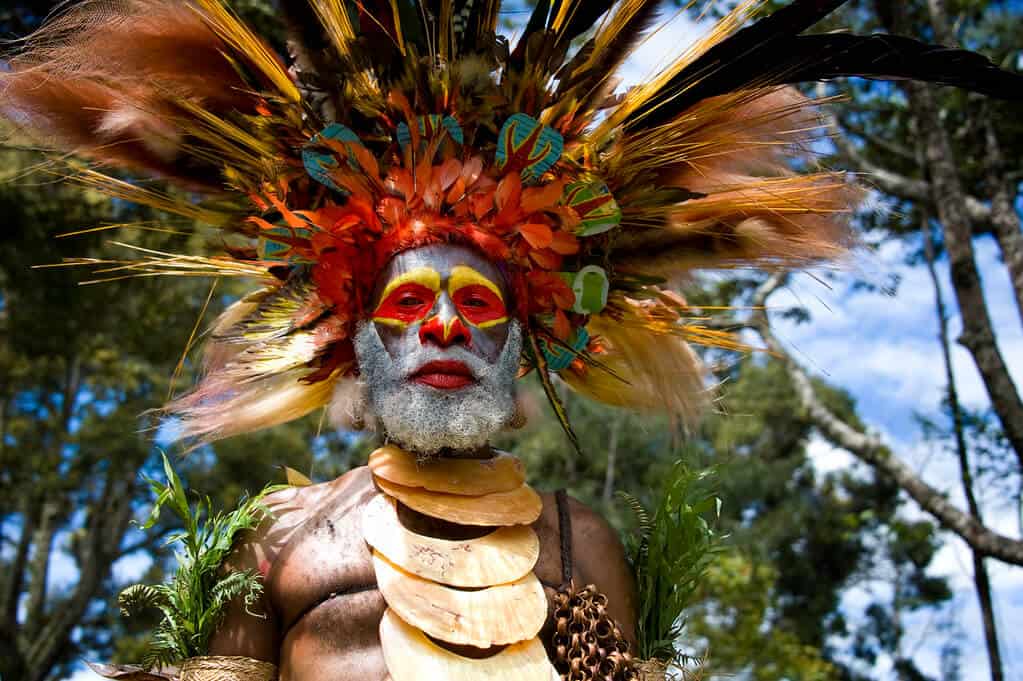 Mount Hagen Culture Show, photo by Illustrated in Blue via CC BY 2.0
20. Mount Hagen Culture Show (Papua New Guinea)
While Papua New Guinea is the second largest island in the world, it is sparsely populated, with just 8 million residents.
But the tiny population belies a wealth of cultural diversity, with over 7,000 different cultural groups calling the island home.
It was because of this diverse population that the Mount Hagen Culture Show was created in 1961. The event serves to unify the various tribes from across the Western Highlands Province and Highlands region in order to prevent hostilities between them.
Over 100 different tribes are represented at the Mount Hagen festival, with each showcasing their own unique culture through elaborate costumes and traditional dancing and singing.
The show is an exceptionally unique display of cultural expression. And because it's not widely known on an international level, it's a great way for visitors to get to know the local cultures. –by Christina Maggitas
READ MORE: The 30 Best Exotic Islands to Visit (World Travel Bucket List)
The post The 20 Best Cultural Festivals Around the World appeared first on Green Global Travel.