What to do in Hoi An, Vietnam in 4 days
Hoi An is a much more charming & picturesque city than Hanoi, in my opinion. Located on the central coast of Vietnam, Hoi An is unique because of its well-preserved ancient architecture, romantic lantern-lit streets, and riverside setting, which is […] The post What to do in Hoi An, Vietnam in 4 days appeared first on Hopping Feet.
Hoi An is a much more charming & picturesque city than Hanoi, in my opinion. Located on the central coast of Vietnam, Hoi An is unique because of its well-preserved ancient architecture, romantic lantern-lit streets, and riverside setting, which is even more magical at night. Just strolling the lantern lit streets, taking a lantern-lit boat on the river, or getting custom tailored dresses at the numerous shops can be a dreamy experience.
If you can ride a motorbike, I recommend you rent one while you're here as it makes it much easier to explore the places within Hoi An. Else, Grab is the perfect way to hail a motorbike taxi, if you're not a confident rider.
Day 1: Hoi An Old Town
Start your day by exploring the most delightful place in Hoi An – the ancient town. While the streets come alive at night once the lanterns go on, it's still a stunning place to explore during the day, thanks to the numerous temples, assembly halls, souvenir shops, and tailoring boutiques, where I highly recommend you take the liberty to buy some inexpensive, tailormade dresses. Walk into a store, ask for their material booklet, choose a dress design, choose the material & color of your choice, give your measurements, and see your lovely, tailored dress come to life within 24 hours!  The town's architecture reflects a mix of styles from different periods, including traditional Vietnamese, Chinese, and Japanese influences.
Stroll along Thu Bon River where you'll find several bars, cafes and restaurants strewn along the promenade. If you're here at night, then you could even take a boat ride on one of the lantern lit boats. Hoi An truly is a romantic city! While taking a leisurely walk, look for the Japanese Covered Bridge, one of Hoi An's most iconic landmarks. The Japanese Covered Bridge dates to the 18th century and was constructed by the Japanese community to connect with the Chinese quarters of the town. You can also visit Hoi An Central Market where you will find fresh produce, seafood, spices, and souvenirs. The market is an excellent place to immerse yourself in the local culture and try some street food.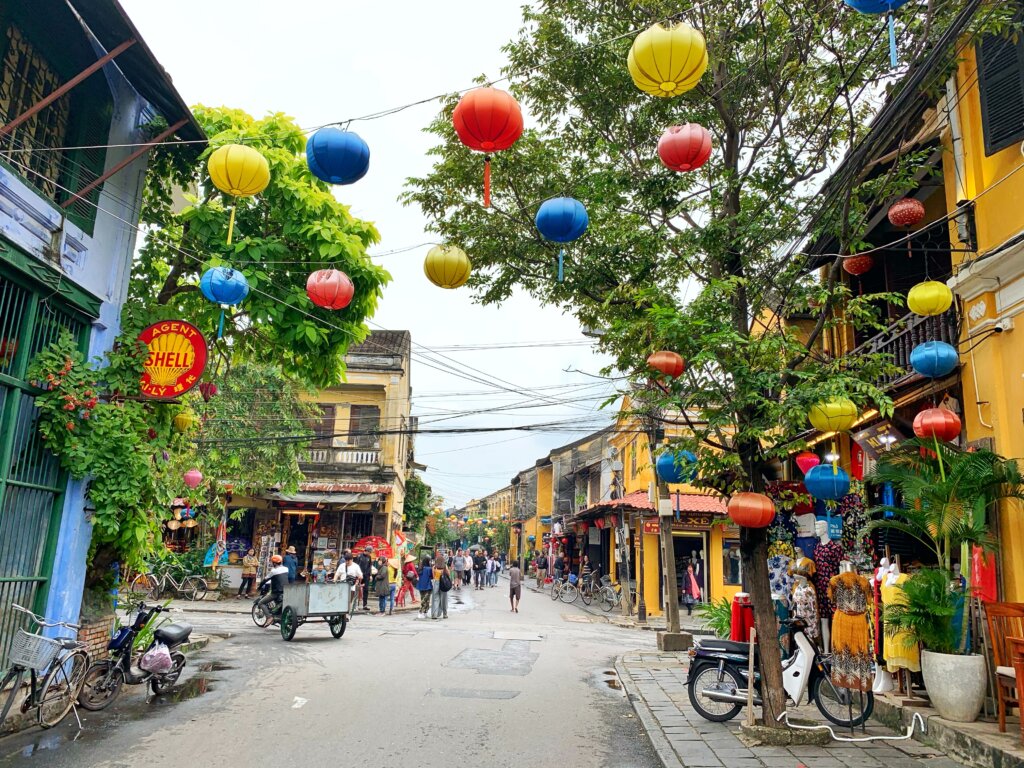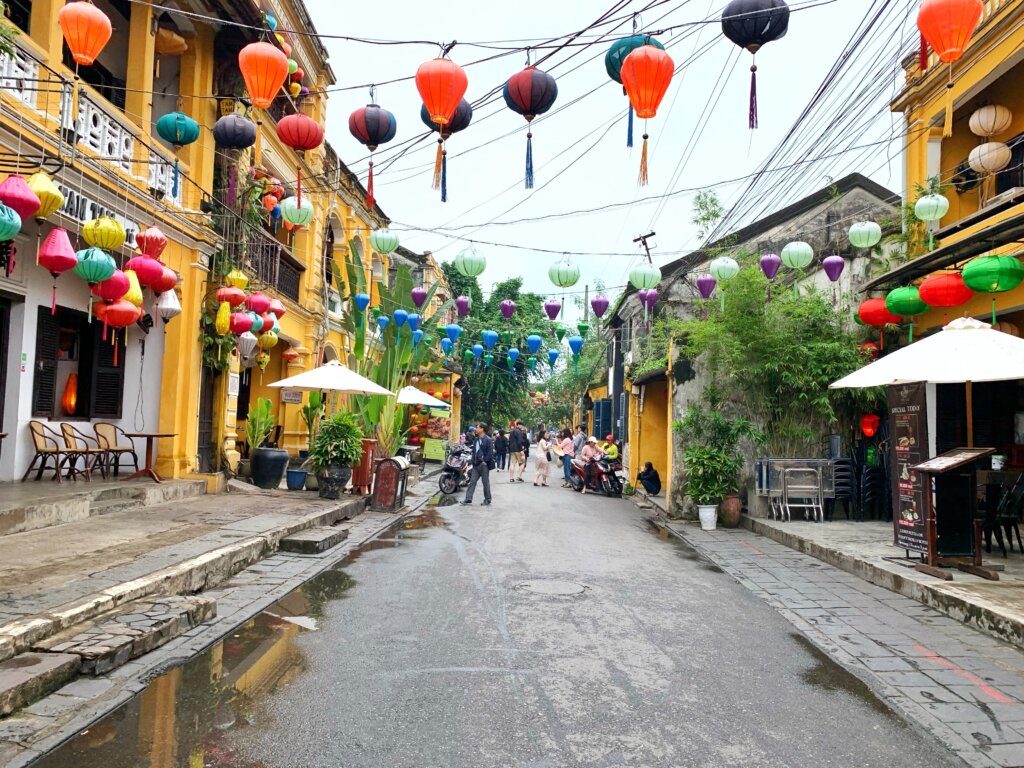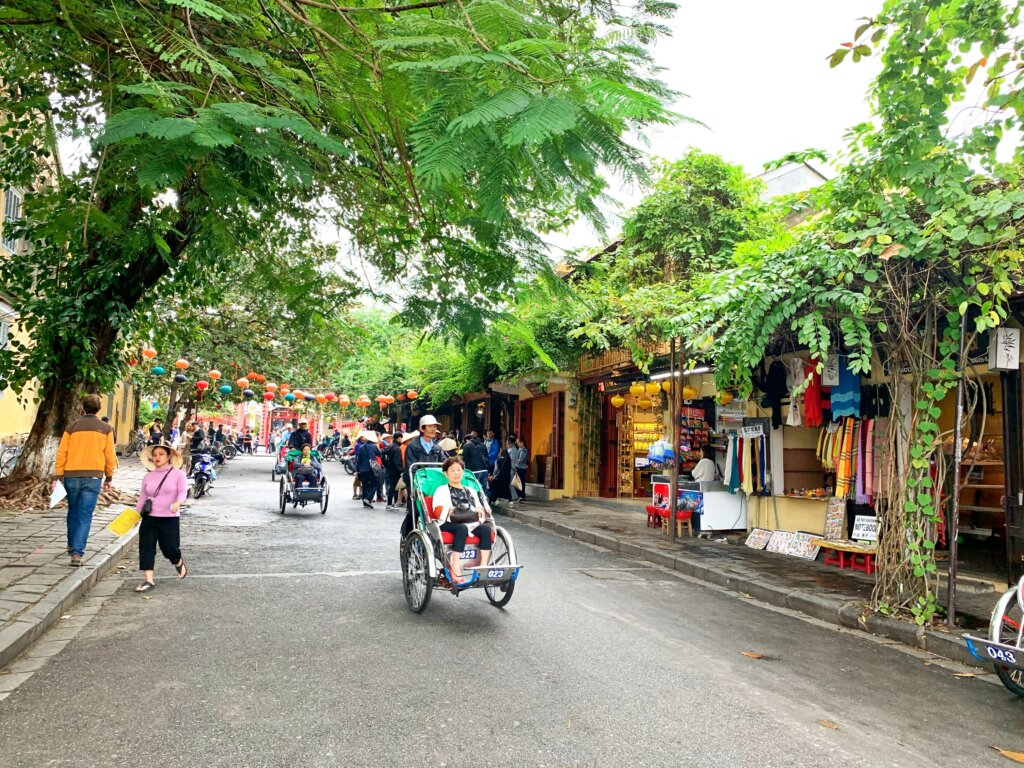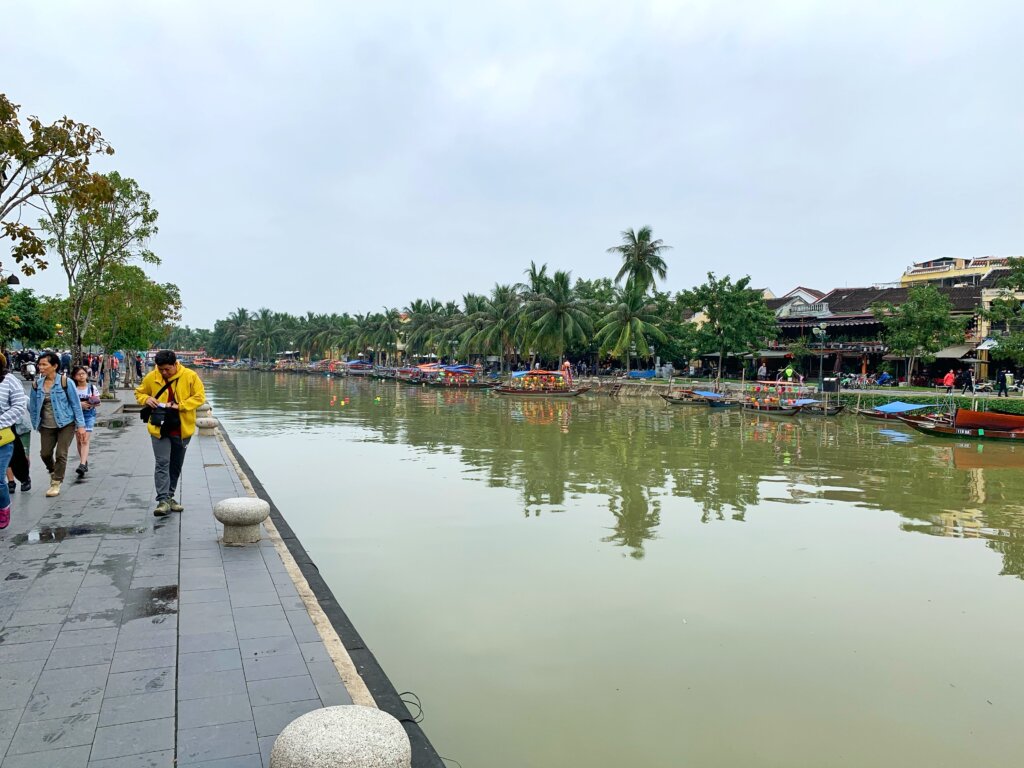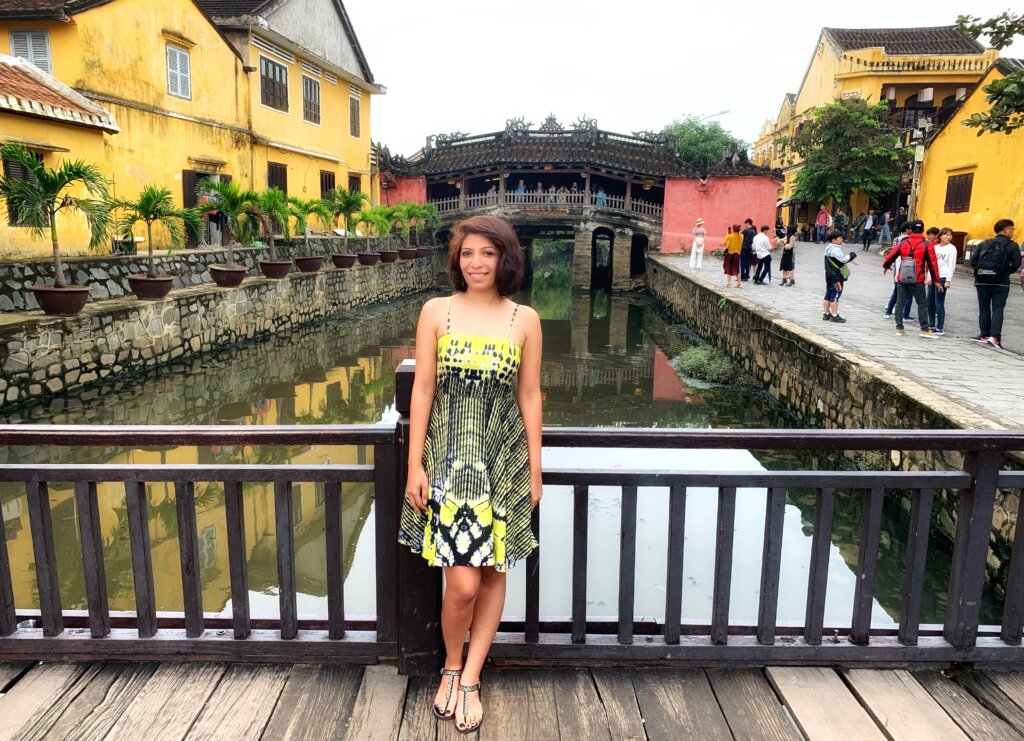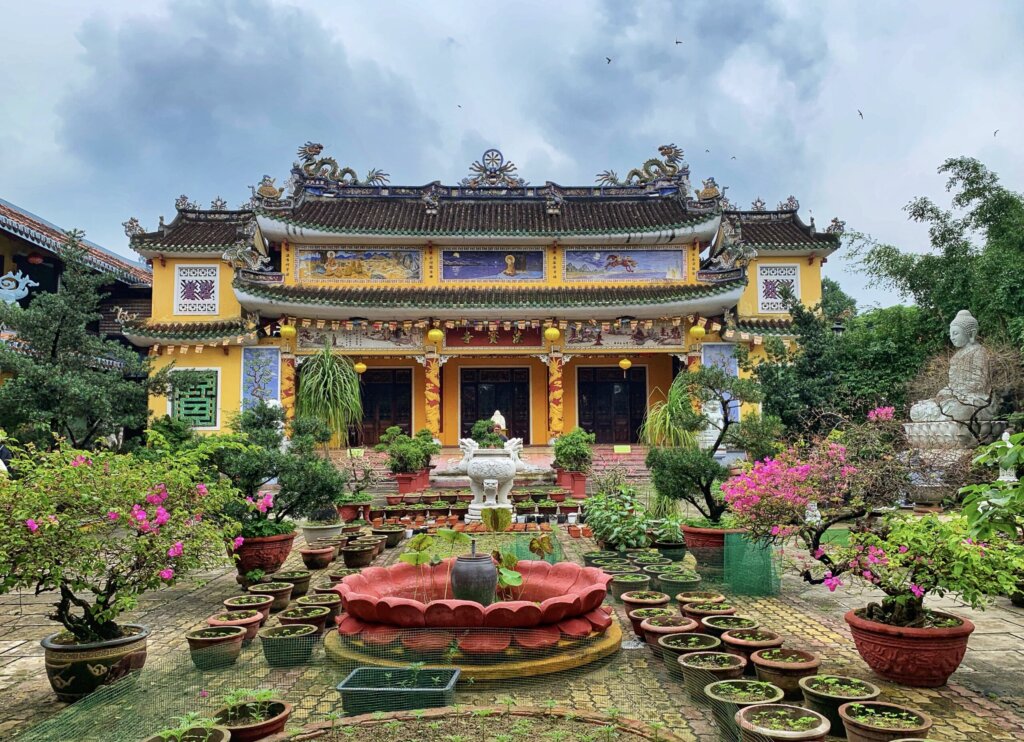 If you have some time, you may also choose to visit one of the beaches of Hoi An. Beaches weren't my focus of the trip and it wasn't warm enough to swim in the oceans in December, but I did visit one beach, only to be greeted by crazy winds and heavy, black clouds ready to pour. But if you're there during the warmer months and have some time to chill, Cua Dai and An Bang Beaches are popular choices for relaxation and water activities.
In the evening, why not take a relaxing spa treatment at Heaven Garden Spa, Hoi An. Offering one of the best foot massages that I have had in a long time, this one came highly recommended on a blog I had read before going to Hoi An and I wasn't disappointed. Vietnamese are wonderful when it comes to services, they're kind, hospitable and super nice. And getting a massage in Vietnam doesn't break the bank, so why not!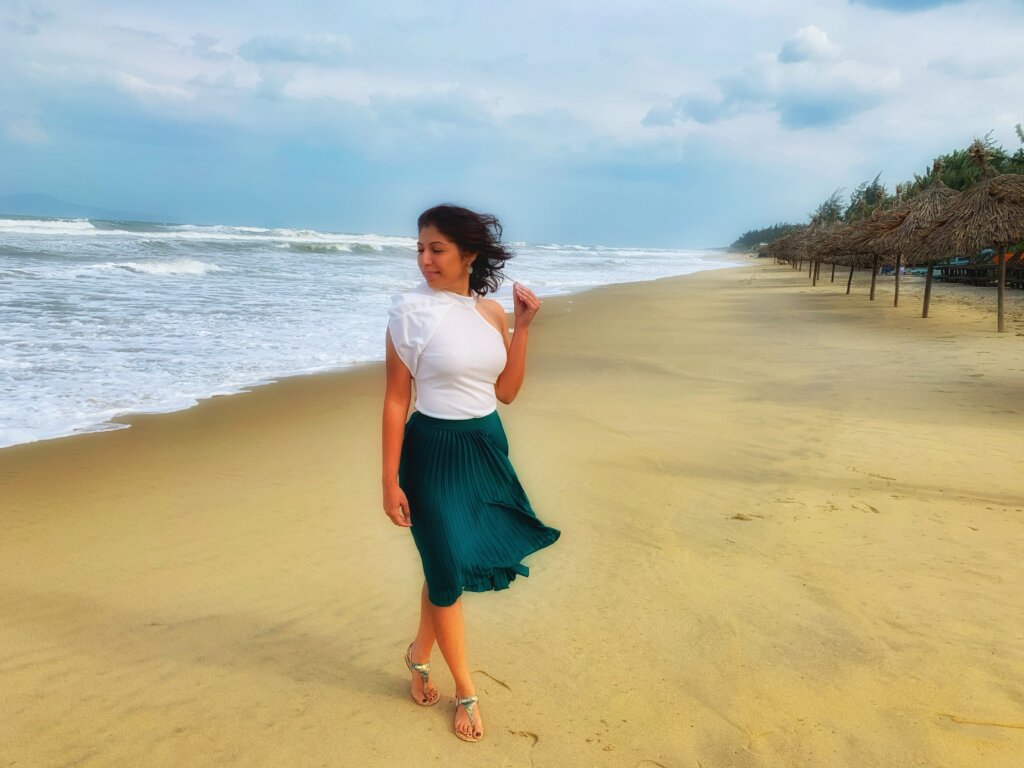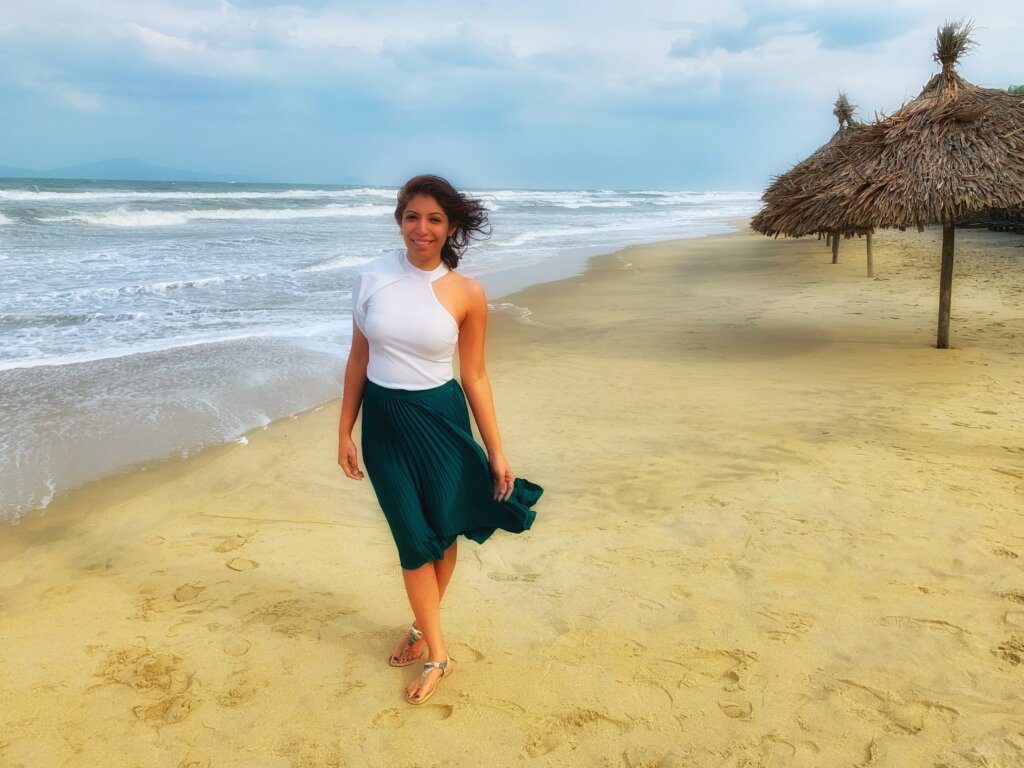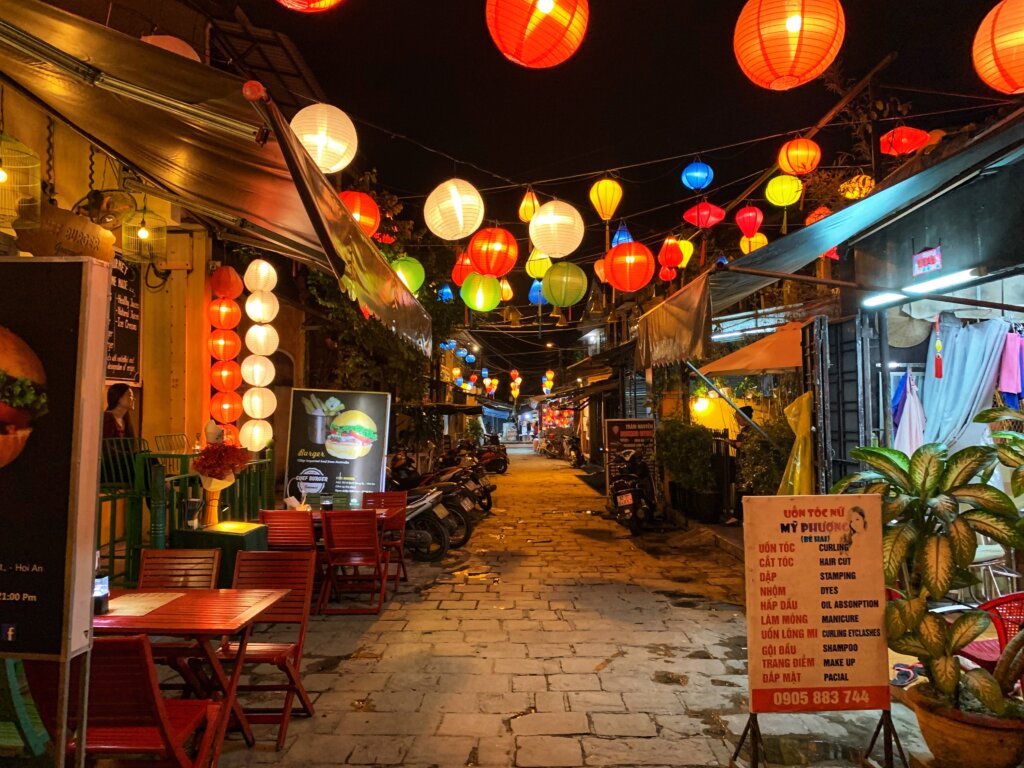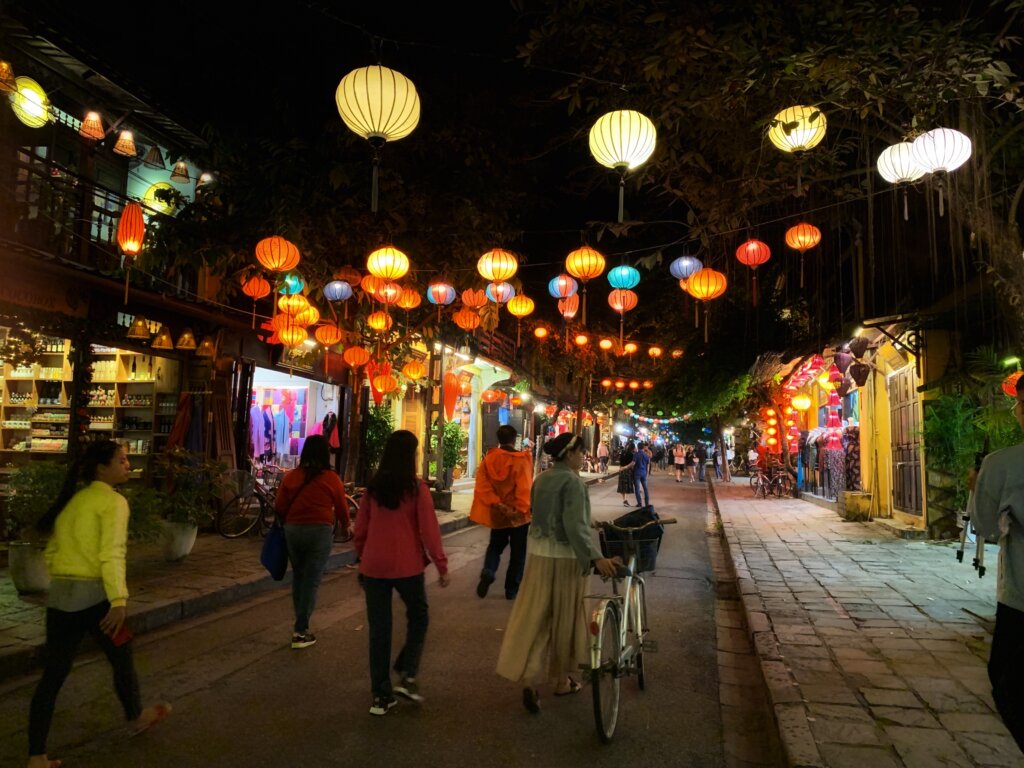 Book your stay in Hoi An here.
Day 2: My Son Sanctuary & Cam Thanh
While My Son Sanctuary is a popular daytrip from Hoi An, Cam Thanh is one of the offbeat things to do which I came across in my research before travelling. Often referred to as the Angkor Wat of Vietnam, My Son Sanctuary is a UNESCO World Heritage site, which is a complex of Hindu Temples built between the 4th and 14th century AD. They were constructed out of fired brick, sandstone bas-reliefs and stone pillars. The purpose of building the complex was to worship the Hindu God, Shiva. My Son Sanctuary is about an hour's drive from Hoi An.
Unfortunately, majority of these temples were destroyed during the Vietnamese war when the US dropped carpet bombs in the area. While you can explore the area by yourself, I recommend getting a tour guide who can explain the significance of these temples, their history, and their destruction during the war. There isn't much literature available to read on site and you could be totally lost while looking at the monuments/ structures. Keep about 2 hours to explore this place and be ready to walk as the complex is quite large and widely spread out. Also, try to make it earlier in the day to avoid the afternoon heat as the complex is mostly in an open area, and you will have to walk directly under the sun throughout your tour.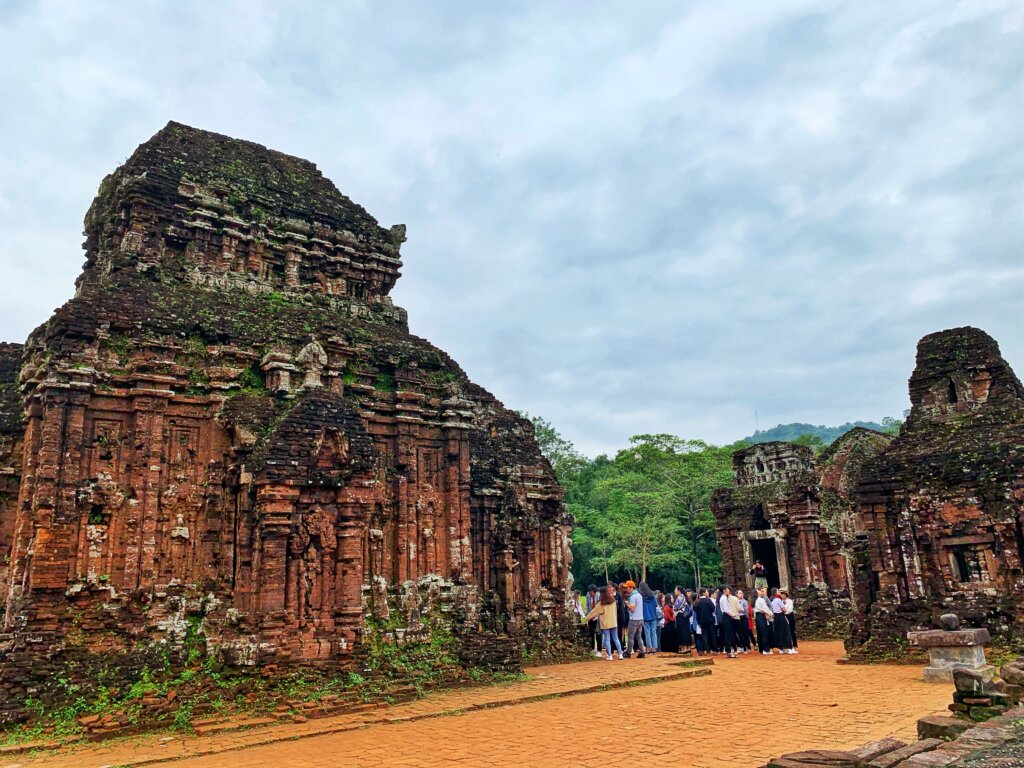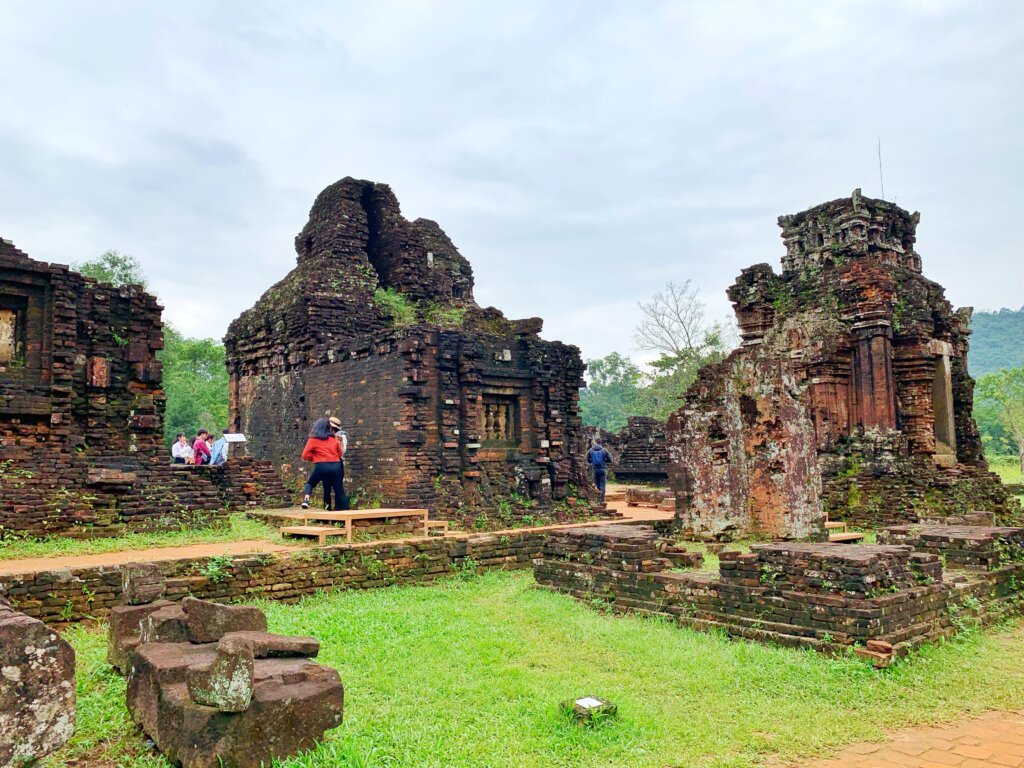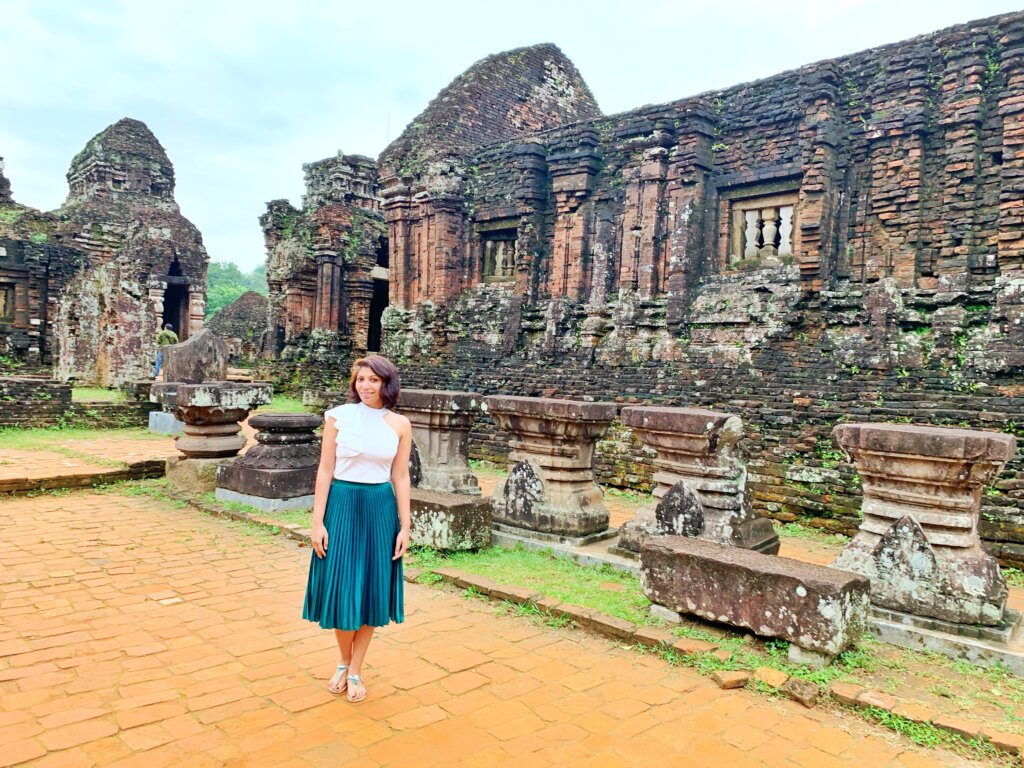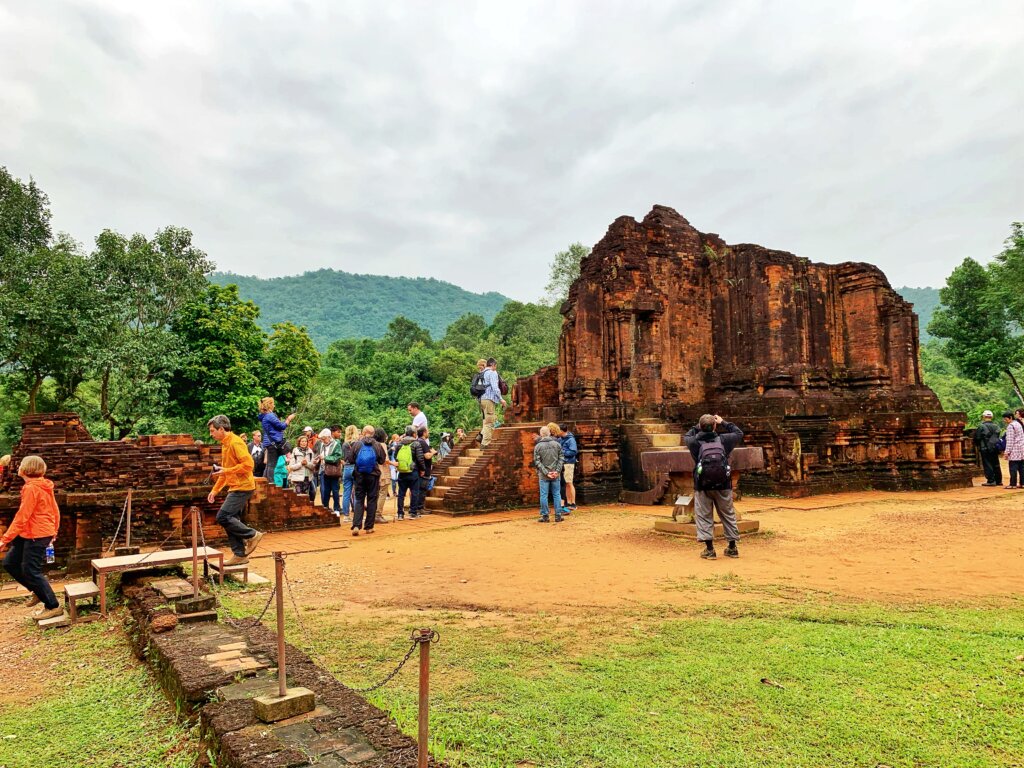 In the afternoon, I headed to Cam Thanh village, which is also home to an 84-hectare palm forest, also known as Bay Mau palm forest. Upon arriving in Cam Thanh Village, you'll be immediately captivated by the lush, coconut forest, evoking a sense of awe. As you venture deeper into the village, wandering along the meandering riverside paths, you'll witness the serene beauty of coconut trees reflecting on the crystal-clear waters.
Hail a small bamboo/ basket boat to glide gracefully on the tranquil river, an enchanting experience. As you glide along the serene river, nestled between the coconut palms, you'll experience a heightened sense of calm. The only sound is the swooshing of the row against the waters and your deep breaths. Shortly after, you'll reach a big clearing where the river widens out and the sound of loud music will awaken your senses. This is when you'll see a boatman adventurously giving his riders a thrill by rigorously rotating the basket boat at a high speed from one side to another. This may or may not be your cup of tea so you could choose to just watch and enjoy the show from a distance or participate by getting on the boat and experiencing this thrilling ride yourself. The tour lasts about 45 – 60 minutes.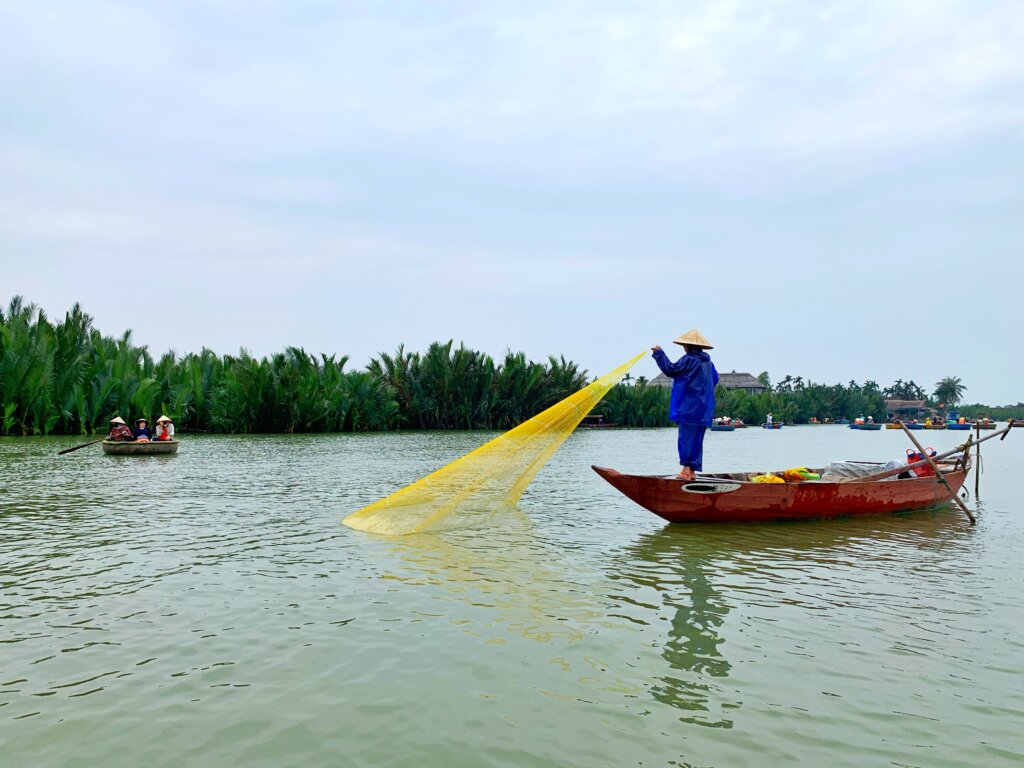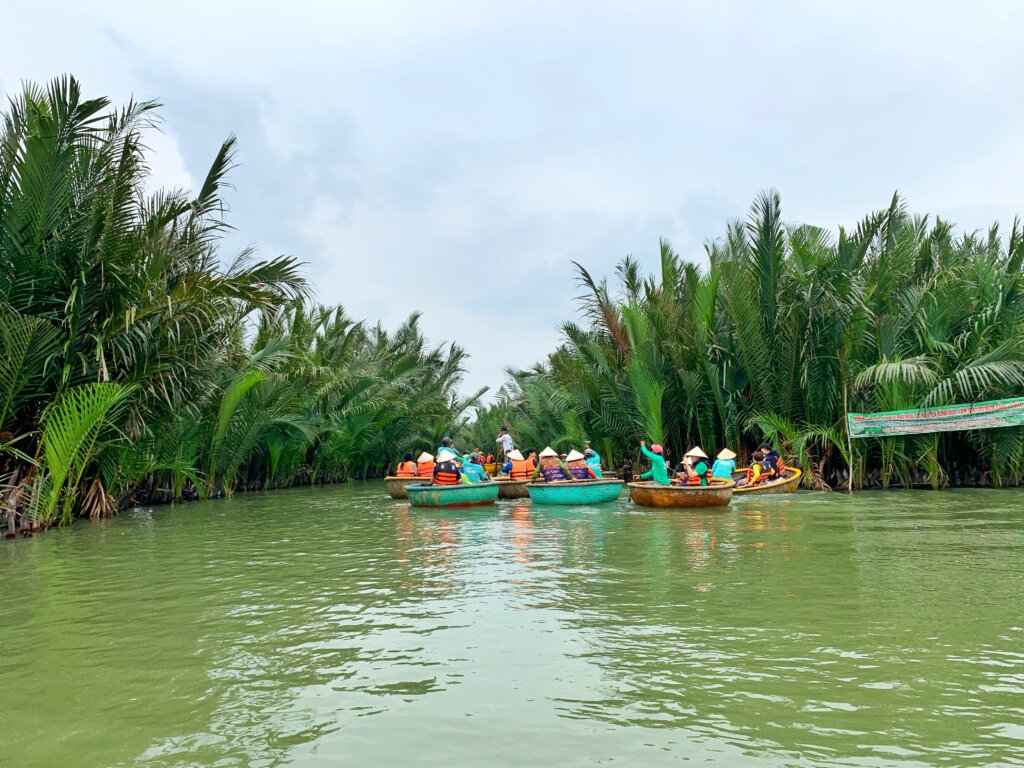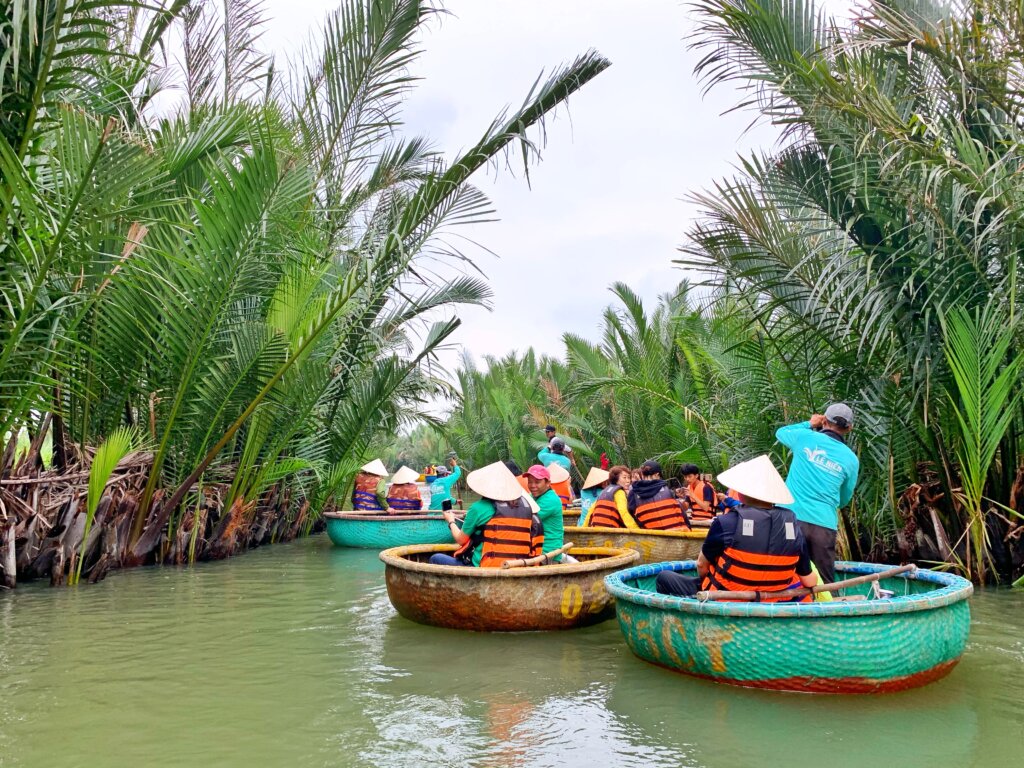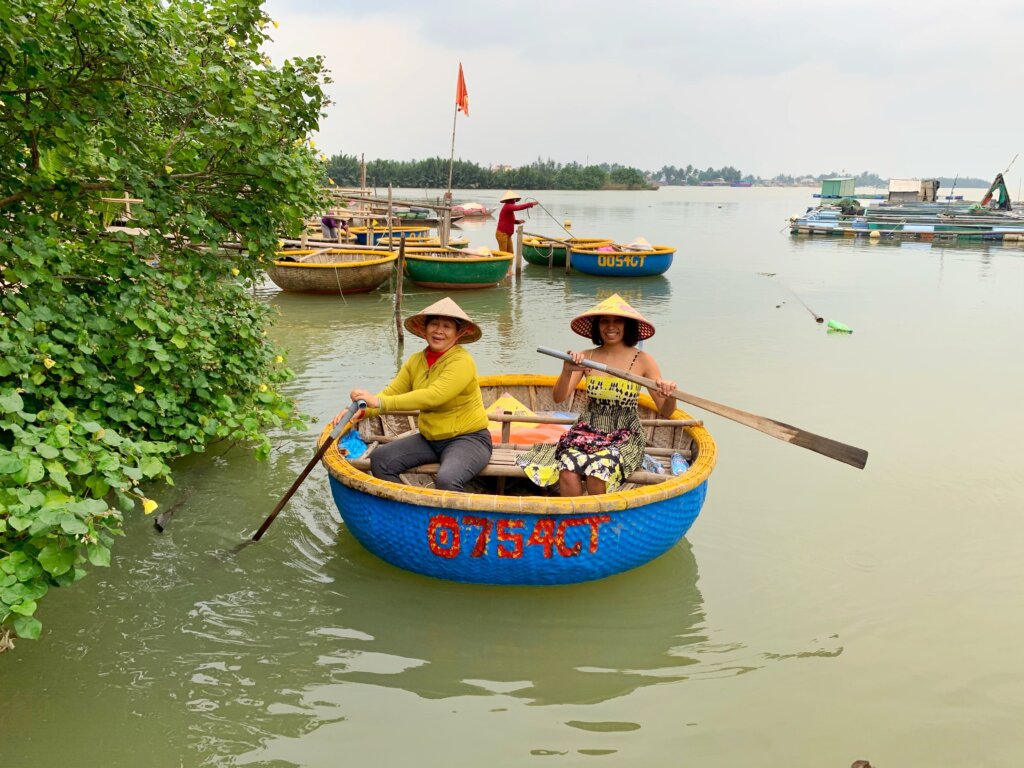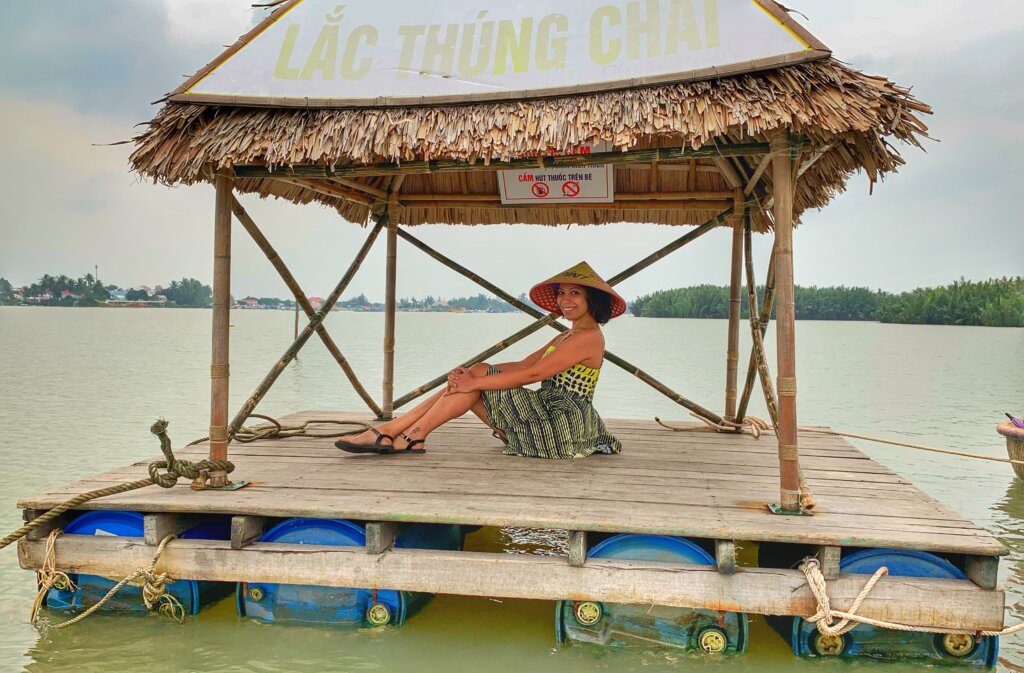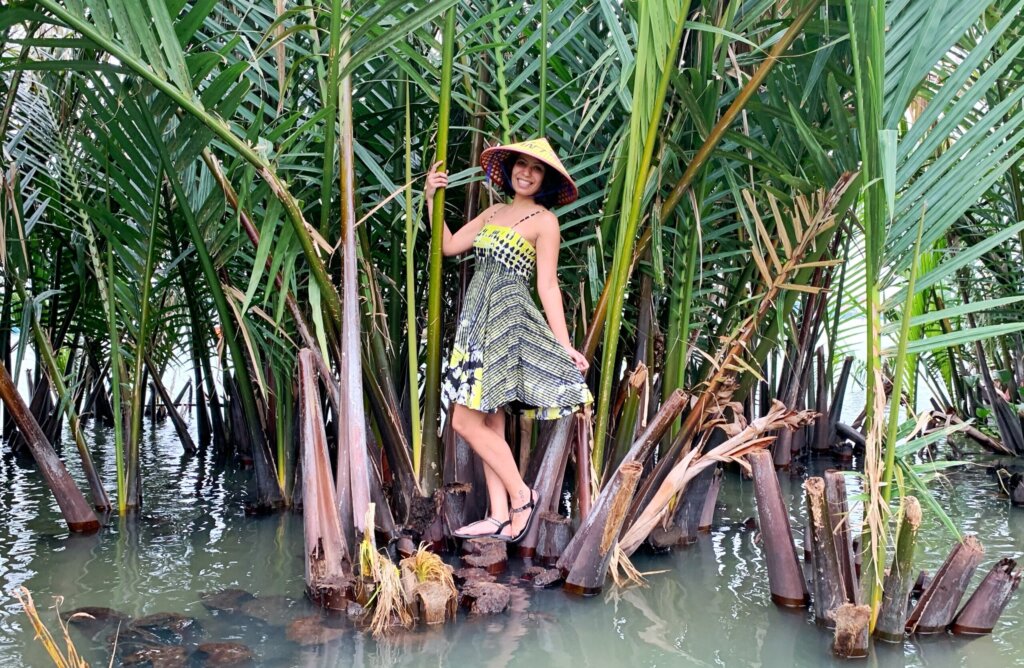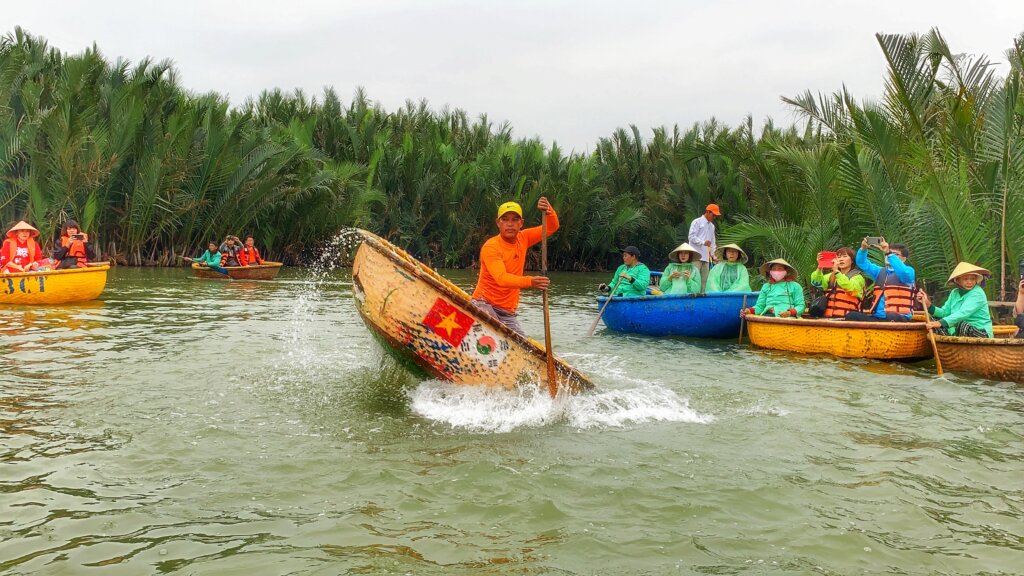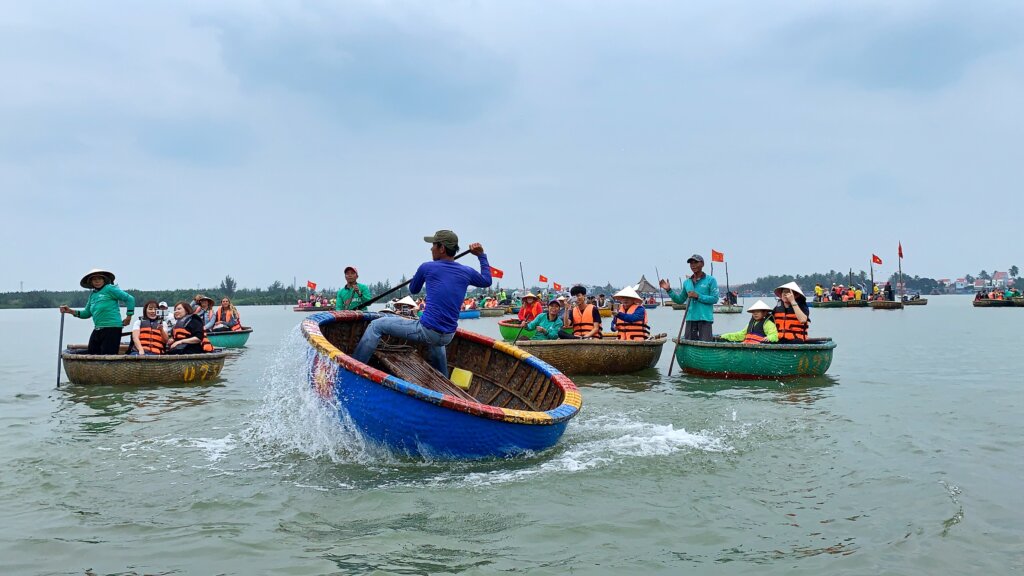 In the evening, you will return to Hoi An.
Day 3: Ba Na Hills
I had to include this place in my Hoi An in 4 days itinerary because this destination had gone viral on social media right before my trip to Vietnam. Ba Na Hills is a hill station and resort complex located in the Truong Son Mountains, about 2 hours from Hoi An. It is much closer to Danang so you may choose to spend the night in Danang after your visit to Ba Na Hills, instead of returning to Hoi An, and then explore Danang on the following day. Most train & flight connectivity with Hanoi is through Danang rather than Hoi An, so it made sense for me to follow this itinerary. I was returning to Hanoi because my flight back home was from there.
Sun World Ba Na Hills offers a mix of natural beauty, amusement park attractions, and French colonial architecture, making it a must-visit destination in central Vietnam. However, the highlight of this destination is Golden Bridge (Cau Vang), an architectural marvel that you're likely to have seen on Instagram, where the bridge appears to be held up by giant stone hands. It truly was as awe-inspiring in reality as it was in the photos I had seen. The bridge also offers stunning panoramic views of the hills and the valley below.
The journey to Sun World Ba Na Hills is made in thrilling cable car ride that holds multiple world records, including the longest non-stop single-track cable car system. The ride offers breathtaking views of the surrounding mountains and lush forests. Once you arrive at the top, you have several options & activities to choose from. One of my favourites was charming French Village, designed to resemble a European town. The village showcases beautiful architecture, including medieval-style castles, cobblestone streets, and French-inspired buildings. You can also visit the Fantasy Park, an amusement park offering a variety of rides, games, and entertainment options including a mountain coaster, which I thoroughly enjoyed. There is also a Buddhist pagoda that houses a towering white statue of the Goddess of Mercy (Guan Yin). It is a serene spot for reflection and enjoying the panoramic views. Also, Le Jardin D'Amour flower garden provides a picturesque setting for nature enthusiasts and photographers. Being a wine enthusiast, one of my favourite places here was Debay Wine Cellar, a historic French wine cellar where you can taste and purchase local wines.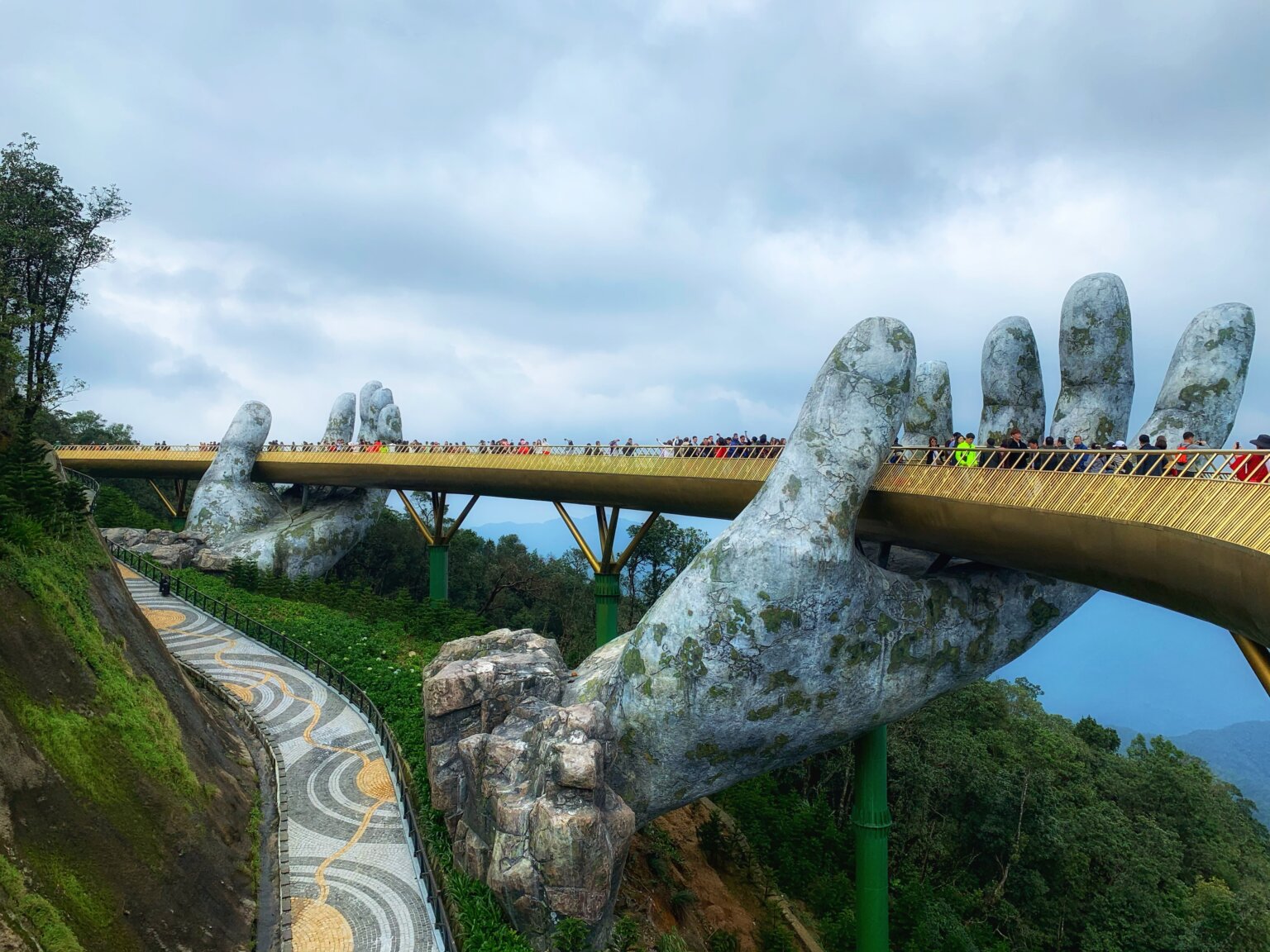 Ba Na Hills offers various hiking trails and nature walks. Due to its elevation, the weather in Ba Na Hills is likely to be significantly cooler than in Danang or Hoi An, so remember to carry warmer clothing and good walking shoes. Keep aside an entire day to explore this beautiful destination.
You can also choose to spend the night at Sun World Ba Na Hills. Click here to book your stay.
Day 4: Danang
After Hoi An, Danang is actually a disappointment. While it a vibrant coastal city in central Vietnam, known for its beautiful beaches, it lacks the charm of Hoi An. Nevertheless, since you're likely to be departing from here, it could be worth spending a day here. Danang is also a shopper's heaven, with lots of upmarket brands and boutique shops open here. The architecture is a lot more modern and the skyline has some skyscrapers and contemporary buildings, very unlike Hoi An or even Hanoi. Danang had some rich-people homes and one could tell that the residents of the city were well-to-do and affluent as compared to most other Vietnamese cities.
Some key places to see in Danang are:
My Khe Beach, one of Danang's most famous beaches where you can enjoy a leisurely walk along the sandy shore, take a dip in the refeshing sea, or simply relax and soak in the scenic views. You can also dine at a local restaurant or street food stall or enjoy a traditional Vietnamese breakfast at the beachside outlets
Marble Mountains, a cluster of five limestone hills where you can explore the caves, pagodas, and grottoes inside the mountains for a spiritual and cultural experience
Linh Ung Pagoda on Son Tra Peninsula, home to the impressive Lady Buddha Statue, one of the tallest Buddha statues in Vietnam. The pagoda offers stunning panoramic views of the city and coastline
Han River waterfront where you can enjoy the nightlife & explore the vibrant bars and rooftop pubs along the river
Dragon Bridge, an iconic symbol of Danang, where the bridge across the Han River is shaped like a dragon. If you're lucky, you might even catch the dragon breathing fire and water during the weekend nights, which is quite a spectacular sight to see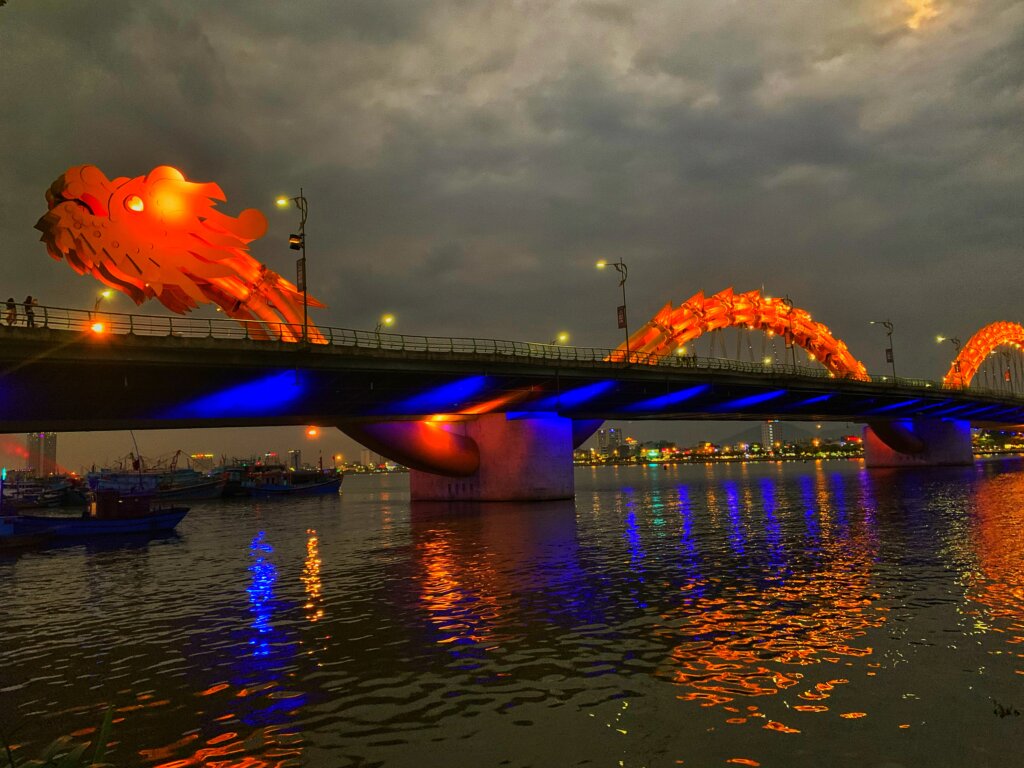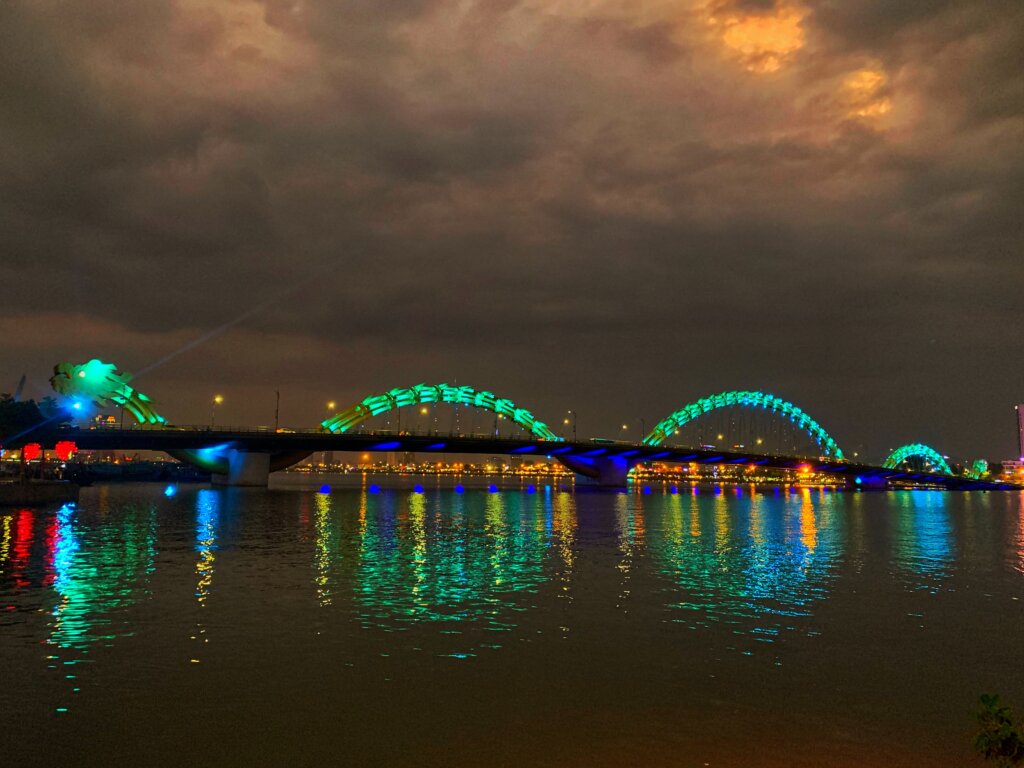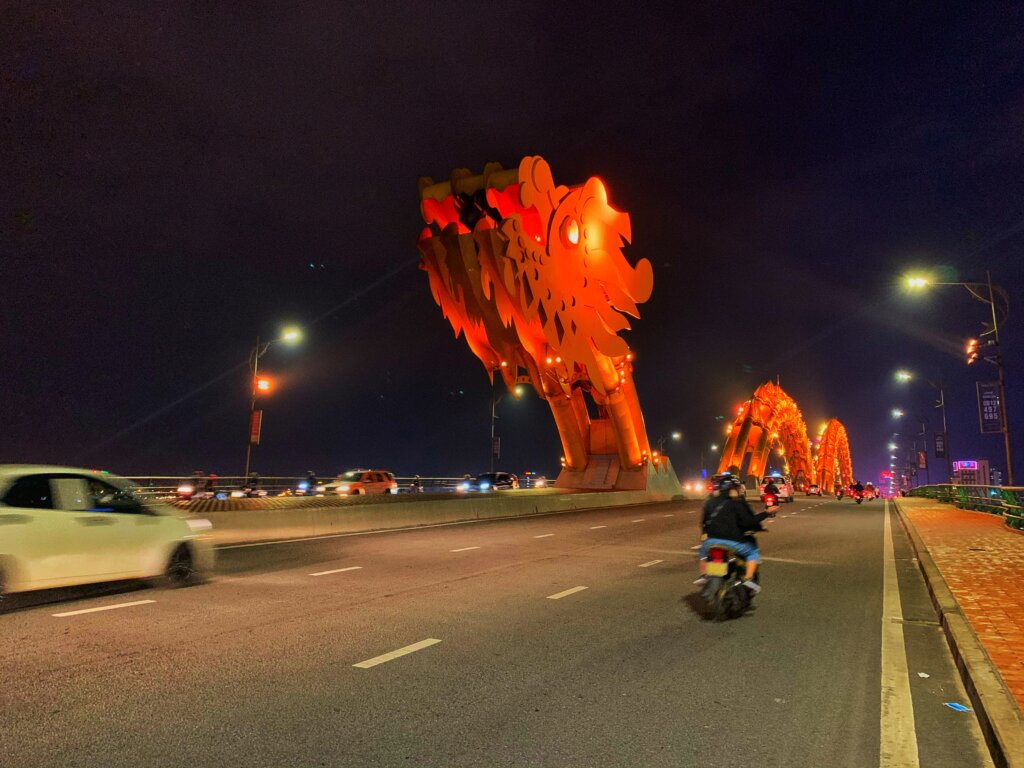 Book your accommodation in Da Nang here.
Read here my suggested 1-week itinerary for Vietnam.
The post What to do in Hoi An, Vietnam in 4 days appeared first on Hopping Feet.