The Ultimate Oceania Travel Guide
Crammed with rugged coastlines, densely lush forests, and sun-kissed beaches, Oceania is an immense destination where travelers can benefit from some of the most Instagrammable landscapes in the world. And while many instantly associate Oceania with New Zealand and Australia, the continent is sprinkled with some 10,000 paradisiac islands that are veritable pockets of untouched […] The post The Ultimate Oceania Travel Guide first appeared on CuddlyNest Travel Blog.
Crammed with rugged coastlines, densely lush forests, and sun-kissed beaches, Oceania is an immense destination where travelers can benefit from some of the most Instagrammable landscapes in the world. And while many instantly associate Oceania with New Zealand and Australia, the continent is sprinkled with some 10,000 paradisiac islands that are veritable pockets of untouched nature.
There are endless reasons to hop on a flight to Oceania. From the pulse-pounding Australian cities to the pristine beaches of French Polynesia, the continent has a diverse collection of destinations that are set to please every type of traveler. Not to mention the fact that this continental region —nestled between Asia and the Americas— is a haven for thrill-seekers, offering plenty of outdoor activities and reasons to keep active.
To help you carefully pick your next Oceania destination, we've got the low-down on all the basic information you need to know before falling irrevocably in love with this land of staggering beauty. Have a look!
Note: Make sure to double-check COVID 19 precautions, protocols, and operating hours before you visit any of these sites.
Quick Facts About Oceania
| | |
| --- | --- |
| Regions | Australasia, Melanesia, Micronesia, Polynesia |
| Largest Country | Australia |
| Smallest Country | Nauru |
| Number Of Islands | + 10,000 |
| Number Of Countries | 14 |
| Highest Mountain | Mount Cook (New Zealand) |
| Population | 42967585 |
| Population | 10.72 million (2019) |
| Area | 8.526 million km² |
Best Time To Go To Oceania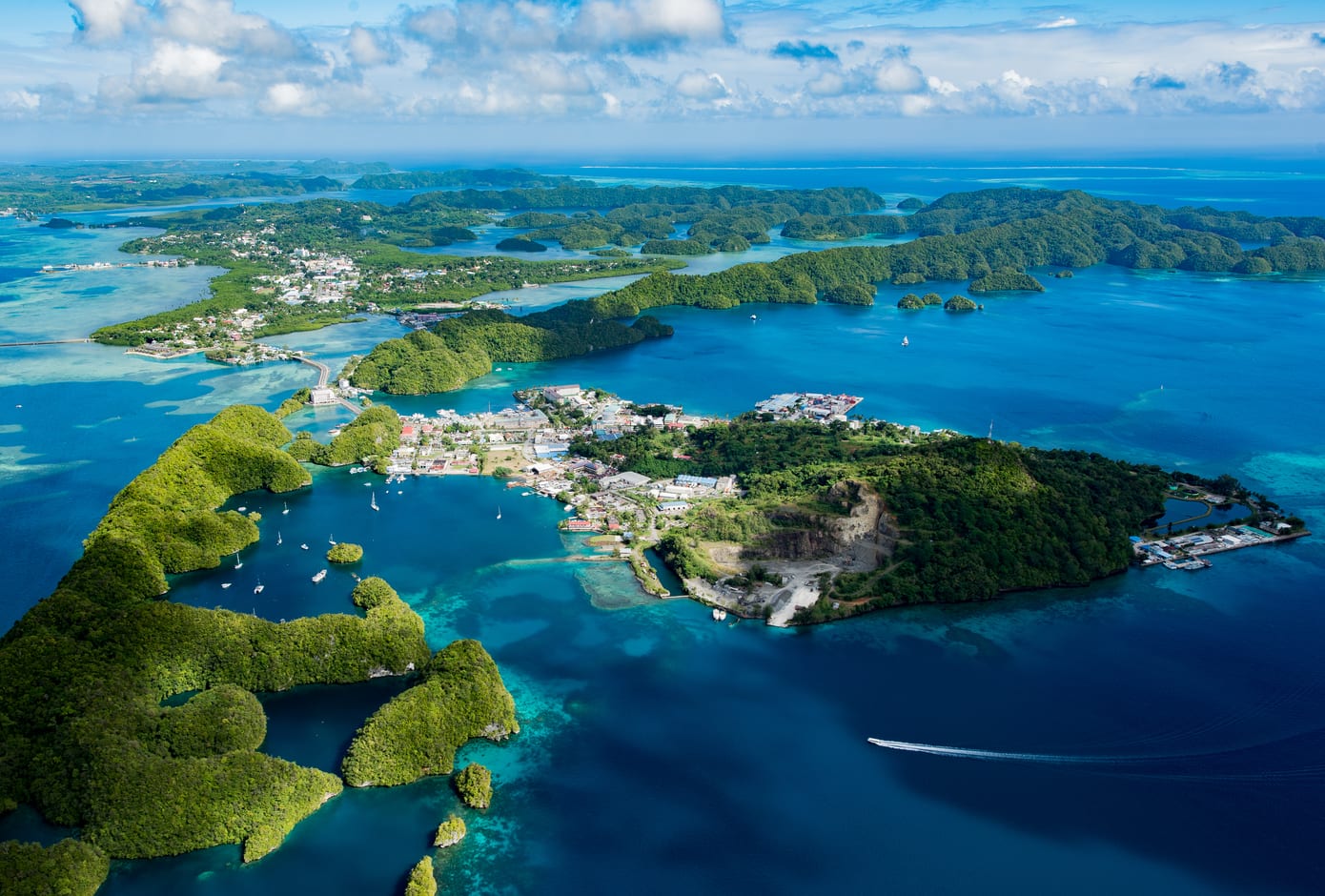 Spanning the Eastern and Western Hemispheres, Oceania encompasses five different regions: Australasia, Melanesia, Micronesia, and Polynesia, and the weather can vary according to each region. The Pacific Islands (Melanesia, Micronesia, and Polynesia) have tropical rainforest and tropical savanna climate and are extremely vulnerable to climate change. All of them, though, have pleasant weather year-round, with similar temperatures and patterns across the islands.
Making up the biggest land area in the region, Australia boasts the most diverse climate on the continent, with a tropical northern coast and desert interiors. New Zealand, on the other hand, is isolated from other continents and exposed to cold western winds and ocean currents, which gives the country a much milder climate than Australia.
So, when it comes to the best time to visit Oceania, it all depends on the location you're heading off to. Here, you'll find what are the best times to visit each Oceania region according to the climate.
Best Time To Visit Australasia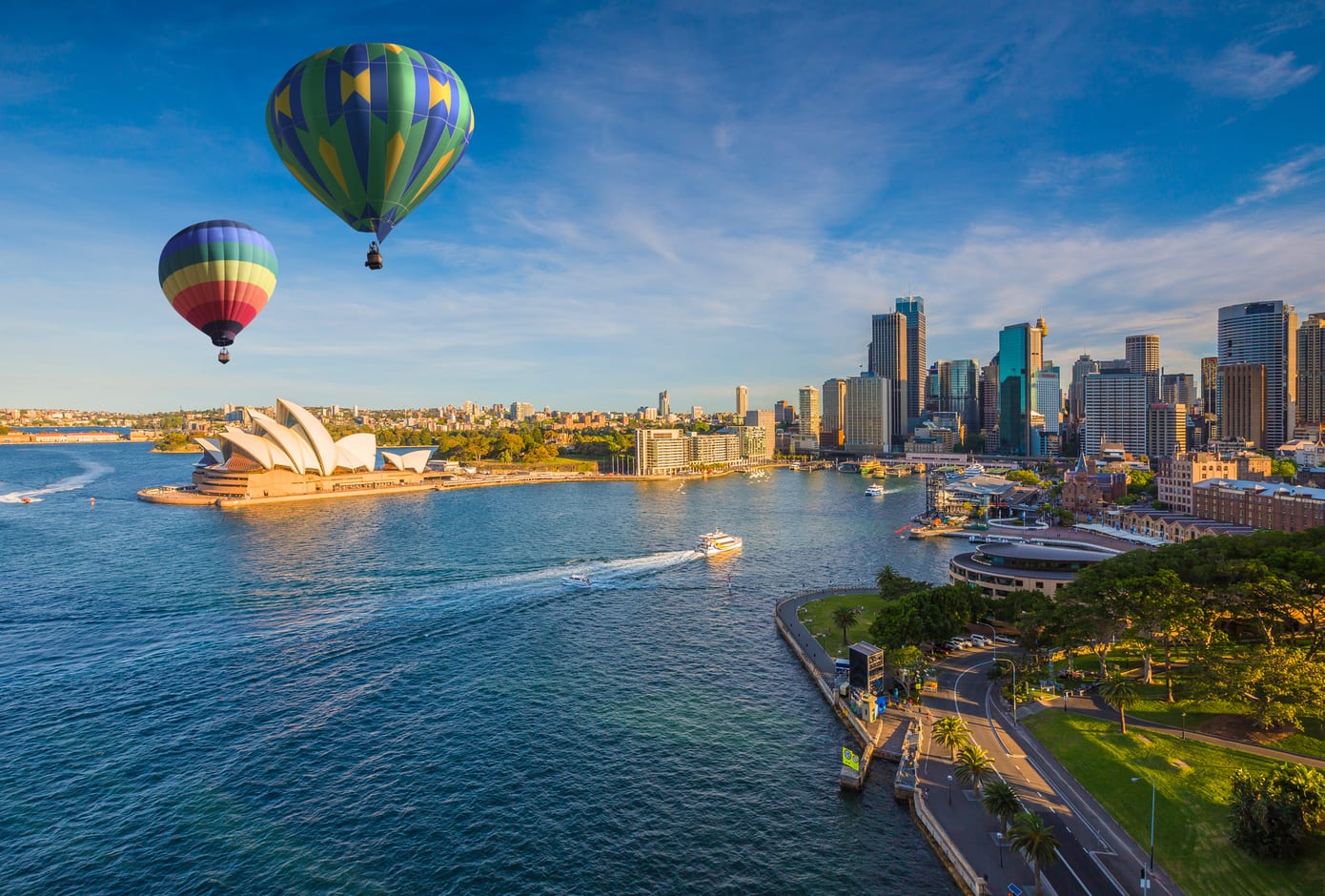 Australasia comprises Australia, New Zealand, and some neighboring islands, like Tasmania. The most visited destination not only in Australasia but also in Oceania is Australia, thanks to its diverse landscapes, and the delightful maze of cultural attractions the country offers.
In Australia and New Zealand, the seasons run opposite of those in North America and Europe. Summer, for instance, happens from December to February, which is when the beaches in Australia are the most irresistible. It's also a great time to indulge in outdoor activities, especially along the Australian coastline, visit national parks, and catch a glimpse of the local wildlife at the Great Barrier Reef. Boasting longer daylight hours and warm weather, these are also the busiest months for tourism in Australia, which means crowded attractions and higher rates.
Autumn in Australia starts in March, and this can be a lovely time of year to visit the country. During that season travelers can flock to the Ningaloo Reef, in North West Australia, to marvel at the massive migrating humpback whales. This is also a prime time to visit Australia's vineyards and witness the radiance of the fall foliage.
With extremely variable weather all across the country, New Zealand has something to offer at any time of year. But, the two best seasons to visit the country are during Summer (December-February), and Autumn (March-May). In the summertime, days are bright and sunny, with temperatures ranging from 20ºC to 30ºC. This is the perfect weather for beach-hopping and other outdoor activities, aside from providing the perfect conditions for locals and travelers to visit paradisiac places like the Coromandel Peninsula and the Abel Tasman National Park.
Another must-do activity in the summer in New Zealand is penguin viewing in the south. Summer, however, is the peak tourism season in the country, which usually means higher rates and packed beaches. For comfortable temperatures and fewer tourists, visit New Zealand during the Fall. Aside from being a great time of year for hiking, it's the perfect season to spot the spectacular orange, red, and golden autumn leaves, especially in Arrowtown, Central Otago, Christchurch, and Lake Tekapo.
Best Time To Visit The South Pacific Islands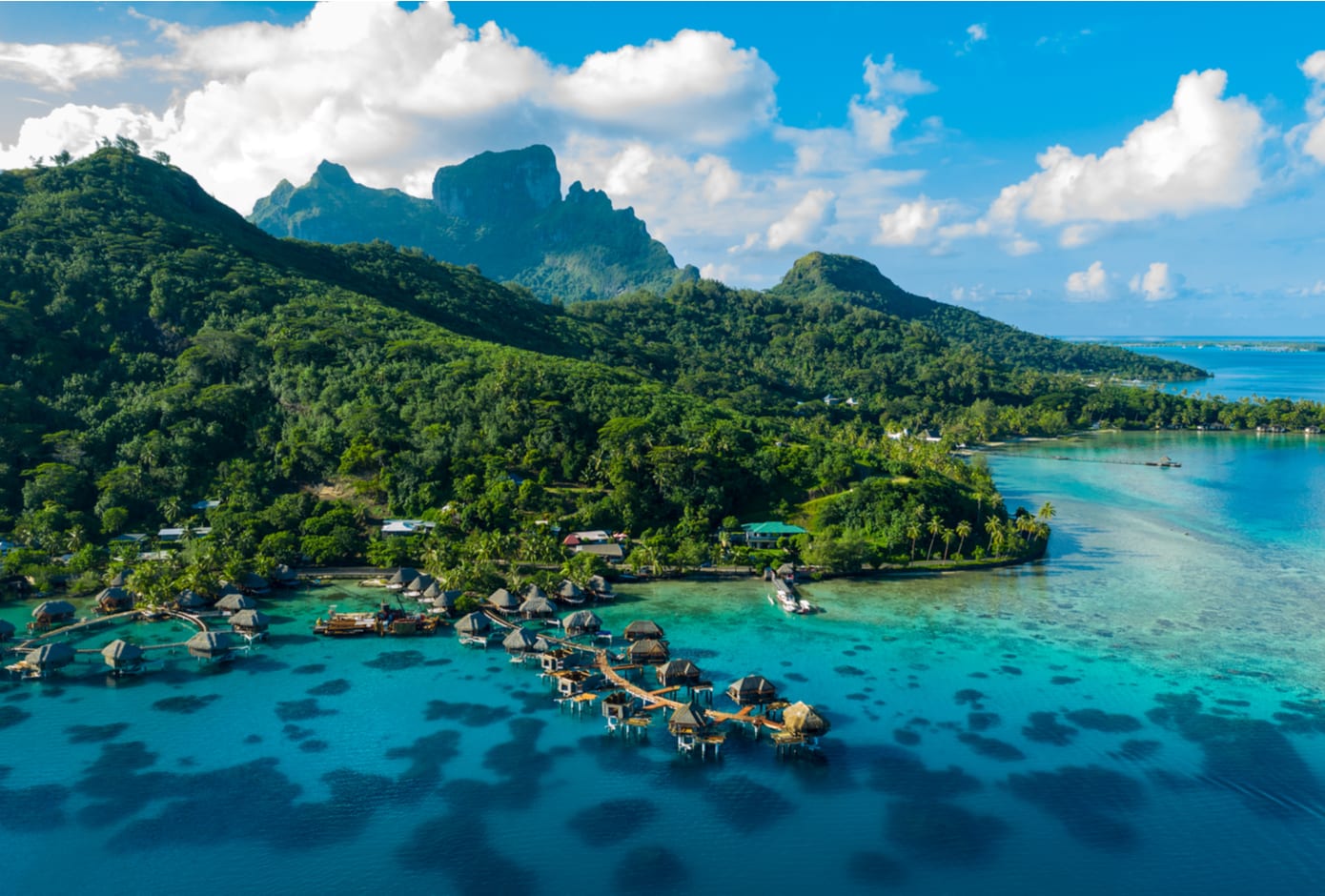 With a tropical climate throughout the entire year, the South Pacific is known for its warm and humid temperatures, especially in the locations that are closer to the Equator Line (Samoa, Tuvalu, the Solomon Islands). The islands of the South Pacific are run by two seasons: the dry season (May-October), and the wet season (November-April).
The dry season brings milder temperatures and, of course, less rain. These are also the busiest tourist months in the South Pacific Islands, which is when people from New Zealand and Australia flock to the islands to escape the cold weather. During this time of year, though, visitors can indulge in a whirlwind of memorable activities, such as swimming with humpback whales (July-October) in Tonga, and dolphin-viewing in Fiji (August).
The wet season brings warmer temperatures, but also more rainfall, and it's when tropical storms and cyclones are more likely to happen. For that reason, the lodgings are much cheaper on the Pacific Islands during the wet season, and you'll see considerably fewer crowds.
Why Travel To Oceania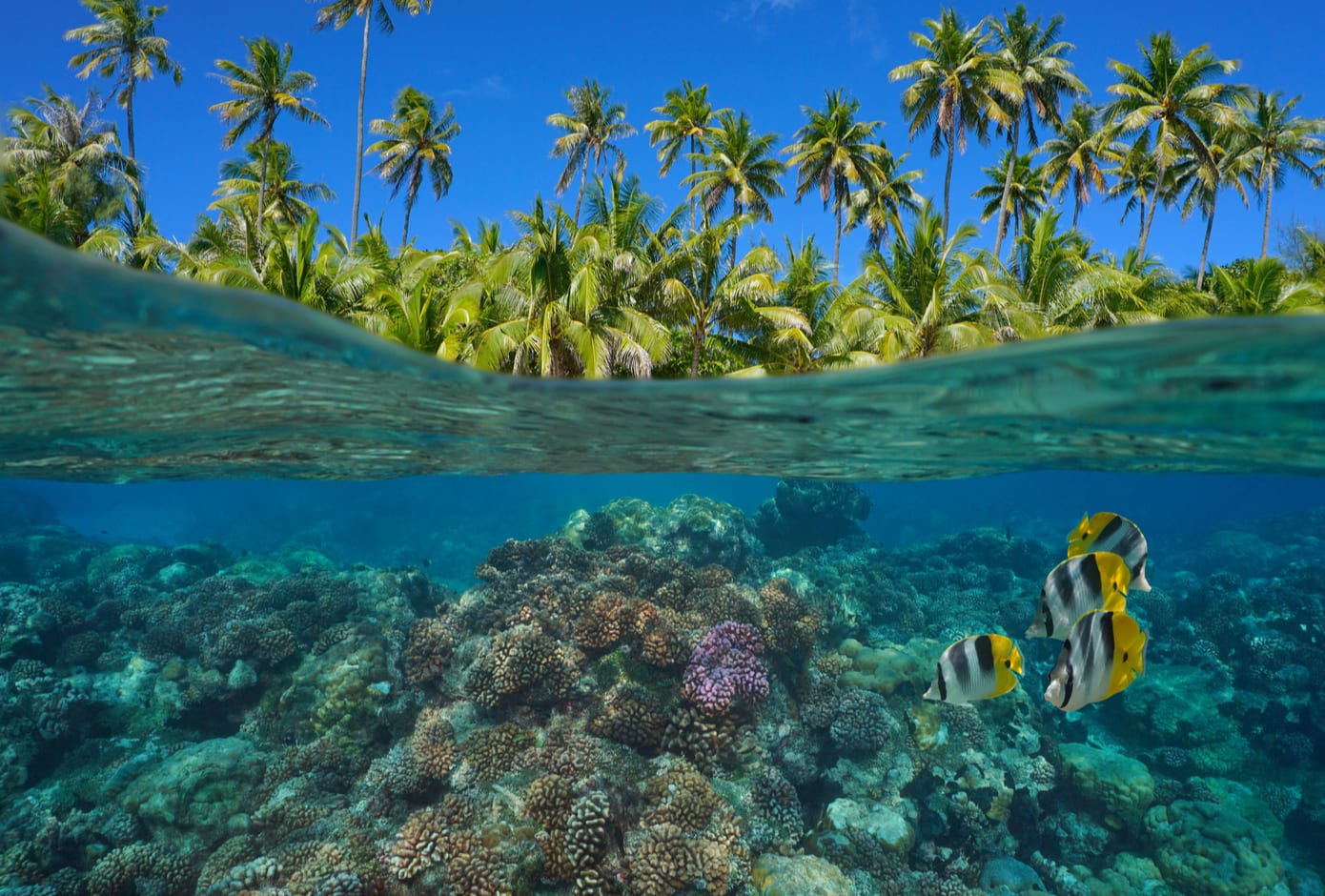 Oceania flaunts a gorgeous natural setting that provides safe havens all-year-round. Aside from a delightful maze of pristine beaches, the continent encompasses stress-busting pockets of calm and great beauty, including national parks, coral reefs, high islands of volcanic origin, and tropical rainforests. These environments, by the way, are home to diverse wildlife, harboring several different species of rare animals such as the Tasmanian Devil and the Red Kangaroo.
With a huge range of outdoor experiences, Oceania is also a veritable playground for adrenaline junkies. From skydiving in New Zealand to cliff camping in Australia, thrill-seekers are guaranteed to have a life-changing travel experience in Oceania.
Whatever pleasures you might have, Oceania probably has them in spades. In Australia, for instance, gorgeous nature-sculpted sceneries are perfectly intertwined with energy-fuelled destinations where you can experience the whole breadth of a cosmopolitan city. In New Zealand, 45 000 hectares of vines give rise to world-class wines that are set to please even the most fastidious foodies. In Tahiti, culture-vultures will be taken on a deep dive into the fascinating French Polynesian traditions of dance, music, and art, that were inherited by the Mā'ohi ancestors. So, no matter what your interests are, Oceania provides travelers with an endless showcase of amazing 'bucket list' experiences!
Best Places To Visit In Oceania

Australia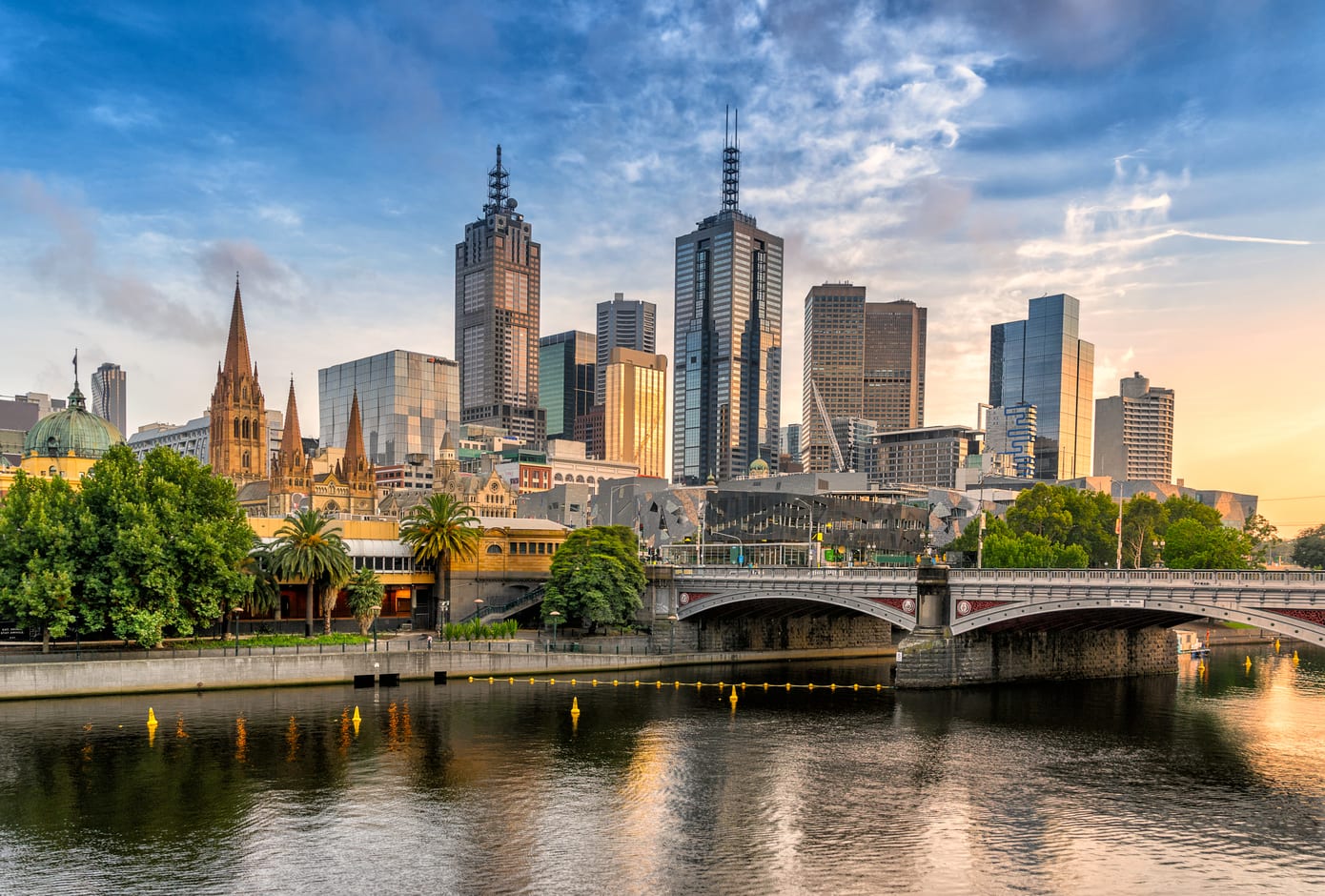 Australia's massive size makes it a prime pick for sampling a robust array of activities of all kinds. Beach babes, for example, will have the time of their lives by exploring the 74 Whitsunday Islands. Part of one of the world's most scenic Natural Parks, the islands are covered by dense rainforest, several hiking trails, and white sand beaches. In there, they can snorkel around the dreamy turquoise waters of the Great Barrier Reef to meet unique species of marine life, and spend the day soaking up the sun at Whitehaven Beach, regarded as the most beautiful beach on Earth!
In Australia, nature lovers can also have a memorable time by cruising along the Great Ocean Road, one of Australia's most scenic drives. Spanning 249 miles along the south-west coast of Victoria, this coastal drive offers travelers the most sweeping views of waterfalls, wildlife, old fishing villages, rainforests, rivers, and volcanoes.
Humankind has played a role in shaping Australia too, and visitors can also appreciate the beauty of the country's liveliest cities. Melbourne, which was many times voted the world's most liveable city, has a thriving cultural scene. Dubbed Australia's cultural capital, the city has one of the highest densities of commercial galleries in the world, aside from historic theatres, and iconic cultural institutions, such as the Melbourne Museum, and the State Library Victoria. At once dynamic and serene, thrilling and relaxing, Sydney, is one of Australia's largest cities, known for its sculptural Opera House and awe-inspiring Harbour Bridge. Capital of the New South Wales state, the city also happens to be a wonderland for foodies, offering a seemingly unlimited choice of smart bistros, lauded upscale eateries, trendy brunch spots, and several farmers' markets that that make the city a world-renowned foodie haven!
Find Accommodation In Australia
New Zealand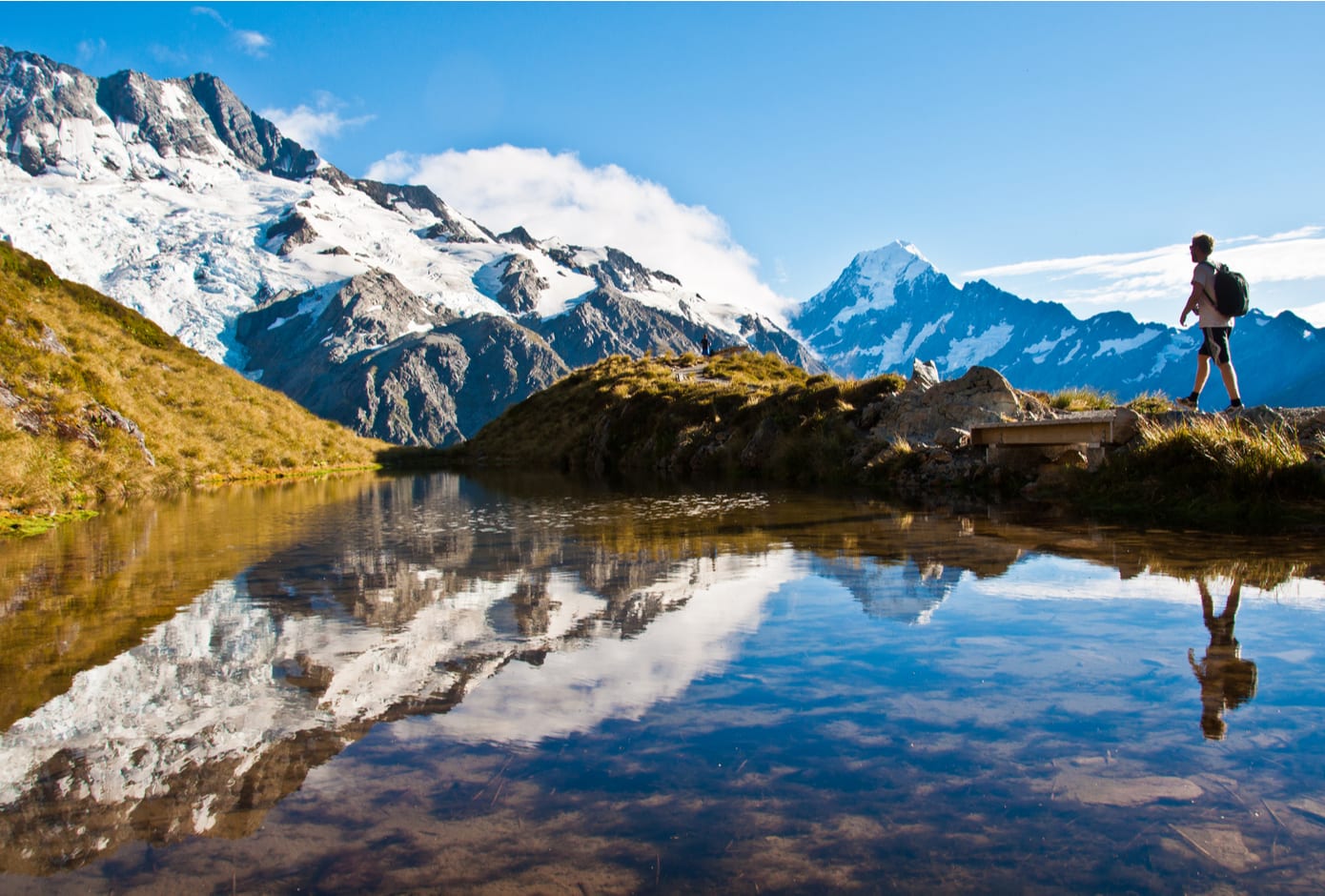 New Zealand is home to a dazzling wealth of natural features. A land of many contrasts, the country offers drop-dead views of craggy mountains, alluring glaciers, steep fjords, volcanic plateaus, and vast green plains of immense beauty. With this great diversity of landscapes, is no surprise that New Zealand is one of the top destinations for trips filled with outdoor activities.
Located on the southwestern Pacific Ocean, New Zealand consists of two main landmasses: the North Island (Te Ika-a-Māui) and South Island (Te Waipounamu), which are bisected by the Cook Strait.
The South is the largest landmass, and its western side is covered by the 400 miles-long Southern Alps, dotted with 18 peaks of over 3,000 meters. The tallest mountain in the Southern Alps is Aoraki /Mt. Cook, at the Aoraki Mount Cook National Park, where the most adventurous souls can go mountain walking, glacier viewing, and skiing. New Zealand South Island also plays host to Queenstown, a lakeside resort city that is known as the adventure capital of the world. Not to mention the Fiordland National Park, a UNESCO World Heritage site that covers 1.2 million hectares of mountain, lake, fiord, and rainforest!
Less mountainous than the South, New Zealand's North Island is known for its large volcanic plateaus, cosmopolitan cities, and national parks. If you want to get your heart racing, you can ski an active volcano in Ruapehu, walk the 19-kilometer Pouakai Crossing at the Egmont National Park, or go skydiving across Lake Taupo. For scenic one-of-a-kind, scenic landscapes, visit The Hobbiton Movie Set, nestled in the heart of the Mighty Waikato region. Culture-aficionados will love to discover the ancient indigenous traditions of the Maori culture in Rotorua, while the most laidback globetrotters will have the best time while relaxing at the Taupo DeBretts Hot Springs.
Find Accommodation In New Zealand
Fiji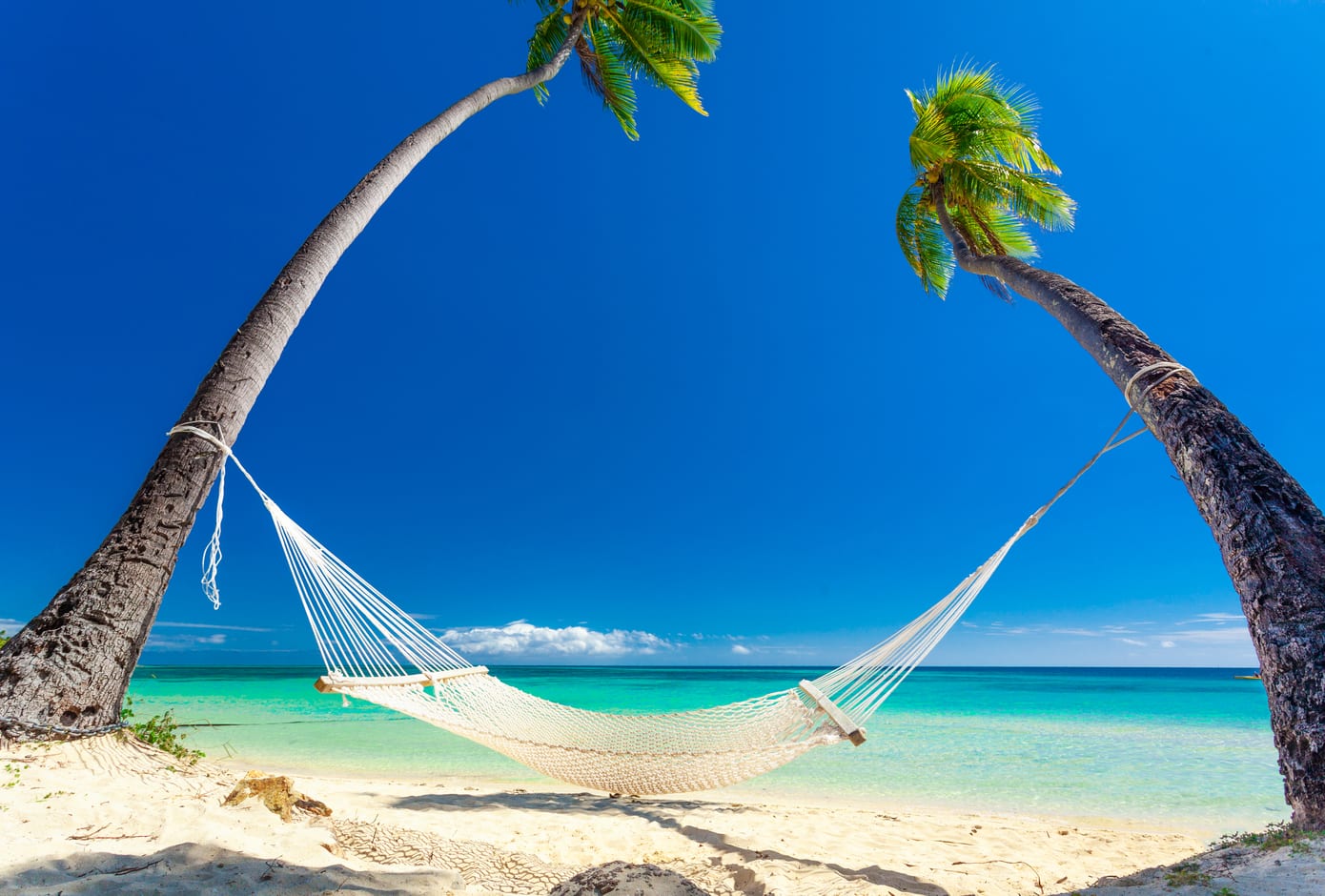 Fiji is the jewel in the crown of Oceania's swoon-worthy collection of beautiful islands. An island country in the Melanesia region, Fiji has more than 330 islands and more than 500 islets. Awash with multicolored coral formations, pristine sandy beaches, and massive mountains covered with lush tropical forests, the country radiates romance and warmth. Not by chance, Fiji is one of the most coveted getaways for couples! Visitors usually stay at Viti Levu, the largest island on the archipelago. From there, they can make their move to other islands, such as the Mamanuca, which is a paradise for divers and snorkelers, and Kadavu, known for having the planet's fourth-largest coral formation.
Aside from a robust lineup of high-end hotels, Fiji also flaunts unrivaled activities for a romantic trip. Couples can have a romantic picnic on Mociu Island, a tiny uninhabited nature reserve just off Likuliku Island, go scuba diving the Rainbow Reef, which is inhabited by hard and soft colorful corals, and even take a scenic flight across the endless blue of the Pacific Ocean!
French Polynesia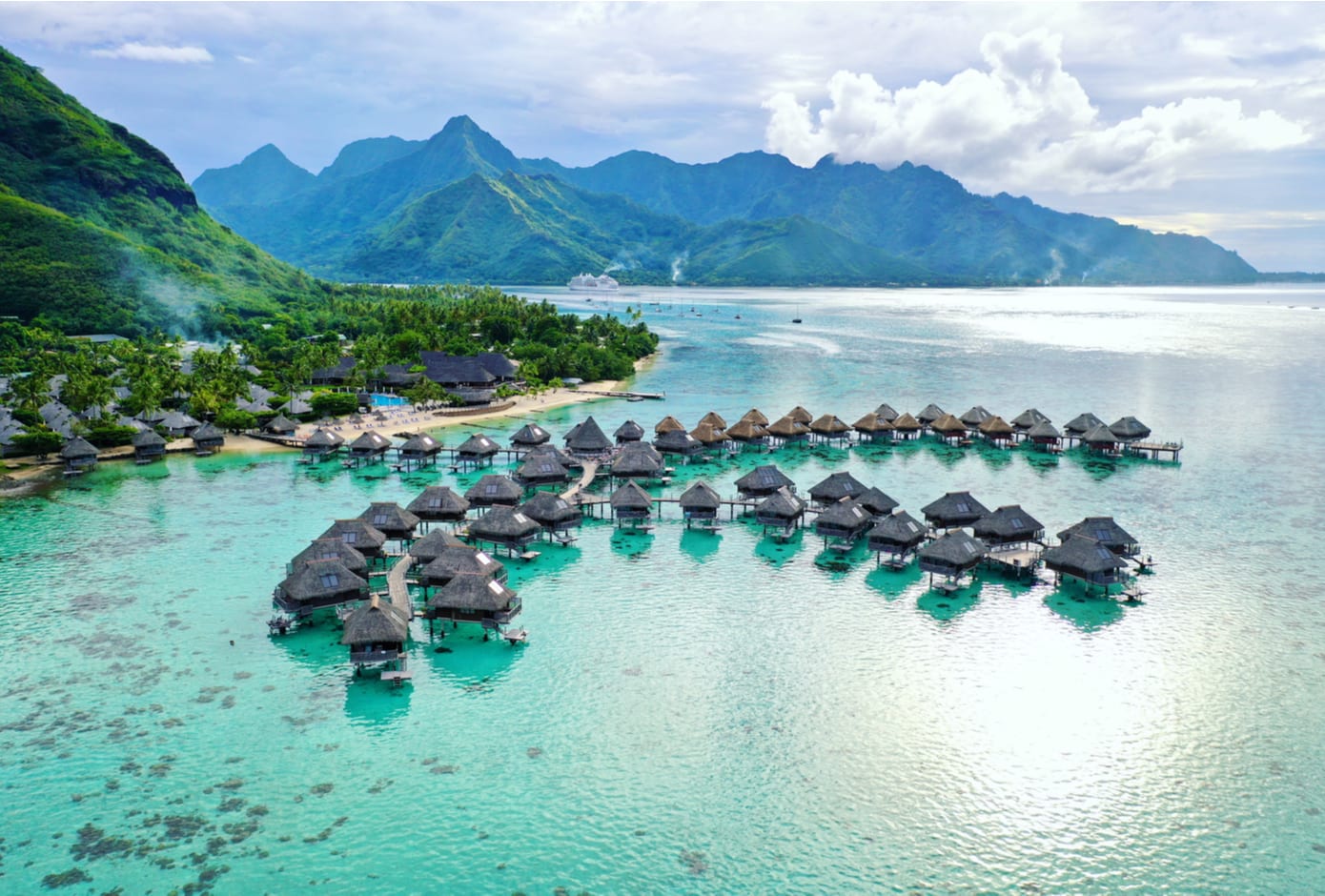 French Polynesia needs no introductions. Well-deserving of its reputation as one of the world's most heavenly places, this overseas collectivity brings together more than 100 islands praised for its sparkling fresh lagoons decorated with coral fringes, and towering waterfalls. The largest and most populated island in French Polynesia is Tahiti, which also happens to be one of the most saugh-after destinations of the South Pacific Ocean.
Home to crystal blue lagoons and quiet pockets of untouched greenery, Tahiti draws families and couples alike, who are itching to enjoy the best activities of the island. Visitors can hop aboard a glass kayak and explore the marine wildlife that inhabits Tahiti's transparent lagoons, snorkel in a coral garden, and also have a fabulous stay at an overwater bungalow.
And if you already checked Tahiti off your bucket-list, hop on a flight to Bora Bora instead. A popular destination among snorkelers and divers, this small island is surrounded by sand-fringed islets and a large protected green-blue lagoon. Some of the best things to do in Bora Bora include soaking up the sun on Matira Beach, swimming with rays and sharks, and hiking the black rugged slopes of Mount Otemanu.
Find Accommodation In French Polynesia
New Caledonia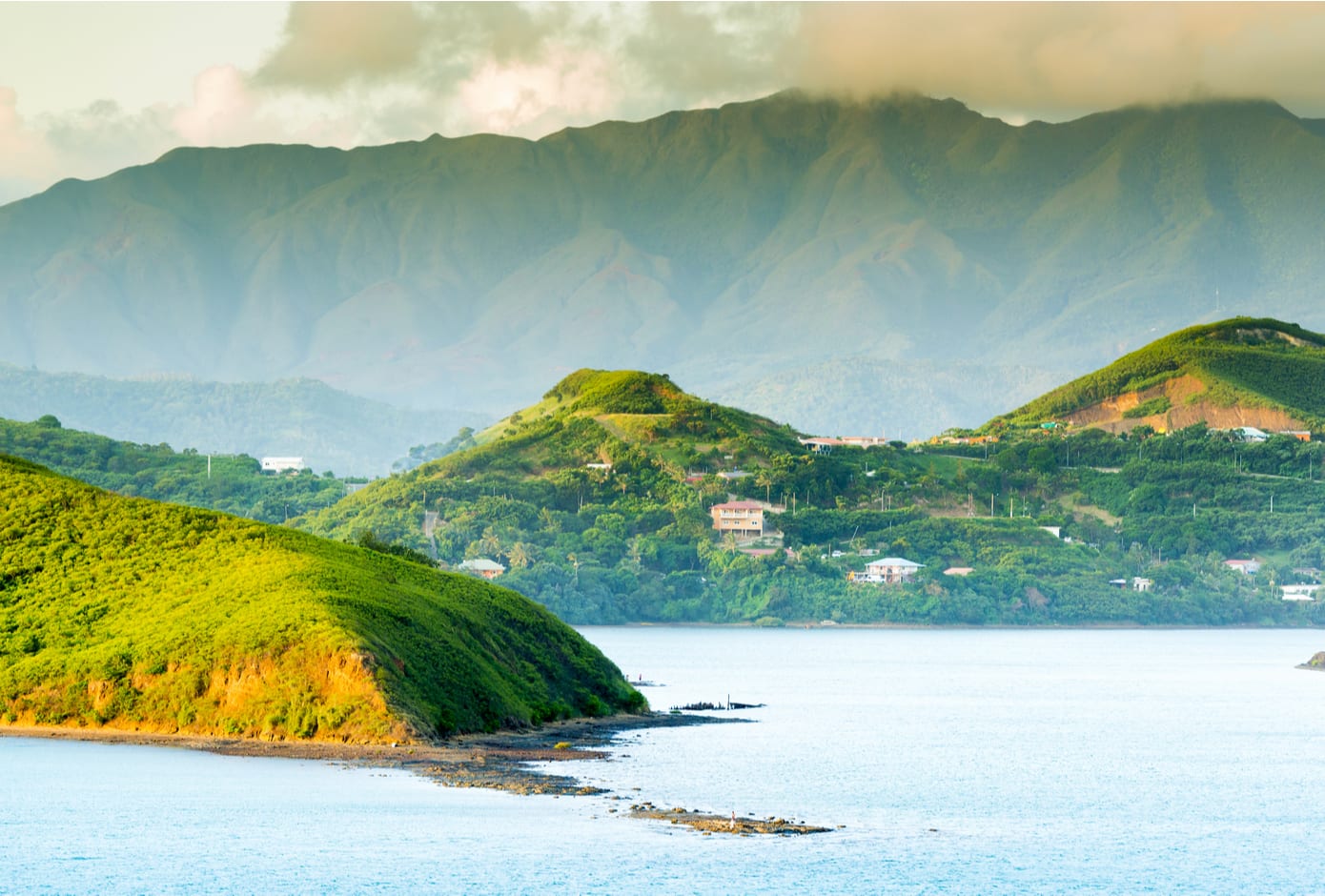 In New Calendonia, your attention is caught by intriguing details everywhere you look. Located in the southwest Pacific Ocean, the archipelago is part of the Melanesia subregion of Oceania, and particularly known for its diverse fauna and flora. New Caledonia has the richest diversity in the world per square kilometer, and for that reason only, it is one of the most fascinating destinations on the continent.
Travelers who go to New Caledonia usually stay in Nouméa, the capital city of the archipelago. Gateway to an array of other beautiful islands, Nouméa will give you a taste of New Caledonia's unique culture and lifestyle. The city has a selection of museums, where visitors can delve into the traditions of the Kanal people, which is the largest cultural group in New Caledonia.
Other must-visit locations in this travel destination are the islands of Ouvéa, Maré, and Lifou. Ouvéua encircles a 25-km-long white sand beach, fantastic diving sites, and picture-perfect coconut plantations. Maré is centered around a former lagoon, and it's home to narrow luscious beaches and rugged coral formations. Lifou is known for its dramatic landscapes that mix untouched beaches with thick forests and steep cliffs, all intertwined with vanilla plantations.
Find Accommodation In New Caledonia
Samoa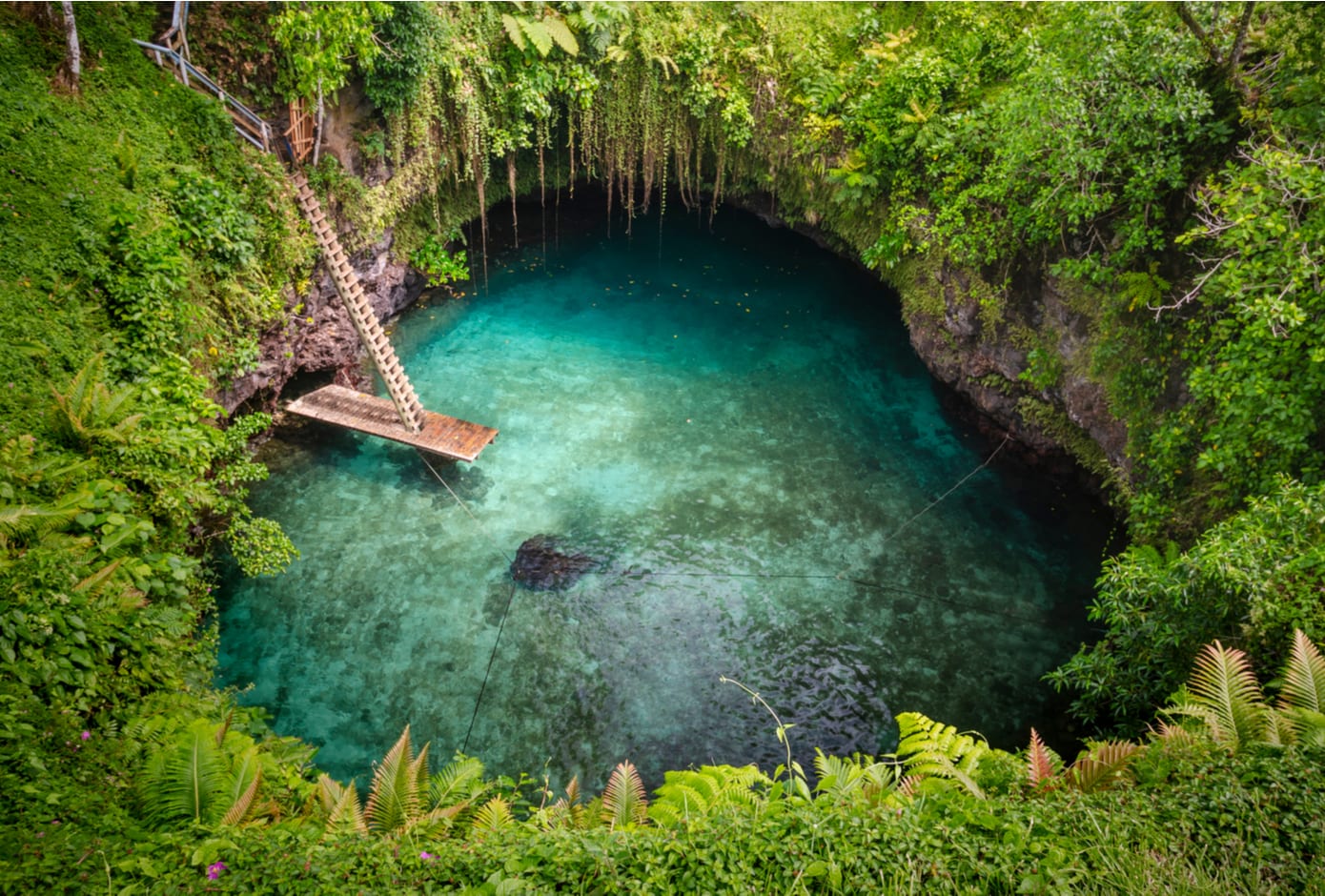 Samoa is different from everything you've seen and experienced before. Boasting breathtaking natural settings, this Polynesian island country consists of main islands, Savai'i and Upolu, two smaller inhabited islands, Manono and Apolima, and several island groupings. The country is occupied by rugged mountain ranges, rainforests, and coral formations around the islands, which are home to some 900 fish species. For that reason, paradisiac Samoa is the perfect destination for a vacation around nature.
Not sure of to enjoy Samoa's striking natural beauty? Start by visiting the country's world-renowned sparkling waterfalls, including the Papapapaitai Waterfalls, on the Tuamasaga District. Make sure to also head to one of the most stunning attractions in this destination: the Piula Cave Pool, a natural freshwater pool by the sea on the north coast of Upolu. If you're a passionate diver, explore the Palolo Deep Marine Reserves, which is brimming with tropical fish, sea turtles, and corals.
Browse. Book. Stay.
CuddlyNest provides all accommodations to all travelers at the best price. Find unlimited travel inspiration on our blog and social media channels.
Here are some curated readings for you:
Romantic Honeymoon Spots In Australia
Best Australia Small Towns
Top Beaches To Visit In The Summer
The post The Ultimate Oceania Travel Guide first appeared on CuddlyNest Travel Blog.