The 30+ Best Women's Hiking, Running & Walking Shoes for 2021
Original content owned & copyrighted by Green Global Travel. Whether trekking through the desert in Jordan, to see Gorillas in the jungle of Rwanda, or just exploring the cobblestone streets of the Greek Islands, we've learned the importance of good shoes the hard way. A good pair of shoes may not be able to solve all your problems, such as having your Bedouin guide stung Keep Reading The post The 30+ Best Women's Hiking, Running & Walking Shoes for 2021 appeared first on Green Global Travel.
Original content owned & copyrighted by Green Global Travel.
Whether trekking through the desert in Jordan, to see Gorillas in the jungle of Rwanda, or just exploring the cobblestone streets of the Greek Islands, we've learned the importance of good shoes the hard way.
A good pair of shoes may not be able to solve all your problems, such as having your Bedouin guide stung by a Deathstalker scorpion and being chased by a runaway Camel.
But I speak from experience when I say that a bad pair of shoes can definitely make a day like that feel a whole lot worse.
So here's a look at more than 30 of the best women's hiking, running, and walking shoes for 2021, running the gamut from fun and fashionable to highly technical shoes designed to conquer any terrain.
READ MORE: 30 Most Comfortable Walking Shoes & Hiking Shoes For Women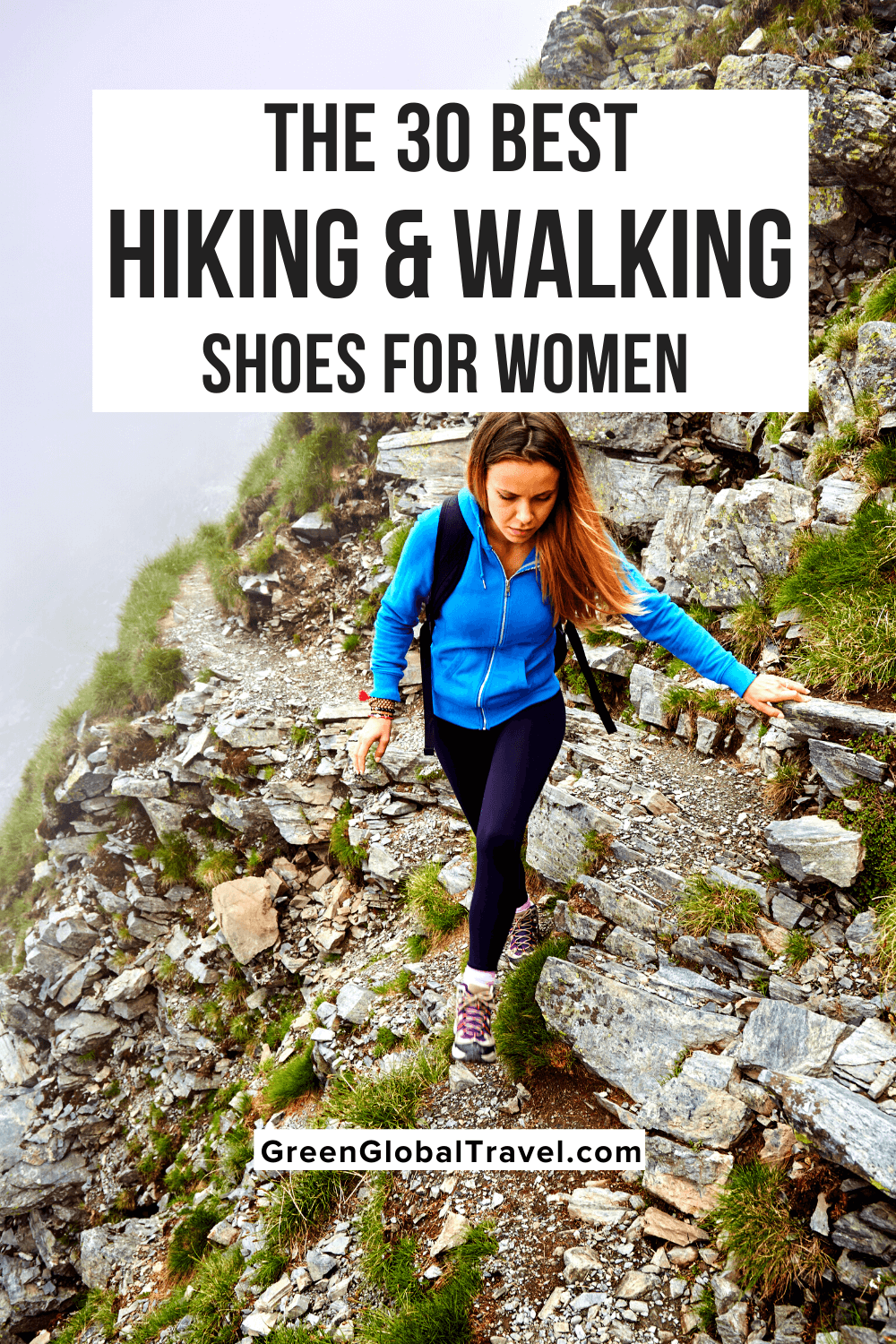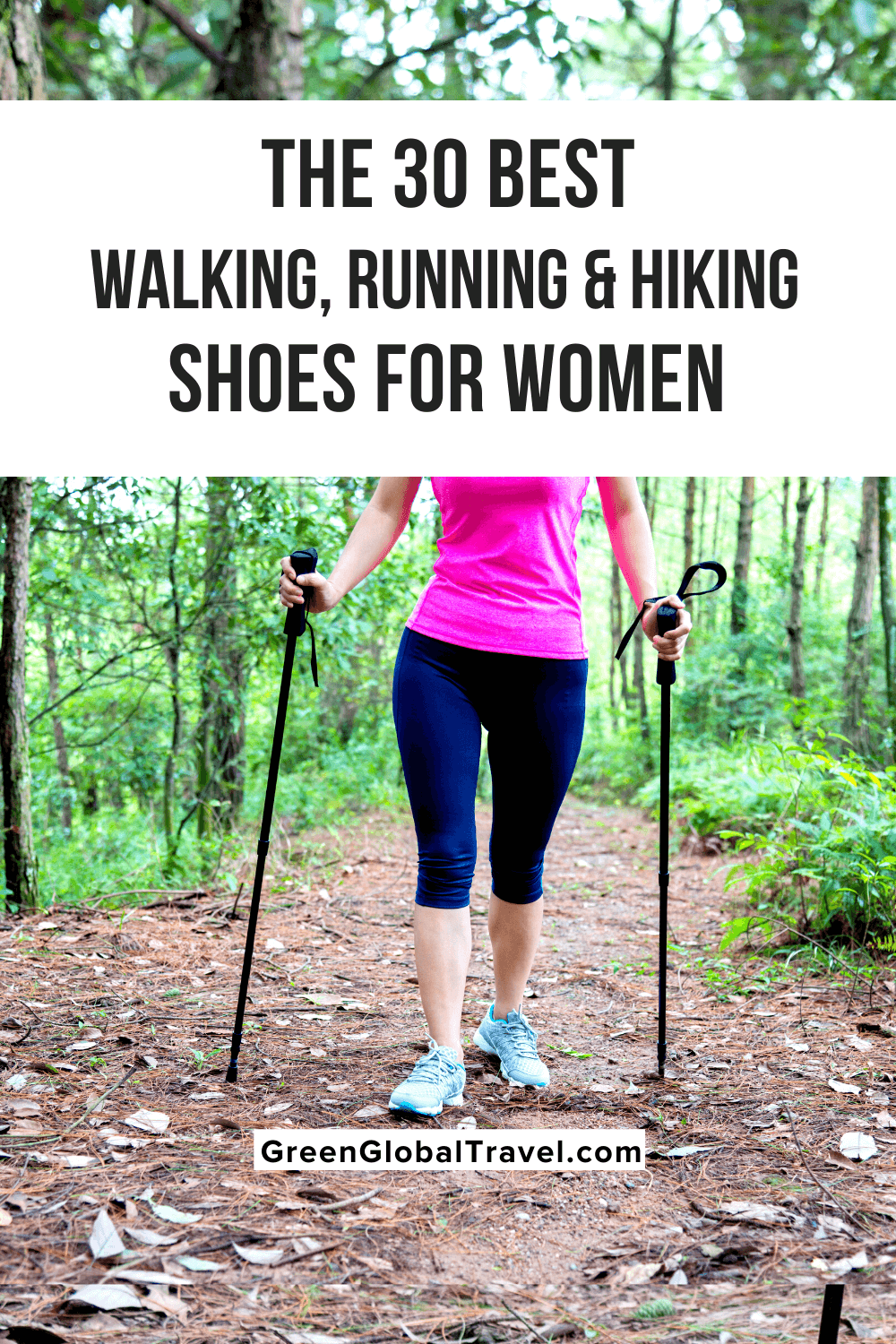 WOMEN'S HIKING SHOES
Ariat Skyline Mid H2O
Founded in 1993 by Stanford Business School classmates Beth Cross and Pam Parker, Ariat was the first company to apply athletic shoe technology to English and Western-style boots.
Though initially known primarily for cowboy, riding, and work boots, the brand's hiking line has grown considerably in recent years. And the Skyline Mid H2O is a great example of how they balance technical considerations with comfort.
An excellent women's waterproof hiking boot, the Skyline uses a shock-absorbing EVA midsole, an "All Day Cushioning" insole with enhanced rebound, and ATS technology to ensure comfort on long hikes.
The padded collar, dual-density Duratread outsole, and extra protection at the toe and heel are also great features for a hiking shoe made to go as far as your feet want to wander.
READ MORE: The 50 Best Hiking Quotes to Inspire Your Adventures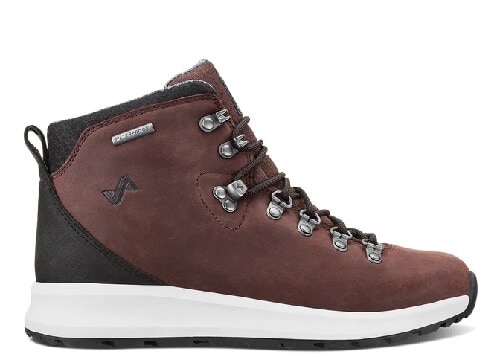 Forsake Thatcher
The new Thatcher model from sustainable shoe brand Forsake trods the middle ground between the durability of hiking boots and the comfort of sneakers.
These stylish shoes (which are available in four colors) are designed to go from country creeks to city streets without missing a step.
They're made with a waterproof full grain leather upper, a heathered textile fabric, and a "Peak-to-Pavement" tread that's designed to provide excellent traction even on uneven, slippery surfaces.
Other noteworthy features include a gusseted tongue, compression EVA midsole, dual density footbed.
READ MORE: The Best Fair Trade Clothing & Ethical Clothing Brands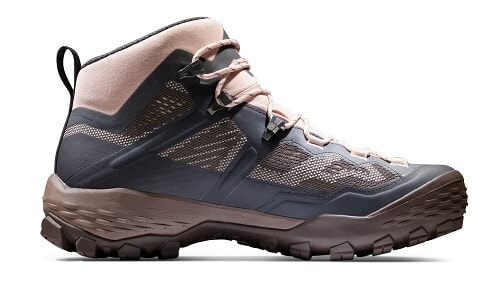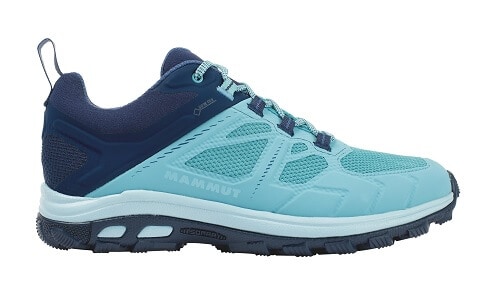 Mammut Ducan Mid GTX & Osura Low GTX
Available in 3 different color combos, Mammut's Ducan Mid GTX is a stylish hiking shoes that offers technological enhancements for serious hiking and long-distance trekking.
Innovative features include a Flextron spring-steel sole for added stability and Georganic 3D Technology used in creating the Vibram sole, which provides superior support on treacherous terrain.
The GORE-TEX extended comfort lining and double-layered engineered mesh uppers are also noteworthy.
Mammut's Osura Low GTX is more of a multi-purpose shoe that works equally well on the trail or a city walking tour. It's got the stylish look of a sneaker, but with gripex

Sonar technology for extra traction and a waterproof, breathable GTX membrane.
READ MORE: NYC Christmas Windows: DIY Walking Tour in New York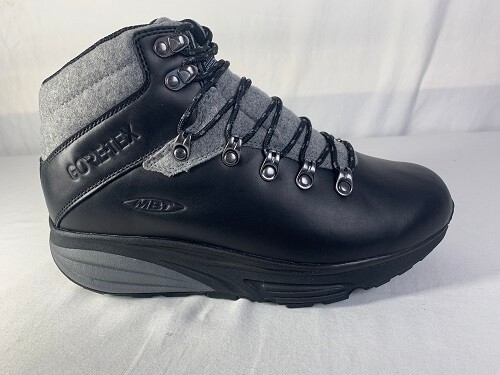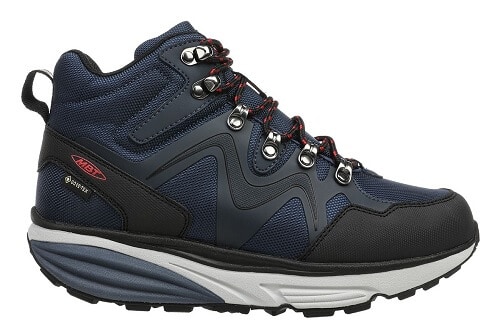 MBT Mt Alpine GTX & Navada X GTX
Swiss engineered brand MBT is known for crafting shoes designed with health and wellness in mind.
To that end, each pair they make boasts 5-component curved soles with varying levels of "rock" to them, ranging from high to recovery.
Their new Mt Alpine GTX (available as a boot or shoe) offers a modern twist on classic hikers. We love the way they look, with a soft wool liner standing out against the full-grain leather upper. Even better is how they feel, with a Gore Tex bootie and sturdy lugged outsole.
Their Navada X GTX are also great hiking boots for women, matching the trademark cushioned rocker midsole with an extra-grippy outsole. The waterproof boots are supportive on the ankles, with the natural rolling momentum putting an extra spring in your step.
READ MORE: The Best Hiking Trails For Your World Travel Bucket List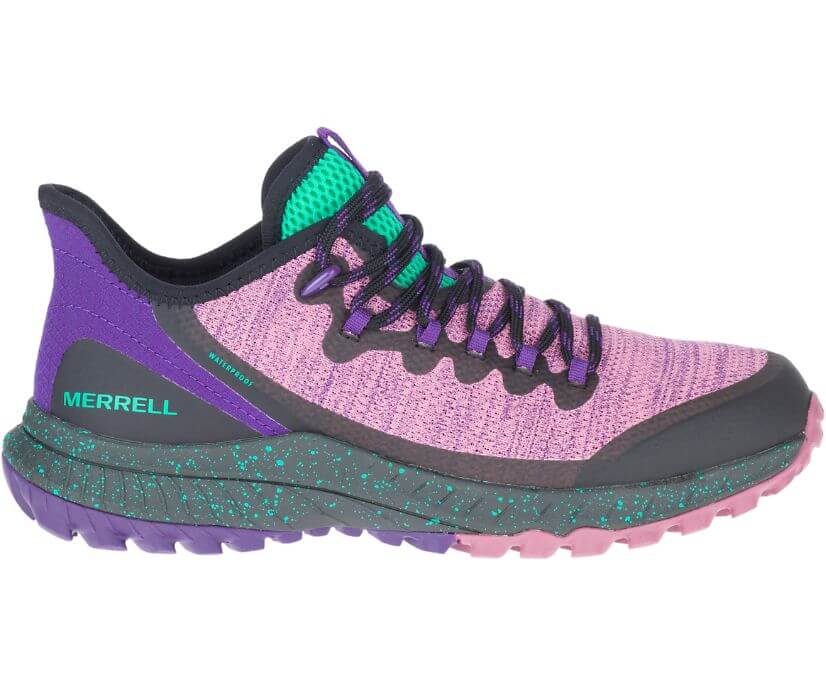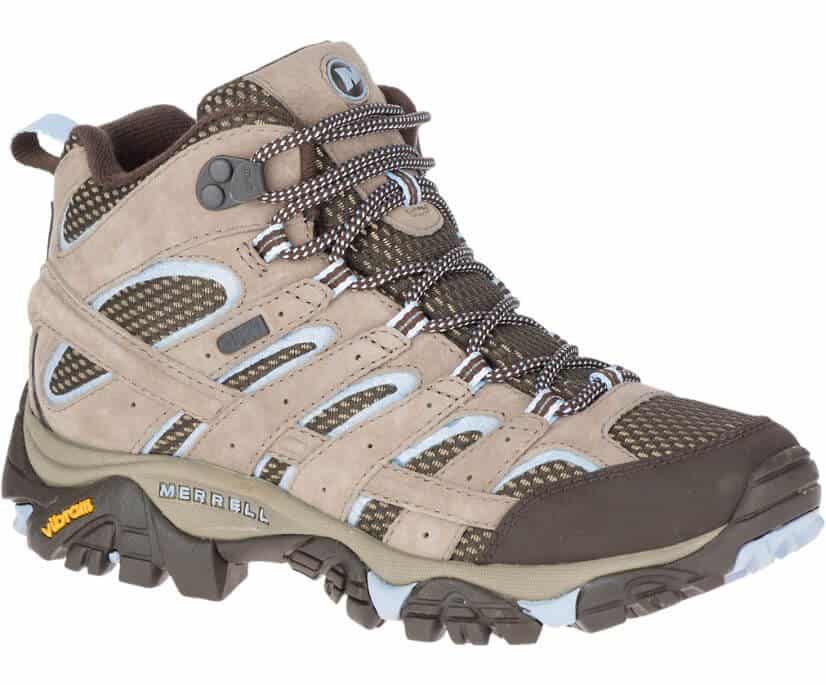 Merrell Bravada Waterproof & Moab 2 Mid WP
These two best-selling options from Merrell couldn't be more different: The Bravada is a colorful "sniker" (sneaker/hiker hybrid), while the Moab 2 is more of a classic waterproof hiking boot for women.
Created by the Merrell Women's Collective, the Bravada comes in 5 snazzy color combos. But with a lightweight knit upper, superb shock absorption of the foam midsole, and terrific traction of the Quantum Grip outsole, there's plenty of substance behind the sleek style.
The Moab 2 Mid WP may look more traditional, but the cushioning comfort of the footbed and Vibram TC5+ soles make it crystal clear why this updated classic is one of their most popular models.
Noteworthy features include M Select DRY to seal out water and let moisture escape, a closed-cell foam tongue to keep debris out, an air-cushioned heel, and a FIT.ECO+ blended EVA footbed that offers excellent arch and heel support.
READ MORE: The 25 Most Comfortable Walking Shoes & Hiking Shoes for Men

Salomon X Ultra 4 GTX
Launched in the French Alps in 1947, Salomon has grown into one of the world's most beloved outdoor brands, with a focus on all things alpine.
Their X Ultra 4 GTX women's hiking shoes have been updated for 2021, using softer materials around the collar and heel and a cradling design for the female form.
Their new lower-density ADV-C Chassis improves stability by targeting articulations on the outer foot, but it doesn't limit your mobility in the process.
You'll also love the waterproof GORE-TEX protection and the grippy Contagrip MA outsole, which allows for great control on slippery or uneven landscapes.
READ MORE: The Tallest Mountains in the World Bucket List

Scarpa Maverick Mid GTX
A new-to-us brand founded in the foothills of Italy's Dolomites in 1938, SCARPA stands for Società Calzaturiera Asolana Riunita Pedemontana Anonima (the Associated Shoe Manufacturing Company of the Asolo Mountain Area).
Long known for their high-quality, handcrafted footwear, SCARPA's Maverick Mid GTX is a lightweight women's hiking shoe designed for moving quickly.
Like the MBT shoes, they have a sole rocket for improved walking efficiency, as well as a lightweight upper and athletic design.
Other noteworthy features include a dual-density compression-molded EVA midsole, TPU heel stabilizers, and a proprietary HDR outsole that gives the shoes higher friction and durability, plus an excellent rebound when you hike.
READ MORE: Kayaking & Hiking the Dolomites in Italy

Skechers Max Cushioning Trail
It's been a minute since Skechers Shape-Ups were the trendy exercise must-have du jour.
But their Max Cushioning Trail shoes for women seem to be designed for the long haul, pairing a colorful style with some seriously cool technical features.
On the outside, the Goodyear Performance Outsole offers enhanced traction and stability on uneven terrain, with Natural Rocker Technology for a smooth heel-to-toe transition.
Inside, the lightweight ULTRA GO cushioning platform is clearly designed for comfort, as is the air-cooled "Goga Mat" breathable insole and the Ortholite comfort foam insole layer. The result is a cushy hiking shoe with excellent rebound and breathability.
READ MORE: The 30 Best Hiking Backpacks & Daypacks

Vasque Women's BREEZE WT GTX
The Breeze GTX from Vasque was one of our picks for the best men's lightweight hiking boots of 2020.
So perhaps it's no surprise that we had equal love for the Women's Breeze WT GTX, which boasts a design that's similarly built for speed and agility.
The waterproof GORE-TEX technology keeps your feet dry and the 200g 3M Thinsulate keeps them warm and toasty, while the Vibram Contact Grip outsole provides exceptional traction on just about any terrain you care to tackle.
The high-top cut gives these women's boots awesome ankle support without sacrificing all-day comfort. Our only complaint is that they only come in one (fairly drab) color.
READ MORE: Camping & Hiking in Joshua Tree National Park, California
WOMEN'S TRAIL RUNNING SHOES

ECCO MX
With COVID making gyms one of the least safe spaces for people to gather, more and more folks are turning to the great outdoors to get in their exercise.
The MX is a new addition to ECCO's Outdoor collection, designed for fast hiking and/or trail running. The sleek shoe is built on an oversized PU outsole that was inspired by motocross, offering an impressive level of support and traction.
It's an extremely comfortable shoe thanks to its stretchy construction, which makes them easy to pull on and ensures a good fit.
Other awesome features include reflective ribbons for better visibility, an anatomical footbed, and a TPU insert for stability. We also love its uniquely urban outdoor design style.
READ MORE: Why the 7 Principles of Leave No Trace Matter More Than Ever
Hoka One One Speedgoat 4
Named for athlete Karl "Speedgoat" Meltzer, the Speedgoat 4 from Hoka One One is a terrific technical shoe tailor-made for trail running or speed hiking in our State or National Parks.
The newly updated version of Hoka's popular line features a mesh upper and gusseted tongue with cutouts for enhanced breathability. They also used 3D printed overlays to provide additional midfoot support.
The wider toe box, lightweight foam midsole, and small winged components added to the lacing eye-rows all serve to ensure a more secure fit and comfortable ride.
And the still have the Vibram Megagrip rubber outsole and 5mm "stepped" lugs for maximum grip and stability no matter how wet or rugged the terrain may be. They're the perfect shoes for our adventures in the Blue Ridge Mountains!
READ MORE: The 10 Best North Georgia State Parks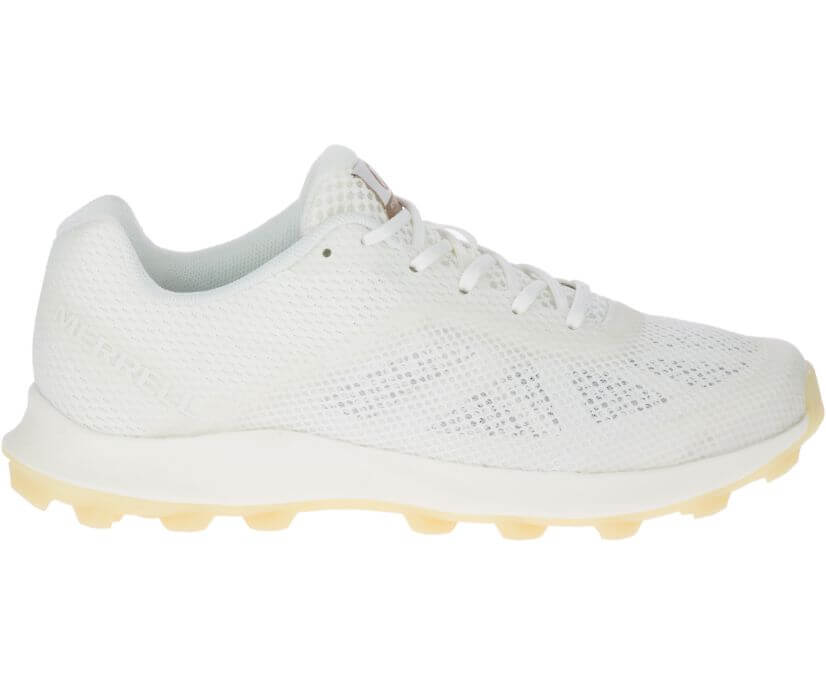 Merrell Skyfire Undyed
One of the more sustainable women's trail running shoes we've seen, the Merrell Skyfire Undyed is a great choice for anyone concerned about their overall carbon footprint.
Both the mesh upper and laces are made with 100% recycled materials (the mesh lining is 40% recycled), and the lack of dye means they conserve water and energy in the manufacturing process.
Other eco-friendly aspects include recycled TPU reinforcements and a removable, lightweight EVA foam insole with 40% recycled top sheet.
What the shoes lack in flashy colors, they make up for in features, including an internal bootie that helps to lock your feet into place, external strap locks on the heel, a mountain-grade Quantum Grip

rubber outsole, and reflective details for increased visibility at night.
READ MORE: How to Reduce Your Carbon Footprint With Carbon Offsets & More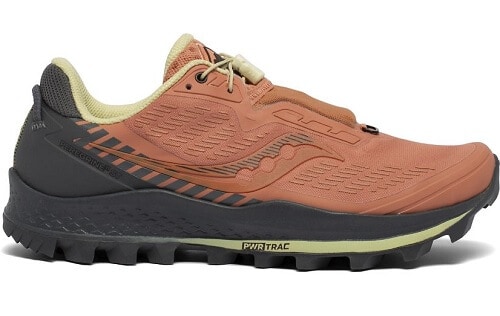 Saucony Peregrine 11 ST
The Peregrine 11 ST from Saucony is essentially like an ATV for your feet. The ST stands for soft terrain, and the shoes are the first we've seen that were specially designed to go off-trail.
The deeper, more spread out lugs are made for digging into even the wettest, muddiest terrain, while the rock plate protects the bottom of your feet.
The debris-resistant mesh upper of these versatile trail shoes is 3D-printed overlays to keep rocks and other debris out, with a mesh shield over the tongue for added protection.
And the PWRRUN cushioning gives the shoes an impressively responsive feel that's especially welcome when you're tackling inclines. All in all, the Peregrine 11 ST is an excellent outdoor adventure shoe.
READ MORE: Water Wonders: A Father-Daughter Story of Growth Through Adventure

Salomon Wildcross W
Another terrific trail running shoe constructed with mud in mind, the Wildcross W from Salomon is built upon a rubber Contragrip outsole with massive multi-dimensional lugs designed for maximum traction.
The shoes' reinforced stability comes from the optimized drop and stack height, which keeps your feet closer to the ground.
The anatomical fit is awesome, with ample space in the toe box, DreamTex wings and water-repellant mesh that helps keep your feet dry and comfortable for longer days on the trail.
Other features include a Quicklace system that allows you to tighten the fit with one pull, and a "SensiFit" design that cradles your feet to keep them snug and stable inside the shoe.
READ MORE: Mountain Gorilla Trekking in Rwanda with Dian Fossey's Porter
WOMEN'S ROAD RUNNING SHOES
Kuru Quantum
Casual running shoes are our favorite footwear, because they're extremely comfortable and good for almost every daily activity we tend to tackle.
Available n 6 color combos, the KURU Quantum is a versatile sneaker with excellent arch support, molding to the unique contours of your feet to ensure the best natural fit for you.
They're extremely popular among people with Plantar Fasciitis, heel pain, fallen arches, and other foot problems, because their KURUSOLE construction helps improve your alignment and posture.
You'll also love their generous toe box and breathable, moisture-wicking mesh uppers, not to mention the top-notch cushioning of the KURUCLOUD midsole.
READ MORE: My Stupid Mistake While Hiking Corcovado National Park, Costa Rica 
MBT GTR-1500
MBT may be best known for their casual, comfortable walking and hiking shoes. But the GTR-1500 offers runners a moderate rocker profile that adds cushioning and improved midfoot-forefront transition.
Road runners will especially love the shock-absorbing SensorTechnology in the heel and midfoot, as well as the propulsive properties of their "Pivot Strike" area.
In conjunction with the injection-molded heel counter, anatomically-shaped (and removable) footbed, and tri-density midsole, these features provide an impressively cushy ride.
Other features of the GTR-1500 include a breathable air mesh upper, Drylex 360 moisture management on the collar and tongue lining, and a high abrasion rubber outsole.
READ MORE: Top 20 National Forests in America for Camping & Hiking

Rossignol Sportchic Sneaker
Another new-to-us outdoor brand, Rossignol was born in the beautiful mountains of the French Alps way back in 1907.
Their stylish Sportchic Sneakers focus on comfort first and foremost, with Sensor3 inserts that reduce pressure points and improve circulation while running or walking.
The Drop 8 design offers an optimized 8mm difference in height between the toe and heel, which optimizes your posture when you're on the move and allows for extended wear without swelling.
You'll also loves the wrapping band of the upper, which provides support and breathability, as well as the enhanced traction of the injected EVA/rubber sole.
READ MORE:  The Best Gifts for Campers, Hikers & Nature Lovers

Skechers Max Cushioning Elite
What Skechers' Max Cushioning Trail is to hiking, the lightweight Max Cushioning Elite is to running.
Both styles pair the comfy ULTRA GO cushioning platform with the breathable "Goga Mat" insole (for added rebound) and an Ortholite comfort foam layer made with 5% recycled rubber.
The Elite also offers smooth heel-to-transition via Natural Rocker Technology, an engineered fit fabric upper, a padded heel for stability, and a flexible traction outsole.
READ MORE: The 10 Best US National Parks for Wildlife Watching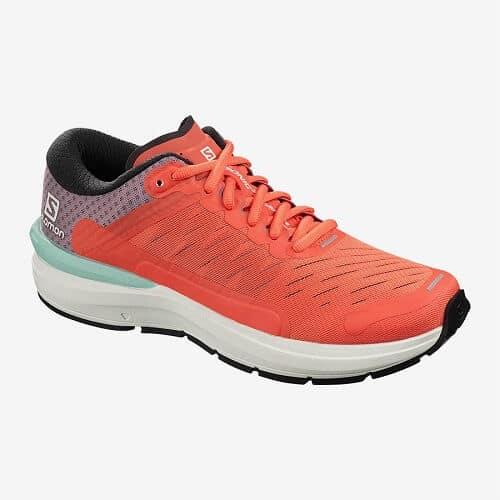 Salomon Sonic 3 Confidence
There are lots of shoes on the list that are fine for road running, but few are as specifically made for it as Salomon's Sonic 3 Confidence.
Their Sensifit upper is designed for the road, fitting the form of your foot and holding it in place for added  comfort and stability.
And their midsole's unique combination of foams, called Optivibe, helps with vibration reduction to dampen impact, limit fatigue, and propel you forward.
We don't quite understand the technology of their Geometric Decoupling axis, but you can instinctively feel the way it enhances your heel-to-toe transition to make forward motion feel more efficient.
READ MORE: The 20 Best Things to Do in Patagonia, South America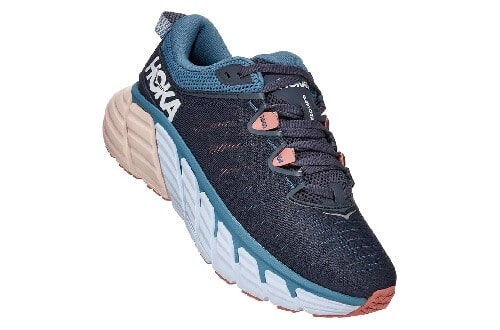 Hoka One One Gaviota 3
Another shoe that was designed specifically with road runners in mind, the Gaviota 3 pushes HOKA One One's plush running shoe to its most comfortable extreme.
It starts with an durable J-Frame design that uses rubberized foam to guide the foot without using rigid materials, while simultaneously fortifying the outsole with more rubber.
The midfoot H-Frame adds support to the breathable mesh upper while also enhancing lockdown for added stability.
And with two more millimeters of foam than they used in the Gaviota 3, this is arguably among the cushiest running shoe we've tested to date.
READ MORE: The 15 Best Camping Tents for Families
WOMEN'S WALKING SHOES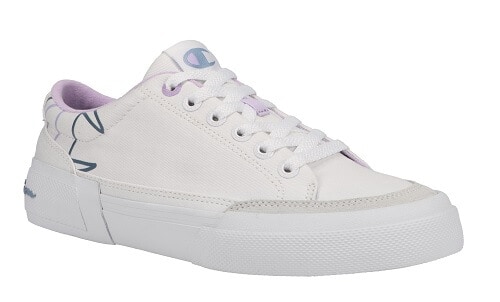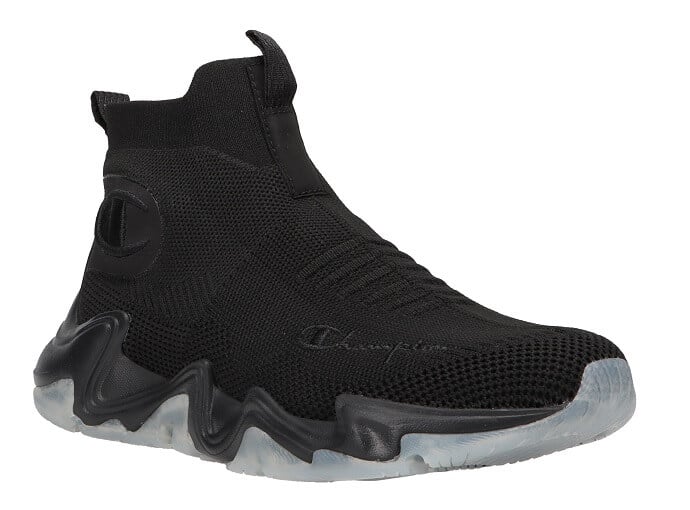 Champion Bandit & Hyper C. Raw H
Released on March 3, these two new lines from Champion are simple, affordable walking shoes for women who don't need a ton of technical bells and whistles.
The Champion Bandit is a casual street shoe similar to classic Vans, with a breathable cotton canvas upper and a grippy gum rubber outsole. Available in three color combos, these comfortable sneakers offer a slick modern style at a price that won't break your budget.
The Champion Hyper C. Raw H slip-on high-top is a bit more radical, with an elasticized collar on the breathable mesh upper and a chunky outsole design that looks like ocean waves. The urban style is paired with a lightweight EVA outsole for improved traction, and a P.D.F. sock insert for better fit and comfort.
Both shoes feature enhanced versions of the classic Champion logo, offering a cool modern look for the 102-year-old athletic brand.
READ MORE: 20+ Camping Tips & Tricks for Responsible Travelers
Clarks Wave2.0 Step
Another fine example of sporty slip-on sneakers for women, Clarks Wave2.0 Step is designed with comfort at top of mind.
The shoes boast a sculpted rocker sole to absorb shock and spread pressure, plus a removable ORTHOLITE insert whose open-cell foam cushions your every step. And Clarks' C-Shell Technology makes these waterproof walking shoes impressively breathable.
The interior lining allows warm air to evaporate, creating a sort of climate control for your feet even on long-distance hikes.
Other noteworthy features a flexible elastic band that allows for easy-on and off, a rugged rubber outsole, EVA midsole, and a full-grain leather sockliner.
READ MORE: The Year's Best Backyard Camping Gear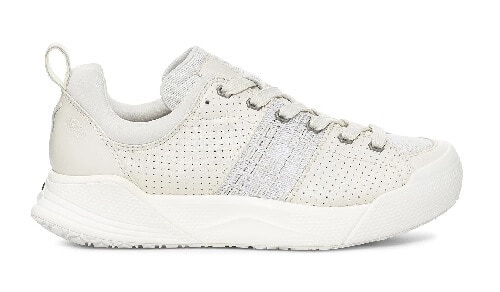 Deckers X-SCAPE Sport
The new X-SCAPE Sport from Deckers trods the middle ground between a classic sneaker and a high-performance athletic shoe, with a dash of comfy slippers thrown in for good measure.
It's a unique technological hybrid, with a streamlined upper for better breathability and the same Meta-Rocker design used in HOKA running shoes (another Deckers brand).
This design makes each step you take more efficient by reducing the difference in height between the toe and the heel.
Power walkers will appreciate the improved air circulation afforded by the sleek suede and Matryx upper, as well as the flexible comfort provided by the stretch mesh tongue and toe box.
The X-SCAPE Sport is available for both women and men, with three different colors to choose from.
READ MORE: The Year's Best Backcountry Camping Gear

Forsake Meridian
The Meridian from Forsake is another intriguing hybrid, offering the casual comfort of your favorite sneaker with the rugged durability needed to tackle hiking trails.
These vegan walking shoes are a great example of the Forsake brand's commitment to the eco-friendly, climate neutral ethos.
They're made with lightweight, breathable VentureKnit material (a woven nylon) and an elastic slip-on collar that ensures a great fit.
Other great features include a quick-drying upper, dual density footbed, and a "Peak-to-Pavement outsole" that offers terrific traction even on uneven terrain.
READ MORE: The 20 Best Vegan Boots For Women & Men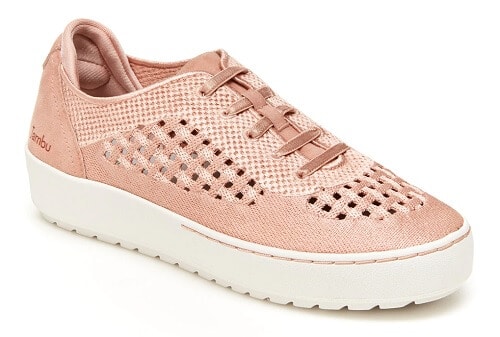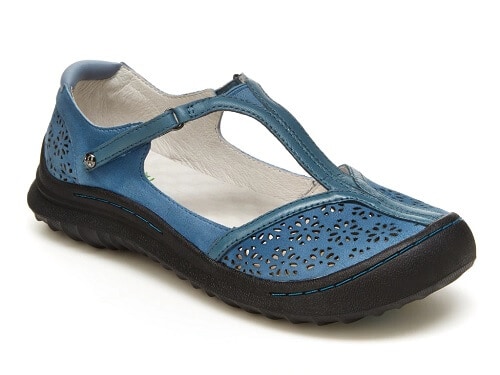 Jambu Lilac & Creek
With a focus on comfort and style at a budget-friendly price, Jambu is a brand that continually strives to balance fashion and function.
These two walking shoes, both of which received the American Podiatric Medical Association (APMA) Seal of Acceptance for promoting good foot health, are a perfect example of that ethos.
The Lilac is a vulcanized sneaker whose cutout panels give them a light (8.11 oz), airy feel. The shimmery knit and leather upper is eye-catching, but it's what you don't see (non-slip All Terra traction outsoles and cushy foam insoles) that makes them comfy enough to wear all day and night.
The Creek offers an adorable update on the classic Mary Jane shoe. The perforated floral detailing gives them a feminine appeal, and the metallic T-strap closure adds a bit of style. But the non-slip All Terra traction outsoles were designed for durability and adventure.
READ MORE: Patagonia Flora: The Flowers of Torres del Paine National Park, Chile

KIZIK Madrid Eco Knit
If comfort and/or sustainability are among your primary concerns with selecting shoes, the new Madrid Eco Knit from the Utah-based KIZIK brand are worthy of consideration.
They're designed with an eco-friendly fabric made from 100% recycled plastic bottles, whose 4-way stretch air mesh offer exceptional breathability even when your feet get hot and sweaty.
The brand's patented F.A.S.T. technology makes the shoes easy to slip on hands-free, without need to bend over, wiggle your feet, or crush the heel.
And once they're on, the responsive cushioning soles makes them comfortable enough to wear all day. We also love that they're available in 13 colors to match any outfit.
READ MORE: 15 Ways to Reduce Waste & Move Towards Waste-Free Living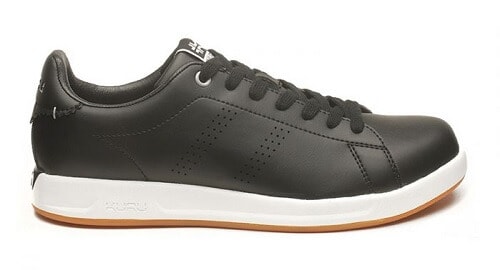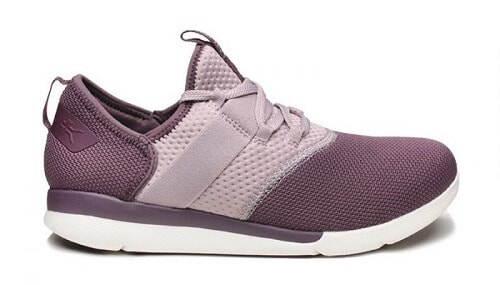 KURU Roam & Pivot
As we mentioned above, KURU is popular among people with Plantar Fasciitis and other foot problems, with design elements that help improve posture and provide next-level cushioning for your feet.
The Pivot and Roam are two of their most popular shoe styles for everyday wear, and are especially good for walking.
The Pivot is their lightest shoe ever, built on the same slimmer-fit platform as their popular Ellie shoe. The sporty style is paired with exceptional arch support via their custom molding "Ultimate Insoles," which ensures a perfect fit as it adjusts to the form of your feet.
The Roam is a more streetwise update on the classic tennis shoe, with a sleek (but eco-friendly) leather exterior that can be dressed up or down. But the combination of KURUSOLE and KURUCLOUD EVA offers exceptional support with every step you take, making it great for travel.
READ MORE: The Best Gifts For Travelers (125+ Ideas)

OTBT Alstead
One of the more stylish brands featured on this list, OTBT Shoes (Off The Beaten Track) are designed with travelers in mind.
Their Alstead shoes are soft and bendable for easy packing, crafted from an ultra-soft perforated vegan suede material. And we personally think the bold Cheetah print is the (big) cat's meow.
In terms of substance, the shoe's Step Lite foam and bendable FlexCork add a bouncy feel that cushions your feet, while the recycled rubber lug sole helps to prevent slippage.
Add in the removable EVA footbed, and you have a great walking shoe that's casual enough for every day wear but fashionable enough for a night on the town.
READ MORE: The 50 Best Travel Shoes
Saola Cannon Knit

Did you know that 60-70% of the environmental footprint of a pair of shoes comes from the product's materials, or that the textile industry is the world's second largest polluter behind oil and gas? 
Another of our favorite sustainable shoe brands, Colorado-based Saola Shoes have made eco-friendly manufacturing a central pillar of their business. 
The brand, which is named after the endangered Asian Unicorn, is also devoted to funding wildlife conservation, giving portions of proceeds to 1% For The Planet and Kenya's Mwalua Wildlife Trust. 
So it's no surprise that their new Cannon Knit walking shoes for women are 100% vegan. The upper is made from 4 recycled plastic bottles, with 100% natural cork, harvested algae foam, and 20% EVA, making for an impressively light and cushy footbed. All in all, it's a great eco-friendly shoe!
READ MORE: Saving Endangered Asian Wildlife: The 10 Best Wildlife Conservation Programs

Skechers GOwalk Arch Fit- Motion Breeze
Specially designed by a podiatrist, who developed the shape using 20 years of data (and 120,000 unweighted foot scans), the patented Skechers Arch Fit insole system is what makes these shoes unique.
With the lightweight ULTRA GO cushioning, supportive high-rebound Comfort Pillar Technology, and a removable insole that molds to your feet to limit shock and disperse weight, they're easily among the most comfy walking shoes we've tested.
But we also love the sporty, athletic look of the lace-up sneaker's breathable knit upper, as well as the added stability of the rubber dual-density traction outsole.
READ MORE: The 40 Best Backpacks For Travelers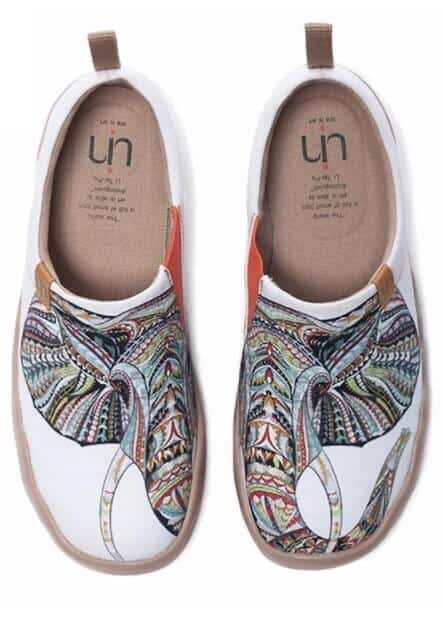 UIN Ganesh Elephant Shoes
If we're being honest, these Ganesh Elephant Shoes from Spain's UIN Footwear offer none of the high-tech features you'll find in other shoes on this list.
There's no GORE-TEX protection from the elements, no EVA footbed, no earth-gripping lugs, no fancy soles to help you move faster and longer. They're by far the most minimalist shoes we've included here.
But that's also what we like most about them: they're simple, breathable, 100% cotton walking shoes featuring an Indian-inspired design featuring one of our favorite animals– the Elephant.
The fact that they have a wide toe box, weigh just 7 oz per shoe, and have soft, cushioning insoles is really just a bonus… –by Bret Love & Mary Gabbett
The post The 30+ Best Women's Hiking, Running & Walking Shoes for 2021 appeared first on Green Global Travel.