Incredible travel apps you might be missing out on
For those of you who know me, will know that I've been travelling passionately for over 14 years now. My trips always involve thorough research and while planning my itinerary is something that excites me the most, over these years, […] The post Incredible travel apps you might be missing out on appeared first on Hopping Feet.
For those of you who know me, will know that I've been travelling passionately for over 14 years now. My trips always involve thorough research and while planning my itinerary is something that excites me the most, over these years, I've also realized that some mobile apps can make your trips seamless, convenient & efficient. I'm listing some such apps, with either global or regional availability, which have really helped me over the years in making my trips smoother & easier.
Mobimatter
One of the more recently discovered apps, Mobimatter is an eSim app that has great network and coverage in most parts of the world. I used it extensively in Europe and it worked really well. Prior to Mobimatter, I would always buy a local tourist sim in the country that I was travelling to. However, there are several advantages of MobiMatter over the traditional local sim card.
Advantages:
It is an eSim and can be downloaded and activated even before you arrive in a country. This takes away the hassle of standing in a queue, buying a sim card and physically installing it in your phone
Packages provide coverage across several countries. For example, the same esim was valid across 6 different countries we visited in Europe and worked seamlessly in all of them
You have the choice of buying only data or data + calling, depending on your requirements
Disadvantages:
It only works on eSim enabled phones
In certain countries such as India, where data is already extremely cheap, Mobimatter's packages are pricey compared to local tourist sim card options available
I cam across some other such eSim apps too (FlexiRoam…) but I felt that the packages offered by Mobimatter were the best so far!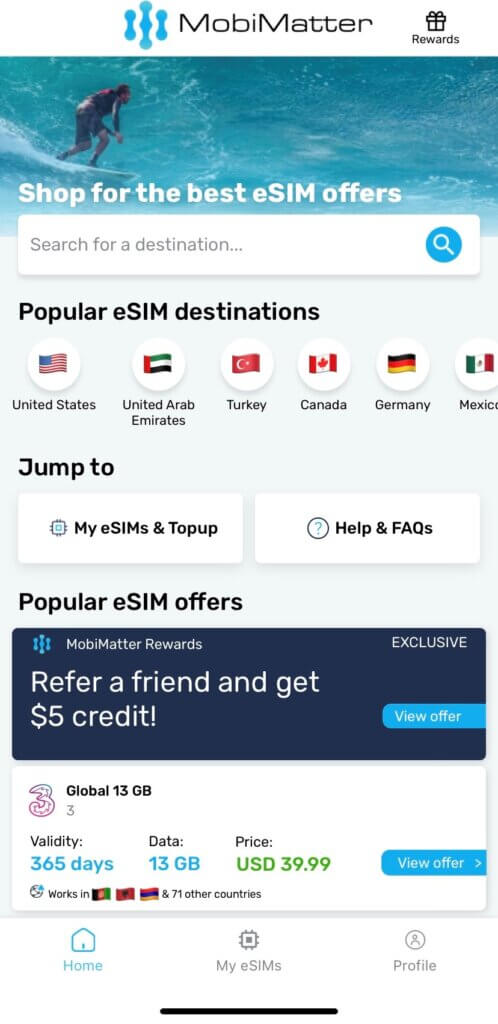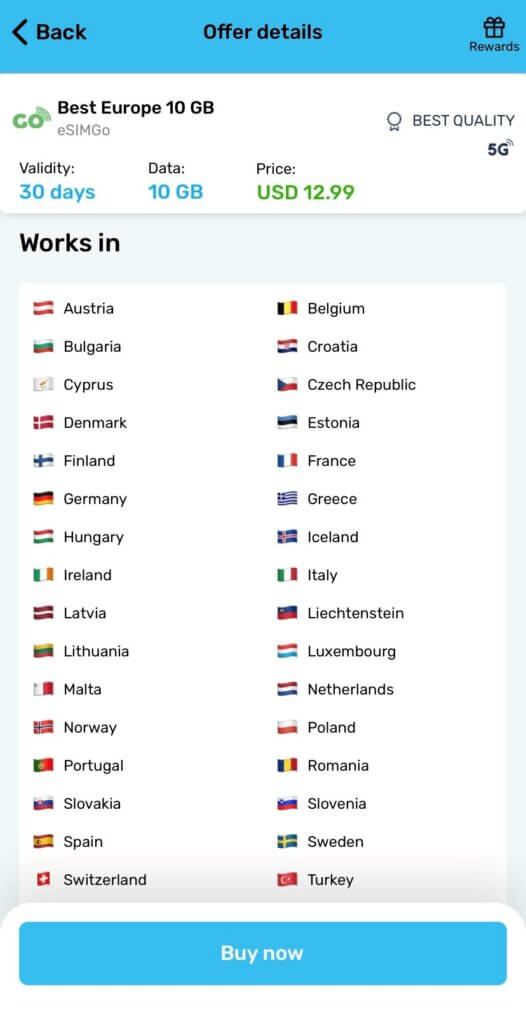 Rentalcars
This is one of my favorite websites for comparing car rental options in a country. It is an aggregator app that shows all the options available through different car rental companies along with the rental specifics such as milage, etc. Whenever I am planning a road-trip, I always compare all options on this website and choose the best. One big advantage of booking on rentalcars.com vs the actual company is that some additional benefits such as complementary extra driver, etc might be included for free. Rentalcars also has its own third-party insurance which is definitely cheaper than the one which will be available on the counter. Also, most bookings on rentalcars.com are cancellable and refundable until the last minute, providing more flexibility.
Rentalcover
I've been using this one for years to buy car rental insurance that gives full coverage. They're way cheaper than what you'd buy from the car rental company or over the counter and provides full coverage including the excess. I've never had to claim it so far so I can't speak from first hand experience about their claim procedure, but I've read several reviews where people say that it is usually smooth and quick. More than anything, it gives you complete peace of mind when driving in a foreign country, at a much lower cost!
Yandex Go/ Grab/ Bolt
These ride hailing apps are alternatives to Uber in different regions, but providing improved interface, convenience, connectivity, and cheaper prices. Yandex Go works beautifully in Central Asia & East Europe (Kazakhstan, Uzbekistan, Kyrgyzstan, Armenia, etc), Grab has a strong footing in Southeast Asia which also offers food delivery services, scooter taxi hailing, etc. Bolt is a fantastic alternative in the Baltic States, which also provides access to eScooters. As global apps, these are a lot more reliable than the smaller local players or public taxies, and cheaper than Uber, so it makes a lot of sense to use them. Of course, remember to get a local sim/ eSim when you travel to have accessibility to these apps on the go!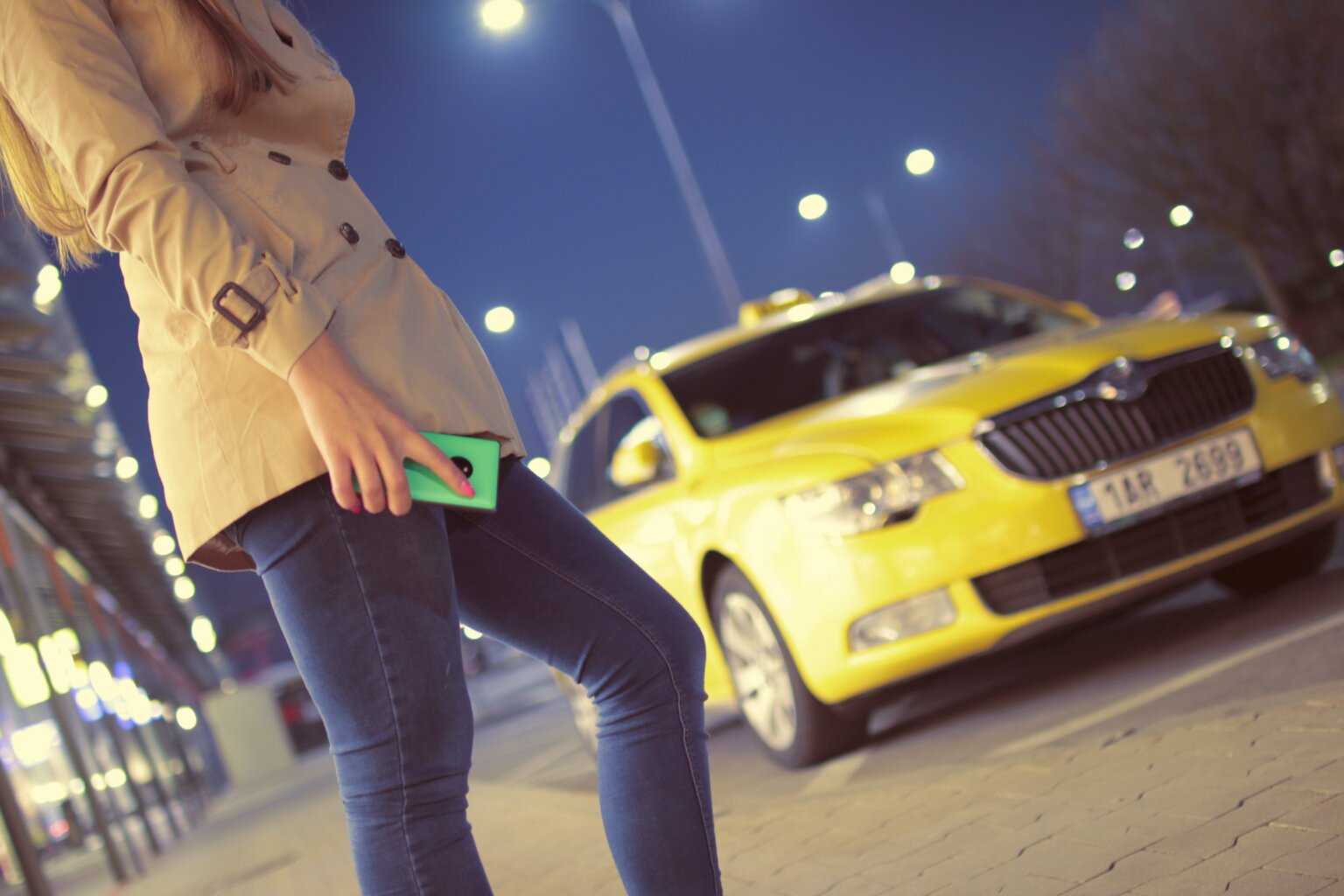 Rome2Rio
This is one of my favourite websites for checking the best way to get from Point A to B when building an itinerary. The website not only shows all the options available (flight, taxi, bus, train, self-drive) but also the time taken in the journey, the approx. cost of the trip, the timings available and booking options! Just choose your starting point, your destination and approx. date/ day of travel and voila!
Visareservation
Now, this one is for the unfortunate travellers like us Indians, who require visas to almost all key destinations and the processes are cumbersome, with too many document requirements. Specifically when it comes to Schengen visas, where we need to present confirmed flight tickets, hotel reservations, medical/ travel insurances and what not, without the confirmation of whether we will be able to travel or not, whether we will even get the visa or not, this website helps with all required documents, a perfectly built itinerary, at a minimal price. These documents are 'verifiable' as they claim, and many people I know have used them to get their Schengen visas approved.
Google Translate
An obvious yet important app is Google Translate that not only helps in voice translation (you can speak into your microphone in a specific language and ask Google to translate it in voice into another language), but you can also use your camera to scan text in a different language and translate it into the language of your choice. Perfect for reading menus! In countries like Japan, where people are extremely nice and helpful but not a lot speak English, this app is a must!
Accuweather
This is one of my favorite apps. Right before I travel to a country, I save the cities that I'm going to in my 'favourites' under this app and then check the weather for the next 3 days, which is usually quite accurate. Of course, it's important to check the expected weather too before you travel, to make sure you're well prepared with what to expect and carry your clothes accordingly. I've often found accuweather to be quite…well.. accurate about the weather