A Complete Guide on Where to Stay in Goa in 2021
While Goa is a tiny state, there is still a lot to see around here and you will easily need 14 days to even explore a tiny bit of this haven. And the location of your accommodation will decide which area you are going to explore and how easy it will be to travel around […]
While Goa is a tiny state, there is still a lot to see around here and you will easily need 14 days to even explore a tiny bit of this haven. And the location of your accommodation will decide which area you are going to explore and how easy it will be to travel around here.
If you love to party and are looking for happening spots, then you need to choose a stay in touristy spots such as Baga, Calangute, Candolim, etc.
For a peaceful and offbeat stay, you can opt for North or South Goa. And for experiencing Old Goa, you can choose to stay in Panaji although you can easily plan a day trip to Panaji from either South or North Goa.
Confused about where to stay in Goa? Well, then read on to know more about the best places to stay in Goa for your trip.
Where to Stay in Goa
Things to Consider When Choosing a Stay in Goa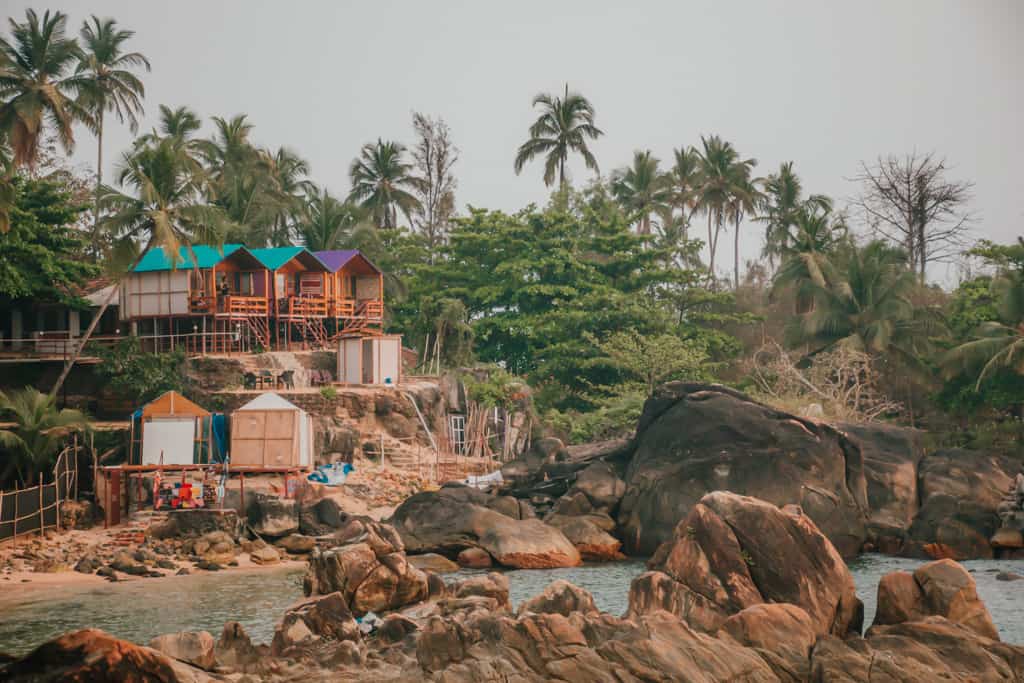 Stays in South Goa
When you are deciding on where to stay in Goa, there are a few questions that you should ask yourself to determine the kind of trip you are looking for.
This will help you figure out where to stay and what sort of hotels and accommodations you should check out.
I mean, you wouldn't want to stay on a quiet beach if you are looking to party in the clubs of Goa. How Long Will You Be Staying in Goa?
One of the main things to determine on your trip to Goa is the duration of the stay. If you are planning a short visit of 5-6 days, then don't try to cram everything into it.
Stick to either North or South Goa and choose one area as your base for exploring around.
Trust me, Goa is huge and you can not cover it all in just a couple of days.
On the other hand, if you are staying in Goa for more than a week then you can divide your time between North and South Goa.
It takes around 3 hours to travel from North to South Goa in a taxi. If you choose a bus for travelling, then it can take you around 5-6 hours to cover the same distance. What Sort of Activities You Wish to Enjoy?
This answer will help you decide whether you should stay in North Goa or South Goa. North Goa is busier and bustling with shopping streets, restaurants, clubs, etc.
If you want to enjoy the fun and happening side of Goa with a little bit of history and culture, then the best place to stay in Goa is North Goa.
However, if you are looking for a relaxed vacation with beautiful, secluded beaches then opt to stay in South Goa. You can enjoy the comfortable lull of the waves, stretch out on a sun bed, watch the sunset, and so on.
Although there aren't a lot of party places in South Goa, it is good for exploration and is home to the best beaches in Goa. What is Your Budget?
Goa offers a wide range of accommodations from eco resorts to hostels, you will find accommodation in all price ranges.
This is why it is important to choose a budget for your trip so that you can select the best stay in Goa. In the below sections, I have recommended accommodations in all price ranges.
You can choose the desired location to stay and then find a hotel or hostel that fits your budget.
Types of Accommodations Available in Goa
The Noname Guesthouse
Next, let us take a look at the kind of accommodations that you will generally find in Goa. Hostels
If you are on a budget, backpacking, or solo trip to Goa, then I am sure you would be looking for cheap stays. Well, hostels are the best option for you then.
In the last couple of years, a lot of hostels have cropped up all over Goa that offer a clean and affordable stay for the backpackers.
These hostels generally charge between 200 and 800 INR for a dorm bed and often include amenities such as A.C., TV, free breakfast, cycles, games, and more.
It is also a good place to meet other travelers or you can even join on group tours and parties that are usually held here. Beach Huts/Shacks
For those travellers who wish to enjoy the beach and the sea breeze, staying in a beach hut or a shack is a good idea.
You will find both budget-friendly and comfortable shacks and huts on the beaches that offer you stunning view and easy access to the sea.
These beach huts/shacks can charge anywhere between 500 and 3000 INR and are perfect for those who want to relax on the beach.   AirBnB
Another great option to consider for your stay in Goa is Airbnb vacation rentals. On Airbnb, you can find everything from a private house to a shared room that are available all over Goa.
Most Airbnb rooms and houses come with all necessary facilities and are great for those who are staying for a long while or want more privacy than a hotel room.
From 700 INR per day to 5,000 INR per day, you can find accommodations in all budget range here.
So, if you do not wish to stay in a hotel and need a more intimate setting for your trip, then Airbnb is the best option for you. Mid-Range Hotels
If you are travelling to Goa for a short vacation with family or your significant one, then you will find several mid-range hotels in Goa as well.
These hotels are perfect for short stays and offer all the amenities such as WiFi, A.C., coffeemaker, mini fridge, and more.
Such hotels usually start from 1,500 INR per night and can be as high as 4,000 – 5,000 INR per night, depending on the facilities and location. Heritage Homes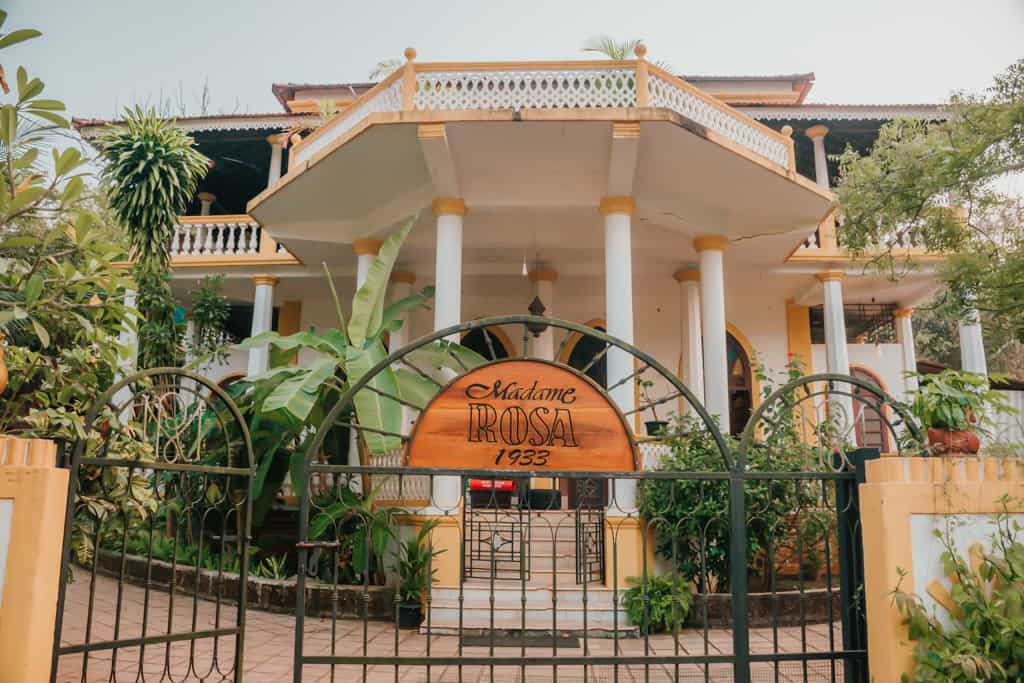 Heritage Home in Goa
Love staying in ancient, rustic homes? Then, you can check out the heritage homes in Goa which are basically old mansions and houses converted into accommodations for the guests.
Heritage Homes will give you a feel of staying in a bygone era while enjoying the modern amenities.
Since Goa is rich with Portuguese legacy, there are many Portuguese-styled homes and mansions where visitors can stay during their trip.
Due to the rich history of these places, they tend to be a little expensive. The cost can start from 3000 – 4000 INR for spending a night here. Renting a Flat
Are you planning to stay longer in Goa? Perhaps a month or two?
In that case, renting a flat would be best. This would not only be convenient for you but also budget-friendly.
Depending on the facilities and the areas that you live in, you can rent flats in Goa starting at 6000 INR/month to as much as 50,000 INR/month.
Generally, a basic 1BHK with minimal facilities such as WiFi, kitchen, refrigerator, etc. would cost you around 6,000 – 10,000 INR. If you opt for an air-conditioned property, then the price will increase to around 15,000 – 20,000 INR/month. Resorts and Villas
Are you on a luxury trip to Goa? Well, then you can check out the luxury resorts in Goa that pamper their guests with comfort and elegance.
These luxury resorts can be a little expensive and are priced around 5,000 INR or higher for a night. But they do offer you a holiday experience like never before.
Some of these resorts and villas are located next to the beach, allowing the guests to enjoy the views and indulge in water activities as well. Boutique Stays
Goa is also home to several boutique hotels that follow a theme and have limited rooms in their property. These rooms are lavish and fitted with all the possible amenities.
These designer hotels offer a unique experience to the guests that will make their stay in Goa memorable.
Similar to resorts, these kinds of stays are expensive as well and usually cost 6,000 INR or more for a night. Wellness Retreats
Last, but not the least, there are several wellness retreats in Goa as well where the guests can de-stress on the holiday.
These retreats offer activities that target the physical, mental, or spiritual wellness of the guests. Their main focus is on the health and well-being of their customers.
If you are looking to relax on your trip and detox yourself, then you can check out these retreats as well. Indulge in activities such as yoga, spa, massages, etc. to truly enjoy your Goa vacation.
These wellness retreats tend to be a little expensive and cost around 8,000 – 10,000 INR for a night.
Where to Stay in Goa – North or South Goa?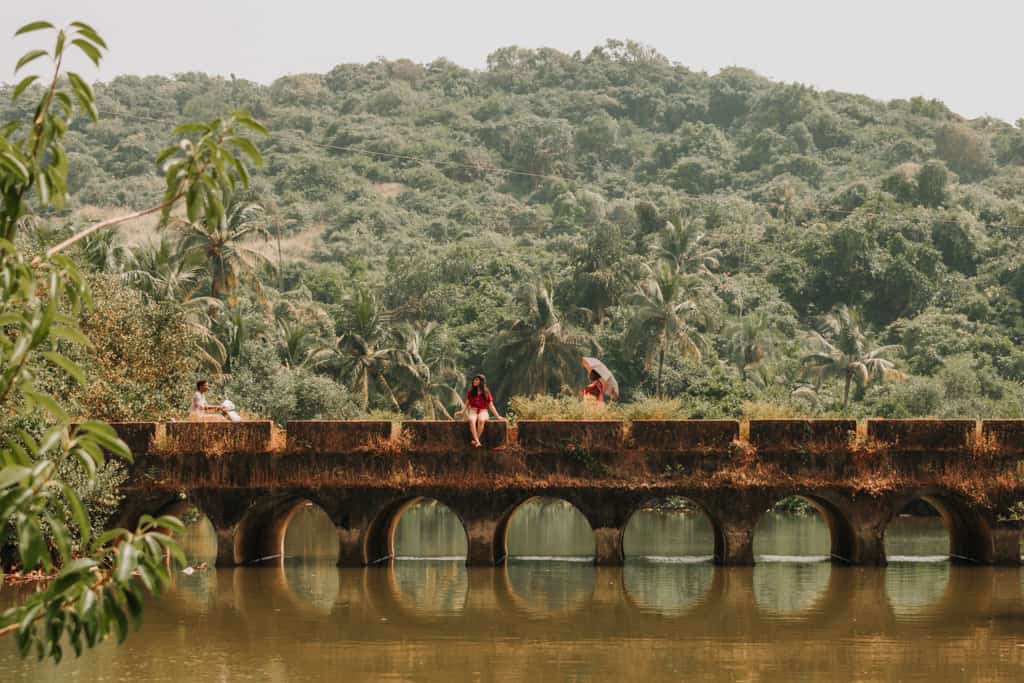 Arambol
As I mentioned earlier, you cannot explore both North and South Goa on a week-long trip. In such a case, you will need to decide whether you wish to stay in North Goa or South Goa to explore.
In my experience, South Goa is quieter and slightly less developed than North Goa. So, it gives you a chance to explore the authentic beaches of Goa.
Moreover, the water near the beaches in South Goa is clearer and bluer in comparison to North Goa. Plus, you have a lot of fun activities to do here such as kayaking, island hopping, lagoons, and more.
You will find that luxury travellers or people who want to relax on their vacation generally head to the cleaner and quieter beaches of South Goa.
On the other hand, North Goa is busier and more popular since this is where the markets, nightlife, restaurants, and most of the entertainment are available.
Also, since it is more developed, you find a huge range of accommodations available in all budgets here. That being said, it is also more crowded and has become too commercialized nowadays.
So, if you are looking to enjoy the beauty of Goa peacefully, then North Goa might not be the best option for you.
Best Place to Stay in Goa
As I have said before, different locations in Goa are suited for different travelers and activities. Here is a brief description of what is the best place to stay in Goa for different budget, sights, and activities. Where to Stay in Goa for Beaches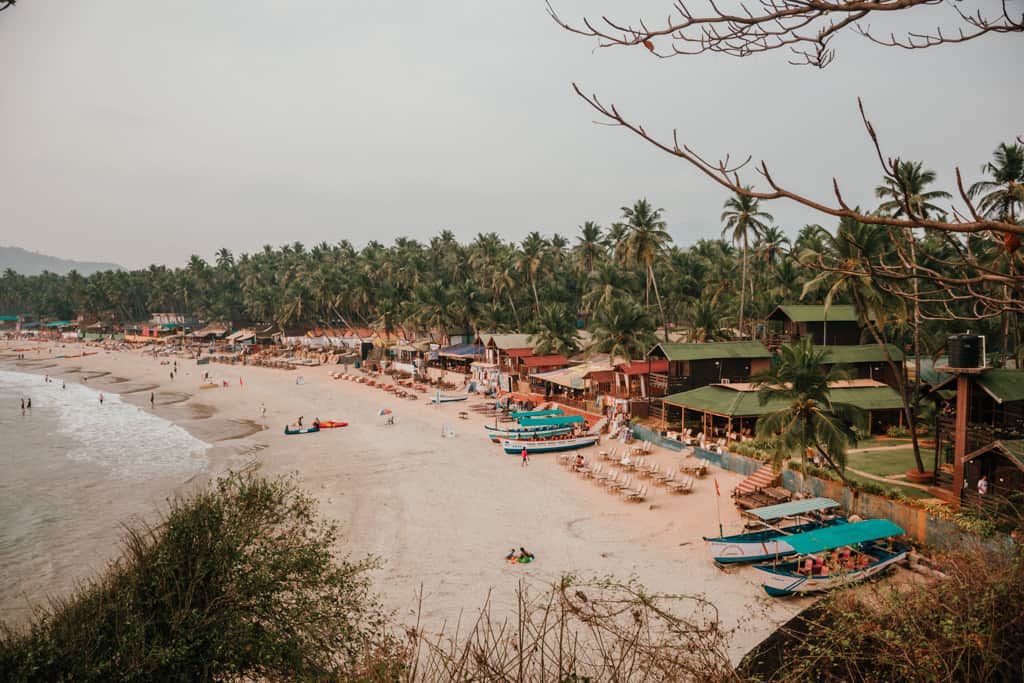 Palolem Beach
Goa is home to the finest beaches in India with over 50 beaches to choose from. But each of these beaches are suited for a particular activity, scenery, or facility.
If you are looking to enjoy a quiet and secluded beach, then Querim Beach would be perfect for you. But if you want a peaceful beach with lots of facilities and activities, then Palolem Beach is a great choice. Where to Stay in Goa for Water Sports
Goa hosts a range of water activities such as parasailing, jet-skiing, etc. which are affordable and great for experience.
If you are also looking for such experiences, then Baga is the perfect area to enjoy water sports including scuba diving.
Note: Water activities are not available during the monsoon season in Goa so, plan your trip accordingly. Where to Stay in Goa for Outdoor Activities
Apart from the water activities, Goa also hosts a wide range of other activities such as paragliding, river cruises, rafting, guided tours, and ATV quad bike rides.
Although these activities are carried out throughout Goa, but the travel agencies that conduct these are located in majorly Candolim and Calangute.
However, most of these activities won't be available in monsoon between the months of June and October. Where to Stay in Goa for Sightseeing
Of course, there are a lot of beaches and forts along the coastline for the tourists to visit. But most of the sightseeing spots such as old churches, museums, colonial-era gardens, etc. are present in Central Goa.
Although Old Goa is dotted with Portuguese buildings but a lot of them are in bad shape currently.
The most appealing sights in Goa is the Old Latin Quarter in Panjim one can enjoy river cruises or stays in centuries-old guesthouses. Where to Stay in Goa for History
For history lovers, an accommodation in Old Goa is perfect for you. This area is recognized by UNESCO for the heritage sites and is filled with churches, forts, cathedrals, and more.
Two famous attractions in Old Goa are Basilica de Bom Jesus and Se Cathedral.
Since there are fewer options available in Old Goa, one can stay in Panjim which is around 10 km from there. Where to Stay in Goa for Nightlife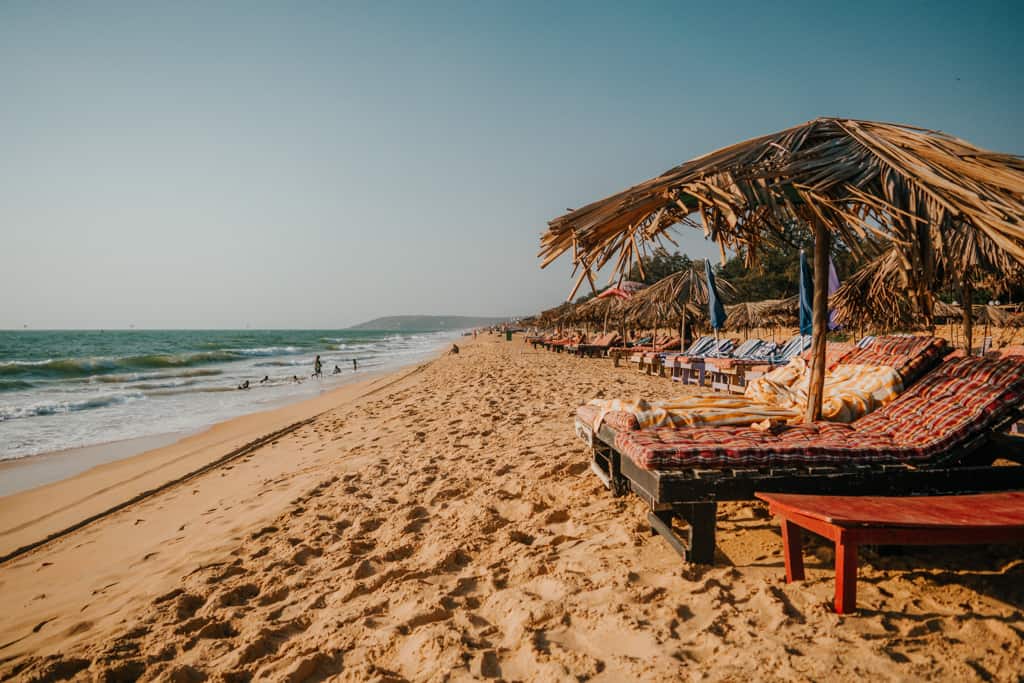 Baga Beach
Most beach areas in Goa offer nightlife where loud or trance music plays, especially in Vagator and Anjuna.
If you want more options, then Candolim and Calangute is great as they offer karaoke bars, live music venues, jazz blue bands, and more.
But the best area for enjoying nightclubs in Goa is Baga. Tito's Lane is home to some of the best nightclubs in Goa such as Mambo's, The Bollywood Club, and more.
However, this is a busy area and you will find a lot of drunk and cheap people harassing the tourists here. So, be careful. Where to Stay in Goa for Shopping
Although Goa's capital, Panaji, does offer a lot of boutique stores and malls in the area, it is not the best place to buy souvenirs from Goa.
Generally, you will find shops on all the beaches in Goa but in my experience, the best place for shopping in Goa is undoubtedly Baga.
The streets of Baga are filled with shops that offer great deals on clothes, jewelry, footwear, and more.
But that's not all, the Arpora Saturday Night Bazaar that is located between Baga and Anjuna is a paradise for shopping enthusiasts.
With over 500 food and handicraft stalls, tourists can buy antique reproductions, spices, terracotta-made items, hand-painted tiles, and a lot more here. Where to Stay in Goa with Families
For families, I would recommend accommodations in Panjim, Calangute, or Colva. These areas are relatively closer to the airport and offer a lot of options for eating and staying.
Moreover, you get a decent crowd here and the beaches are quite clean as well. You will also find several activities to participate in such as kayaking, parasailing, Jet Ski ride, and more.
There are several resorts available here that offer a wide range of facilities to ensure the comfort of your family on the trip. Where to Stay in Goa for Honeymoon
It is no secret that tourists from all over India come to Goa to celebrate their honeymoon or for a romantic getaway with their partner.
There are several beach resorts to consider but a few beaches are quieter and better suited than others. Palolem Beach, Ashwem Beach, Cavelossim Beach, and Sinquerim Beach are perfect places to stay for couples.
You get the peace and seclusion that you desire along with easy access to fun activities and sightseeing spots.
If you are wondering where to stay in Goa for honeymoon, then do check out these beaches. You will find several good beach resorts available there. Where to Stay in Goa with Friends
If you are travelling with friends to Goa, then it makes sense to stay in the most happening part of Goa – North Goa.
Baga, Calangute, and Vagator are great options as they offer a wide range of entertainment options for the tourists. From clubs to water activities, you will have access to everything here.
Where to Stay in North Goa
Best Places to Stay in Arambol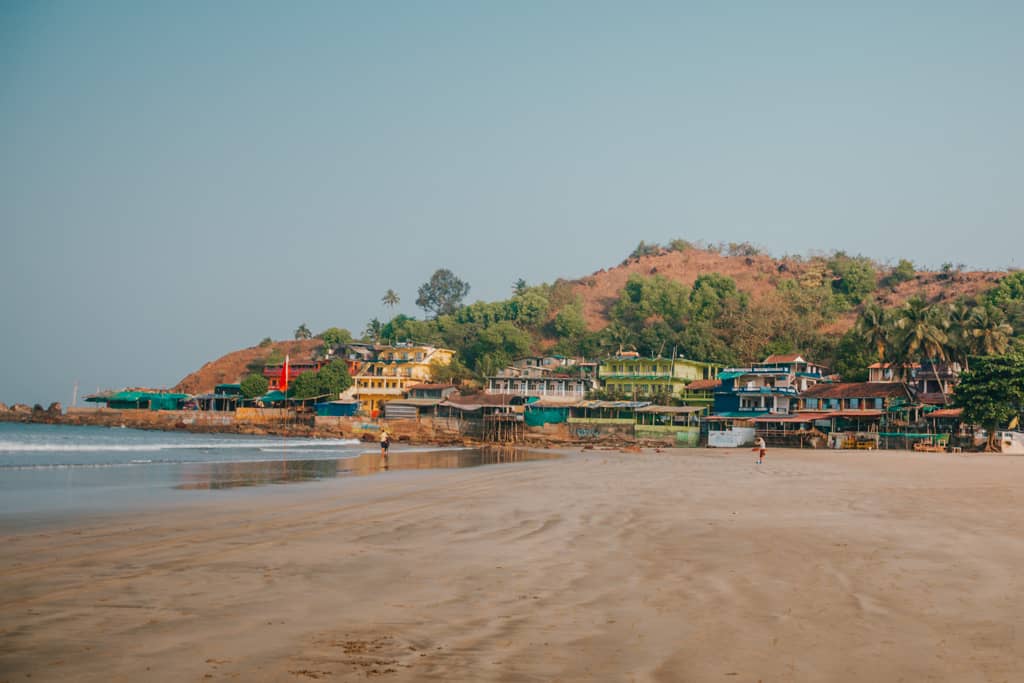 Arambol Beach
One of the most popular beaches in North Goa, Arambol offers a hippie traveller vibe and has many budget-friendly accommodations.
With several backpacker hostels, cheap hut options, and rental flats, this area is great for backpackers and hippies.
The evening scene is pretty chill here. You can shop in the markets, enjoy sunsets on the beach, and hang out with your friends. Here are a few accommodations that you can check out in Arambol.
Budget-Friendly Stay – The Noname Guesthouse, Rudra's Garden, Aaria Hills, and Red Rock Arambol Beach.
Mid-Range Stay – Grand Vatika Resort, Nanu Resort, and Lotus Sutra.
Luxury Stay – Fort Tiracol Heritage Hotel is a secluded heritage hotel that is located at the mouth of Tiracol River. The rooms are beautifully designed and it offers amazing views of the Arabian Sea and the nearby beaches. Best Places to Stay in Morjim, Ashven, and Mandrem
If you are looking for a peaceful or quiet stay, then Arambol, Morjim, etc. are great areas to consider. In these offbeat destinations, you can often enjoy the entire beach to yourself and is great for solo women travellers too.
The only issue is that you don't have much option for a nightlife or water sports around here. Check below stay options in a wide range of budget.
Budget-Friendly Stay – Red Monkeys Hostel, Shivam BnB, and Moustache Goa Hostel
Mid-Range Stay – Dunes Holiday Village, Wigwam Resort, Riva Beach Resort, La Vaiencia Beach Resort, White Woods Resort & Spa, and Amritara Aura Spa Resort.
Luxury Stay – Leela Cottages, Marbella Beach Resort, Living Room Beach Resort, Palm Grove Beach Resort, and Sur La Mer. Best Places to Stay in Anjuna and Vagator
Anjuna and Vagator are popular areas among hippies and attract backpackers, budget travellers, and hippies from all over the world.
Famous for its Wednesday Flea Market, Anjuna is known for its trance parties. It is great for meeting other like-minded people in Goa. As for Vagator, it is also home to some amazing nightclubs and scenic viewpoints.
Surrounded by rocky cliffs, Vagator is another great and budget-friendly location to stay in Goa. Here are a few options that you can consider, depending on the budget.
Budget-Friendly Stay – Red Door Hostel, Dreams Hostel, The Musafir Hostel, Chill Inn Guesthouse, The Hosteller, and Pappi Chulos Hostel.
Mid-Range Stay – FabExpress Vagator Cottage, Hotel Bougainvillea Granpa's Inn, The Ivy Anjuna, and Stone Wood Beach Resort & SPA.
Luxury Stay – Villa Aqua Baga and W Goa. Best Places to Stay in Panjim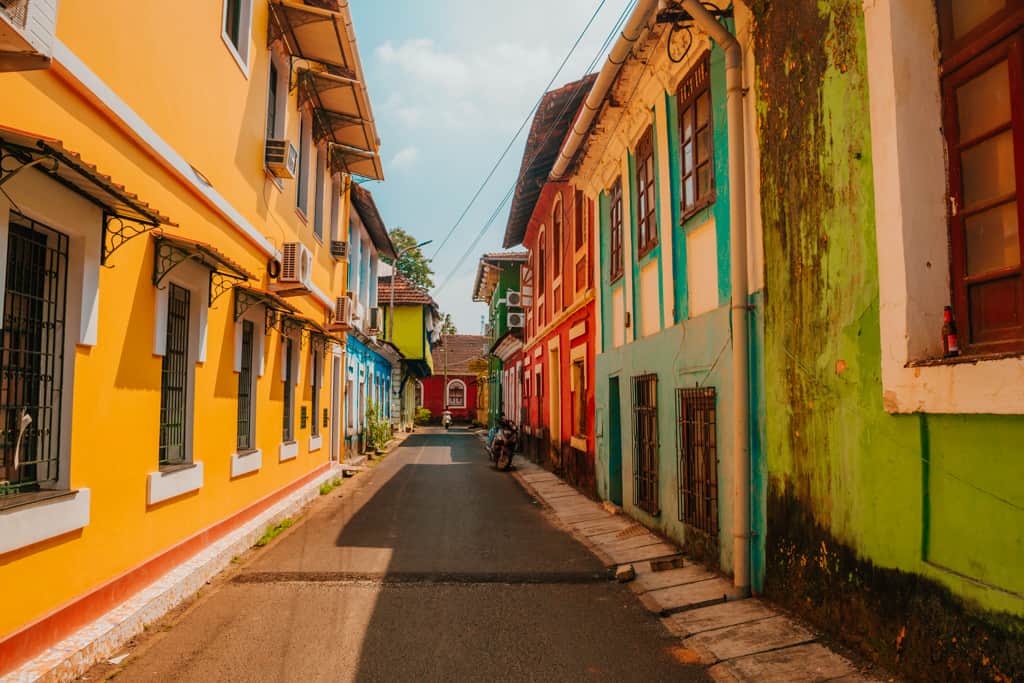 Fontainhas, Panjim
The capital of Goa, Panjim, is located in the middle of Goa and allows the tourists to explore the old Portuguese quarters.
This is a great base for exploring Old Goa along with the churches, waterfalls, and wildlife sanctuaries of Central Goa. Below are a few stay options available in this area in varying price range.
Budget-Friendly Stay – Easy Hostels, The White Balcao, Marquito's Guest House, and Old Quarter by hostelcrowd.
Mid-Range Stay – Sandalwood Hotel & Suites, Ginger Goa, The Fern Residency, O Pescador an Indy Resort, The Crown Goa, Country Inn & Suites By Radisson Goa Panjim, and Salida Del Sol
Luxury Stay – Goa Marriott Resort & Spa, Mateus Boutique Hotel, Taj Resort & Convention Centre Goa, Vivanta Goa, and Cidade De Goa. Best Places to Stay in Calangute, Candolim, Baga, and Sinquerim
The best thing about staying in this area is that you have a lot of options available for shopping, restaurants, activities, etc.
There are lots of affordable stay options available too and you can easily get a car or scooty for rent over here. Moreover, you have easy access to the public transportation and can enjoy the cafés and nightlife around here.
However, the beaches tend to be a little crowded in these areas, especially on the weekends. Also, the prices can increase tremendously during the peak season and it will be hard to find a quiet place to chill around here.
Check out these few options that you can consider, depending on the budget.
Budget-Friendly Stay – Zostel, Backpacker Panda, WTF My House, Hotel Bonanza, Albuquerque BetterHomes,  and Casa Legend Villa & Apartments Arpora.
Mid-Range Stay – Seashell Suites and Villas, Lemon Tree Amarante Beach Resort, and The Amrit Goa.
Luxury Stay – Heritage Exotica Villa, The Park Calangute, Wildflower Villas, Taj Holiday Village Resort & Spa, and Taj Fort Aguada Resort & Spa.
Where to Stay in South Goa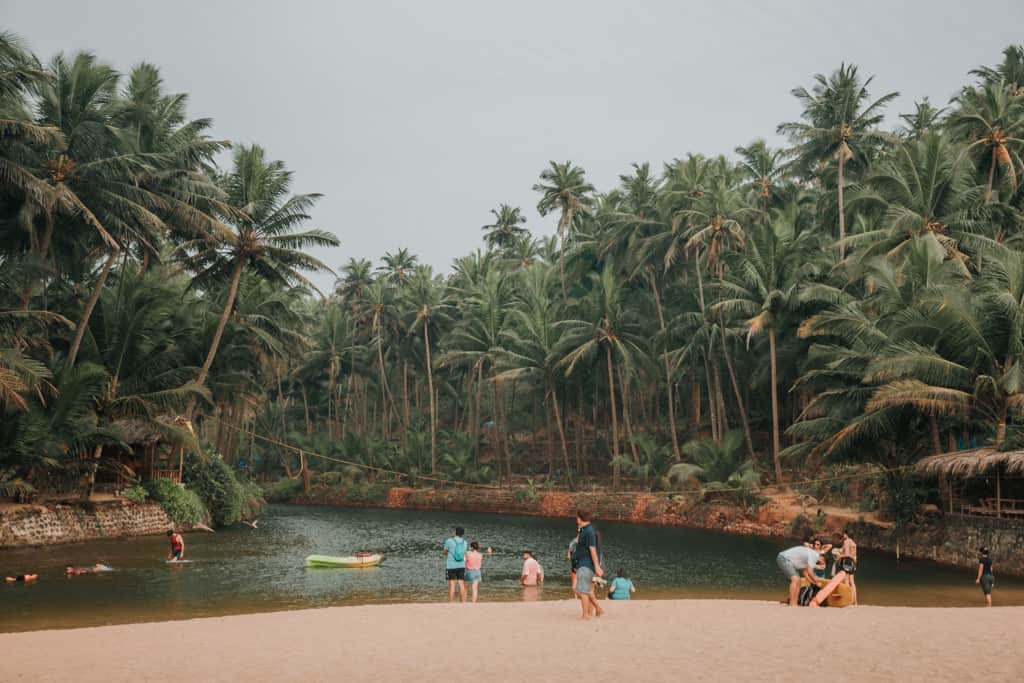 Cola Beach
You will find lots of beautiful villas and resorts in South Goa for a comfortable stay and can enjoy the peace and solitude as most tourists stay away from this part.
Colva, Benaulim, etc. are famous South Goa destinations but other places such as Palolem, Agonda, Cola, etc. are offbeat location with beautiful views.
These places tend to be less crowded too and offer authentic local experiences to the travellers. You will find lots of waterfalls and water lagoon beaches around here too to enjoy.
However, since it is a little away from the central location, it will take you more time to reach the airport and you will have fewer activity options available here. Best Places to Stay in Arossim, Utorda, Majorda, Betalbatim
For a quiet and relaxing vacation in Goa, the beaches of Arossim, Majorda, Utorda, and Betalbatim are perfect.
There are some amazing luxury resorts here where you can enjoy good food, pamper yourself with massages, and relax with a good book.
The soft white sand beaches are lesser crowded than other beaches in South Goa and easily accessible as well, making it one of the best places to stay in Goa.
Budget-Friendly Stay – Jes Guest House, Meadow View Resort, Royal Orchid Beach Resort & Spa, and Dio's Guest House.
Mid-Range Stay – Treehouse Nova, Alagoa Resort, Antonios Residency, Resort Palmeiras Dourado, and Jasminn Hotel.
Luxury Stay – Alila Diwa Goa, Planet Hollywood Beach Resort, Heritage Village Resort & Spa Goa, and ITC Grand Goa. Best Places to Stay in Cola, Agonda, Palolem, and Patnem
A few of my personal favourite beaches in South Goa to stay at are Cola, Palolem, Agonda, and Patnem Beaches.
Lined with luxury beachside resorts and yoga retreats, this strip of beaches is ideal for romantic couples, families, and solo travellers.
Cola beach is a hidden paradise in South Goa that has a lagoon running through the palm-fringed beach. You will find a few tented resorts here that will offer you tropical island feel.
If you are interested in practicing Yoga, then Agonda is the perfect place to stay in South Goa.
Palolem is one of the liveliest beaches in this area with several markets, beach shacks, rustic beach huts, and restaurants to explore.
Budget-Friendly Stay – The Lost Hostel, Gardenia Resort, DunknChill, Cabo De Rama Cottage, La Alegro, and Soulmate Beach Resort.
Mid-Range Stay – Sobit Sarovar Portico, Wild Berry Resort, Marron Sea View Resort, Cinnamon Agonda, and Patnem Garden Resort.
Luxury Stay – Crystal Goa Emerald Edition, The White Resort, The Bay Agonda, and Dwarka Eco Beach Resort. Best Places to Stay in Colva and Benaulim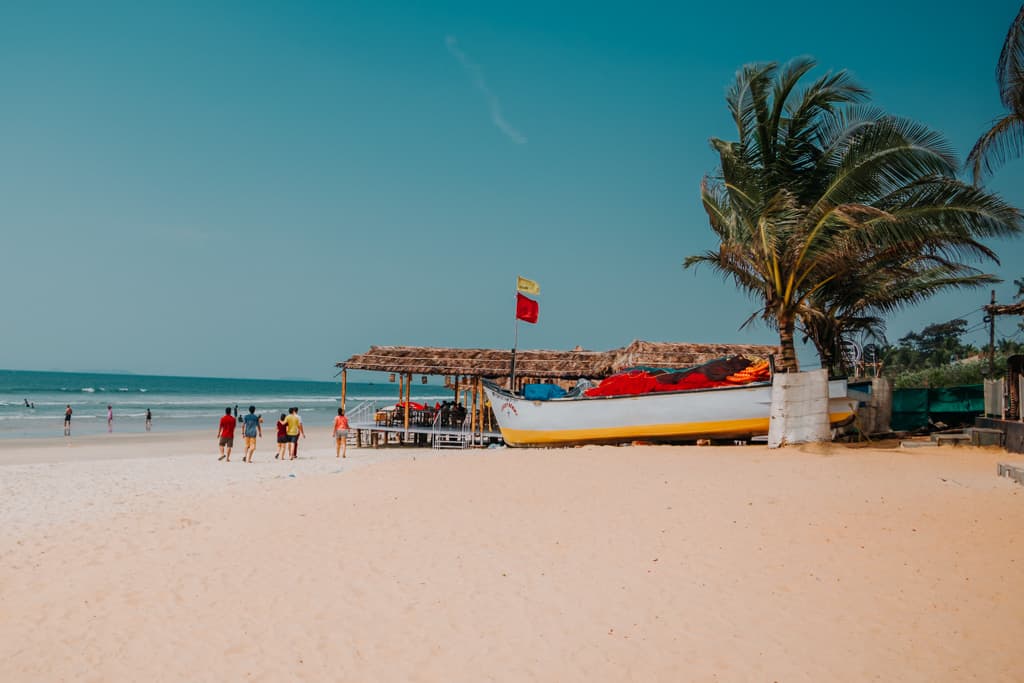 Benaulim Beach
Colva and Benaulim are both popular beaches in South Goa. Located 8 km from Madgaon Railway Station, these places offer great connectivity to both South and North Goa.
These local villages see mostly Indian crowd and are great for families and friend groups. There are lots of shops, restaurants, and cafes available here as well.
Budget-Friendly Stay – Vinsons Cottage, Guesthouse Sakina Colva, Carina Beach Resort, and Rosvilla Guesthouse.
Mid-Range Stay – Ocean Crest Hotel, Palm Grove Cottages, Cliff Heaven, and Coconut Grove Beach Resort.
Luxury Stay – Taj Exotica Resort & Spa, Beleza By the Beach, Elegant Shades, and Villa Knox.
Finding a House to Rent in Goa
One thing to keep in mind when finding a house to rent in Goa is that you would find cheaper options in North Goa in comparison to South Goa. Places in Goa such as Arambol, Mandrem, etc. offer the cheapest flats for rent.
For the cheapest deals, I would recommend you to go on a house hunt in Goa. A lot of cheap places are not listed online and would require you to ask around a little. Keep a lookout for 'House for Rent' signs and ask the locals for leads on the same.
If you want to book a house online, then AirBnB and Flipkey are good sites to check for short-term accommodations. Generally, on AirBnB, I have found that a monthly stay in Goa can cost anywhere between 15,000 and 60,000 INR depending on the area, facilities, and rooms.
You can also check on OLX and there are a few Facebook groups for renting houses as well. However, the best way to find a house is by coming to Goa and then looking around. This way, you can look at the place before renting it out as well.
Once you find a property in Goa that has decent connection, you will need to simply agree on a monthly rent. There is no contract system as such here.
However, it would be a good idea to get the details written so that you have some sort of proof for later on.
Although it doesn't happen often, but there can be a few owners who might try to dupe you when renting out the flat to you. They might ask for more money or try to make you leave the house so, a written proof in such a case can help you.
Where Have I Stayed in Goa so Far?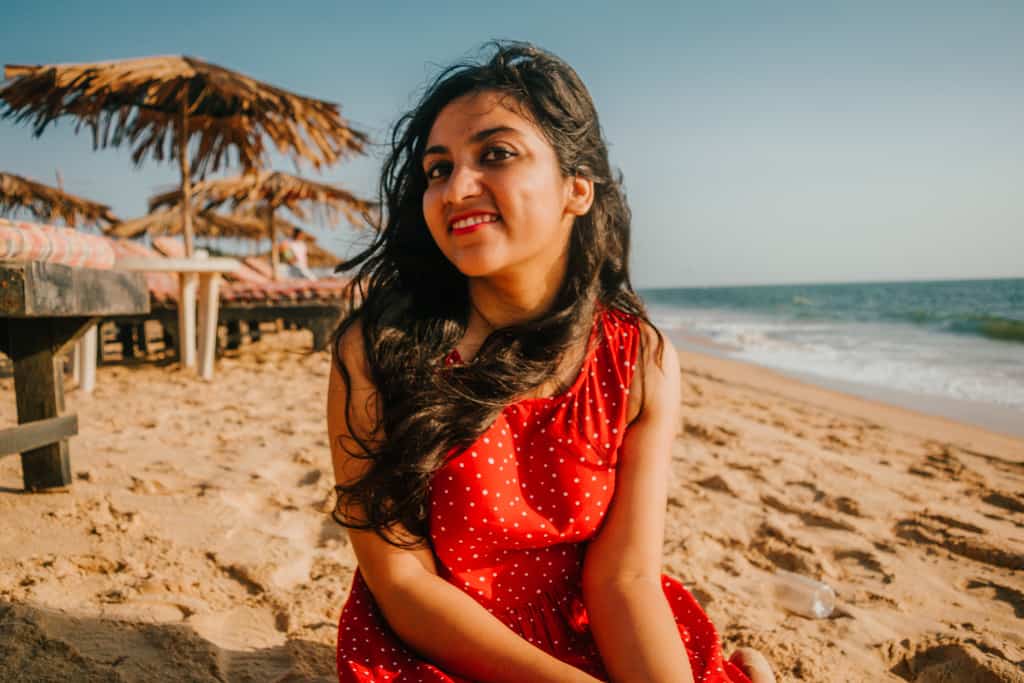 Candolim Beach
I have been to Goa 4-5 times now and each time, I have stayed for at least a week or as long as a month as well.
During this time, I have explored a lot of places in Goa and have stayed in a wide range of accommodations.
From hostels to wellness retreats, I have experienced it all here. Here are a few that I have personally stayed in –
Backpackers Panda – One of my favorite places to stay in Goa on my solo trip was Backpackers Panda in Candolim. A dorm bed in an air conditioned dorm with private bathroom cost me around 400 INR here. It was a 2-minute walk to the Candolim beach and I had access to hot water, games, books, etc. at the hostel. They also served delicious breakfast here and guests could store their food, drinks, etc. in the shared refrigerator as well.
Airbnb in Colva – On my second trip to Goa, I travelled with my friends, which is why we chose a 3BHK apartment on Airbnb that could accommodate 7 guests easily. This flat cost us around 2,500 INR per person for 2 nights in this flat. It was around 10 minutes from the beach and included all the facilities such as A.C., TV, Wi-Fi, kitchen, and more.
Flat in Mandrem – During my one-month trip to Goa, I stayed in a 1BHK that cost us 8,000 INR. This basic flat was located in Mandrem and offered a peaceful and tranquil environment. It was just 4 km from Mandrem beach and was surrounded by lush greenery. Honestly, it was the best way to stay in Goa on a month-long trip without any restrictions and enjoy it to the fullest.
The Noname Guesthouse – In Arambol, I have stayed in The Noname Guesthouse which is a 5-minute walk from Arambol Beach. This hotel is beautifully furnished and has a great co-working space where digital nomads can work anytime. Apart from beautiful rooms, the hotel serves homemade vegetarian food which is tasty and healthy. It is also close to several amazing locations such as the Arambol Sweet Water Lake, Arambol Market, Querim beach, and so on. If you are on a honeymoon or traveling with family, then this hotel is perfect for you.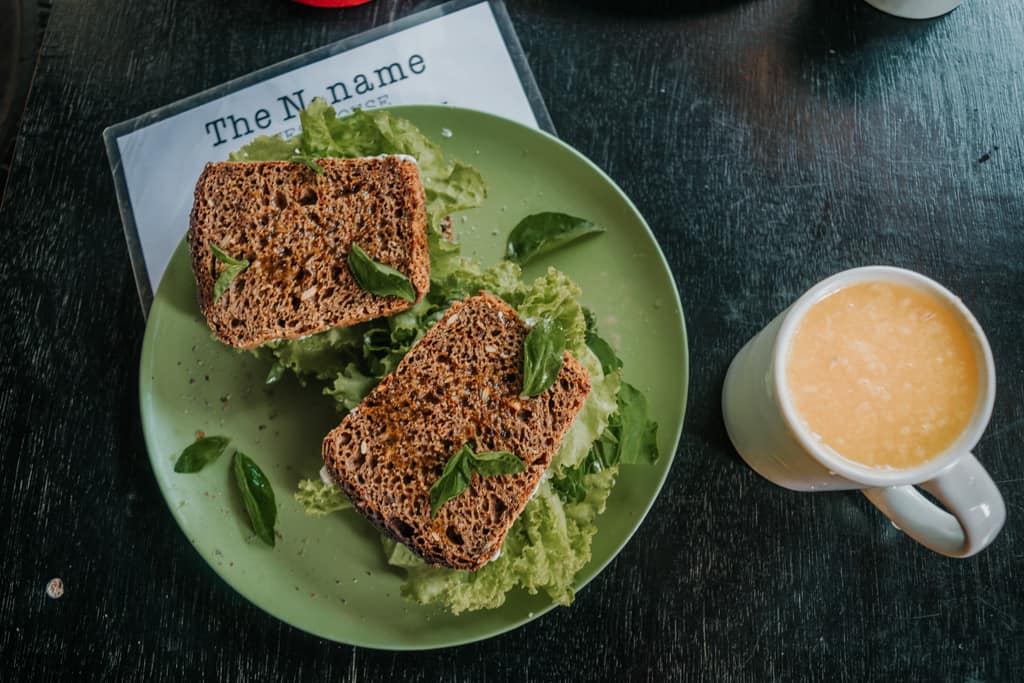 The Noname Guesthouse
Marron Sea View Resort – Located on the Palolem Beach, Marron Sea View Resort is another favorite accommodation of mine. The rooms, made out of wood, have a rustic feel and are lit up beautifully. Since the resort is on the beach, it is a great place to enjoy seaside views. The room price starts from around 2,500 – 3,000 INR per night and is one of the best places to stay in South Goa.
Cocos Resort – On my first trip to Goa, I stayed in Cocos Resort and got an amazing deal at 2,000 INR for a private room for 5 days. This hotel is located on Chapora fort and is just 15 minutes from popular places such as Anjuna Beach, Chapora Fort, and so on. The room was pretty basic but is great for backpackers and budget travellers. If you are travelling with friends, then this is a good hotel to consider.
Chill Inn Guest House – Another budget-friendly hotel that I took in Anjuna was Chill Inn. This 2-star property features basic rooms with private bathroom and fan. They charge around 500 – 600 INR and offer Wi-Fi facility as well. Moreover, you can rent scooty and bikes from this place for 200 – 300 INR, more during festivals.
Quarto de Casa Vianney – This holiday home in Panjim is also a good option as it is next to the Caranzalem beach. The property is located in a quiet and peaceful area. If you are travelling alone or with your loved ones, then this is a good choice. It is close to Panjim sights such as Fontainhas, Dona Paula, and so on. It cost around 700 INR per night for a private room here.
Mercure Devaaya Goa Retreat  – One of my most luxurious experiences in Goa was at Mercure Devaaya Goa Retreat. Located in Divar Island, this is a big 4-star property that is perfect for de-stressing in Goa. They have rooms that cost around 6,000 INR for a night and the cost increases depending on the type of room or villa that you choose. There are lots of activities offered here as well such as spa, massage, cycling, fishing, and more.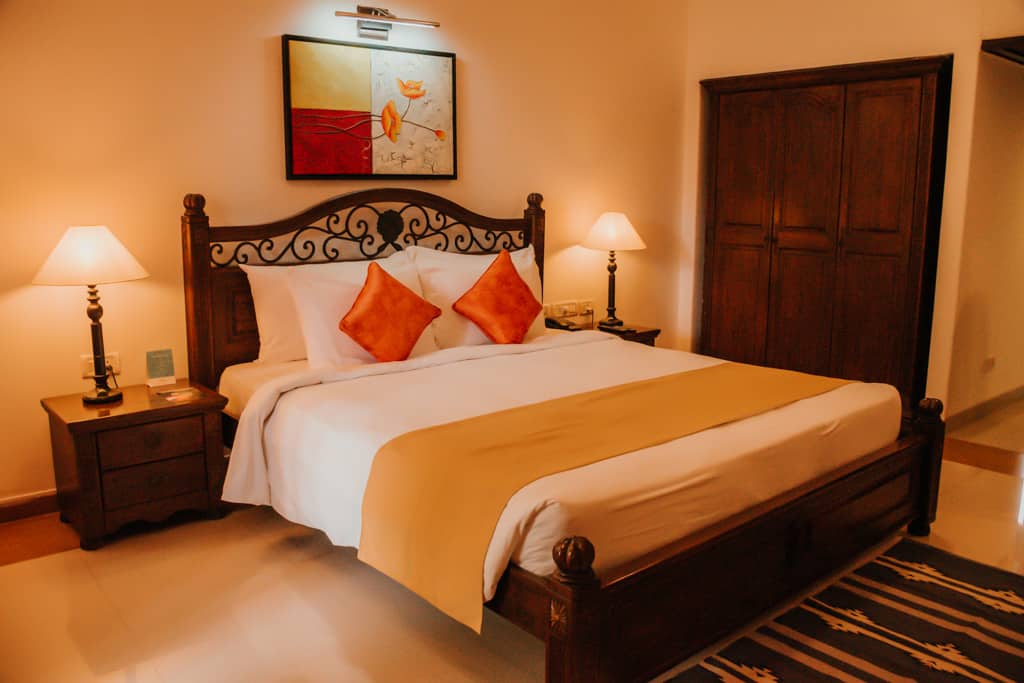 Mercure Goa Devaaya Retreat
Verdict
Choosing where to stay in Goa is not as easy as it sounds as there are a lot of factors to consider. From the duration of your stay to the activities you are interested in, a lot of things have to be kept in mind.
But with the help of this guide, you will be able to find the perfect accommodation for your trip.
To summarize, if you are looking for a budget-friendly solo trip, then choose hostels, flats, or mid-range hotels. For those who want comfort and luxury, there are several resorts and wellness retreats available.
How did you like our guide? Do you think we missed something? Let us know in the comments below!