15 Amazing Things to Do in Ooty in 2022
Planning a perfect weekend getaway in South India? Then, you can definitely make a small trip to Ooty which is also known as the Scotland of the East. One of the most popular and beautiful destinations in South India, there are so many things to do in Ooty that you would never get bored. With […]
Planning a perfect weekend getaway in South India? Then, you can definitely make a small trip to Ooty which is also known as the Scotland of the East. One of the most popular and beautiful destinations in South India, there are so many things to do in Ooty that you would never get bored.
With beautiful scenery, several lakes and viewpoints, and lush greenery, Ooty is a great weekend option for nature lovers.
Sure, you might have trouble getting signals in a few parts of Ooty but the signal to nature remains strong here.
15 Amazing Things to Do in Ooty
We have listed down 15 amazing things to do in Ooty for a kickass weekend trip to this hill station in the South.
Enjoy a Ride in the Nilgiri Mountain Railways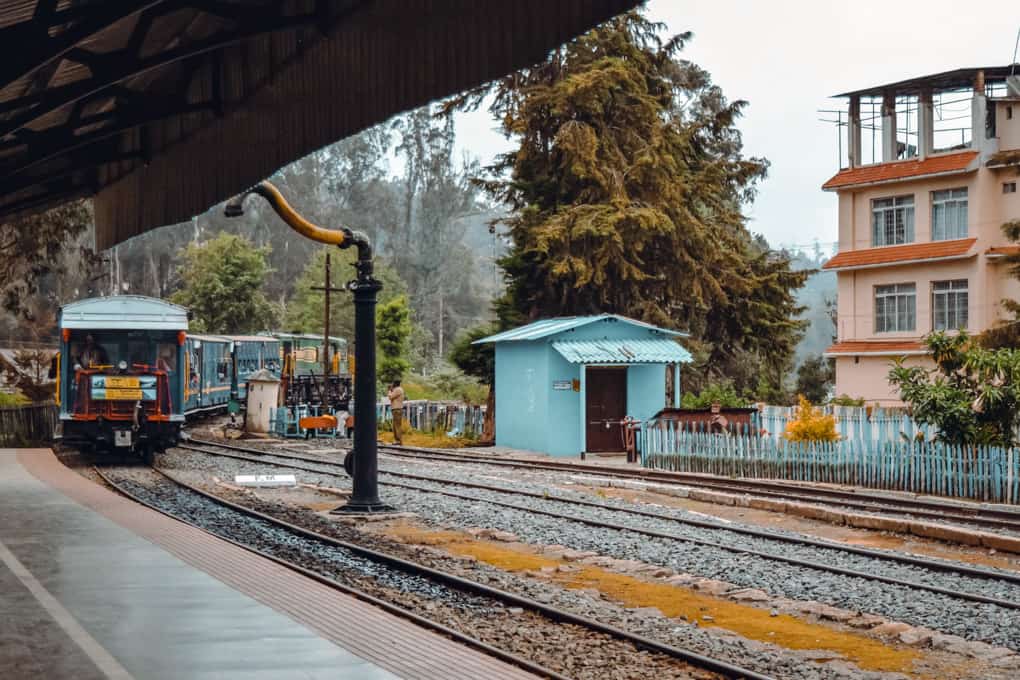 Nilgiri Mountain Railway
One of the best things to do in Ooty is to take the popular train ride in the Nilgiri Mountain Railways.
Completed in 1908 by the British, it has been listed as a UNESCO World Heritage Site since 2005 and attracts a lot of tourists throughout the year.
This mountain railway is the only meter gauge rack railway in India and runs from the town of Mettupalayam to Udagamandalam through Coonoor.
That's not all though, it is also the steepest track in Asia and used to use X Class steam locomotives.
This quaint toy train pulls blue and cream wooden carriages for the 46 kilometers long railway line.
On the way, you will pass through many tunnels and several bridges which gives this journey a more special feel. And you also have some gorgeous views of rocky terrains, tea plantations, etc. which is why you should definitely do this while in Ooty.
You have an option of taking the journey from Mettupalayam to Ooty or a short journey from Ooty to Coonoor and back.
There are two classes available in the Nilgiri Mountain Railway: First Class and Second Class which can be booked online.
The ticket cost for First Class is 470 INR while the ticket cost for Second Class is 145 INR.
It takes around 5 hours to complete the journey from Mettupalayam to Ooty and the train leaves at 7.10 a.m. daily. The return journey starts from Ooty at 2 p.m. and takes just 3 and a half hours for the same distance.
For the Coonoor to Ooty or vice versa, there are 4 timings available about which you can find more information here.
Also, the stretch from Mettupalayam to Coonoor is known to be more picturesque than the one between Coonoor and Ooty.
Since this is a popular activity, the seats get filled a few months in advance. So, make sure that you book your tickets as soon as the seats are available online.
However, if you don't get the seats then you can get a General ticket at the station for 30-50 INR.
But you will need to arrive 1-2 hours before the train departure and stand in a queue to get the tickets. The tickets get sold out in just 15 minutes so arrive well in advance.
Take a Walk in the Botanical Garden and Rose Garden
Although we didn't do the gardens on our last two visits because we wanted to cover other places, you could still do it if you want a relaxed trip.
This place is perfect for nature lovers and botany enthusiasts and has so many varieties of colorful and beautiful flowers that your head starts spinning after a while.
Perfect for a family trip, taking a walk in these gardens and enjoying a picnic here is a great way to spend time in Ooty.
But if you are solo traveling or traveling with friends here then this activity might not really appeal to you. In that case, you can skip this and move on to other fun things to do in Ooty and Coonoor.
Head Out for a Few 1-Day Trips from Ooty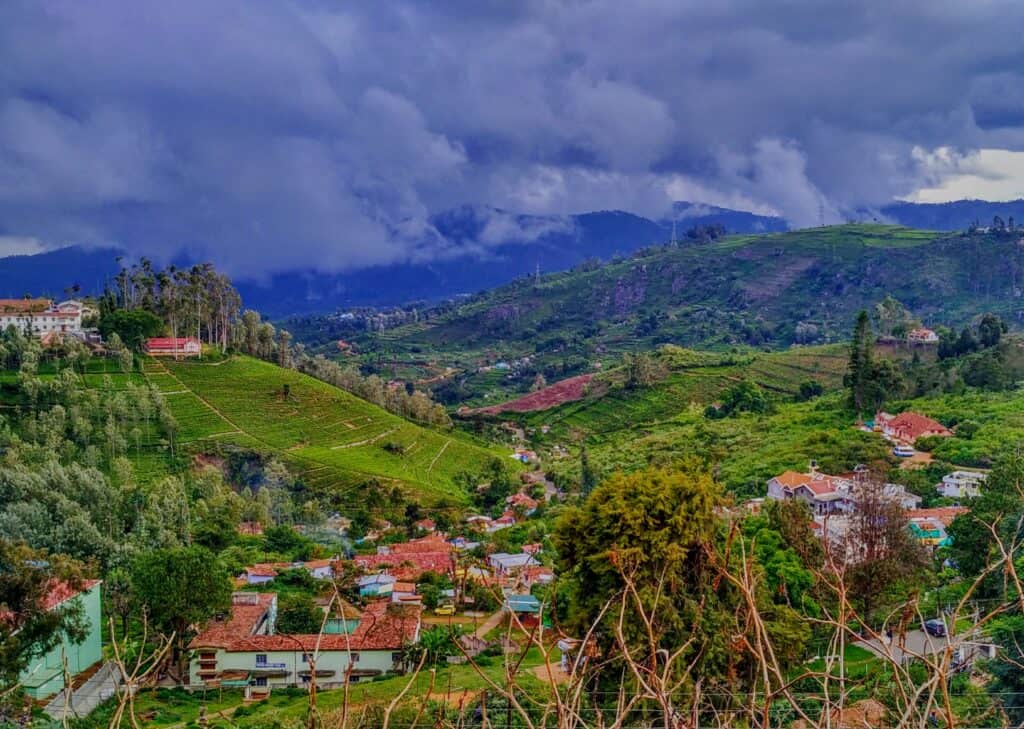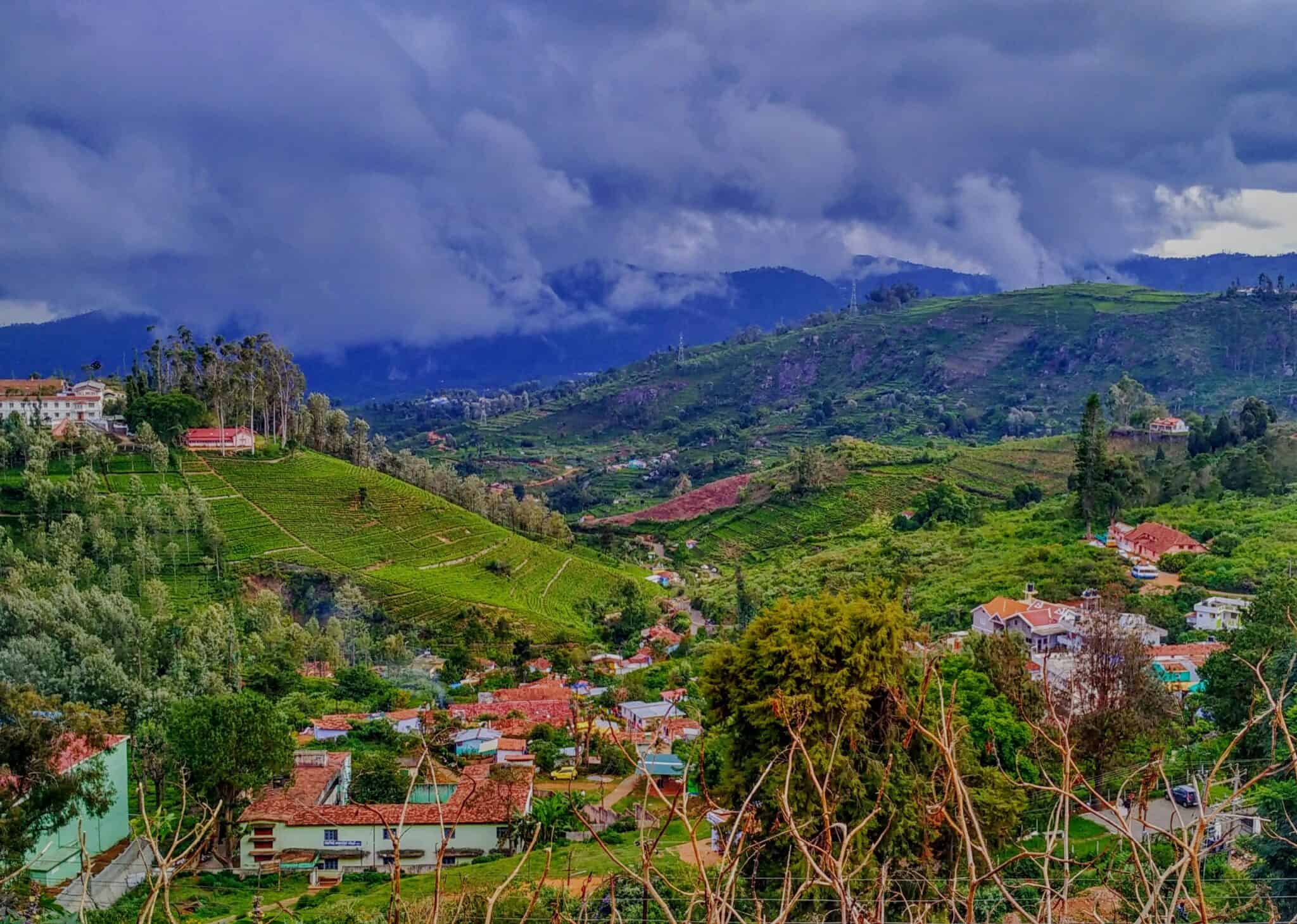 Kotagiri
Another thing which you can do while planning a trip to Ooty is to plan a few 1-day trips around Ooty as well.
Ooty is surrounded by beautiful places like Coonoor, Kotagiri, etc. so it would be a shame if you don't visit these during your Ooty trip.
You can easily rent a cab or explore these places like a local on a bus, depending on how much time you have. 
Set aside at least a day for Kotagiri and a day for Ooty and start out early in the morning so that you can cover more. Both Kotagiri and Coonoor are beautiful and less crowded than Ooty so they make a good escape from the tourists.
You can take a bus or go on the Nilgiri Mountain Railway to Coonoor which will be itself an amazing experience.
For Kotagiri, you will get a bus from the main bus stand which will cost around 15-20 INR and will take you an hour to reach. There are also cabs which will take you to Kotagiri and show you around for the day in 2000 INR.
Enjoy a Shopping Expedition in Ooty
You might not know it but Ooty is actually a great place for shopping enthusiasts. Apart from producing the most delicious handmade chocolates, Ooty is also famous for its tea, coffee, tribal art, essential oils, and cheese products.
So, you can explore the different markets and check out the various shops on Commercial Road to buy some souvenirs at home.
Trust me, if you are staying in Ooty, you have to take some homemade chocolates for your friends and family. It is absolutely delightful and trying out different chocolate flavors can turn out to be a lot of fun!
Try Out the Homemade Chocolates at Moddy's Confectionery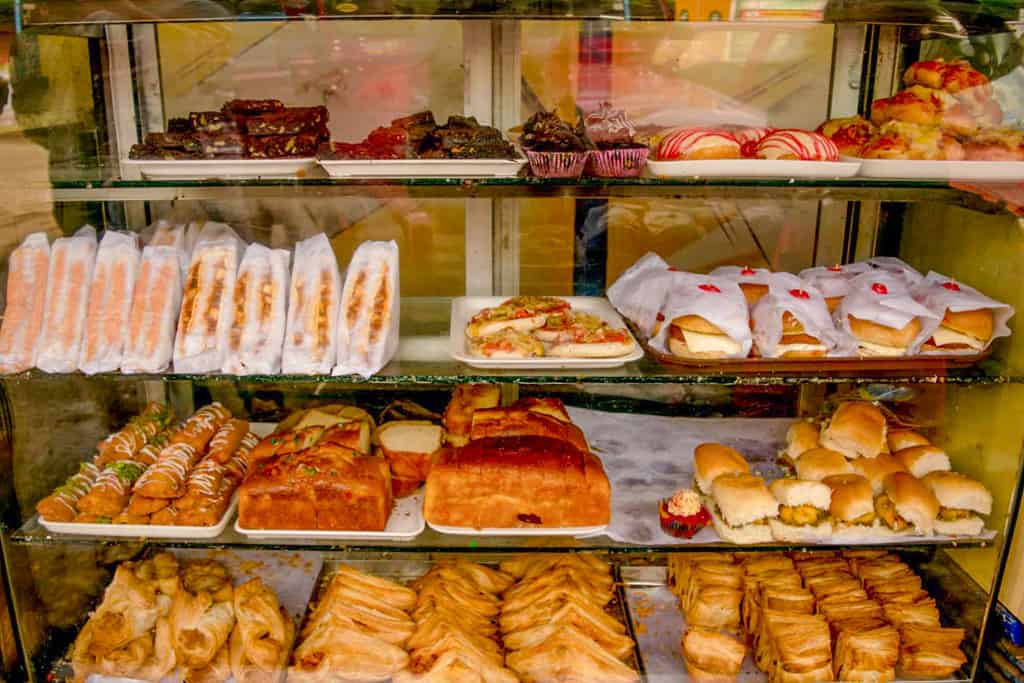 Moddy's Confectionery
One of the top things to do in Ooty is to try out the homemade chocolates here. But did you know that the best place to try out chocolates in Ooty is at Moddy's Confectionery?
That's right, they have the best quality homemade chocolate in their store in a variety of flavors.
Honestly, when I saw the number of chocolates and the varieties that they had in their store, I was completely blown.
From truffles to fudges to plain dark chocolates, they have it all. And you get to taste these chocolates before purchasing them. Like, how awesome is that? 
So, you can get different kinds of chocolates packed together by mentioning the grams and they will charge you accordingly.
Ideally, a 100 gm chocolate mixture can cost you anywhere between 300 – 500 INR. But they are completely worth the price and will leave you wanting more.
Experience a Safari in the Mudumalai National Park
A popular tiger reserve in Nilgiris, going on a Safari in the Mudumalai National Park is one of the top things to do in Ooty.
Here, you will find several vulnerable animal and bird species including apex predators like Bengal tigers, Indian leopard, long-billed vulture, and so on. It has diverse flora and fauna and covers an area of 321 km square.
The best time to visit this park is during the summer months, from February to June, as the animals come out of their home to drink water more frequently.
You can enjoy a wildlife safari here for 30-45 minutes which includes spots like Masinagudi road, Ombetta Lake, and so on.
Walking and bringing private vehicles is not allowed inside the park so you will have to opt for the forest safari. Although the safari is limited to just 15 km, you can sight a lot of amazing animals and birds if you are lucky.
Learn About the Process of Tea Making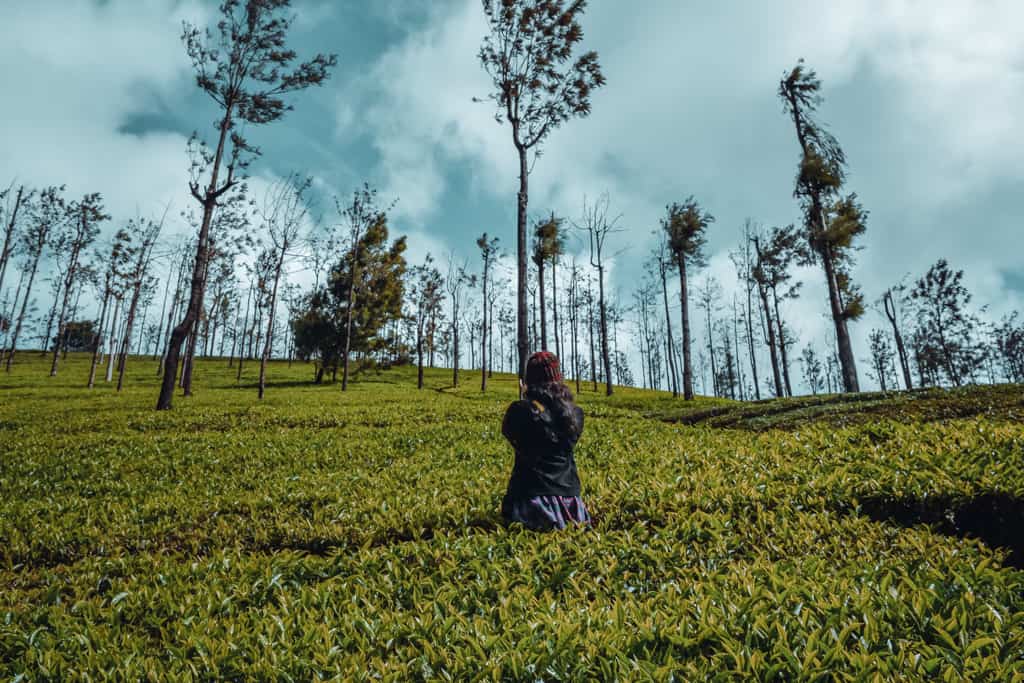 Tea Estates in Ooty
Apart from the delicious homemade chocolates, Ooty is also famous for its tea. So, one of the top things to do in Ooty in December is to visit the Dodabetta Tea Factory and understand the process of tea making. 
The factory opens up at 9 a.m. in the morning and stays open till 5.30 p.m. 
Once you are done understanding the process of tea making, you can head to the Ooty Tea Museum which is adjacent to the Tea Factory. Here, you will learn about the history of tea, its origins, and its evolution in the Nilgiris.
From the souvenir shop, you can purchase different types of tea leaves to take home for your friends and family.
Take a Boat Ride at the Pykara Lake or the Ooty Lake
Another thing which a lot of people swear by in Ooty is boating in one of the lakes here.
Ooty Lake and Pykara Lake are particularly famous for this activity and are a great way to spend some quiet time surrounded by water and trees.
You can go for a motorboat, rowboat, or a speedboat ride on Ooty Lake while Pykara Lake only offers speedboats to the tourists.
The cost of boating can range anywhere between 50 – 150 INR, depending on where you are boating and what kind of boat you choose for your experience.
Head to the Viewpoints for an Amazing Mountain View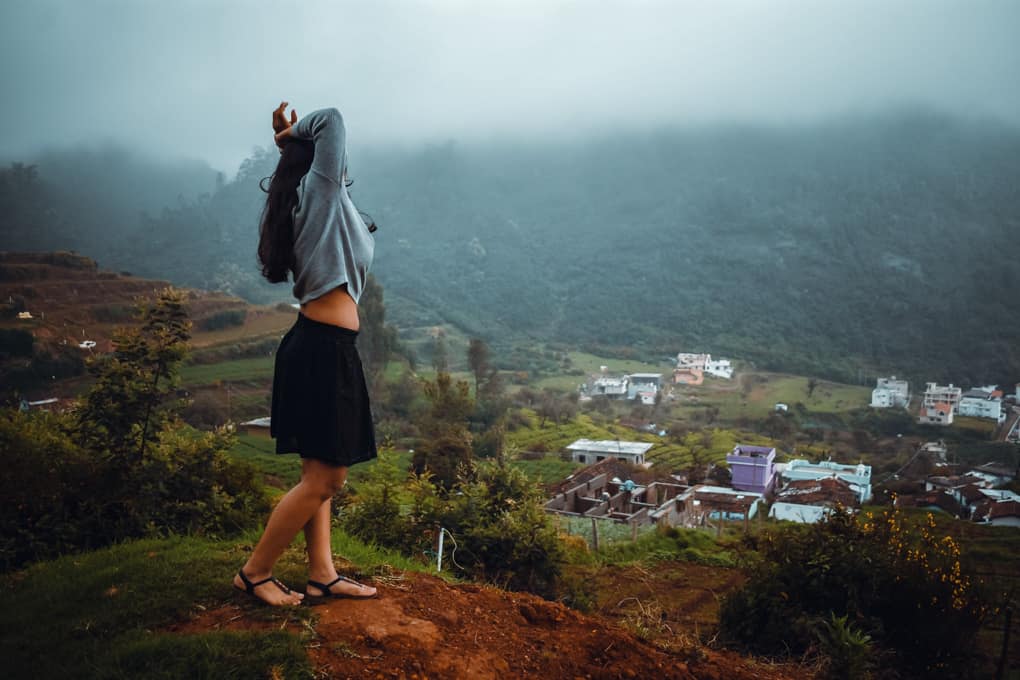 Ooty Viewpoint
Honestly, Ooty has so many beautiful viewpoints that sometimes I feel 2-3 days are just not enough.
Personally, I feel that the non-touristy points are better and more in number if you know where to look. So, take your car or get on a bus and get down at random stops which makes your heart stop.
Because that is exactly what we did, we stopped at random, offbeat locations and were awarded beautiful sights to admire.
If you love sunrises and sunsets, then make sure you head to the Tiger Hills during the appropriate time.
And if you just love to explore the tea estates and lakes then make sure you take a cab and head on the road to Avalanche Forest.
Trust me, this road offers really amazing viewpoints which are hard to find in the rest of Ooty. Taking a bus to Kotagiri is also a good way to explore some beautiful, offbeat viewpoints in Nilgiris.
Spend Time in the Museums Learning About Different Activities in Ooty
There are so many museums in Ooty that I am sure you can easily spend 5-6 hours just learning about different things in this museum.
There is a Wax Museum here to keep you entertained and a Tea museum for learning about the history and evolution of Tea.
But the most interesting one is the Honey and Bee Museum in Ooty. As the name suggests, you learn about the modern and traditional ways of honey extraction, beekeeping, and honey processing.
So, if you have always wondered about how honey is made then this is the place to check out in Ooty.
Spend a Day Chilling at the Lakes Around Ooty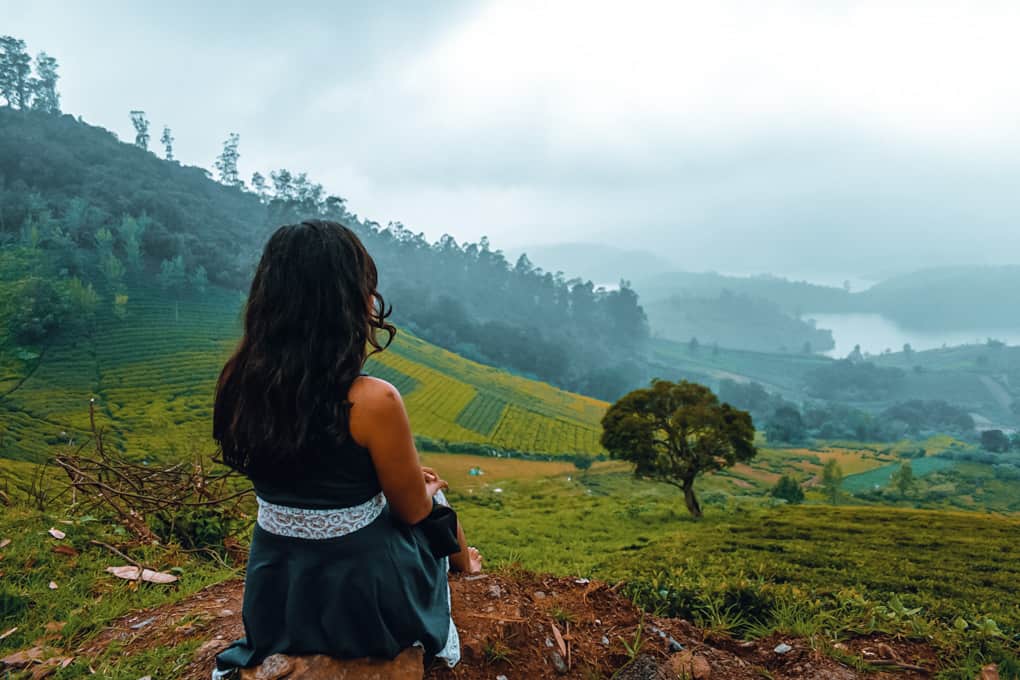 Emerald Lake
If you are looking for romantic things to do in Ooty for couples, then head out to the lakes around Ooty and spend some time admiring the lakeside view there.
Our favorite lake near Ooty has to be the Upper Bhavani Lake (which we thought to be the Avalanche lake for around 2 years) in the Avalanche Forest Reserve.
Even the Emerald Lake is quite beautiful and gives off serene and calm vibes to anyone who visits the place. Then, there is the real Avalanche Lake which is surrounded by trees and is a great place for camping and enjoying the view.
Apart from these, there is also Pykara Lake, Ooty Lake, and so on where you can spend some time and indulge in a few activities as well.
So, I would definitely suggest that you take out some time and explore all these beautiful lakes near Ooty for a wholesome experience. In fact, you can also take some food and relax near these lakes for a little while.
Explore the Oldest Bookstore in Ooty
If you love to read books then make sure that you head to the oldest bookstore in Ooty, Higginbotham.
They have a huge amount of books here for you to browse through and purchase which will make book nerds feel like they are in wonderland.
Apart from the books, you can also buy some stationery items, travel stuff, and even postcards here.
Enjoy a Staycation in Ooty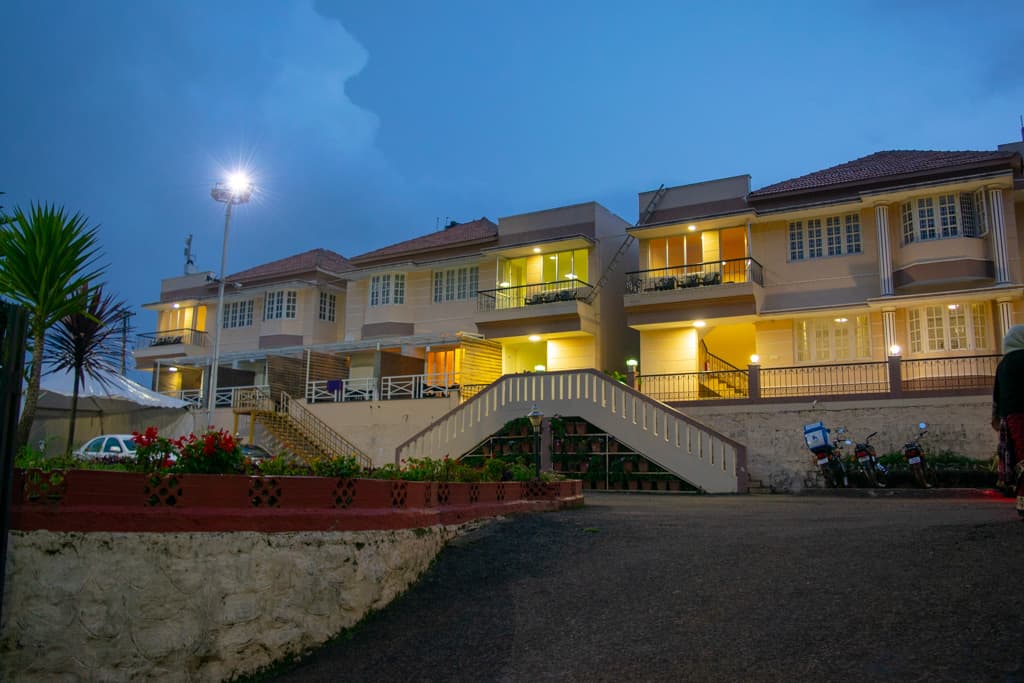 Delightz Inn Ooty
There are so many things to do in Ooty but doing nothing and just enjoying your stay here can be pretty amazing too.
All you need is good and comfortable accommodation with some gorgeous views. And you are set for the next couple of days.
So, if you don't want to spend the entire day traveling around then you could go for a staycation in Ooty.
Personally, I found Delightz Inn Resort a good place for this as it was away from the main market area and was surrounded by forest. We could enjoy fresh, crisp air every day and didn't have to worry about the city noise anymore.
Go For a Walk in the Pine Forest
Last, but not least, you can head to the famous Pine Forest between Ooty and Thalakunda. This is a popular trekking spot in Ooty and has been featured in a few Bollywood movies like Dil Se, Qayamat Se Qayamat Tak, etc. 
So, if you love to spend time in nature then walking in the pine forest is definitely one of the best things to do in Ooty.
This place will instantly transport you into a fantasy world and will make you feel like you are part of a novel story too. So, don't forget to carry a camera when heading out to this pine forest near Ooty.
Explore Ooty on Foot and Enjoy the View
Ooty
One of my favorite things to do in Ooty was to take a walk around the city and interact with the locals here. We would walk around 4-5 km and would stop at random intervals to look closely at the view.
This way, we stumbled across so many beautiful locations around Ooty which most people didn't know about. 
So, if you truly want to explore Ooty then make sure that you spend a little time walking around here.
Trust me, you will stumble across so many beautiful places that you will forget all about the popular tourist spots in Ooty.