12 Kickass Things to do in Bali for an Epic Vacation in 2022
Are you looking for amazing things to do in Bali? Well, look no more. In this article, you will find some of the best Bali activities to indulge in and make the most of your vacation here. Bali is one of the most popular destinations in Indonesia and has a lot to offer. Whether you […]
Are you looking for amazing things to do in Bali? Well, look no more. In this article, you will find some of the best Bali activities to indulge in and make the most of your vacation here.
Bali is one of the most popular destinations in Indonesia and has a lot to offer. Whether you are planning a Bali honeymoon trip or a solo trip, this destination is ideal for all kinds of travelers.
This entire island is filled with the most amazing places to explore and discover and one week isn't enough to explore all that it has to offer. In fact, I would say 20 days are less to truly visit all the mesmerizing places on this island.
The island is home to some beautiful and secluded waterfalls, mountains, volcanoes, temples, beaches, and so on for you to visit. Bali is more than a party place, it is a whole different world here.
Check out our list of the 12 kickass things to do in Bali for an Epic Vacation in 2022!
12 Kickass Things to do in Bali for an Epic Vacation in 2022
Chilling and Surfing at the Beaches
It is no surprise that Bali has a lot of beautiful beaches where one can chill and relax.
There are numerous beaches in Bali so, there is more than enough place for everyone to enjoy some quality alone time. Moreover, you will be amazed to know that Bali has a variety of beaches.
From Palm-edged beaches to cliff beaches, it has it all and a lot of these beaches require a lot of effort to reach here too.
So, if you are a beach lover, then make sure that you check out beaches like Lovina, Uluwatu, Nusa Dua, Pantai Pandawa, Padang, and so on.
Trust me, once you start hanging out at these beaches you wouldn't wanna stay anywhere else! Also, as an added bonus, a lot of these beaches are good for surfing so, get your surfboards and have an amazing afternoon here.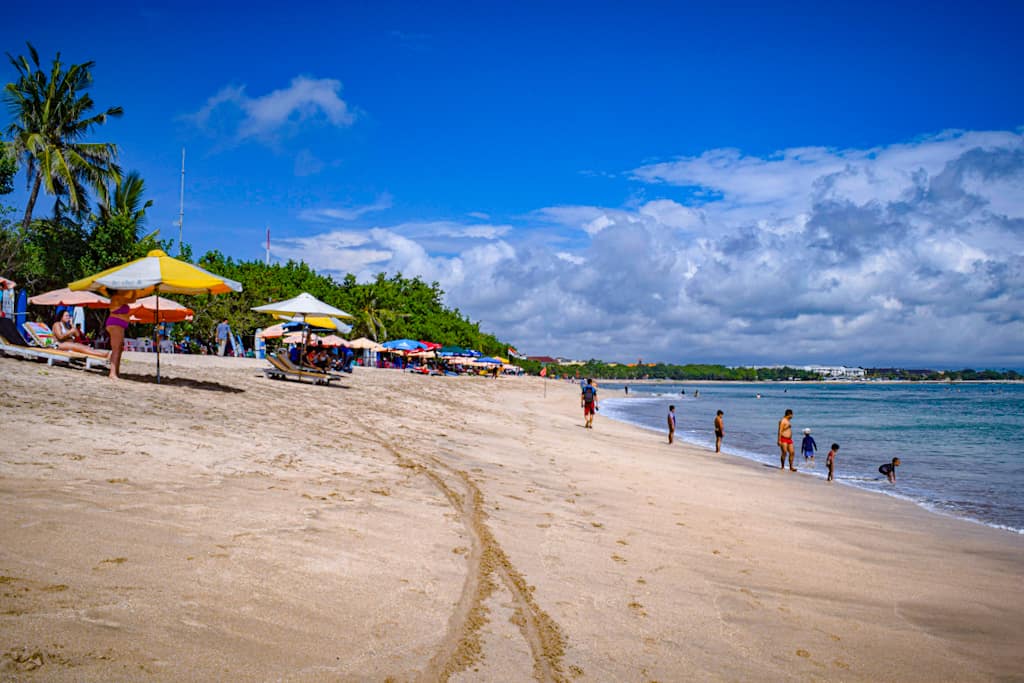 Watch Sunset at Tanah Lot
Entry Ticket Price: 30,000 Rupiah(150 INR)
One of the top Bali attractions that you must visit is Tanah Lot Temple which is best known for its gorgeous offshore setting and sunset backdrops. This famous temple lies in the Beraban village, which is situated at a distance of 20km from Kuta.
One can see the waves crashing against this Hindu temple which makes this view even more irresistible. So make sure that you do catch the sunset here because otherwise, you might regret it forever!
Drive to Pantai Pandawa Beach
Entry Ticket Price: 15,000 Rupiah(75 INR) per person
One of the most memorable parts of our Bali trip was the drive to Pantai Pandawa and Uluwatu Temple. Why?
Well, due to the simplest of reasons that both of these Bali attractions require you to cross curvy, hilly roads which means that your entire journey is a roller coaster ride.
The whole drive to Pantai Pandawa was filled with unexpected twists and turns which made it quite exciting and scary. However, what took our breath away was the drive just near the Pantai Pandawa beach.
You will see a rocky mountain on one side and a mesmerizing beach on the other side while the sky is painted with a hue of blue and the air smells fresh and crisp.
Aah! That utterly blissful feeling when we finally made it safely to this beach and were so glad that we decided to visit this place. Trust me, this is one beach ride that you definitely don't want to miss out on.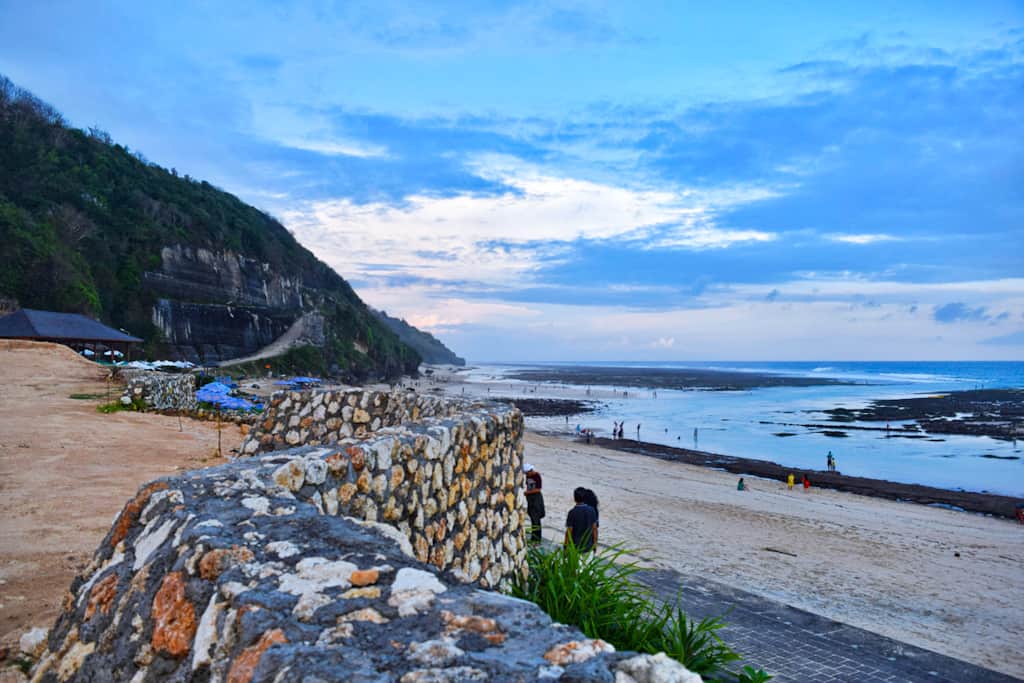 Visit the Uluwatu Temple
Entry Ticket Price: 30,000 Rupiah(150 INR) per person
Another iconic attraction to visit in Bali is the Uluwatu Temple which is situated at the top of a cliff and is a famous Balinese Sea Temple.
One of the most beautiful temples in Bali, Uluwatu Temple was constructed to keep the evil spirits away and is considered one of the 9 directional temples in Bali.
This temple is magnificent and glorious as it sits perched on the edge of the cliff while the waves crash against the foot of the cliff. The place sees a lot of tourists and locals alike and a lot of important rituals are performed in the interior of this temple.
I am not exaggerating but this is one temple you would not want to miss out on and the road journey to reach this place is quite thrilling. 
Plan a Visit to the Monkey Temple in Ubud
Entry Ticket Price: 50,000 Rupiah(250 INR)
Another important place to visit in Bali is the Ubud Monkey Forest, aka the Sacred Monkey Forest of Padangtel.
It is one of the most iconic places in Ubud and houses over 700 monkeys and 186 species of trees. This is a natural habitat for monkeys and you can see them in their natural routine here.
You can see them playing with each other or jumping in the lake, and so on.
Apart from being entertained by the antiques of the monkeys, you will find that this place contains a lot of beautiful ancient temples which are covered in green moss now but haven't lost their charm at all.
You can spend some time here looking at the monkeys or you can just take a leisurely walk underneath the canopy of the trees. This is one place where you can spend a few hours and be at peace with nature.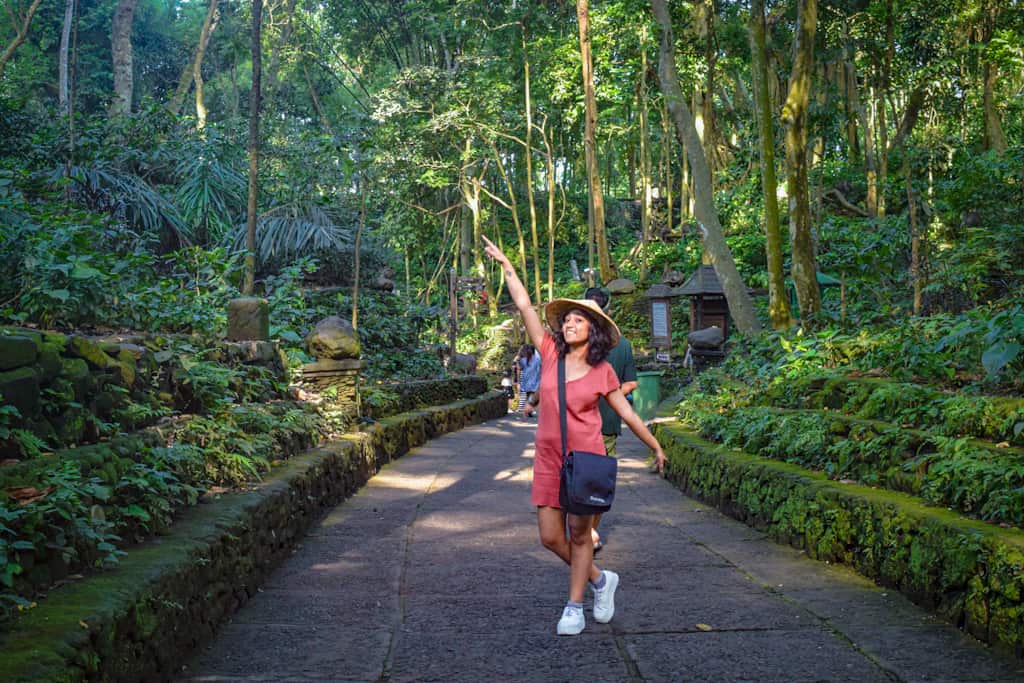 Go For an Early Morning Hike to Campuhan Ridge
Free Entr
y
Do you love hiking or watching the sunrise? Then you definitely need to visit Campuhan Ridge.
This beautiful place in Ubud is situated at just a 1km distance from the famous Ubud Water Palace and requires you to walk some 2-3 km to witness one of the most beautiful sunrises ever.
You can go for a morning walk over here and enjoy the beautiful lush greenery which surrounds this place. The sides of the pathway are covered with tall reed grass and you can see valleys on both sides of the hiking trail. 
I cannot emphasize how refreshing and mesmerizing this place was.
We had never been to such a place before so it was a welcome change for our eyes. And, as the sun started peaking through the mountains and its first rays touched the reed grass, we realized this is what absolute bliss feels like.
Visit the UNESCO Heritage Site – Tegallalang Rice Fields
Free Entry
The rice terrace fields of Ubud are no secret as this is a popular UNESCO Heritage site. While a lot of you might feel that it is just a rice terrace field and there is nothing special in it, I would like to point out that you are absolutely wrong.
Tegallalang Rice Field offers you a dazzling view of the rice paddies, especially during the early morning, and the Balinese irrigation system makes the view even more bewitching. Plus, not to mention that this is one of the best Instagrammable spots in Bali.
This is one place where you can spend a couple of hours. Just walk amidst the rice fields and the trees and just take in the beautiful view around you without any worries or tension.
Since this place lies on a high roadside location, you will find that the place is not as crowded. Also, it is large enough for you to get lost for a while.
If you ever visit Bali and don't tour around the Tegallalang Rice Fields, then you have missed out on a crucial location for your visit.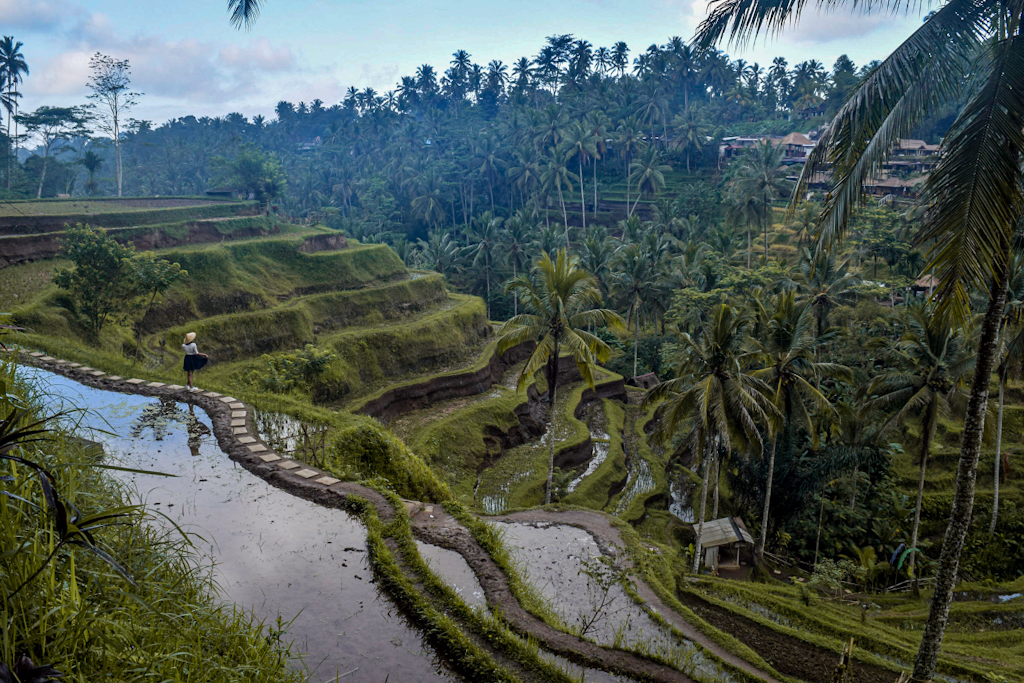 Indulge in Watersports Over Here
Scuba Diving Price: 400,000 Rupiah(1800 INR) for 30 minutes
If you are looking for fun Bali activities to try, then you should indulge in water sports in Bali.
For surfing, there are many Bali beaches where you can learn to surf or simply enjoy surfing. You would also find a lot of shops which sell or rent surfboards here.
You could also try other water sports here like snorkeling, scuba diving, sea walking, parasailing, and so on.
Experience Bali's Highest Swing
Price: 260,000 Rupiah(1250 INR) per person
If you are on a Bali honeymoon trip, then one of the best Bali activities to indulge in is the Bali Swings.
Zen Hideaway is a popular Airbnb property, which is situated in Bongkasa near the Ayung River Valley. This place is surrounded by the most hypnotizing view ever. However, this is not what makes this simple 150-year-old teak house famous.
This place offers you a chance to swing on the highest swing in Bali which is tied to the coconut trees by 15-meter ropes. This is one thrilling experience that you would not want to miss out on! They allow you 30 minutes to swing on this great swing.
First, they offer you a chance to first try it out on the smaller swing before transferring you to the bigger one. As you sit on the swing and are pushed off the edge, you will like a bird flying in the sky.
And if the weather is clear, then you could also see the Ayung river below and enjoy a beautiful and serene view. This is really a once-in-a-lifetime experience and we are so glad we got a chance to experience this!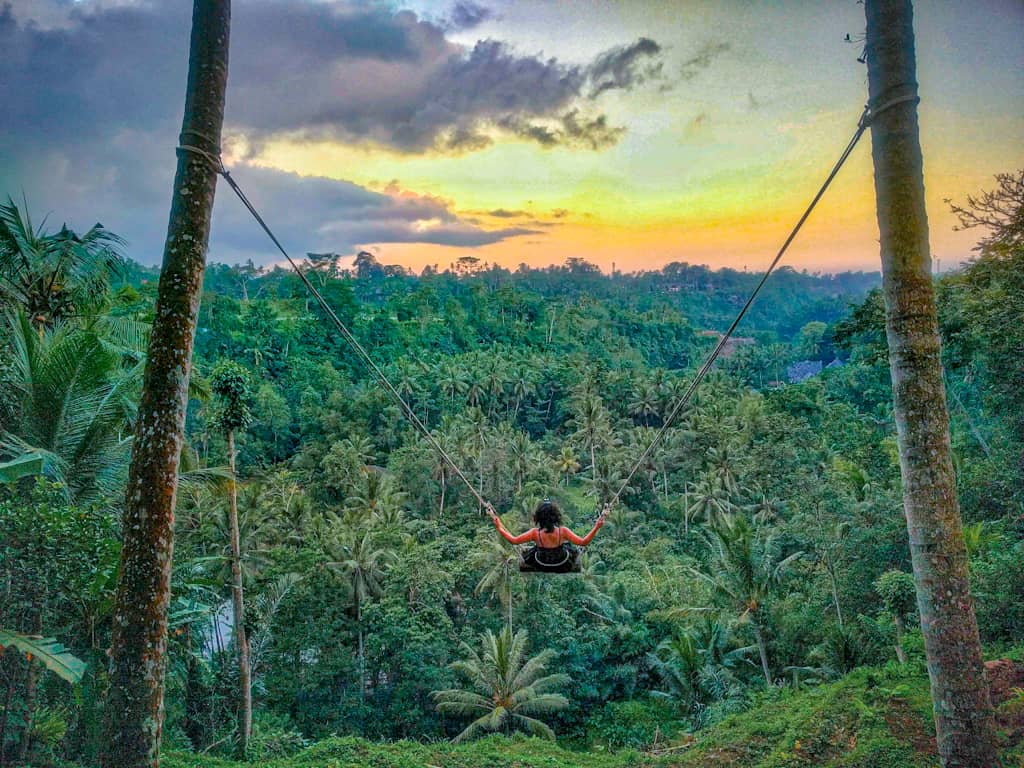 Try the Balinese Body Massage
Of course, when you are visiting Bali, you have to get a massage and relax when you are here.
Bali is quite famous for its spa and massage experiences and you can get the most relaxing massagers here.
This is the perfect thing that you can do to de-stress yourself. And, since it is so popular in Bali, you can get it done at quite a reasonable price too!
There are a variety of massages that they offer and depending on the facilities and services provided, the cost varies.
A standard Balinese Body Massage would cost you around 100,000 Rupiah(500 INR) for an hour and by the end of it, you would feel like you have achieved Nirvana! Yes, I am not even kidding about it! Do try it and see it for yourself. 
Enjoy the Tegenungan Waterfall or Go For a Waterfall Slide
Entry Ticket Price for Tegenungan: 20,000 Rupiah(100 INR) per person
Bali contains many dazzling waterfalls which are surrounded by lush greenery and provide a respite from the populated and commercialized places.
While Tegenungan Waterfall is the most popular waterfall in Ubud as it is close by, there are actually many other waterfalls here that are much better and less crowded than this one.
The Tegenungan waterfall is a great place if you don't mind the crowd. If you want to avoid the crowd here, it would be better to visit early morning.
Another amazing activity to do in Bali would be the waterfall sliding. A lot of waterfalls in Bali have a natural slide built in them so, you can waterslide here.
One such popular waterfall is the Aling Aling waterfall which is situated in Simbagan. If you are looking for a little adrenaline rush, then do try this out in Bali!
Explore the Delicious Food in Bali
Price: 75,000 – 150,000 Rupiah(350 – 750 INR) on an average per day
Now, as you must be aware that Indonesia has a different cuisine and the vegetarian options are limited but that is not the case with Bali.
In Bali, you would find several decent vegetarian places. You will also find different types of cuisine here like Continental, European, Indonesian, and so on. Here are a few amazing places which serve good Vegetarian food in Bali: Sky Garden, Kuta
One of the most popular places to eat in Kuta, Sky Garden is the ultimate place to visit if you are looking for a fun, party time.
Here you will find an assortment of dishes to try, both vegetarian and non-vegetarian and its Pizza is really delicious.
It has 2 floors and on the top floor, you can see the DJs and the bands performing live. This is the most happening place in Kuta and one can hear music on the streets, which is why this street is also said to be the party street of Kuta. Mamma Mia, Ubud
Another amazing place to try is Mamma Mia in Ubud. This place serves one of the most delicious Pizzas, Pasta, Bruschettas, etc., and is quite affordable if you are traveling on a budget.
This place also offers vegetarian food items which makes it the best place to eat if you are a vegetarian. Trust me, you would fall in love with their deliciously warm and soft pizzas and bruschettas!!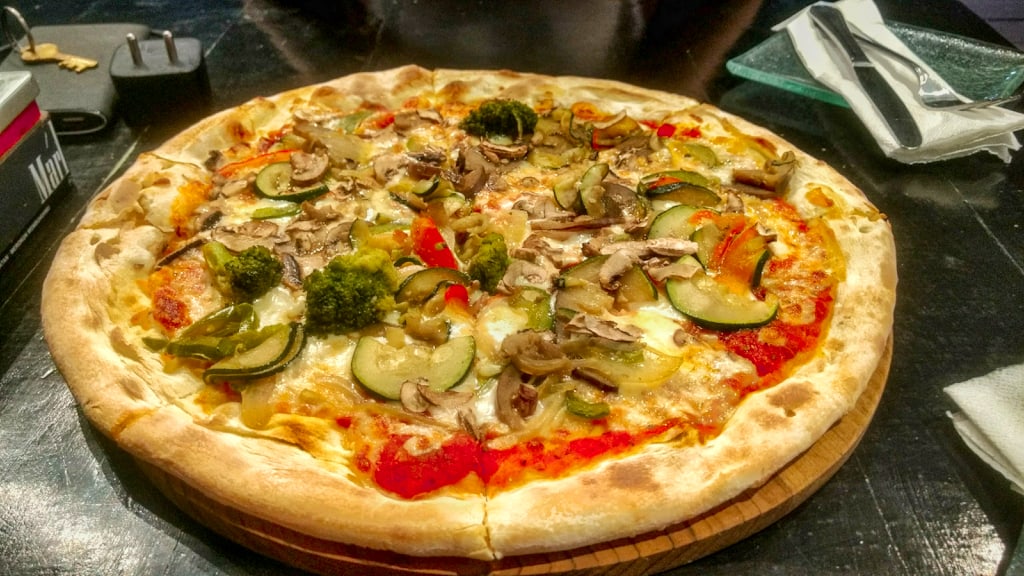 Indochine, Ubud
If you are looking for some Dim Sum and Momos to eat in Ubud, then Indochine should be your next stop. Although this place looks a little fancy and cannot be considered a cheap option, it does offer a lot of vegetarian food options which makes it a nice place to visit. 
Apart from these few places, you would find that Kuta has a lot of places like KFC, McDonald's, Subway, etc.
On the other hand, Ubud has many fancy restaurants and a few really good cafes to try. If you are a non-vegetarian, you would love Bali. But if you are a vegetarian, you might not love Bali but you will easily manage here.