Trek Requirements: The BEST Guide on How to Pack for a Trek 2023
Are you planning to go on a trek soon? Wondering about the trek requirements to pack for your upcoming trek? If yes, then you have come to the right place! Packing for a trek can be confusing, especially if it is your first trekking experience. I know this because I was definitely not prepared on […]
Are you planning to go on a trek soon? Wondering about the trek requirements to pack for your upcoming trek? If yes, then you have come to the right place!
Packing for a trek can be confusing, especially if it is your first trekking experience. I know this because I was definitely not prepared on my first trekking trip. It can be difficult to know how much you should pack and what should you pack.
Well, don't worry, because this is where this trek requirements guide is going to help you. After going on numerous types of treks, I have an idea now of how and what needs to be packed for a trek. So, just follow my advice and you should be properly packed for your next trekking trip.
Read on to know more about the trek requirements and how to efficiently pack for your trek in 2023!
Trek Requirements: The BEST Guide on How to Pack for a Trek 2023
Determine the Trekking Requirements
The first thing that you need to determine is the trekking requirements for your upcoming trip. For this, you will need information about the duration of the trek, weather conditions, trekking terrain, and so on. Type of Trek
Ideally, there are four types of trekking durations that you will have to worry about: Single Day Trek, Two-Day Trek, Multi-Day Trek, and Winter Trek. For each of these treks, you will have to carefully pack the required equipment and tools.
A Single Day Trek would require you to pack light and wouldn't require an additional pair of clothes. Also, you can pack all your essentials in a small daypack so it is easier to get ready for a single-day hike.
A Two-Day Trek would require you to think about your stay options and include a tent, food, etc. if needed. You would also need to think about where and how you are going to sleep at night and if you are planning to change your clothes the next day.
A Multi-Day Trek requires more thorough planning and packing as you would be spending more days on the road. So, you cannot forget anything because you are likely not going to be home for a few days.
But at the same time, you have to be careful to not overpack your backpack because you will be carrying it for a number of days. Trekking Conditions
Once you know the duration of your trek, you have to figure out the weather conditions. Is it going to be windy or snowy? Or is it going to be a sunny and clear day?
The weather condition will determine the kind of clothes and coverings that you would need to pack for your trek.
If it is going to be cold, your backpack will contain more sweaters, thermals, and jackets. But if it going to be sunny then a few half sleeves T-shirts and shorts will work too.
So, check the weather conditions of your trek before you start packing for it. Trek Terrain
Finally, you have to research the terrain of your trek. Is it smooth or rocky terrain? Are you going to be crossing rivers or meadows on the way?
Once you have answered these questions, you will have a better idea of the type of trekking shoes that you will need. Remember, good and appropriate trekking shoes are important for your trek if you want to complete it comfortably and successfully.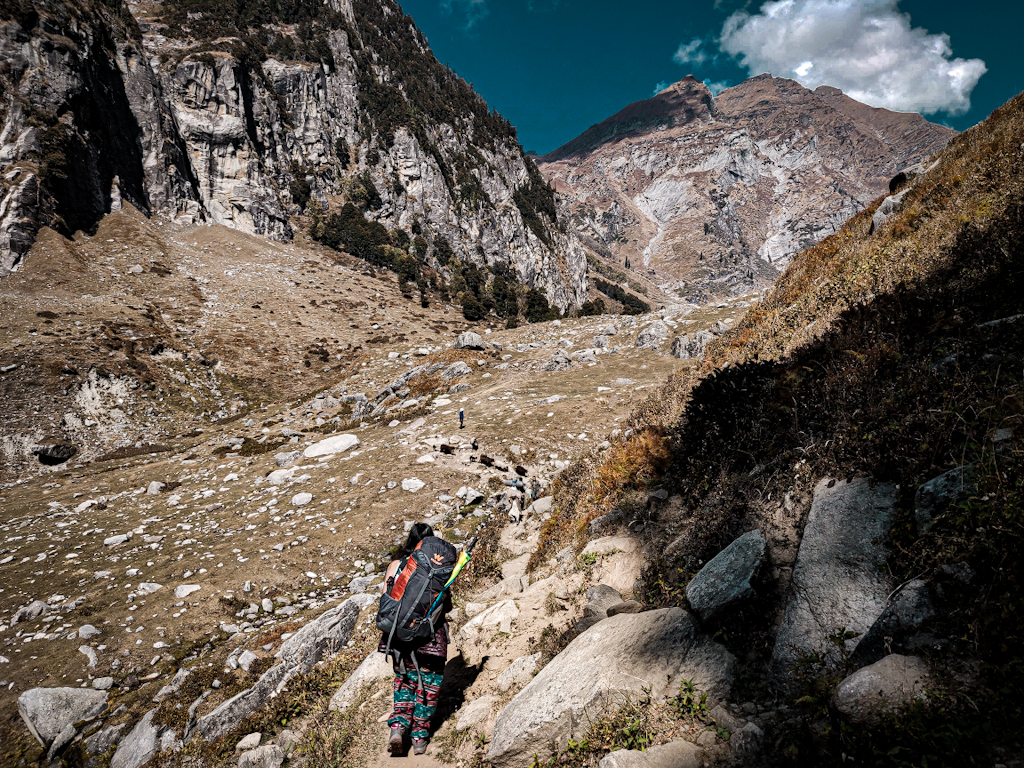 List of Things Required for Trekking a Single-Day Trek
Here is a list of trekking things that you would need to pack for a Single Day Trek. Daypack
One of the most important things to carry for your Single Day Hike is a daypack where you will store your food and other essentials. For this reason, your daypack should be between 10 – 25 L so that it can store all the necessary items for a day.
There is no need for a bigger backpack as you would only be gone for a couple of hours. So, get an adequately sized daypack to avoid overpacking. Camera Bag
The next important thing to keep is a camera bag if you are planning to take photographs from a DSLR.
You can either get a daypack which has a separate section to store your camera bag as well. Or you can purchase a messenger camera bag that you can carry during your single-day tres.
But make sure that you choose the correct camera bag for your hike/trek. Raincover for Bags
If it is likely to rain in the area where you are planning to hike then carry a good rain cover as well. After all, you don't want your gadgets or food to get wet in the rain.
A few backpacks also include a rain cover or are rain resistant so you can look for them too.
If not, then you can always purchase a rain cover separately to keep your belongings dry and protected. Trekking/Hiking Shoes
Of course, a hike/trek without proper trekking shoes would be extremely stupid. This is because your casual shoes/sneakers usually don't have a good grip to prevent any accidental slipping or tripping.
So, it is important that you get a good pair of trekking/hiking shoes that will work well in most weather conditions.
Also, try to look for a waterproof pair of trekking shoes so that you can use them on snow treks as well. First Aid Kit
One of the most important things to pack in your backpack is a First Aid Kit which will come in handy if you get injured on the way.
Make sure that you keep all the necessary medicines, ointments, bandages, etc. so that you are covered if you accidentally hurt yourself on the trek. 1 Pair of Trekking Pants
Make sure that you wear good and comfortable trekking pants/shorts when going on a hike. A good pair of trekking pants will not be loose but will absorb the sweat so you won't feel sticky or gross while hiking.
If you wish, you can keep an extra pair of trekking pants in case of any emergencies as well. 1 Cotton T-Shirt
For the hike, you can wear a casual cotton t-shirt as it will absorb the sweat and won't make you feel hot on the way. You can also keep an extra t-shirt for any emergencies or if you are planning to take a dip in the water on your hike. Waterproof Jacket/Wind Cheater
Another important thing to pack would be a waterproof jacket or windcheater for your hike. However, you need to pack this only if you live in a place where it is likely to rain. If the weather is clear and there is no forecast for rain, then you can skip this item while packing. Hat/Cap, Sunscreen, and Sunglasses
Another important thing to carry with you is a hat/cap to protect yourself from the sun. Also, carry a good sunscreen with a high SPF value to protect your skin from UV rays.
A good pair of sunglasses will also be good to pack to protect your eyes under the harsh sun as well.
This is really important because otherwise, you might get a heatstroke on the hike. 1 Pocket Knife/Swiss Knife
Another important tool to carry with you on your hike is a pocket knife/swiss knife which can be quite handy on the hike. 1 Torch/Flashlight with Extra Batteries
Also, don't forget to carry a torch/flashlight with your extra batteries. It could be really helpful in exploring dark caves, etc. on your hike and can also be useful at night when you are traveling back home. Powerbank
Make sure you also carry a power bank to keep your phone charged up so that you can make calls or look at the GPS whenever needed. Reusable Water Bottle
Most importantly, carry a reusable water bottle of 2 L which you can refill on the hike.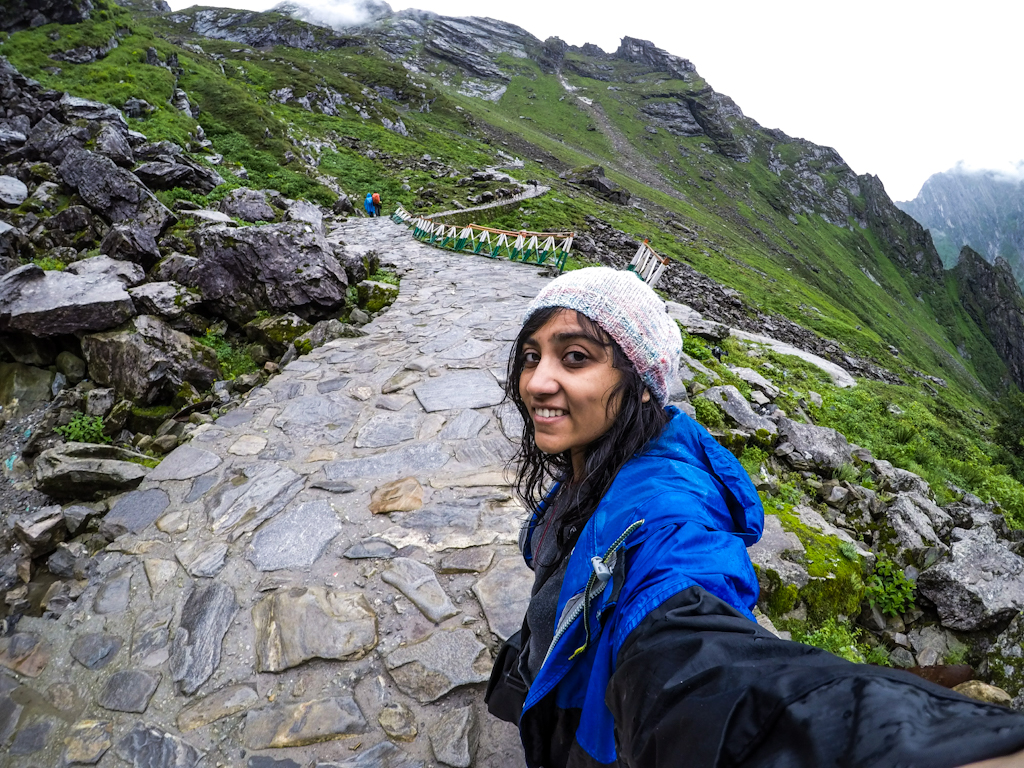 DCIM\101GOPRO\GOPR5290.JPG
List of Trekking Things to Take on a Weekend Trek
When you are on a weekend/2-day trek, you have to take all the Single-Day Trek essentials with you along with a few extra stuff. Here is a list of things that you would need apart from the above-mentioned things. 1 Small Backpack
For a 2-day trek, a small daypack won't be enough so you will need to carry a mid-sized backpack with you. It can be 30 – 50 L in capacity and should have several pockets and straps to store your items securely.
Also, make sure that it is comfortable for you to wear as you would be carrying it for 2 days.
So, don't go for a backpack that will turn out to be heavy or uncomfortable for you to wear. Camping Tent
Another important item to carry with you on a 2-day trek is a tent which will help you keep dry and warm on your trekking trail.
Make sure that you get a tent that is lightweight and spacious and easy to install. And do keep in mind the number of people who are going with you on the trek before renting/buying the tent. Sleeping Bag
You will also need a good quality sleeping bag to keep you warm and comfortable at night on the trek. Go for a down sleeping bag as it will be lighter, compact, and warmer. It will be costly but it will be good for long-term use.
Make sure you choose the appropriate degree sleeping bag to keep you warm during cold nights as well and try to avoid going for a warmer sleeping bag. 3 Pairs of Trekking Pants
Since you would be traveling for 2 days, it would be good to pack 2 pairs of trekking pants and wear 1 trekking pant at the start of your journey.
Make sure that they are quick to dry and waterproof so that you won't have to worry about getting wet on the trek. 3 Quick Dry T-Shirts
Similarly, keep 2 quick dry T-shirts and wear 1 at the start of your trek. Go for waterproof material as it will keep you warm and dry during rainfall as well. Multiple Pair of Socks
Also, keep multiple pairs of socks so that you can change if your feet are accidentally wet. Multiple pairs of socks will also come in handy if you are feeling cold and wish to warm up your feet. Sleeping Pants
Since you would be staying a night in your tent, you would also need a pair of sleeping pants to change into at night. Make sure that your pants are warm enough to protect you from the cold at night. Undergarments
Also, don't forget to keep an extra pair of undergarments in case they get dirty or wet on the trails. Maintaining your hygiene while trekking is equally important and shouldn't be compromised on. 1 Pair of Flip Flops
You can also keep a pair of flip-flops to roam around your campsite once you have reached your trekking destination. Quick-Drying Travel Towel
Make sure you also carry a quick-drying travel towel to dry your face and hands once you wash them. If you don't get a quick-drying towel, it will stay damp and make your other clothes and items damp too. Trekking Pole
While not always necessary, a trekking pole can be helpful on rocky terrain and can really help you move faster. It also helps your knees from getting a bad impact and can offer great support on rocky terrains. Hand Sanitizer and Soap
Make sure that you don't forget to pack hand sanitizer and hand soap with you on the trek. This will be essential to keep your hands dirt-free and bacteria-free when you are about to eat on the trek. Toilet Paper
Lastly, don't forget to take toilet paper with you on the trek. There is a low probability of finding a proper toilet on your trek so toilet paper is likely to come in handy.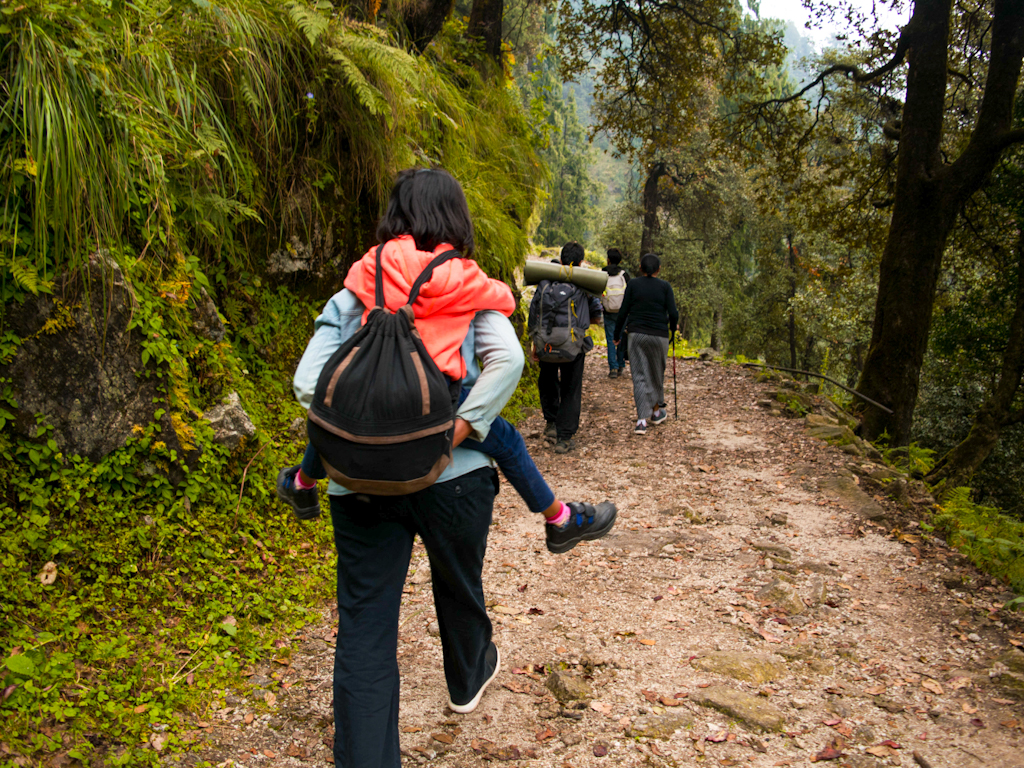 List of Trekking Things to Take on a Multi-Day Trek
Now, you will have to pack the above-mentioned things for your multi-day trek as well. Make sure that you increase the number of pants, t-shirts, undergarments, etc. for your multi-day trek. Keep at least 5 pairs of each item but don't overstuff your backpack.
Apart from those, here are a couple of extra items to pack when you are on a multi-day trek. Large Backpack
If you are going for a trek for 5 days or more then you would need a bigger backpack to store all your belongings. In such a case, a backpack with a 50 – 70 L capacity is a good choice as it would be comfortable to carry while storing all the essentials.
Don't make the mistake of getting a bigger backpack because it would be heavier too. So, try to stick to a 50-70L backpack and avoid overpacking. Stove and Fuel
If you are just taking a guide with you on the trek and not a cook then you would also have to cook your own food on the trek. For this, you would need to pack a small stove and some fuel to cook basic items like soups, oatmeal, Maggi, etc. Bowls and Utensils
Apart from the stove and fuel, you would also need a few cups, bowls, etc. in which you can consume your prepared food. So, everyone trekking should carry 1 bowl, 1 cup, and 1 spoon with them.
And don't forget to carry a small dishwashing soap to clean your utensils once you are done eating so that you can reuse them. Compass
Another important thing to carry with you is a compass so that you have an idea of where you are going. Water Purification
And lastly, take some kind of water purification so that you don't have to struggle to find clean drinking water. This will allow you to drink from streams, waterfalls, etc. without thinking twice or falling sick during the trek.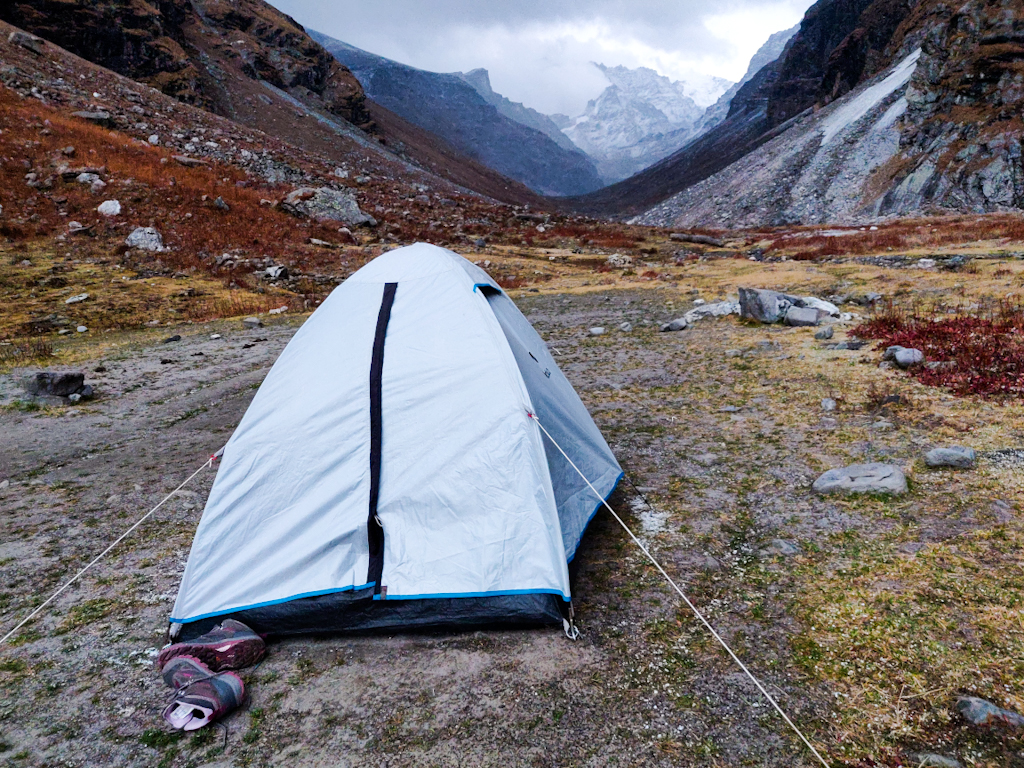 Conclusion
Honestly, it is easy to pack for your trek once you have researched properly about it. This gives you an idea of the kind of clothes and equipment you would need on the way. And once you have an idea, you can refer to this guide and pack for your trek accordingly.
One main thing to remember while packing for a trek is not to overpack and keep your backlight so that it is easier for you to carry. I hope this guide on trek requirements helps you pack properly for your upcoming trekking adventures.