Manali to Spiti Valley – Most beautiful road trip in India
The journey from Manali in Himachal Pradesh to Spiti Valley - the cold desert mountain near Tibetan border is one of the most beautiful road trips in India. Let's take this amazing journey. The post Manali to Spiti Valley – Most beautiful road trip in India appeared first on A Walk in the World.
Ever wondered about the most beautiful road trip in India? For me, it's from Manali to Spiti valley. Let me tell the story and share the photos of the journey to convince you for visiting there.
Prelude
I love India!
I am extremely fortunate of exploring 13 Indian states and territories out of 36, it's not exactly a third of the country, however still fair enough to get a good feel of it. India never fails to amaze me with everything it has to offer – it's sheer diversity, varied landscapes, mind-blowing cultures, and interesting histories.
This time, I planned to visit places in India adjoining the Tibetan border. These places are, without a doubt, the remotest areas not only in India but in the world and therefore I was unsure of what to expect. Now that I often go down memory lane and contemplate, I can guarantee you that the expedition from Manali to Spiti Valley is a once in a lifetime experience – it was hypnotically gorgeous, jaw-dropping, and equally thrilling through a never-ending series of winding roads.
Where to start the journey?
I started my quest from Manali, a major city of Himachal Pradesh, which itself demands to be one of the key attractive tourist destinations in India. People visit Himachal Pradesh to enjoy its snowfall during winter and spend time in the mountainous scenery. Interestingly, my journey started where most people finish their trip. My aim was to go as far as possible in the Spiti Valley.
An unfortunate event followed by a deception
Manali is far from Delhi, the capital of India. 550 KM in rough and winding roads in raw, mountainous terrain is not a child's play. So, I decided to split my journey. First, I took a flight from Delhi to Kullu with a stopover at Chandigarh. The distance to travel from Kullu to Manali is merely 40 Kilometers. One can use a taxi or a bus to reach Manali from Kullu airport. My intention was to avoid any inconvenience that might occur during a road journey, especially in the early stage of my travel. However, my flight from Chandigarh to Kullu got canceled due to unavoidable weather issues. Interestingly, later I came to know that flights from Chandigarh to Kullu get canceled more than it serves.
This was a nasty blow since I had no spare time in my trip plan. Manali is about 300 Kilometers from Chandigarh. Since there were no other flights for me, I left the airport immediately, and decided to take a taxi; destination – Chandigarh city center. But it was not easy to get a taxi to Manali. After offering exceptional tips and deciding to go way over my budget, I found Ravi, an enchanted conversationalist and experienced driver for the trip. He agreed to take me to Manali and impressed me within a short time.
On my way, I asked him if he took passengers to Kaza in Spiti valley before. Unlike a proper route, driving in Spiti needs a specialized skill set. Due to poor marks on winding roads, one must know the route well beforehand. Ravi assured me that he had been to Kaza many times and I trusted him (and I had to regret my immature trust later). In addition, he had a sedan with an engine capacity of less than 1200 CC. As you continue to read, you will realize how it shaped the course of my journey.
Stopover in Manali
I arrived in Manali at 11 at night and stayed in the subsequent night, too. Manali is a quaint little town surrounded by mountains. This beautiful place attracts a lot of visitors throughout the year. I spent a fantastic day in Manali before starting my journey to Spiti valley.
The journey from Manali to Spiti Valley
Day 1
Manali to Rohtang Pass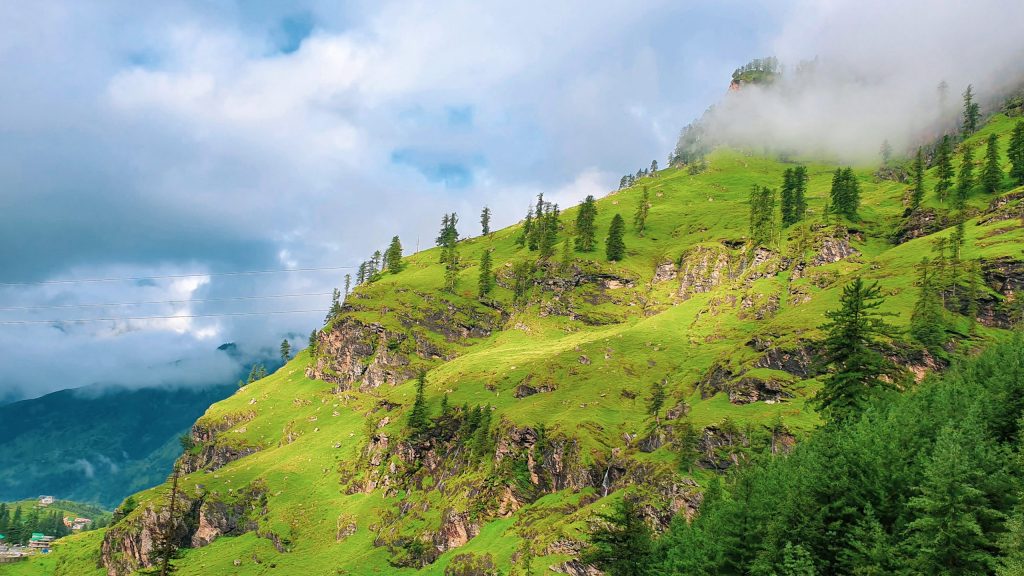 When the sun shines in the morning, the heat melts ice at a higher altitude in mountains. The melting ice comes down below and creates quite a heavy water flow that is difficult to cross using a sedan. This was beyond my imagination despite the fact that I read about them before. One way to avoid the steams is to pass them before the ice starts to melt. So, we started the journey before 7 in the morning. The road was in good condition in the beginning. It was a treat to lay my eyes outside of my window. The lush green mountain dotted with sporadic trees on one side of the road made the view nothing short of fabulous. The patches of clouds were dancing all around. Close enough for alluring to catch them, far enough to reach out.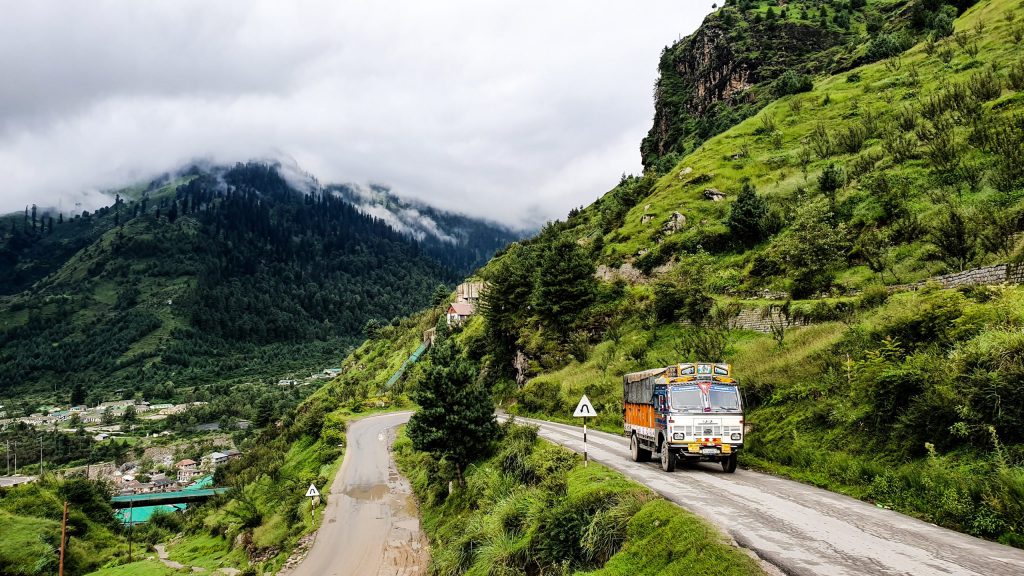 After a half an hour journey, I started to see the rough patches on the roads, full of wear and tear. Heavy trucks that were operating there could be the key reason for such rough patches. The aspect of our journey changed. Rather than continuing straight, the path started to wind. At times, some of the bendings was so sharp that Ravi had to be very careful with his steering to remain safe.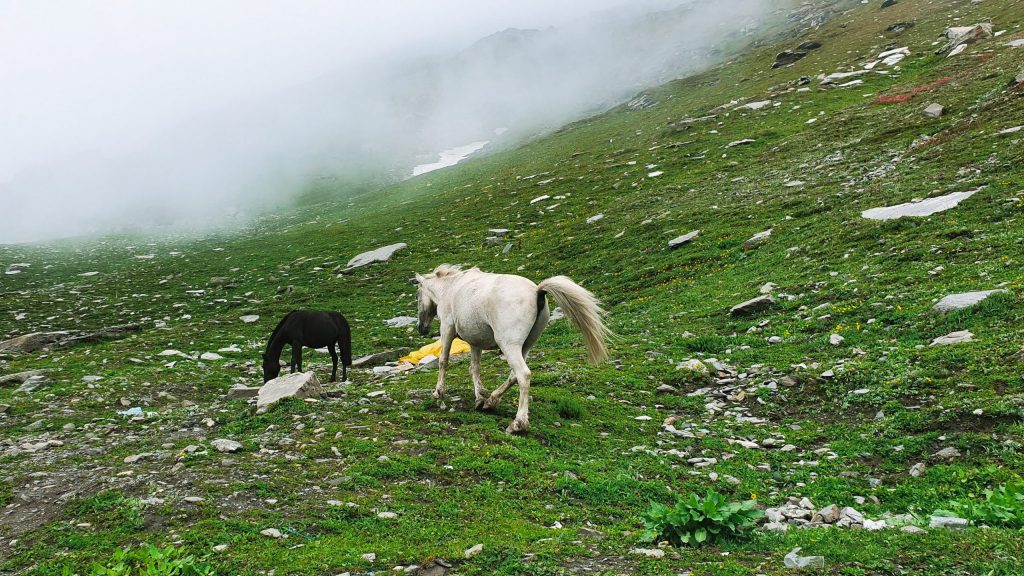 We reached Rohtang pass, our first major stop for the day in three and a half hours. It is a high mountain pass on Pir Panjal Range in the Himalayas. Many tourists visit Rohtang pass at an elevation of 3980 meters (13058 feet) to experience snow. It's a place where you get to see ice almost round the year. One needs a permit for visiting Rohtang Pass. You can avail of it online from six days before departure. This is to reduce the congestion on road and restrict the number of tourists from gathering there. Make sure to take a print out of the copy of the receipt, as without it you can't visit Rohtang.
You can find a huge placard cemented there permanently welcoming you to the Rohtang Pass. Almost everyone was taking a picture in front of it. I did not find it interesting. So, I strolled around and met these beautiful horses playing in the valley amidst clouds just opposite of the street.
Rohtang Pass to Gramphu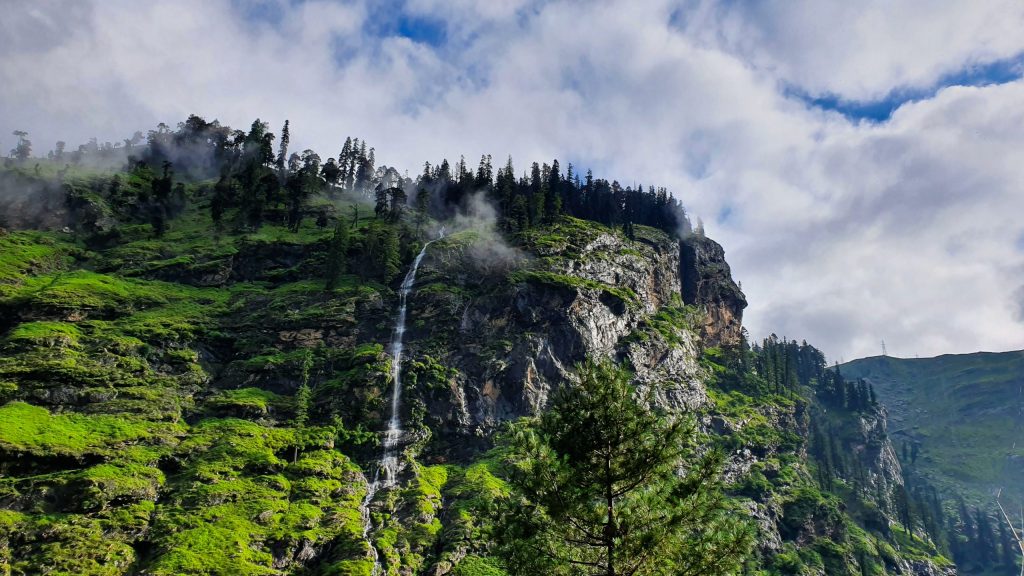 After spending half an hour in the Rohtang pass, we resumed our journey. As the car was moving like a roller coaster, I was dancing towards both the windows to enjoy mesmerisingly beautiful natures and taking photos from the car. The toughest part was to focus on an object through my camera. Where should I? To the gigantic vista? Or to the myriad waterfalls? Or to the cloud? Or on the ever-changing road?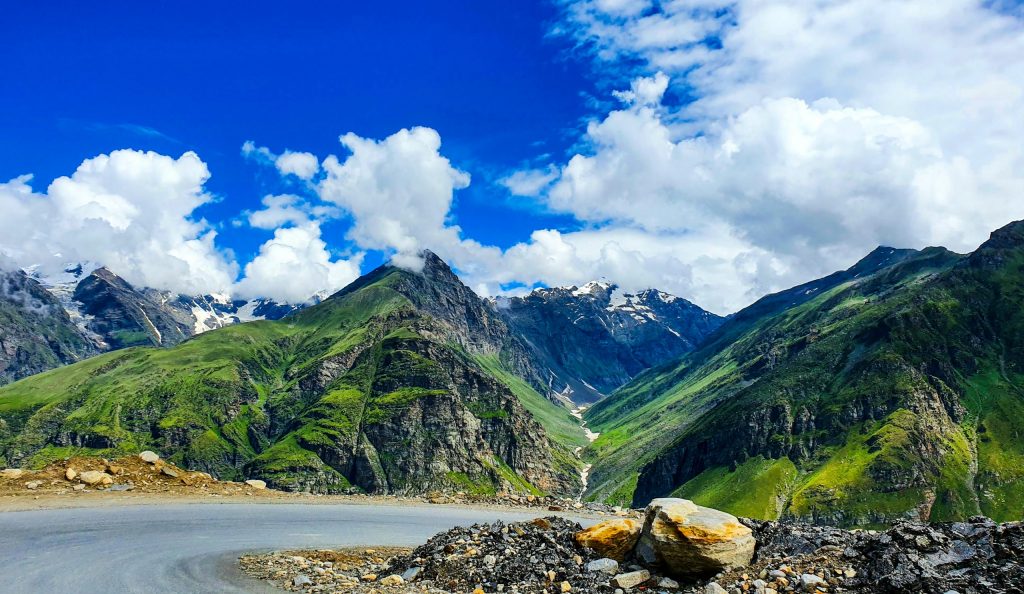 I asked Ravi to stop the car several times to take photos. But I realized that, if I want to take photos of all the beautiful places on the road, we cannot reach our destination in a week. I wouldn't mind going slowly; however, there were not too many places to spend the night, and we were not carrying any tents either. So, I put a brake on my wishes.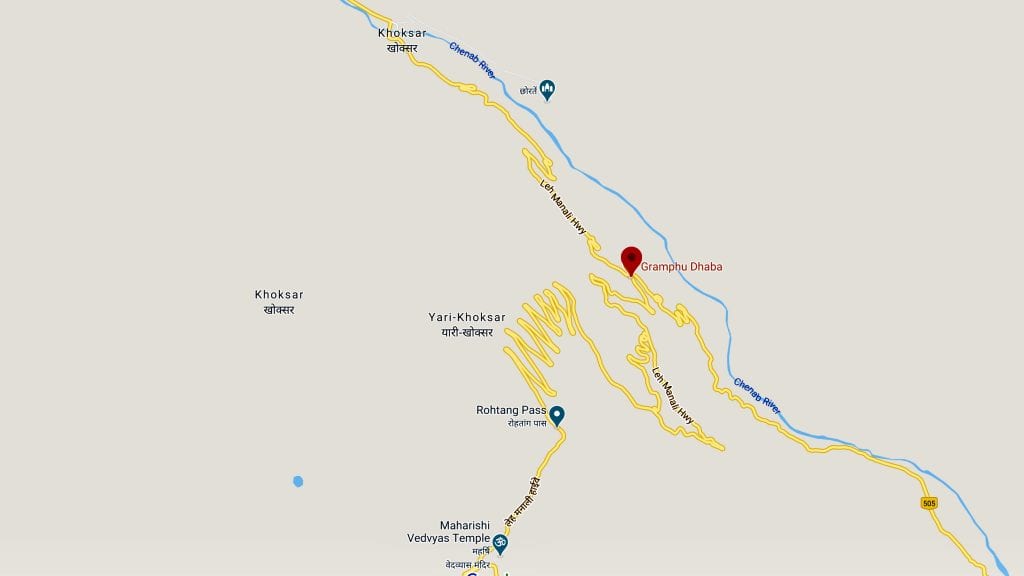 From the Rohtang Pass to Gramphu is a short leg of the journey which took only an hour. So, what's the significance of Gramphu? When you come to Gramphu, you have to make the toughest decision of your life! Zigzagging through the road, when you arrive there, you will notice the roads going in two different directions. One will take you to Ladakh (the northbound road), an amazingly beautiful place. The other road to the south which we chose will take you to Kaza, which is an unforgettable and once in a lifetime experience. You can't possibly go wrong choosing either of them. If I went towards Ladakh, the journey would have been equally beautiful.
Gramphu To Chhatru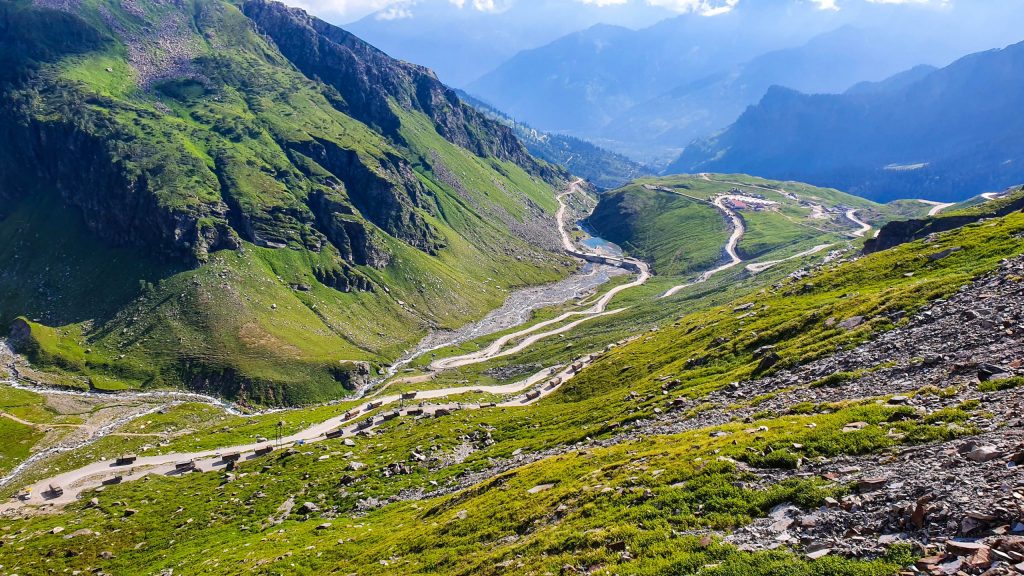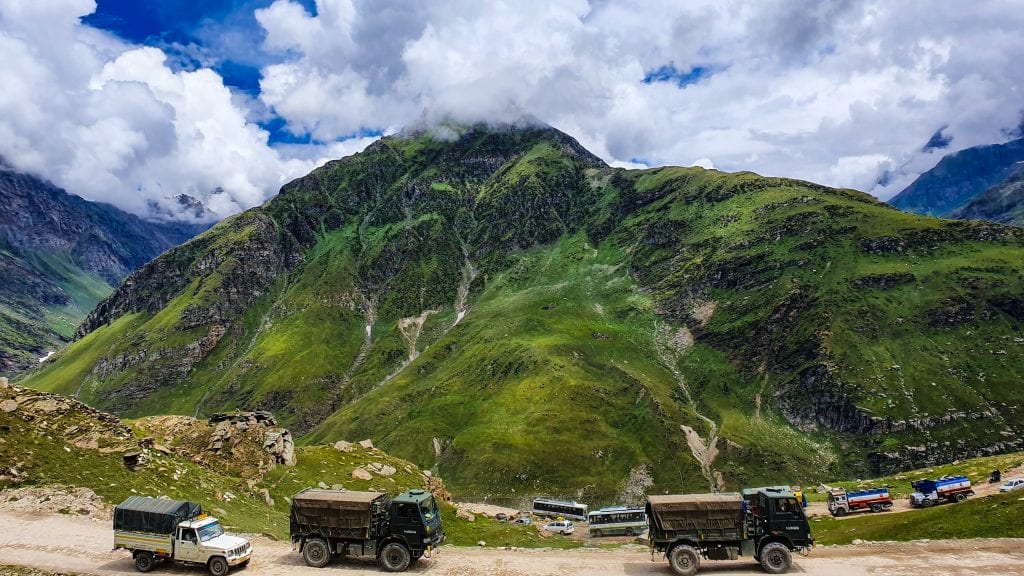 The roads started getting worse as we continued along the way. The smooth road turned greyish with soil and stones. The layer of roads added a different dimension to the journey. One single mistake from any of the drivers can wreak massive havoc. The truck drivers must be extremely competent to control the fully-loaded vehicle on such a difficult road.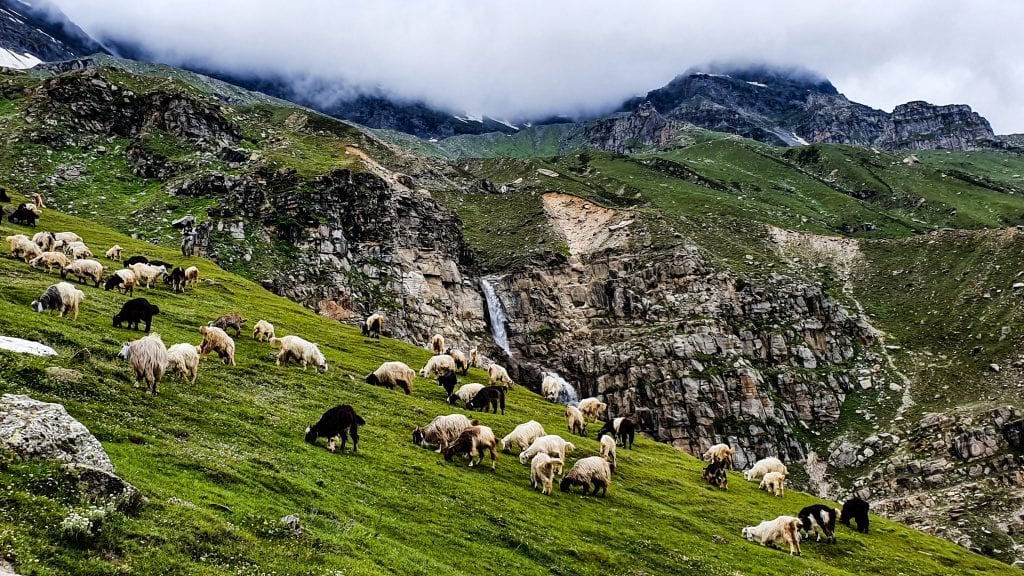 I could not help stopping in an unplanned place. The purpose was not only to enjoy the beauty of the surroundings from outside of the car but also to provide my driver some rest. I ascended a slope during the break. A cluster of sheep was gazing in a jaw-dropping magnificent backdrop. I sought for the source of a thundering sound somewhere and discovered a waterfall in the distance.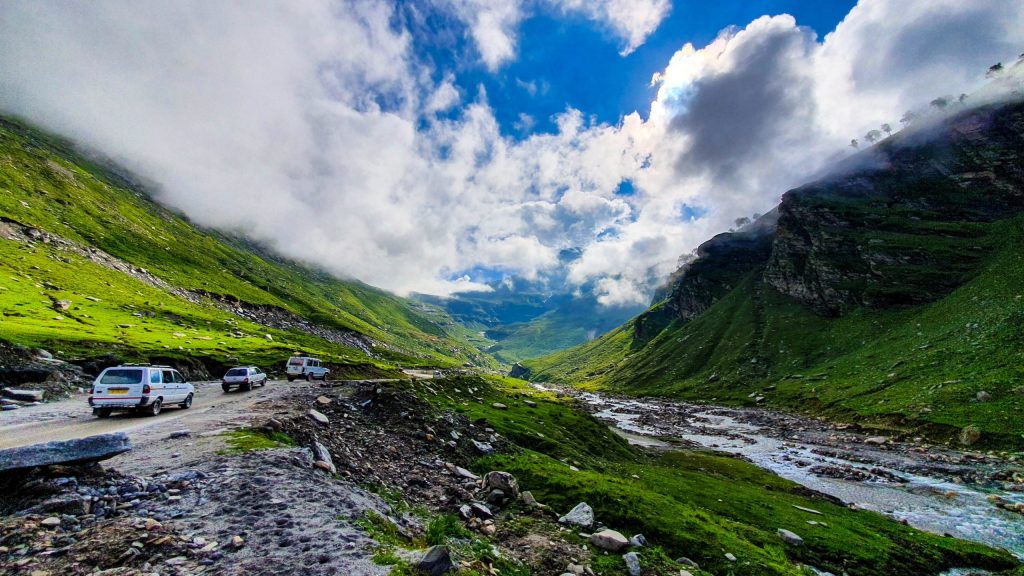 The Chenab river with the thunderous flow was guiding us. As long as my eyes stretched, I enjoyed green valleys. Although there were green meadows, the lack of trees amused me. Green grasses, enormous stones, and wildflowers made most of the vistas. These were different from what appeared several hours back.
Chhatru To Batal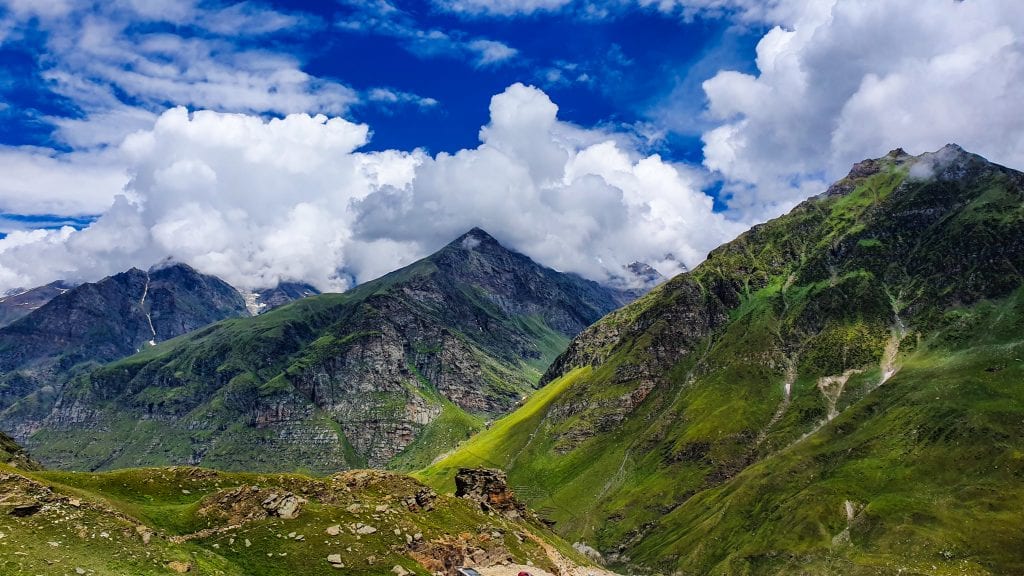 Chhatru is a small village and an important checkpoint. Here, foreigners require stopping and show their passports. The officials in the post record the name and passport number on a paper-based registrar. There are some small restaurants to grab some food. I did not want to miss this rare opportunity during the journey. I had hot Maggi instant noodles from a limited option of food choices. Apart from Gramphu and Chhatru, we did not notice any place with a name. You won't encounter any homes or lives apart from the travelers. It was only the infinite vistas of nature.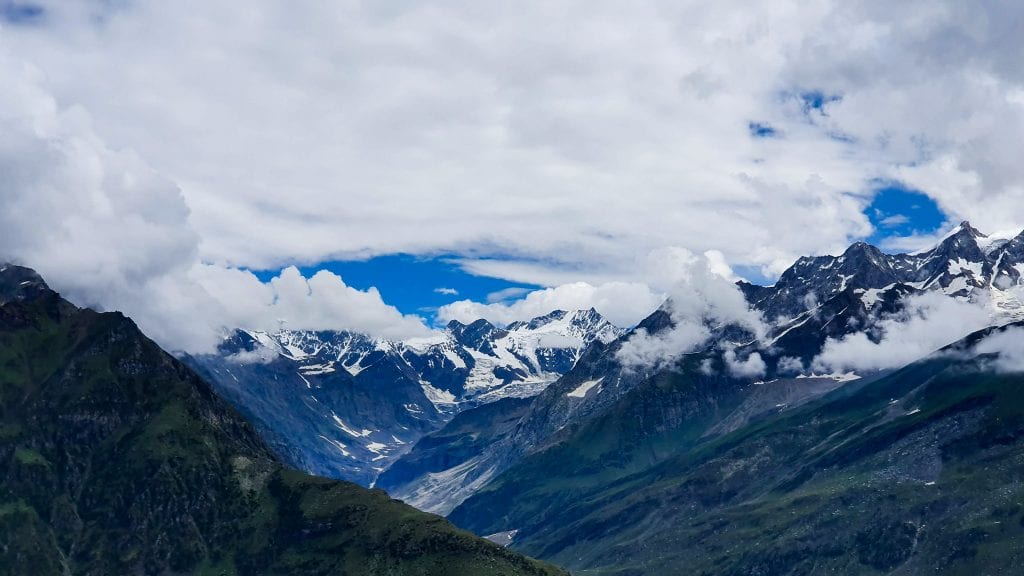 I got a glimpse of snowcapped mountains suddenly. It was difficult to distinguish between thick clouds and snow. It seemed unreal; Rather, it looked just like an oil painting by an outstanding painter. Ravi played Punjabi songs in the car in a loop which sounded kind of amusing to my ear. I memorized the lyrics of those foreign songs, almost!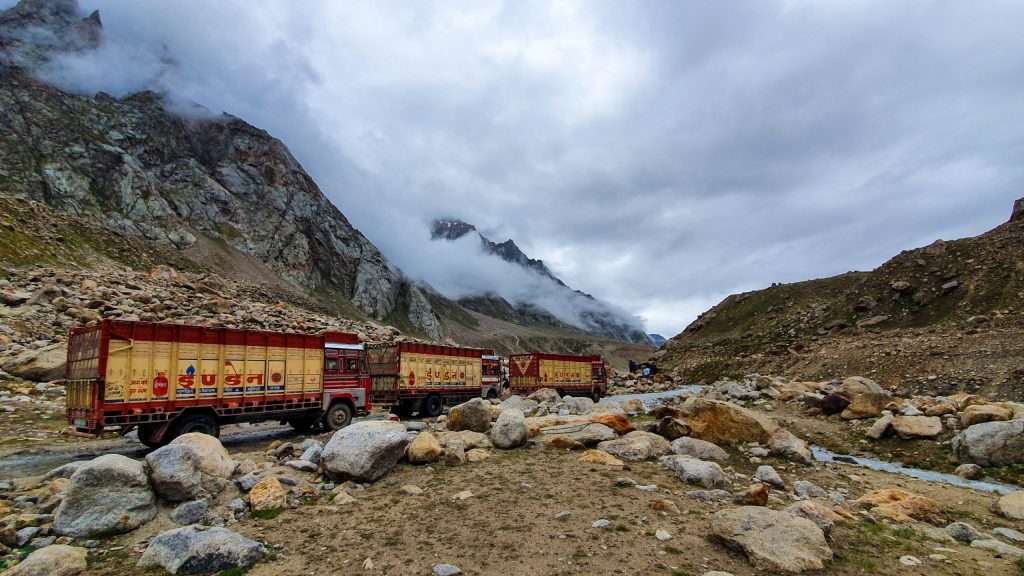 As the evening neared, I identified three important developments in our course. The brownish shade around was slowly but steadily taking the place of greeneries. The road became almost nonexistent; it changed into a trail of dirt. Thirdly, the thawing snow from the higher altitude developed a powerful flow of water (locally known as nullahs) on the road. It was becoming difficult for the vehicles to cross those streams which were accompanied by massive rocks. That's where the engine strength of vehicles came into play.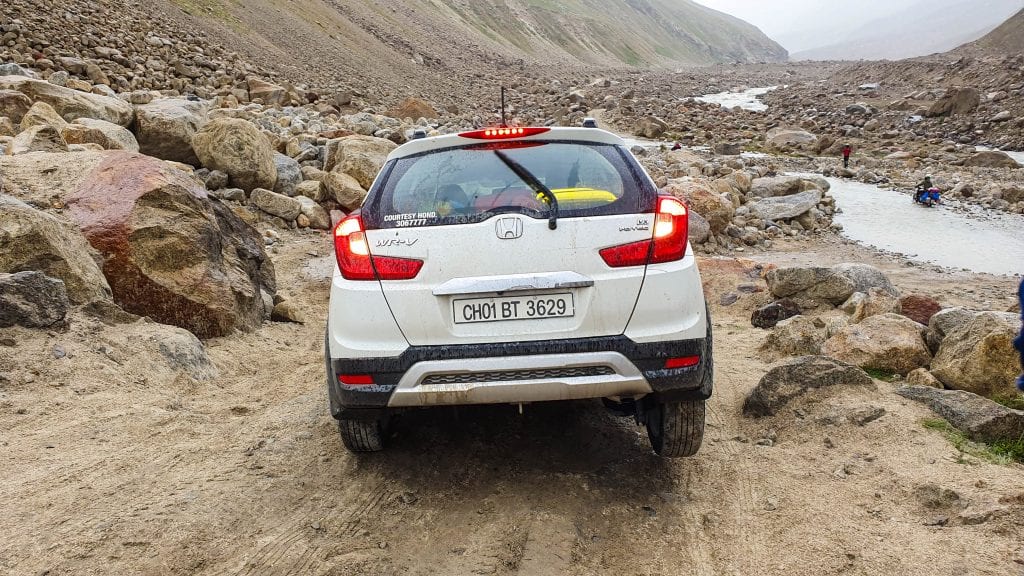 While the tracks, 4WD or SUV crossed the streams with their added fizz, our little sedan got stuck on a rock. The maximum energy revolved the wheels vehemently in vain – it jumped up rather than moving forward. I grasped at that point that Ravi lied to me about taking his car to Spiti valley before. An 1199 CC Honda WRV was simply no good at this situation of the road, it looked like a worthless toy there. Everybody on the road slowly appeared to curse me for committing such stupidity and blocking their way. But how would I know? I trusted a driver in an unknown place and relied on his words when I hired him from Chandigarh.
I pushed the car from the back. Several of the fellow travelers joined. Although the car successfully moved from that place, at last, it was not good enough for passing over the stream. We got stuck again.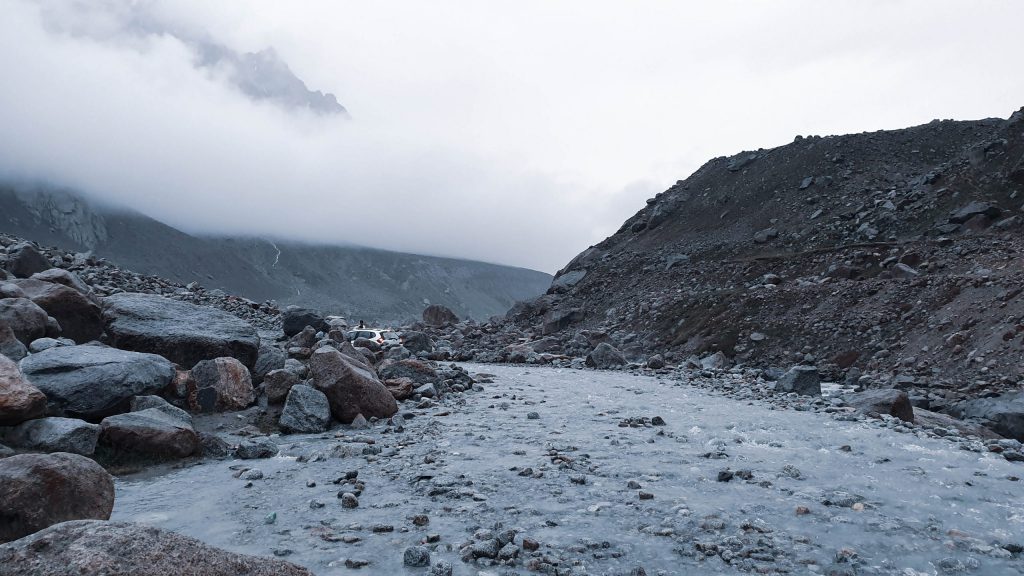 Darkness loomed, and our destiny was becoming dimmer with every second. I never thought that such a bright colorful day would turn into a grey helpless affair. I seated on a stone, shivering in the cold. Earlier, I tried to push the car from behind in a desperate move, surging into the water. I underestimated the coolness of the stream. Given a chance, I would exchange it by sticking my foot on a sharp knife. There was no village in the proximity, there was no shelter to take around, we were not even carrying any food with us. We did not have any way to move forward; we did not have a way to turn backward. I submitted myself to my fate.
Suddenly, this wonderful piece of the yellow crane came to our relief. These cranes work to remove ice from the streets and help construct roads. Someone who crossed us before realized our situation and dispatched an SOS to it to rescue us. I was still doubtful if it had the strength to move our car. But it was a monster. It dragged the car out of pitfall in 2 minutes. I had not felt so happy and relieved in a long time.
We resumed our journey. Kaza became a far-fetched dream at that point. We revised our target to reach the next likely place where we could sleep – Batal. My happiness ended shortly. We got stuck again in another stream. This time, it was pitch black outside and there was not a soul around. I became numb, could not even hold fury anymore towards Ravi for placing us in such a miserable state. I even lost my energy to curse my luck. I assumed that was it – I would see the end of my life tonight in the shivering cold.
We remained there for half an hour, doing nothing. In fact, we had nothing to do within our capacity except pray. Suddenly, we saw a slim light in the distance. A group of angels emerged from the opposite way. They were a group of 6 young folks getting back from Kaza. We blocked the road. They cannot move forward if we do not clear the road. We pushed the car all together for 10 minutes and after a lot of noises, whirling stones, black smoke from the exhaust pipe, we pulled out of trouble.
I didn't utter a single word to Ravi; I was only looking into the offline map of my mobile. Batal was nearby on the map, however, there was no sign of anything outside. It was so dark, I could not believe any village existed nearby! Eventually, we located a dim light and a campsite with several tents. We got lucky once again within several hours. There was a vacant tent, and I took it immediately. I was filthy after the long journey and drama. A shower would have been nice. But, where would I find a bathroom? I was staying in the vast openness.
My back was hurting like anything and I got feverish. I didn't want to get out of the tent in the cold; however, I was so hungry that I had to drag myself into another tent where they served food. I went to bed afterward without any further wait.
Day 2
Batal to Chandra Taal (Lake) to Batal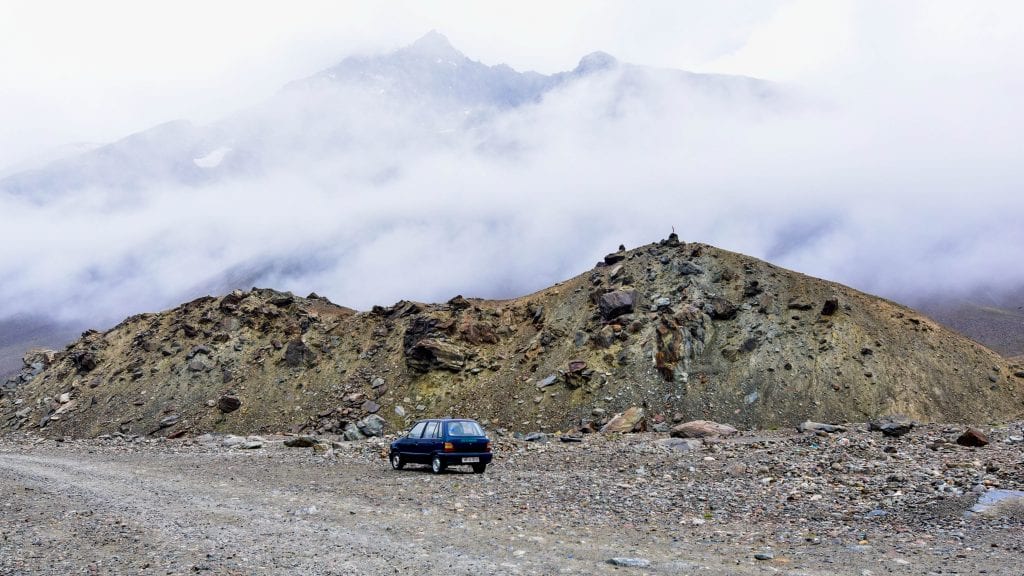 During the night, I did not realize what Batal looked like. When I came out of my tent in the morning light, dizziness gripped me. There was a snow-capped mountain within my reach. The arid landscape and tranquility were so different, it sent a shiver to my spine. My fever subsided, but the back pain persisted. The good news was, I got my fizz back and was feeling excited all over again. I planned something new while I was taking my breakfast.
A brief detour (12 KM) from Batal would take me to Chandra Taal, a beautiful high altitude lake. I did not want to take any risk of taking our car to Chandra Taal. So, I joined a group that was also visiting there in an SUV. The plan was to go to Chandra Taal and come back to Batal, where I spent the night, and start our journey towards Kaza again from there. In the meantime, Ravi came to me with a story and told me that someone sabotaged and leaked his tire. I asked if he could continue. In reply, he assured me that, by the time I would be back from Chandra Taal, he would have fixed everything.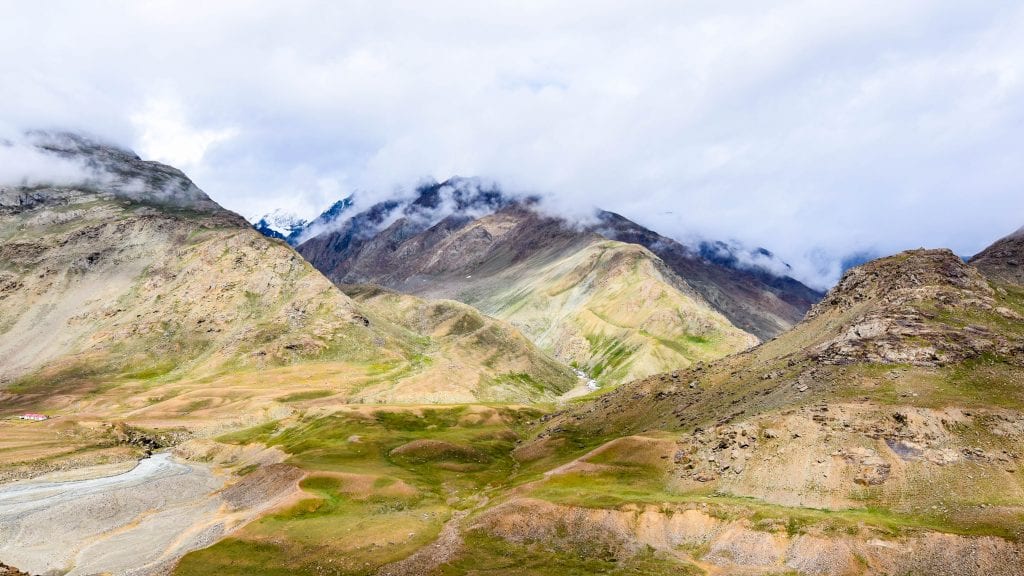 The road to Chandra Taal was astoundingly different from what I was used to seeing in my entire life. Before visiting Spiti Valley, I read the description of the valley as a "cold desert mountain" in different places. I did not realize what that meant before I saw this particular landscape. There was absolutely no trace of any vegetation, I did not see a single tree. All I could see was a wave of brown mountains, one after another. Although you don't see any snow here in the photo, it's only for several months. The rest of the time, it's covered in snow. It's cold! It's deserted! It's beautiful!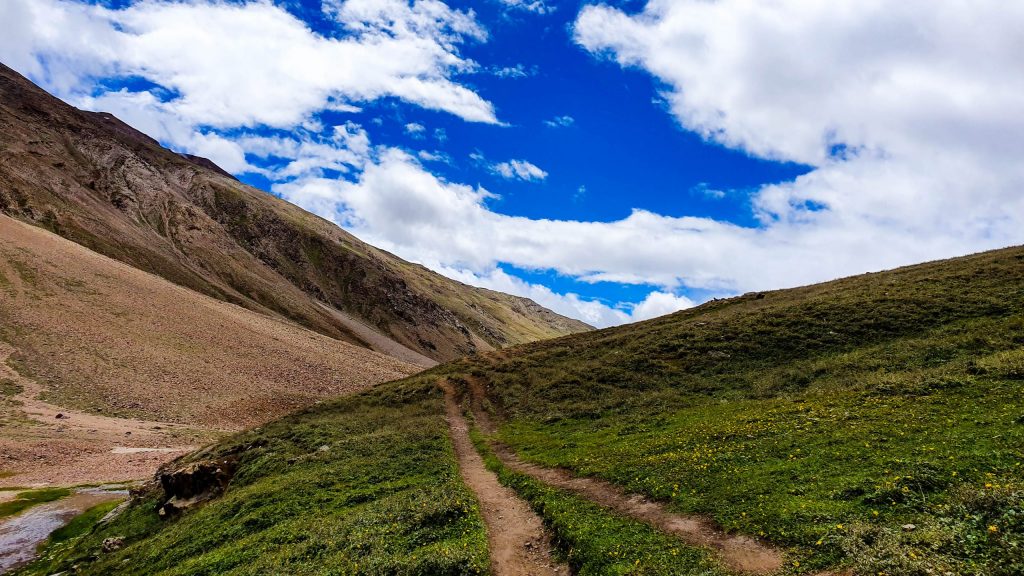 A car cannot take you to the lake directly. It would drop you off at a place 2 kilometers from the lake. About half an hour to 45 minutes of the hike will take you to the lake. Right at the starting point of the trek, you will find tents for rent. Tourists spend a night there before visiting the lake. I didn't see any point though, as you cannot see the lake from there.
The hiking was short but strenuous in the high altitude. There were paved marks, so you won't lose your way. I walked amidst green grasses and small yellow flowers. The blue sky and white clouds made the brown mountains prettier.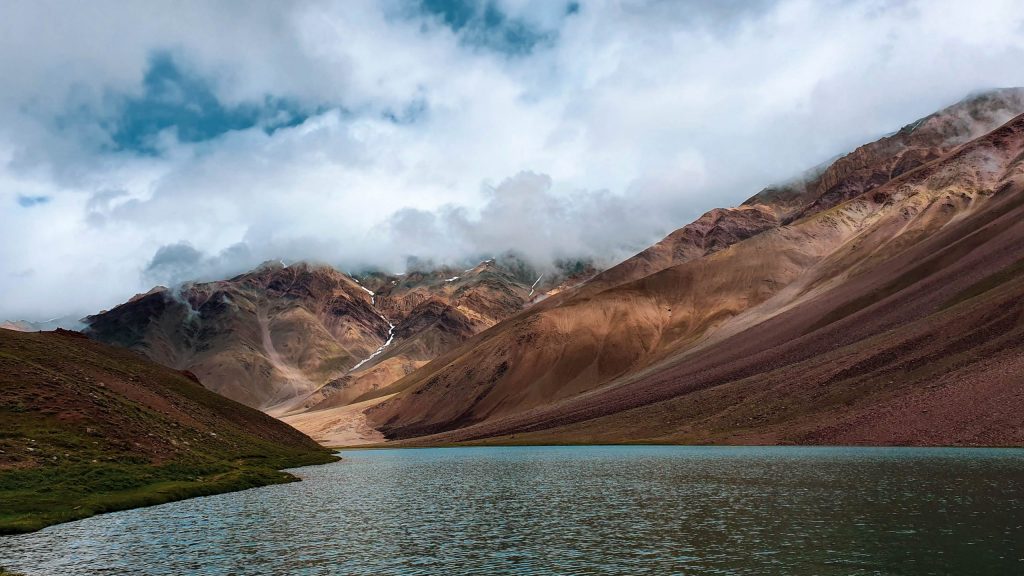 The Chandra Taal lake was spellbinding! It's at an altitude of 4300 meters. The oxygen gets thinner at that altitude. But it was not the lack of oxygen, but the beauty of it that took my breath away. The word Chandra means Moon and Taal means lake. As this lake is crescent-shaped, it's called Chandra Taal. I sat in a corner to savor every bit of its beauty.
Then I decided to take a walk. You can circumnavigate the whole lake if you want. I dived into moments of complete tranquility throughout the walk. The sound of the wind was the only sound I could hear, the vast meadows on the bank, and the reflection of mountains and skies on the lake was the only thing my eyes could take. It's got cemented in my brain permanently, and I hope to carry it with me for the rest of my life.
Batal to Kunzum Pass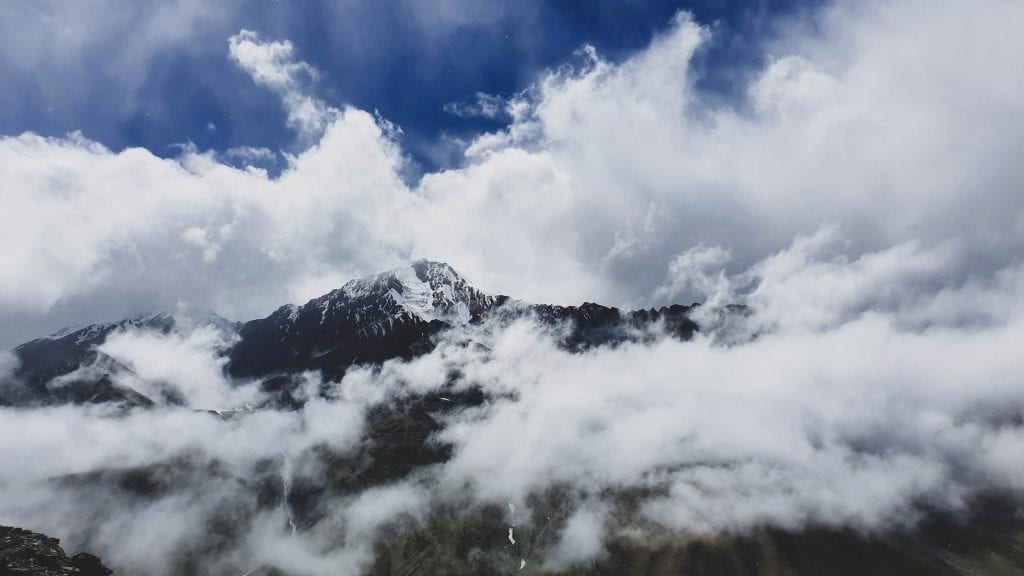 We came back to Betal and resumed our journey towards Kaza around 1:00 PM. My head was filled with the memory of my excursion to Chandra Taal, it was difficult to put aside my mind. However, when I looked out of my window, I saw a sea of clouds engulfing black mountains with white snow. I was happy. I was dreaming! Am I in the actual world?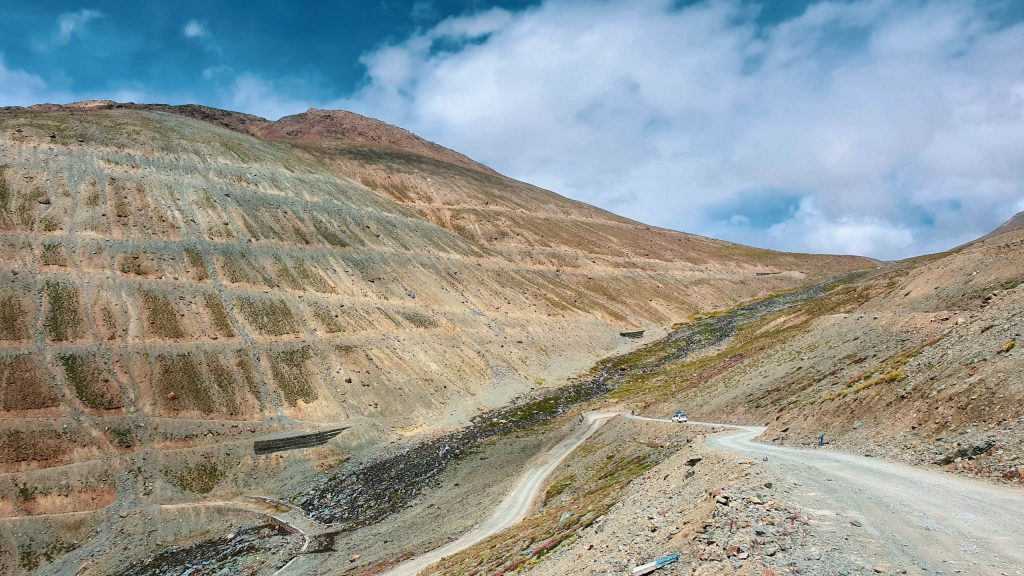 By that time, the road became almost nonexistent. All you can do is follow a trail keeping mountains on one side and a deep valley to the other. Our little toy was crawling, and every uphill journey seemed to be taking its life away. Suddenly, the nightmare came back – the noise of a burst, and Ravi could stop the car before losing control – just in time. The last thing we needed was a flat tire with no spare in the car. We got stuck again out of nowhere.
God smiled on me again. A bus appeared on the horizon, the only bus that ran between Manali and Kaza was coming towards my direction. I waved, jumped, and begged the bus driver to take me inside. I forgot about the full payment I gave to Ravi for the round trip before the journey started (The cost of trusting someone on the road). I didn't care that there is not a single vacant seat on the bus and ignored the fact that the isle of the bus was full of bags of travelers. All I wanted to do was to squeeze inside of its belly.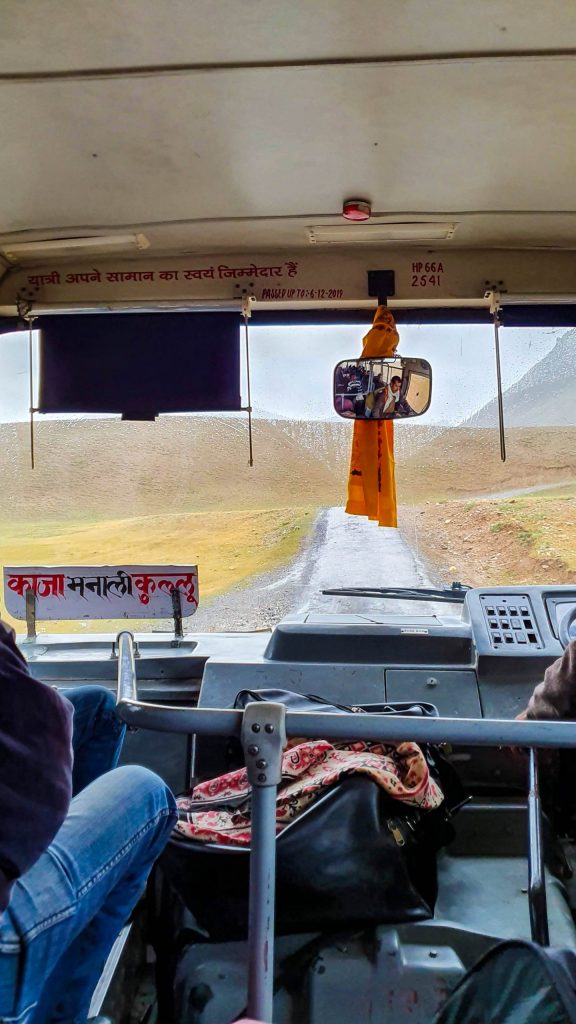 I was just happy to be inside. I didn't mind entertaining tons of questions from the curious passengers of the bus. It didn't matter much that it was a foreign language to me. I didn't complain about sitting on the floor of a cramped aisle on the bumpy road. I felt fortunate to get going.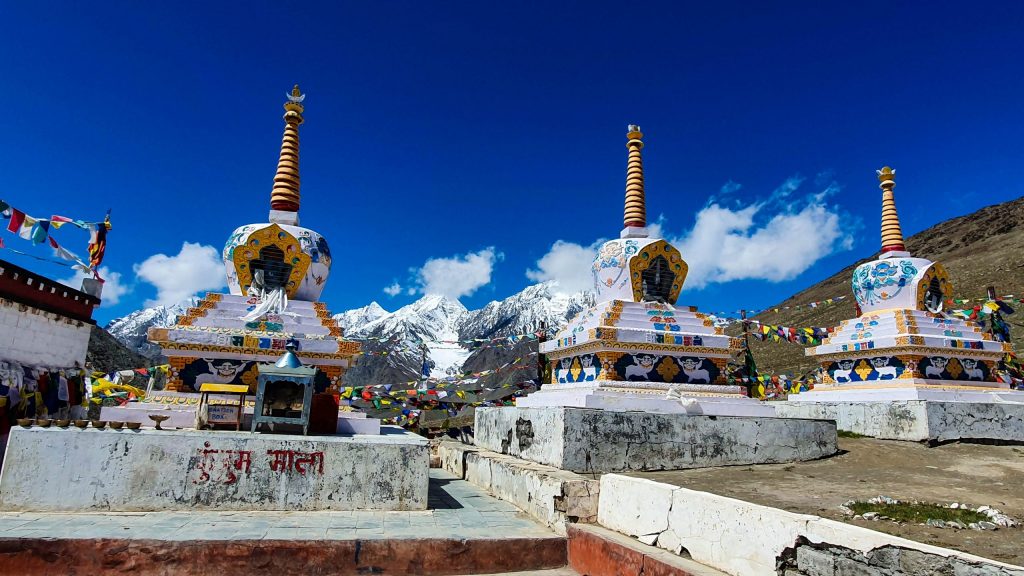 Within less than half an hour, the bus stopped at Kunzum Pass at an elevation of 4551 meters and gave me an opportunity to stretch my legs. When I trekked to Annapurna Base Camp, it was at an elevation of 4130 meters. I couldn't believe that I arrived more than 4500 meters on a motor vehicle. Some passengers offered prayers in the temple. Is it one of the most beautiful temples in the world? How many times did you find a temple in the backdrop of a snow-capped mountain range in a vast open area? I wanted to stay there. But my alluring journey continued.
Kunzum Pass to Kaza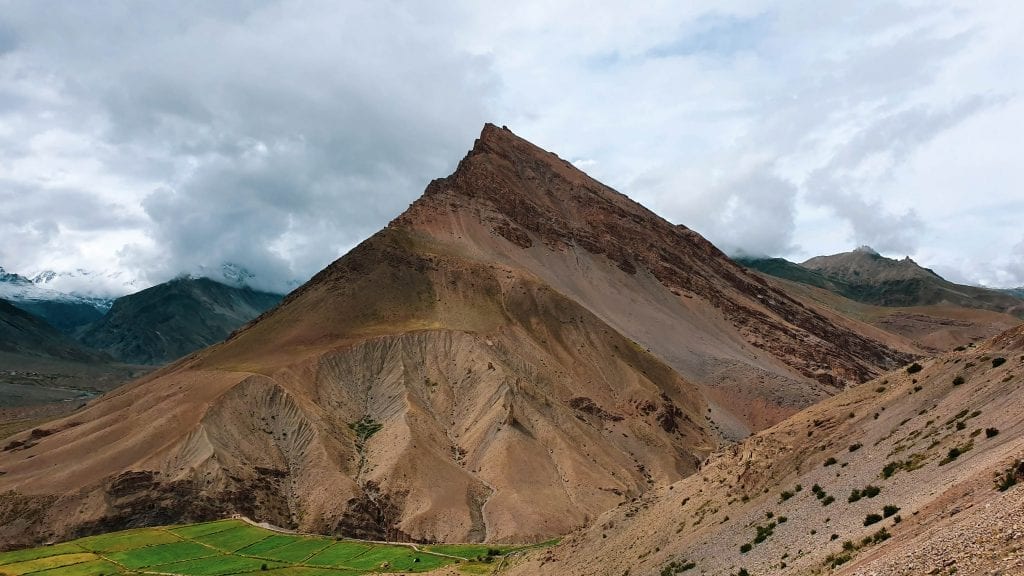 By this time, I was overwhelmed by the experience on the road. I learned a lot from this trip. I met Ravi, who apparently seemed a gentleman but tricked me. I gave him all the money as an advance for the entire trip as I entrusted him, and I regarded him as my companion. He later got vanished from Kaza and never showed up. He even didn't pick my phone since then. Because of that, I got cash strapped in Kaza. The solitary ATM booth there saved me from disgrace. I met kind-hearted strangers on the road who helped willingly and unconditionally to get me out of crises several times.
Hence, the last stage of my journey in Spiti Valley started. My story is ending as I was approaching Kaza. The road turned normal gradually. I lost the last bite of the cellular tower on my mobile phone. I was pondering how far have I come over the last few days, starting from my hometown of Dhaka. If I die here on the road now, I doubt if my body could be taken back to my country.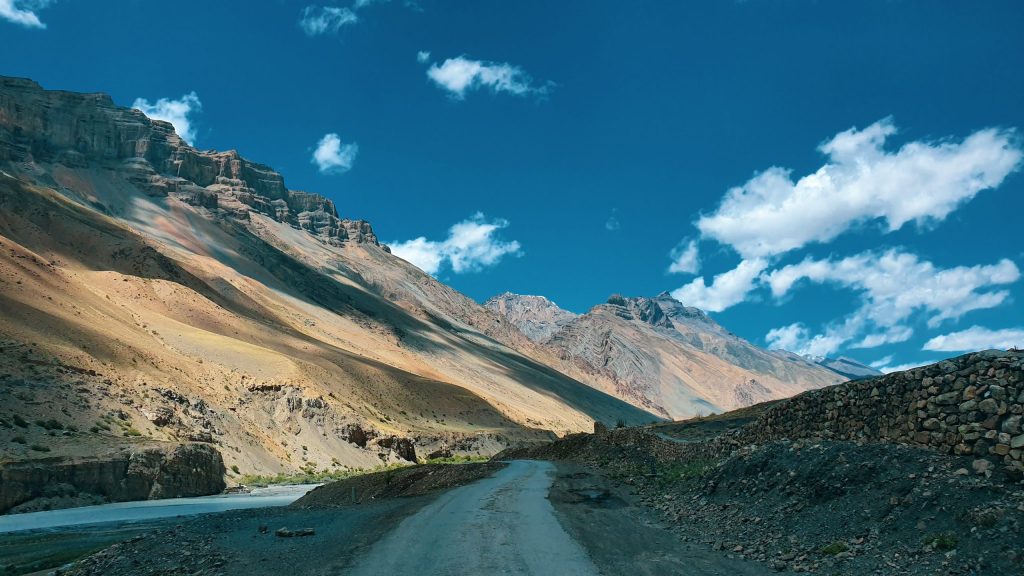 The very next moment, my thoughts were eclipsed by the mystic shadows in the remotest of mountains. I was not sure if it was a dream.
I felt fortunate to be born as a human, lucky to be alive, to enjoy this sheer beauty through my own eyes. It made me realize that, if you go out, you will find places on earth beyond description. I believe that the human mind is the most powerful thing in the universe and the imagination of the human mind is the most extraordinary part of it. However, the journey I took from Manali to Kaza exceeded all my imagination. It was not only an exploration but an experience I would cherish for the rest of my life.
Read 7 days of unforgettable itinerary for Spiti valley
Important information about the Journey between Manali to Spiti Valley
Where is Kaza?
It's a town in the Western Himalayas. Many call it Kaze. This is the subdivisional headquarter of the Spiti Valley, which is a remote place in India bordering Tibet. You will find similarities with Tibet in several aspects – religion, cultures, terrain, and weather.
How to go from Manali to Kaza in Spiti Valley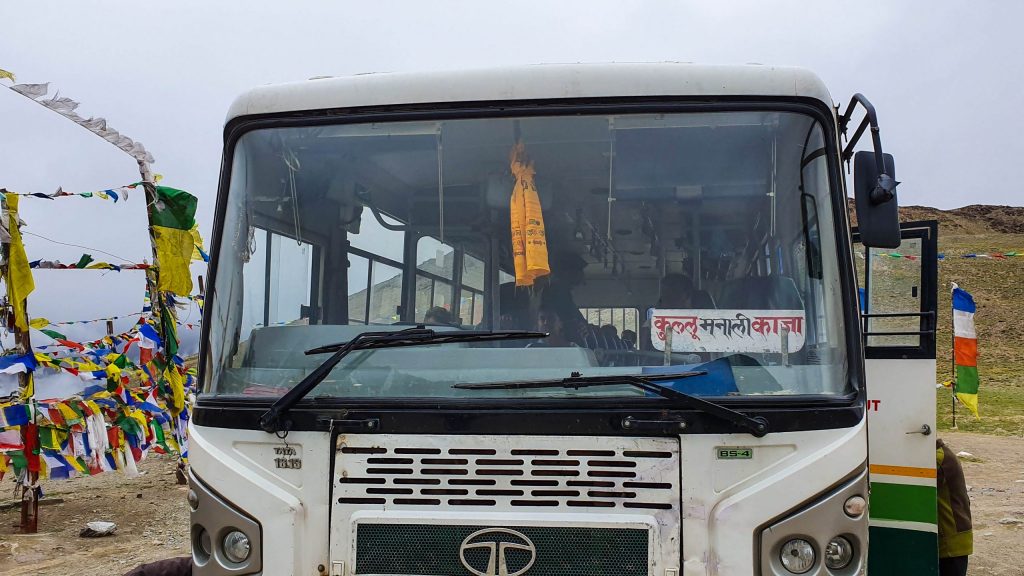 A Government bus runs every day from Manali from mid-June to mid-October. You will get it from the Manali bus stand. Be there before 5 in the morning. This is the cheapest way, will cost you less than US$7. This is the official site for buying a bus ticket.
Hiring a 4×4 vehicle. It will cost you more than US$150 but will give you the freedom to stop taking photos whenever you want to.
If you are brave enough, renting a motorbike is an option. I crossed many bikers on the road with Royal Enfield.
Alternate route to Kaza
Rather than going from Manali, you can also make the journey from Shimla. It's a different circuit altogether, takes 2 days to complete the trip. The views are different, too. Many people do the whole circuit, starting from Manali and ending in Shimla via Kaza. If you are a foreigner, you need to take a special permit from Kaza to continue your journey towards Shimla.
Distance from Manali to Kaza in Spiti Valley
202 Kilometers/125 miles
How much time does it take from Manali to Kaza?
10 to 12 hours at least. It took me 2 days!
When is the best time for going to Kaza from Manali?
This is not around the year destination. The high passes of Rohtang and Kunzum remain closed because of heavy snowfall during winter. Before starting your journey, you need to make sure that the roads are open. During summer, from July to October, is the best time for visiting there.
Tips for Visiting Spiti valley from Manali
Never, ever take a sedan there. Look out for an SUV. You can take a bus, too.
Forget about the internet in Kaza, the only mobile network that works in patches is BSNL. So, take your preparations accordingly.
Take proper clothes, otherwise, it will bite you back.
Take some food and water with you, you never know what's waiting for you on the road
Don't miss paying a visit to Chandra Taal lake, even if it means extra time and money
The road and Kaza itself are in high elevation. You should take some time to acclimatize to the thin air.
Hire a vehicle with a number plate starting with HP. HP means Himachal Pradesh. If you don't do this, you might face some coldness from the people around you.
Rohtang pass remains closed on Tuesday, so, make your plan accordingly.
Loved the Journey from Manali to Spiti Valley? Pin It!