India to Cambodia 2 Weeks Itinerary: Budget Trip in 34,000 INR (Including Flights)
Are you planning a South East Asia trip soon? Will you be visiting Cambodia as well? If yes, then here is the perfect India to Cambodia itinerary to make the most of your time here. This was my first solo international trip and I have the most wonderful memories of this vacation. From meeting amazing […]
Are you planning a South East Asia trip soon? Will you be visiting Cambodia as well? If yes, then here is the perfect India to Cambodia itinerary to make the most of your time here.
This was my first solo international trip and I have the most wonderful memories of this vacation. From meeting amazing people to cycling around Angkor Wat, I made the most of my 12 days in Cambodia.
So, if you are also planning a short trip to this amazing country, there here is my India to Cambodia itinerary in which I covered most major places like Siem Reap, Koh Rong, Phnom Penh, and more.
India to Cambodia 2 Weeks Itinerary
Day 1: Arrival in Kuala Lumpur
I began my India to Cambodia journey by taking a flight to Phnom Penh from Hyderabad. My Air Asia Flight cost me 16,000 INR approximately for a round trip and had a layover at Kuala Lumpur.
Day 2: Kuala Lumpur to Phnom Penh to Siem Reap
After 10 hours, I finally landed in Phnom Penh and got my Visa (Indians can get Visa on Arrival in Cambodia) in just 20 minutes. The cost of a Visa on Arrival is 30 USD and you can stay for 30 days in the country.
You just need to fill out the Visa form and give them your passport, 2 photographs & 30 USD (2400 INR).
Note: You can get the visa extended for another 30 days in Phnom Penh for an additional 25-30 USD (2000 – 2400 INR).
After completing the immigration process, I left the airport to reach the city center. The bus stand is just outside the airport and you get a bus to the city once every 20-30 minutes.
From Phnom Penh, I took a night bus to Siem Reap that took around 7-8 hours and cost around 8 USD (640 INR). I booked most of my buses and ferries from either Bookmebus or Camboticket.
Since I had 2-3 hours to pass before my bus departure, I just walked around and explored the nearby places. It was raining constantly so I didn't see a lot of people on the streets. But, there were a lot of food stalls and shops open.
I had dinner at one such stall where I tried a Cambodian noodle soup named Kuy Teav which cost me 1.5 USD (110 INR). The dish was a type of broth and was quite filling and delicious. After that, I made my way to my bus stop and headed for the famous city of Siem Reap.
Day 3: Floating Village Tonle Sap
The next day early morning, I reached Siem Reap. From the bus stop, I walked to my hostel which was only a 20-minute walk.
In the afternoon, I opted to take the Floating Village (Tonle Sap) tour which starts at 2 p.m. This guided trip cost me around 18 USD (1500 INR) which included to and fro transport from my hostel and the boat ride.
This was the first time I was ever seeing a floating village so I was pretty excited about it. On the way to the village, I made friends with two Malaysian sisters who were traveling together.
The floating village itself was quite mesmerizing and the blue sky only further added to its charm. This is supposed to be an amazing place for sunset but unfortunately, the clouds covered the sky so we were unable to watch the sunset. However, I had a great time just looking from the root of a floating restaurant.
Once I got back, I figured I'll check out the Night market which was barely 1 km from my hostel. So, I walked and was blown away by all the pretty lights.
I also had another new dish in one of the food stalls here: Duck's egg and spring roll which cost me 1.5 USD (110 INR).
Then, I roamed around a bit and came across Siem Reap Pub Street. This is a really happening place and if you love partying then this is the perfect spot for you. I had no idea that Cambodia is such a party place but this country kept surprising me with its wonders.
However, the most amazing thing I found here was Pancakes Rolls which cost me just 0.75 USD (55 INR). They were so damn delicious that I kept going for more every day. You guys have to try it when you are in Siem Reap, they are to die for.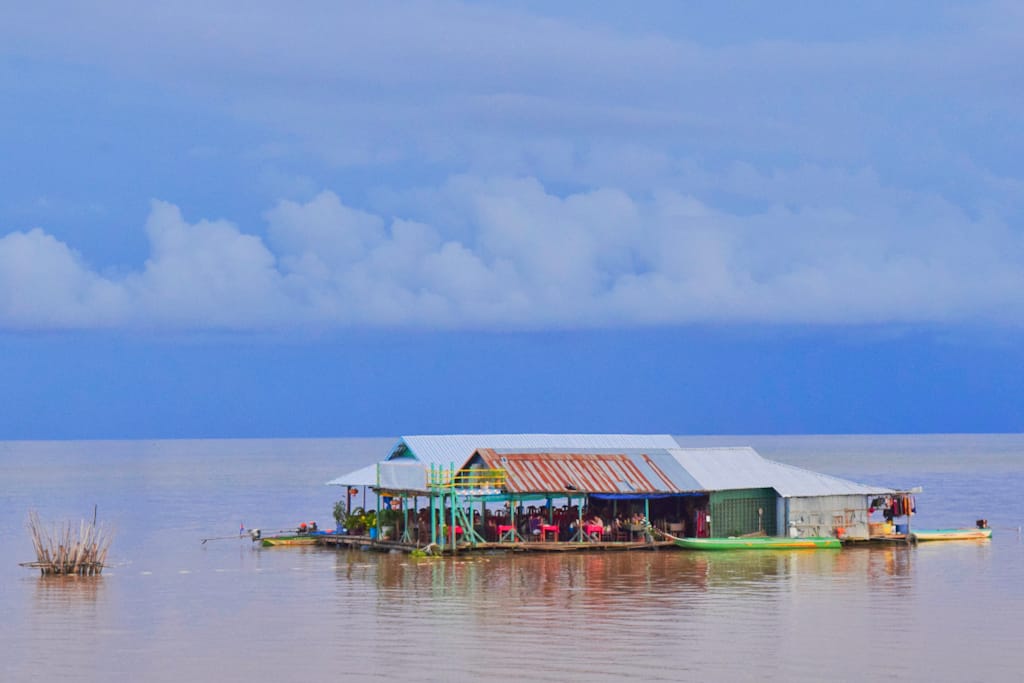 Day 4: Cycling in Angkor Wat Complex
The next day, I got up and hired a cycle from my hostel for 2 USD (150 INR) and went to get my 3-day ticket for Angkor Wat. Cycling in Siem Reap was a thrilling experience as I cycled at a pleasant speed while enjoying the view.
It was a tough task though, seeing that I hadn't cycled once in the past 4 years. This was probably the first time that I cycled around 5-6 km from my hostel to the Ticket office. The main office lies near the Siem Reap highway. It was quite sunny and I was red and sweaty by the time I reached the ticket counter.
However, this wasn't the hard part. I didn't know what actually lay ahead of me. So, I got my tickets for a 3-day entry visit to Angkor Wat (62 USD – 4200 INR) and prepared to enter Angkor Wat.
Angkor Wat complex has three entries and on my first day, I entered Angkor Wat via the right-hand side entrance. It took me around 30 minutes to cycle from the Ticket Counter and I was already quite tired by this time.
Thankfully, the weather had shown me a little mercy and it was cloudy when I reached the entrance to the complex.
They checked my ticket over there and tried to sell me the rickshaw ride for seeing the Angkor Wat complex. Don't fall for this, guys, 15 USD – 1200 INR for one day for a single person is completely not worth it.
Angkor Wat complex is really beautiful and resembles a forest due to the thick trees that line both sides of the road.
On my first day here, I could only explore Angkor Wat temple ruins and a little of Angkor Thom as they were huge. Around 5.30 p.m., the complex closes so I cycled back to my hostel.
Angkor Wat complex is undoubtedly one of the most beautiful places I have ever seen and each temple here is so unique that you would fall in love with it. Especially, if you are a history buff like me.
After returning back, I again went to the night market and Pub street and had another delicious Pancake roll for 0.5 USD (35 INR). I also tried a Khmer Rice dish which was pretty tasty and cheap (1.5 USD – 110 INR).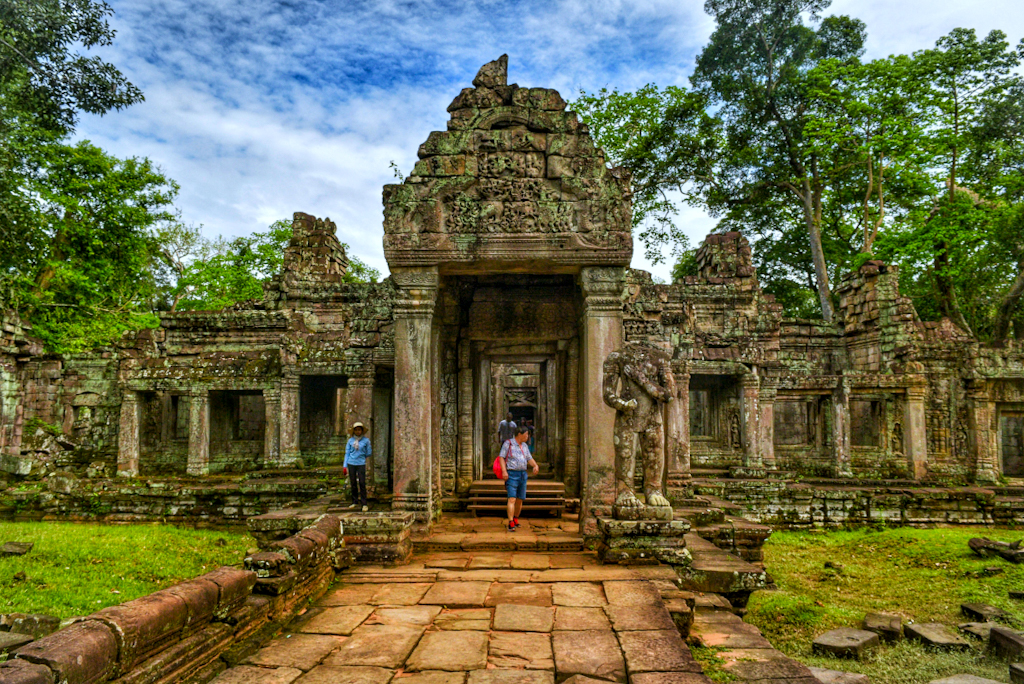 Day 5: Cycling in Angkor Wat Complex
On the second day, I started early at around 4.15 a.m. so that I could watch the sunrise at the Angkor Wat temple. However, as fate would have it, it started raining and I couldn't see the sunrise (Damn my luck, the only day I get up early I don't get to watch the sunrise:/).
So, I waited for the rain to stop and then started my exploration of the remaining Angkor Wat complex.
I easily cycled around 50 km by the end of the day and walked around 20 km while exploring the insides of the temples. Although it was really tiring, it was completely worth it and I am extremely glad that I did this.
A few temples that I would really recommend you to visit are Angkor Wat, Angkor Thom, Preah Khan, and Bayon Temple. Make sure that you check out these temples if you are short on time.
At night, I had my return bus to Phnom Penh so I packed up my stuff and went to the bus stand. The bus stand was near the Night market, thankfully, so I just walked there and got on my bus.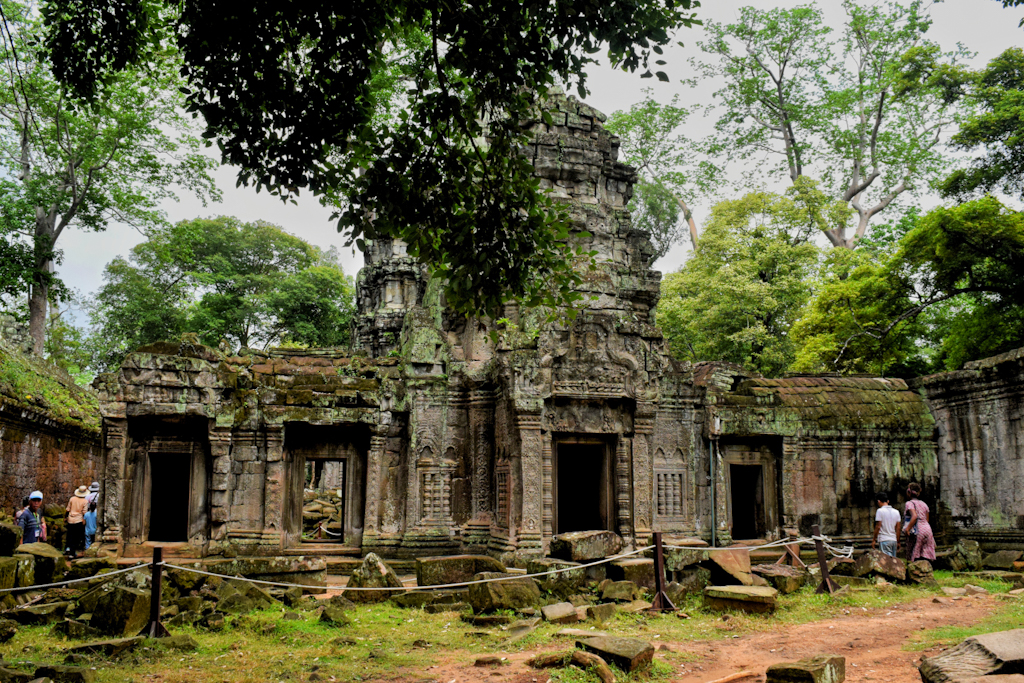 Day 6: Siem Reap to Phnom Penh
On day 6, I reached Phnom Penh in the morning and decided to walk to my hostel, which was approximately 2-3 km away. (Yeah, I have a habit of walking too much.)
Once I reached my hostel, I just slept and tried to relax for most of the day. I had several cycle bruises on my legs and since I hadn't rested once in Siem Reap, I figured it is time to recharge myself.
I wasn't particularly interested in exploring Phnom Penh because I had read that most of the Wats and temples in Phnom Penh charge a lot of entrance fees but I wanted to visit the Tuol Sleng Genocide Museum and the Choeung Ek Killing Fields.
So, I just explored the city on foot on my 6th day and spent some time near the Mekong river with a Russian traveler.
I also tried the famous Khmer dish, Amok Trey, which is a seafood curry dish and is one of my favorite Khmer dishes now. Trust me, you have to try this dish when you are in Cambodia else your Cambodia trip will remain incomplete.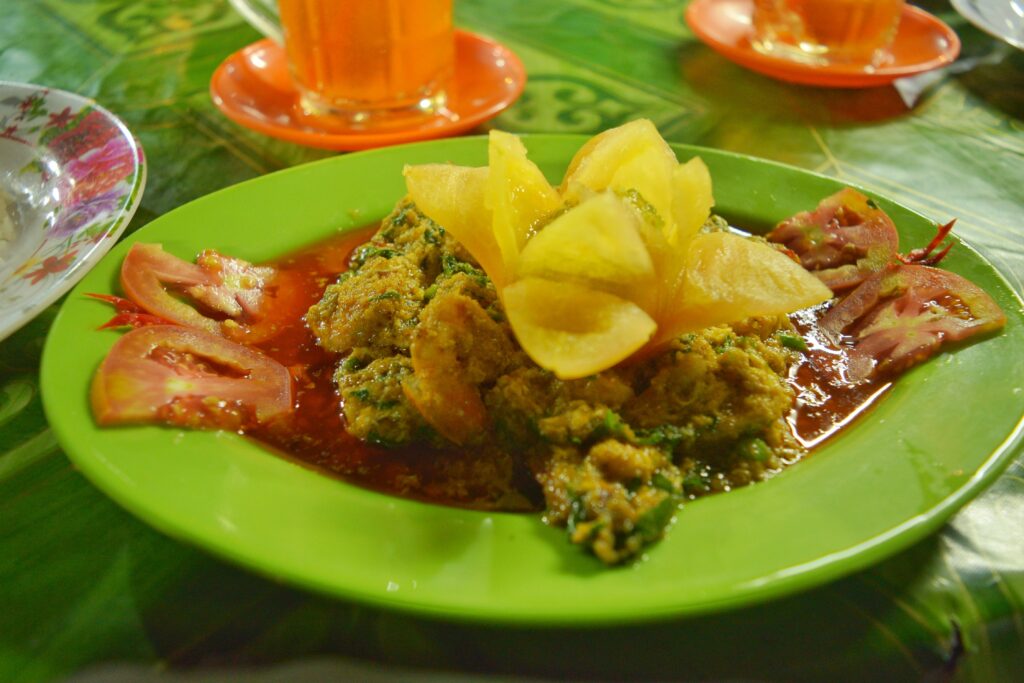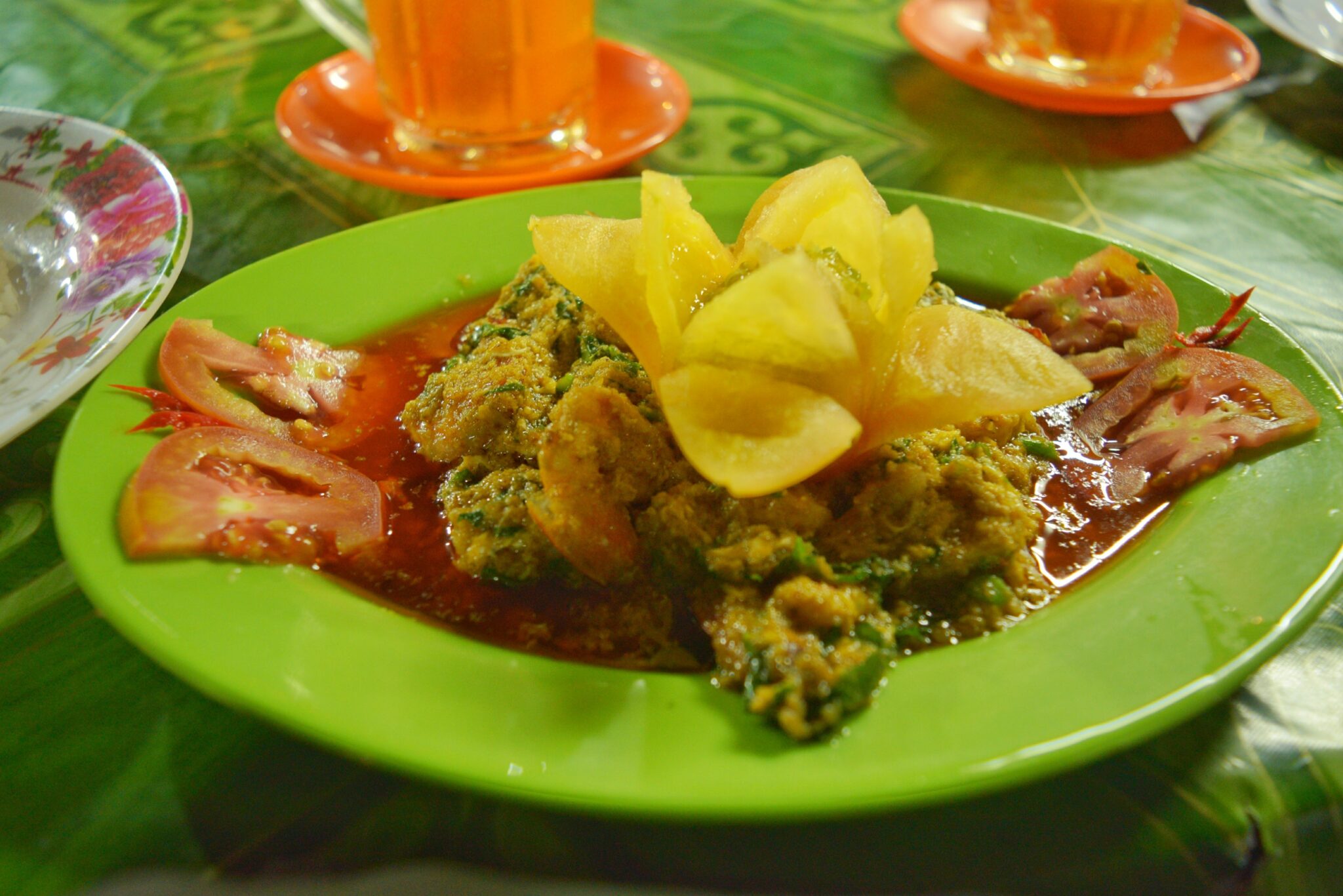 Day 7: Phnom Penh Sightseeing
After getting up early, I started my tour of Khmer history and my first stop was the Tuol Sleng Genocide Museum (3 USD – 200 INR) which took around 1-1.5 hours.
In Phnom Penh, I rented a cycle for 3 USD – 200 INR (Yes, apparently cycles in Phnom Penh are costly. Go figure.) and cycled to the place which was about 30 minutes from my hostel.
Here, I learned the history of Khmer culture in Cambodia and the whole experience was quite humbling and sad.
The story of Cambodia is completely heartbreaking and will certainly leave you in tears. It resembles the terror that Hitler spread all over the world but on such a small scale that none of the other countries even got a hint of it.
Next, I cycled to Choeung Ek Killing Fields which was about 10-15 km from the main city. The entrance ticket to Killing Fields costs 6 USD (400 INR) and the Audio tour gives you a detailed narration of what happened there. If you do visit Phnom Penh then make sure that you visit these places to learn about their history.
By evening, I returned back to the city and then and then made my way to the famous Independence Monument. This place looks quite gorgeous at night but cycling here is not as safe as cycling in Siem Reap.
Day 8: Phnom Penh to Sihanoukville
Early morning I left for my first beach town, Sihanoukville, which is said to have the most gorgeous beaches ever. I reached the place around 12.30 p.m. and then walked to my hostel. It was scorching hot at the time and I lost my tripod in the process. sob sob
Finally, I reached my hostel and after dumping my bags, I headed for the Serendipity Beach pier where I watched a beautiful sunset. This is the beach where people party and you can watch fireworks going off here as well.
I spent my entire evening and then night here and as the clock struck 12, I celebrated my birthday on the beach. That's when I vowed to myself that I would spend my birthday in a new country every year.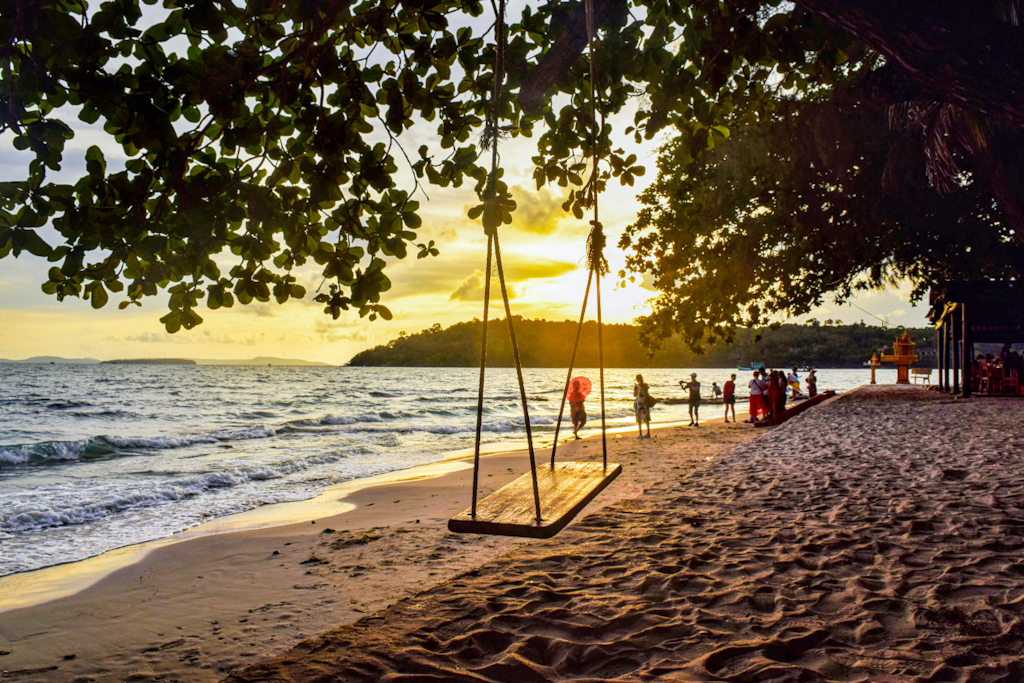 Day 9: Sihanoukville Sightseeing
Finally, on my birthday, I chilled for the first half of the day on Serendipity Beach, watching the clear blue seawater. It felt so peaceful and serene to just look around and do nothing. I wanted to stay longer in this town but I knew that I had to return soon.
So, I made my way to visit other beaches and attractions in Sihanoukville. There is a famous Crocodile farm here so I cycled (2.5 USD – 300 INR) to this place. It was again around 5-6 km from the place but cycling in Sihanoukville is tough.
This is because the roads are extremely sloped so when you are riding a cycle, it takes a lot of effort. I took another route through the streets to avoid the sloping highway and reached this farm.
When I stepped foot inside this place, I wasn't sure if this is it or not because it looked so run down. Apart from crocodiles, there are other reptiles here as well and the place is just crawling with bugs and insects.
There are countless crocodiles here which stay in a stationary position so it is really scary when they suddenly move.
After spending half an hour here, I went ahead to another beach just in search of a sunset view (Yes, I can't help it. My trips without sunsets are incomplete.). That's how I came across Ratanak beach.
This is a small beach with a direct view of the sunset where you will find a single restaurant for snacks. I am not sure if it was a private beach or not but I could easily snuggle in and watch the sunset.
Then, I headed to Independence beach and I was completely blown away by its beauty. You know all those fairytale beaches that we have always dreamt of, that's Independence beach for you. And I was so annoyed that I didn't discover this place sooner so I could barely spend half an hour here (So going back to visit it again).
Finally, I returned for the day and packed my stuff as I was heading for Koh Rong island the next day.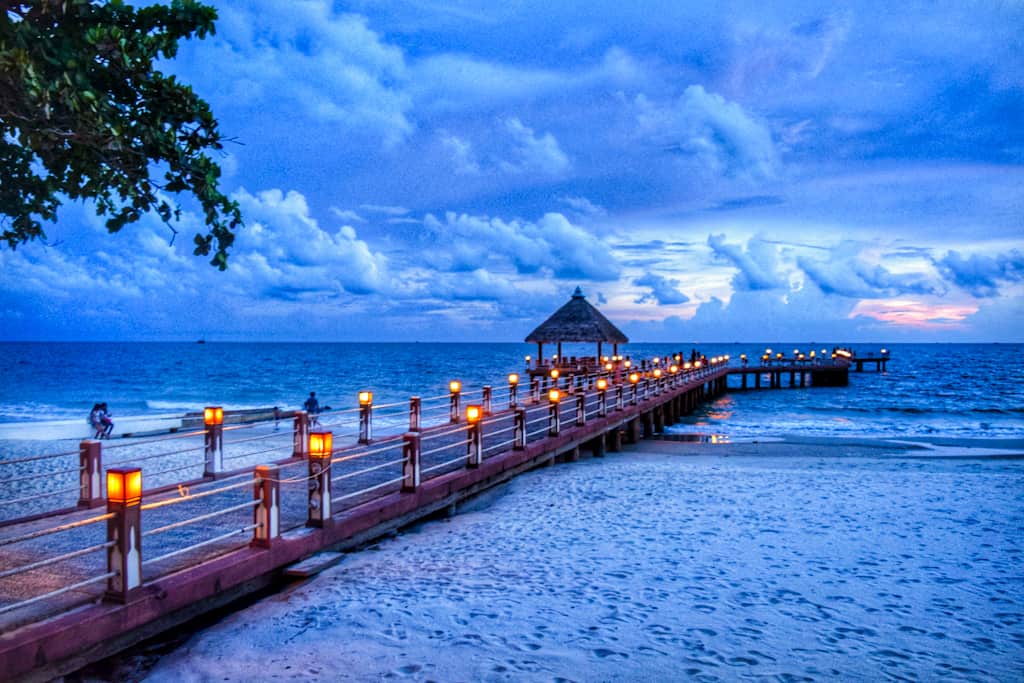 Day 10: Sihanoukville to Koh Rong and Boat Trip
I got a ferry from the local ferry companies in Sihanoukville which cost me 20 USD (1400 INR) for the return trip. It took around 30 minutes to reach by ferry. Then, I booked a full-day boat trip to make the most of my time in Koh Rong.
I took a tour with Adventure Adam company which cost 25 USD (1700 INR) for a full-day boat trip. This included snorkeling, beach hopping, a local village tour, fishing, swimming with planktons, and a bonfire party.
I can't even begin to describe this day because it was certainly one of the best and the worst days of my entire trip.
My GoPro stopped working here so I couldn't take many pictures and videos. But, I made so many amazing friends and enjoyed my first bonfire with a marshmallows party.
When we returned at night, I just took a hostel bed with the company guys itself and just rested for the night.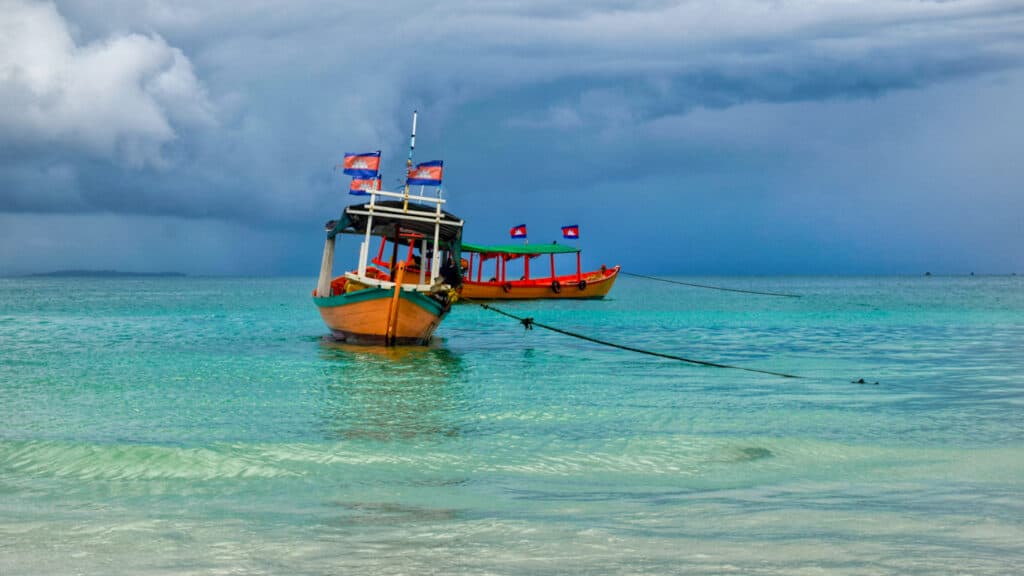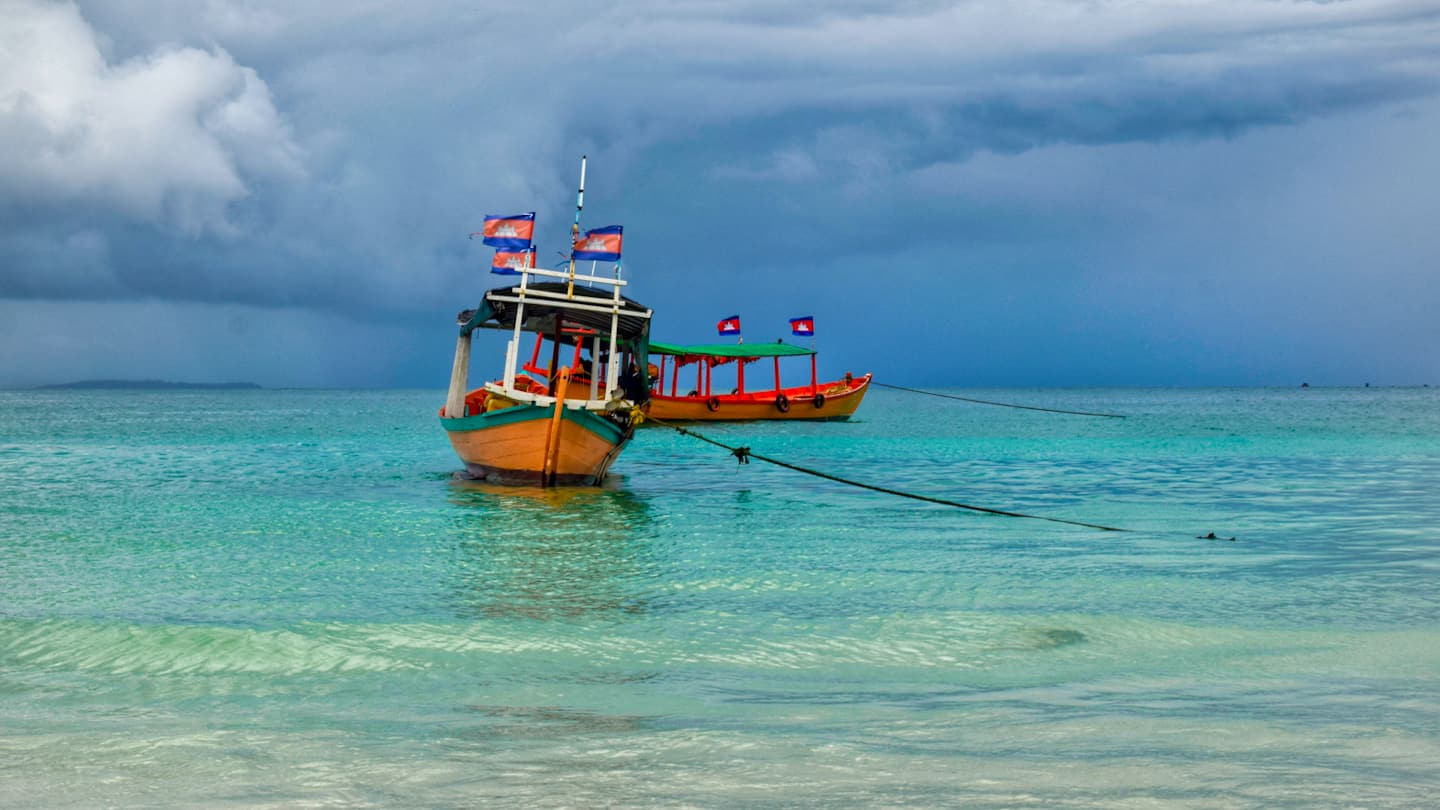 Day 11: Koh Rong Sightseeing
The next day, I went on to explore other amazing beaches and hiked a lot on the way. Koh Rong had white sand beaches which were such a nice change for me and the water was pretty clear too. I also made a friend with a puppy who kept following me around for a while (He was too cute to say no to).
I also saw so many tree houses here and spent a great time exploring a great part of the island.
That's how the entire day in Koh Rong went. Although I heard that they have amazing parties I didn't go because I wasn't feeling well. But, if you are ever here then make sure that you don't miss it.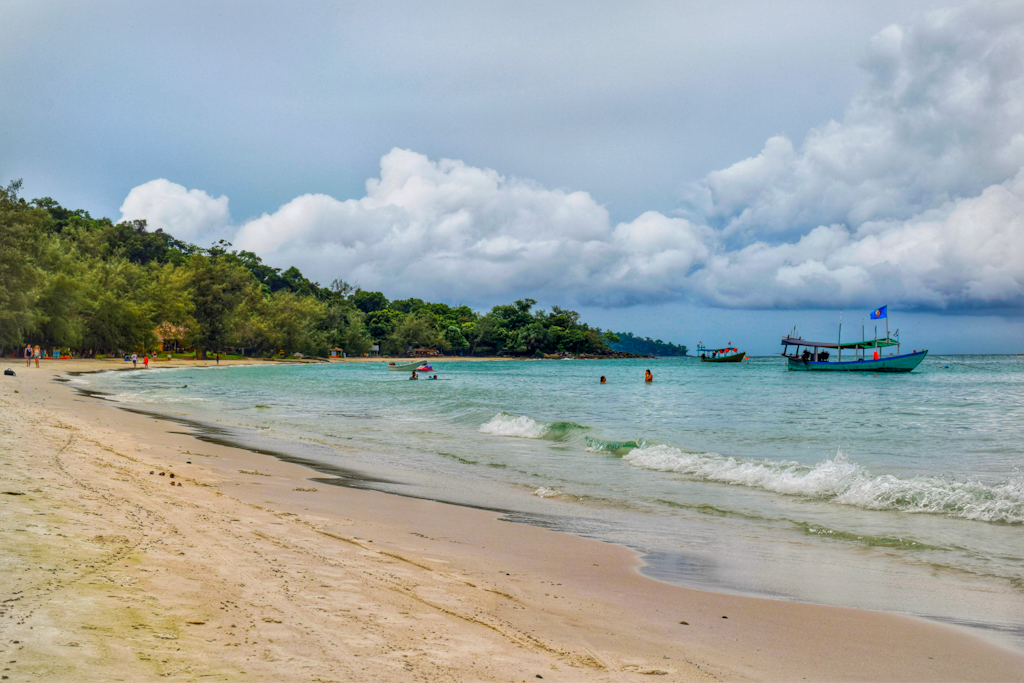 Day 12: Departure from Cambodia
This was my last day in Cambodia and it mainly went on traveling. I traveled back from Koh Rong to Sihanoukville and raced to catch my bus to the airport.
This was the first time I hired a Tuk Tuk as they tend to be costly (8 USD – 540 INR) but I was in a hurry. Finally, I got on my bus and reached my airport on time. However, I was leaving with a heavy heart because Cambodia was just too amazing.
So that is how my trip ended. With a lot of fun, surprises, and unexpected moments and I shall cherish my first solo international trip forever.