Best Time to Visit Goa in 2021
Will Goa be too hot in May? Do I need to carry a sweater to Goa in December or January? When is it off-season in Goa? Well, these are the questions a lot of you have been asking. And why not! After being locked up in our homes for almost a year and with international […]
Will Goa be too hot in May? Do I need to carry a sweater to Goa in December or January? When is it off-season in Goa?
Well, these are the questions a lot of you have been asking. And why not! After being locked up in our homes for almost a year and with international travel far away, what better than enjoying a martini while the cool breeze and the waves of the Arabian Ocean wash the lockdown blues away, right?
So after visiting Goa 3 times across various seasons and spending a total of 3+ months there, here's my take on when you should visit Goa.
When is the Best Time to Visit Goa?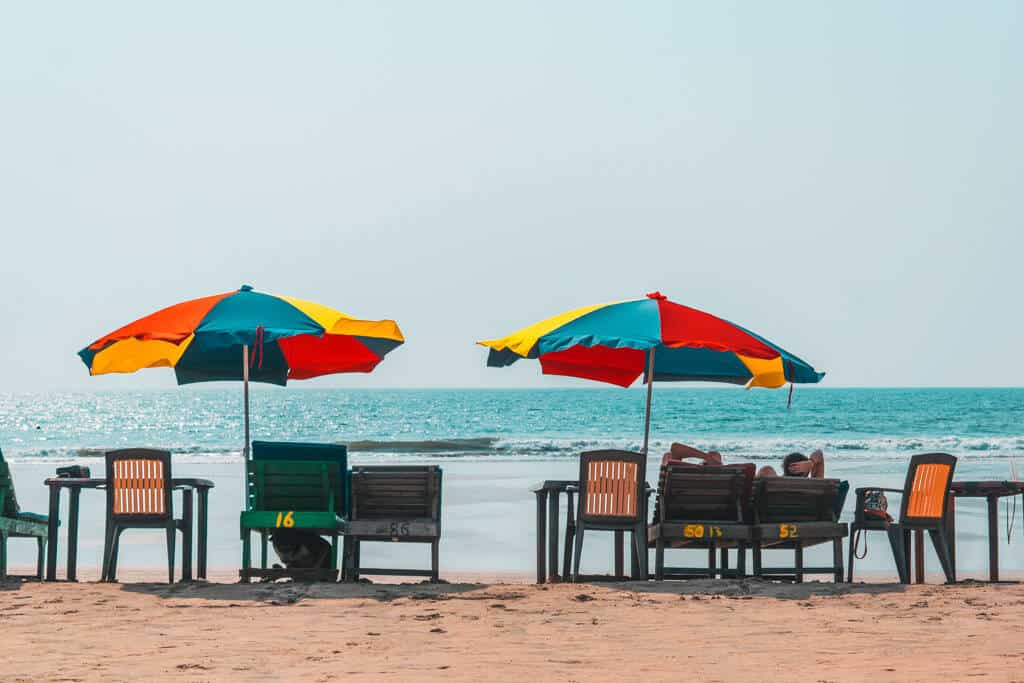 North Goa Beaches
The best time to visit Goa depends on a lot of factors like are you planning to explore around or looking to enjoy water sports in this state. That's not all, you also have to consider your budget when planning a trip to Goa.
So, to make it easier for you to find the best time to plan a trip to Goa, we have listed down when to visit Goa for a particular budget or activity. Best Time for Sightseeing in Goa
Generally, the average daytime temperature in Goa is somewhere between 29 and 34 degrees Celsius which is definitely hot. But what I love about Goa is that unlike most Indian cities, Goa doesn't suffer from extreme heat or humidity and winters can even be a little chilly here.
Due to the monsoon period from June to September, the tourist shops close down here for the few months and the December – January period is the peak time to visit Goa. So, you will find a lot of international tourists here during that time.
So, if you are looking to just explore and make the most of your Goa trip, then I feel November or February to May is the best time for sightseeing in Goa. Best Time for Budget-Travelers
Let's face it, not all of us have private jets or numerous credit cards to splurge on a luxury vacay in Goa. So, if you are a backpacker or a budget-traveler like me, then choosing the right month to visit Goa is essential unless you want to end up being broke.
From what I have noticed, the months of June to September and March are considerably cheaper as most tourist businesses are closed at this time. Also, you will find good hotel and airfare deals during this time. Best Time Weather-Wise
One of the most important things to consider when you are planning a trip to Goa is the weather and how crowded it is going to be. During the winter months, you don't have to be bogged down by rainfall and you can enjoy the cooler temperature throughout the day.
However, December and January is the peak season in Goa so most of the beaches and hotels are overcrowded and overpriced at this time. If you really wish to enjoy the weather and avoid the tourists, then plan a trip to Goa in early November or early February. Best Time for Water Sports
For all the adventure and adrenaline junkies out there, there is a lot of amazing water activities to indulge in Goa. From kayaking to scuba diving, you can do so many kickass water sports here but these aren't open throughout the year.
In fact, the water activities are shut down in Goa from every June to September and open up somewhere around late October. So, if you are planning a trip to Goa to enjoy the water activities here, then you should plan somewhere between November and May. Best Time for Enjoying Nightlife
Goa is home to some really amazing clubs and bars including the famous Club Cubana, Tito's, LPK, and so on. And while you might assume that these clubs are open throughout the year, you are actually quite wrong.
If you wish to experience the nightlife in Goa, then I would recommend you to visit Goa between the months of October and May as that is when you have a wide range of options to choose from. In the other months, most of the nightclubs are shut down as the tourist businesses are shut in Goa due to monsoon.
Goa Travel Seasons
Coming to the seasons in Goa, there are typically three travel seasons: peak season, off-season, and the shoulder season. And here is a little that you need to know about each season to decide which time would be best for you. Shoulder Season (March to May, October)
Out of all the times that I have visited Goa, Shoulder Season is hands down my favorite, and if you are an influencer, someone that loves to avoid the crowd (introverts, I see you), or someone who wants to travel with friends or family on a budget you'd prefer this time as well.
That's because the beaches are relatively empty. And if you get bored of the beaches, April is also the month of India's biggest wine festival known as the Great Escapade where you don't just get to taste some lip-smacking wine but also participate in the 'Wine Stomping'.
To top it all, from the flight tickets, the stay to the food, cabs, and even hiring a scooty or car, it all costs way lesser. 
Though keep in mind that April to May is also peak summer season so if hot weather gets to you, make sure you get yourself an AC room and travel out during the evening. The temperature in summers can vary anywhere between 32-degrees to 40-degrees in the day.
The nights are slightly pleasant and on good days the temperature also drops below 30-degrees to about 26-28-degrees. Peak Season (November to February)
Do you love to party and meet new people at clubs or late-night beach parties? Or maybe, you are interested in water sports? Or you are just someone who wants to avoid the hard-hitting sun and the humid weather? 
Well, then the months of November to March are for you. The reason so many people love to travel to Goa around this time is, yes, the weather.
With the monsoons coming to an end, the temperature during these months varies from 21 to 32-degree Celsius and on most days you'd have a cool breeze blowing around (it is just the perfect weather for a vacation). On most days, even humidity is around 33% which is pretty comfortable. 
December and January, in particular, are some of the most happening months (a Christmas and New Year in Goa, is something you won't forget in Goa).
And I am not just talking about the beaches and party spots but even the streets, churches, and houses are decorated and well lit.
Oh, and it is the ideal season to enjoy water sports as well. Yes, some water sports are available even in the off-season but nothing like during this season. 
Between February and March, another thing you'd want to stick around is the Goa Carnival which marks the onset of lent and is one of the most colorful and vibrant events in the state.
Happen to miss the Carnival? Don't be so glum, chum. There are plenty of other events to rock your world. For example, the Linc Tower Run, or the Monte Music Festival.
Though it isn't all rosy. During this time, you'll find stays, cabs, and even flight tickets to be  more expensive than during the off-season or the monsoon season. Off-Season (June to September)
The monsoon season in Goa is also the off-season to visit this place. While the rain is quite a relief for the locals against the scorching heat, for tourists, it is more of a spoil-sport. That is because most of the beach shacks remain close as a lot of the staff goes to their hometown. 
Furthermore, the tides are pretty high all the time which means you cannot enter the water. Even adventure sports like the popular banana boat, parasailing, kayaking, etc. are closed. 
Wait, so is Goa not worth the visit during the Monsoons?
Well, that comes down to what you want. If you love seeing nature in its full bloom and would love to enjoy some calm, serene moments at the beach and see the vibrant greenery of Goa, there's hardly a better time than this.
Yes, it won't be as happening as it usually is but fun doesn't always have to be drinking and partying at pubs now, right? Go to the Forts, the beaches, enjoy some local cuisines (Xacuti and Balchao, yummy, yum yum), try cliff jumping, or maybe check out the Sweet Water Lake in Arambol. 
The monsoon season is also a great time to catch a glimpse of the popular Dudhsagar falls as the water flow is at its peak. Even November and December are good months to visit this waterfall (trust me, there's still plenty to keep you busy during the monsoon).
Climate in Goa
Goa experiences three major climates and we will talk about what you can expect from each of these, in terms of sightseeing and activities.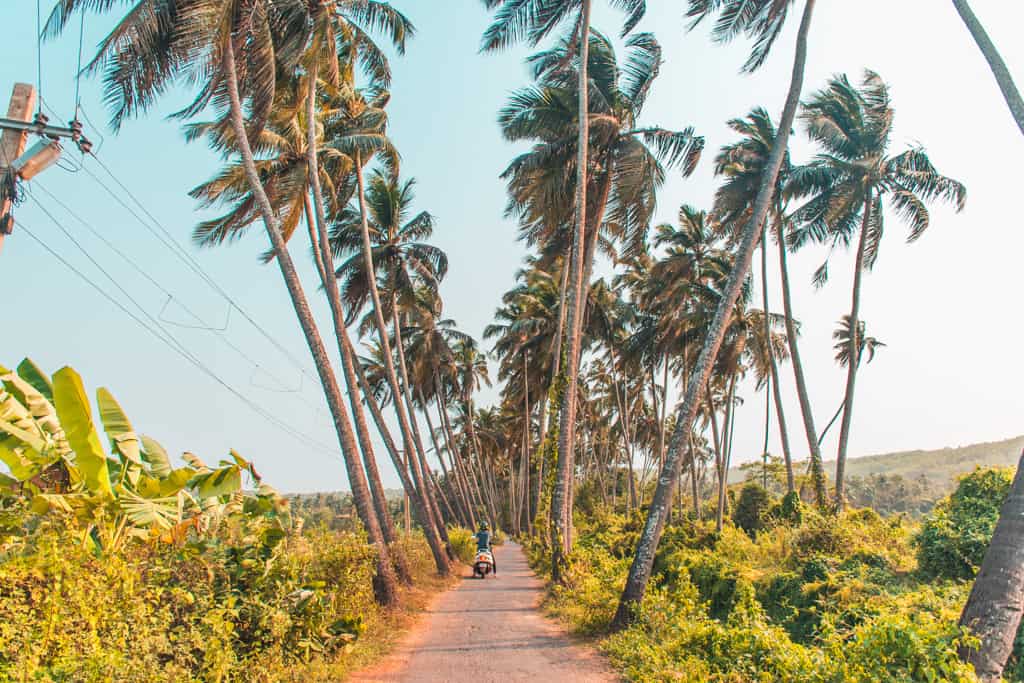 Saligaon, GoaGoa in Winter
As I have mentioned above, the best time to visit Goa is in the winter season, starting from November to February. During this time, the temperature ranges between 20 – 25 degrees Celsius and you can easily relax on the beaches and enjoy the vibrant atmosphere of Goa.
This is also the time when Goa sees a lot of festivals such as the Sunburn festival so, if you are interested in experiencing that then you should definitely plan a trip to Goa in winter. This is also the best time to visit Goa for water sports so you can indulge in a lot of activities such as sailing, kayaking, scuba diving, wind surfing, and so on.
If you wish to avoid the crowd, then you can head to South Goa and spend time over there. Also, since this is the peak time to visit Goa, make sure that you pre-book everything to avoid getting stuck here. Goa in Summer
Summers in Goa starts from March and stays till May end and is the hottest and the most humid time to visit Goa.
The average temperature ranges around 35 degrees Celsius and it is slightly hot to enjoy the beaches. But it is a good time to swim in the seas and you even get pretty good deals and discounts on hotels and transportation.
If you are looking for a time to visit Goa when there are no crowds, then this is it. Goa in Monsoon
Although most people would advise you to not visit Goa in monsoon, I am going to tell you the opposite of that. Monsoon is a great time to visit Goa as the entire place looks fresh and lush green after the rainfall.
This is the perfect time to visit the waterfalls around here as well and if you wish to explore the offbeat places without the tourists, then September end is a good time to plan a trip. The chances of rainfall at that time are considerably less and you can enjoy sightseeing without too many tourists taking up the space here.
Weather in Goa
Here is a brief breakdown of what you can expect to see and do in Goa in each month. Goa in January
Goa stretches for 100 km but the weather stays the same both in Northern and Southern Goa. January is basically dry winter season in Goa and the average daytime temperature remains around 30 degrees Celsius while the nights can be a bit chilly at around 20 degrees Celsius.
If you are looking to celebrate the New Year in Goa, then this is a great time but be prepared because this is the peak season so the prices of everything are quite high at this time. Goa in February
If you wish to enjoy the cool, dry climate of Goa minus the crowd, then February is a best month to visit Goa. This is a good time for partying, exploring, and you can find hotels and flights at slightly affordable rates too. Goa in March
Another great month to visit Goa, March sees no rainfall and is slightly warmer than the previous months. This is the best time to visit Goa for water sports but definitely not a good time for exploring the waterfalls around here.
If you are looking to just chill and enjoy the beaches in Goa, then March is definitely a good time to visit. Goa in April
April is also a good month to visit Goa, especially if your trip coincides with Easter celebrations. This is one of the few months with no rainfall and the average temperature is somewhere around 32 – 35 degrees Celsius with nights being around 25 degrees Celsius. Goa in May
This is undoubtedly the hottest month to visit Goa and is also the start to the monsoon season. On average, the temperature ranges around 35 degrees Celsius this month and many tourist businesses begin to shut down during this time as well.
Also, the water sports and swimming is mostly prohibited sometime from this month to October as there is a possibility of cyclone in the next 5 months. Goa in June
June is officially the start of the monsoon season and the average temperature drops down to around 30 degrees Celsius during the daytime. You can expect heavy rainfall in this month and there are high chances of cyclones as well.
You also have to be careful because your train or bus to Goa might get affected due to the heavy downpour in this month. But you do get really cheap deals during this time as there are barely any tourists or businesses open here. Goa in July
This is the wettest month of the year in Goa and a lot of hotels and businesses shut down during this month. As a result, you will find it difficult to plan your trip because almost nothing would be open at this time.
And if that wasn't enough, the roads can become water-logged too that could easily impact your travel plans. Moreover, it is too dangerous to swim in the sea at this time. But if you are visiting Goa for the waterfalls, then this is a great time to visit. Goa in August
Although it is the end of the monsoon season, you can still expect rainfall during this month and the chances of a cyclone. However, you will experience considerably fewer downpours than the previous months and the temperature is slightly cooler than the previous months as well.
This is the best time to visit Goa if you wish to witness lush green landscape here and want to enjoy a swim in the waterfall and lagoons around here. Goa in September
This is officially the end of the monsoon season and many tourist businesses start opening up again. There are a few days when it pours heavily but it is very less in comparison to July. This is still not a good time for swimming or water sports but you can easily explore all the sights around here. Goa in October
In the early days of October, you might witness some rainfall but it is mostly dry during this month. The roads are dry and safe to travel and it is safe to swim in the sea as well. This is the best time to visit the dudhsagar falls in Goa as well since the water level isn't dangerous for swimming.
Basically, if you wish to avoid the tourist season and want to experience the greener side of Goa, then this is the best month to visit Goa.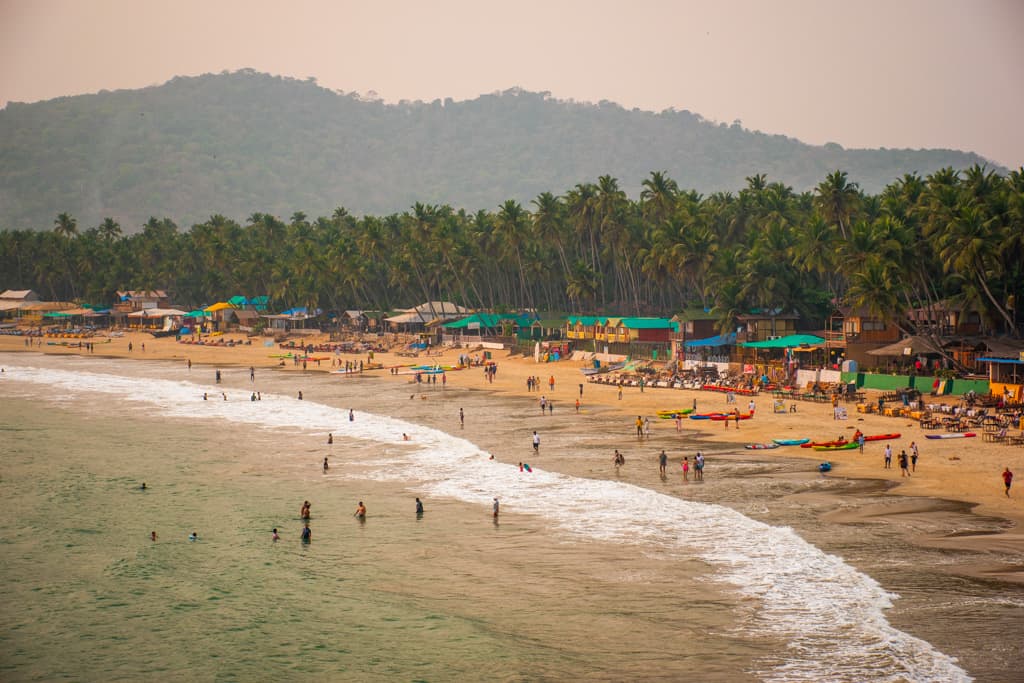 Palolem BeachGoa in November
In terms of weather, November is the best time to visit Goa beaches as the temperature is cool with fewer tourists on the beaches. It is a good time for party enthusiasts as well and adventure junkies. Most importantly, you can explore beaches, churches, forts, waterfalls, everything in Goa at this time.
And there are a lot of festivals held during this month too so if you are lucky, you might get to experience one of those as well. Goa in December
One of the best months to visit Goa is December as the weather is cool and dry and there are so many festivals to attend here. It can be a slightly expensive and crowded month to visit Goa but you will not be disappointed by the sights and the activities that are accessible to you during this month.
Most importantly, Christmas and New Year in Goa is something that you might not want to miss out on.
Verdict
From the temperature, weather, activities you can enjoy, to even the prices for the stay, tickets, etc. varies in  Goa based on the season. This makes it confusing for many to know when is the ideal time to visit Goa and I am sure with this guide, you'll know exactly when you should book your tickets to Goa.
For anyone that loves to party and wants to see Goa at its most happening self, the months from October to February are ideal with December and January being the best of it.
Off-Season is my favorite time. It is perfectly balanced. From the crowd at the beaches, prices, to even the activities, and parties, you can enjoy the best of everything.
And lastly, if you love to see the local side of Goa and want some peace and serenity along with greenery, the monsoon months are made for you.
If you have more questions on this topic, feel free to drop them in the comments section below. You can also get in touch with me via my Instagram or the contact form.