Best Place to See Mount Fuji
Lake Kawaguchiko is one of the best places to see Mount Fuji in Japan. It is the second largest of the Fuji Five Lakes. It is located in the Fujikawaguchiko town. This lake is easily accessible from Tokyo and if weather permits, present with fantastic view of Mount Fuji. The post Best Place to See Mount Fuji appeared first on A Walk in the World.
Sushi, a delightful dish, and Mount Fuji, the nation's most recognizable mountain, are the two things I always think of when I think of Japan. They are both equivalent to Japan. It would be a shame to leave Japan without enjoying Mount Fuji and eating sushi. Mount Fuji is visible from a number of locations. But Lake Kawaguchiko is the best location to see Mount Fuji clearly.
Lake Kawaguchiko from Tokyo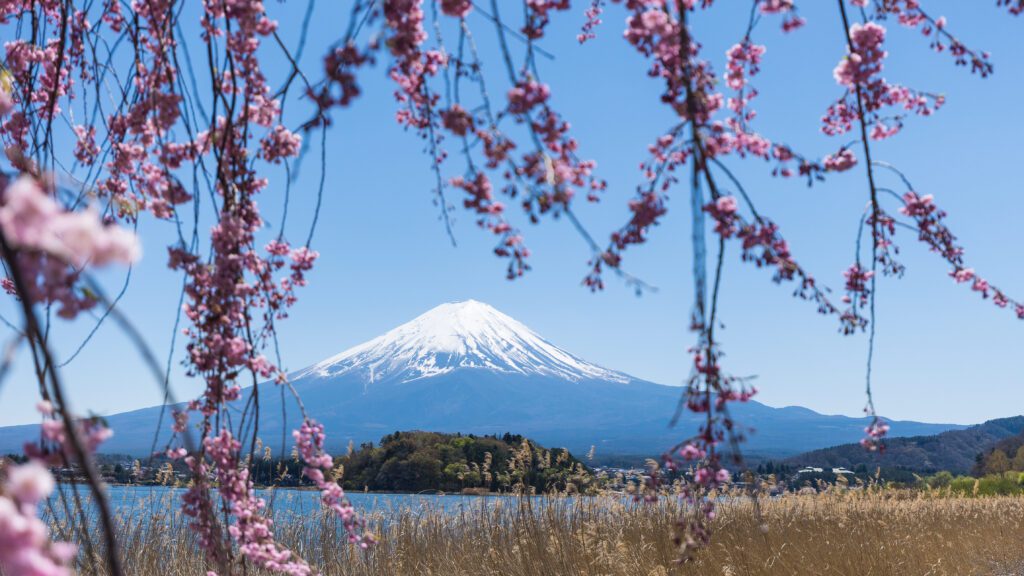 Mount Fuji during the cherry blossom season behind Lake Kawaguchiko
A day excursion to Lake Kawguchiko is simple to arrange. However, I advise using it as a weekend exit; you may leave on Saturday morning and return on Sunday night. It will improve the chances of seeing Mount Fuji. One of the best weekend getaways from Tokyo is to visit lake Kawaguchiko, along with a trip to Nikko.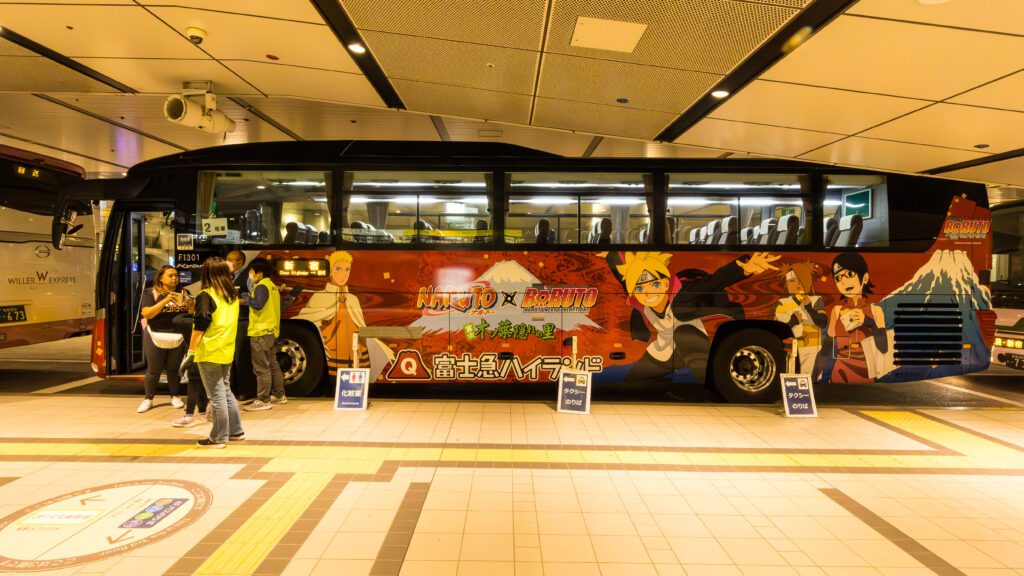 A bus between Tokyo and Kawaguchiko decorated with Naruto and Boruta, two popular Japanese anime characters.
There are various options for getting to Lake Kawaguchiko from Tokyo. Taking the bus is the quickest and most convenient choice. When it comes to booking a bus, you have many alternatives.
Lake Kawaguchiko from Tokyo by Bus
If you wish to visit Lake Kawaguchiko on your own, the best option is to take a bus because it is the quickest and cheapest method to get there. The bus can be taken from several locations in Tokyo. You can select the departing station based on the location of your accommodation. Starting From Ikebukuro and Shibuya
The Seibu tourist bus departs from Ikebukoro and takes slightly more than 2 hours to reach Lake Kawaguchiko. The Tokyu transit bus departs Shibuya and travels two and a half hours to Kawaguchiko.
Our partner website allows you to purchase advance bus tickets to Kawaguchiko from Tokyo. One-way tickets will cost between $15 and $18 USD. It is best to book online because morning seats sell out quickly on weekends. Starting From Shinjuku
Highway buses depart from Shinjuku Expressway Bus Terminal (4F), which can be reached from anywhere in Tokyo. Take the new south exit from JR Shinjuku station. The bus ride to Lake Kawaguchiko takes 2 hours and costs JPY 2200 one way. You can purchase tickets in advance via their website.
Lake Kawaguchiko from Tokyo by Train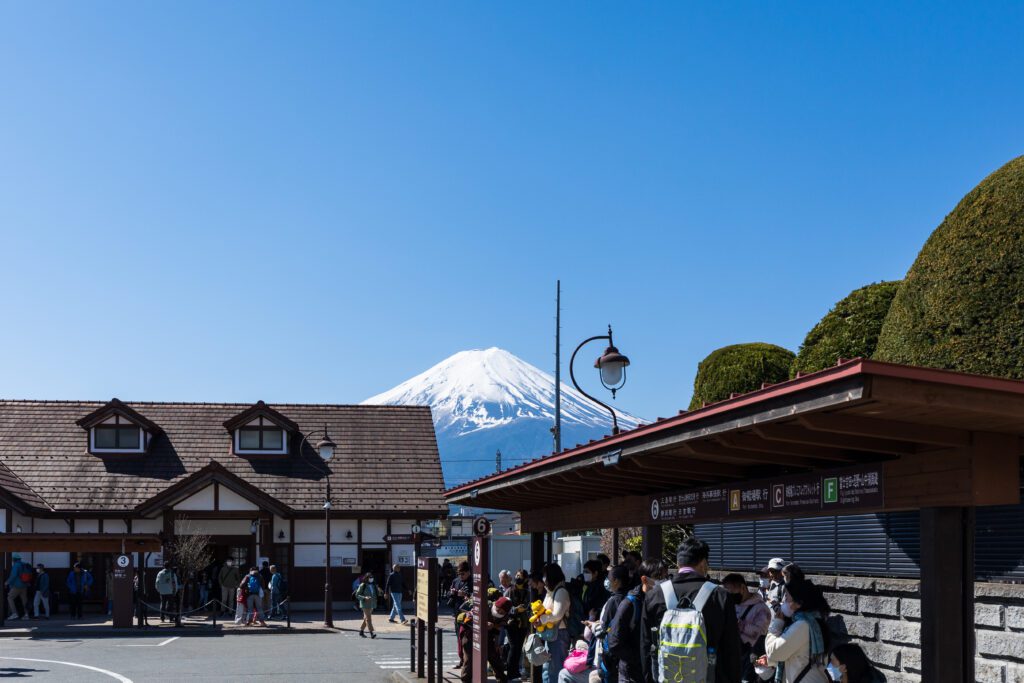 Kawaguchiko station (Left), bus counter (Right), Mount Fuji (Background) – Isn't it pretty?
Take the Chuo Line – Fuji-Excursion 7 Limited Express Kawaguchiko from Shinjuku station. It will cost you JPY 4400, which is twice as much as taking the bus. This train does not accept JR passes. However, if you wish to use your JR pass, you can only use it partially and must change trains in the middle. Take the JR train from Shinjuku to Otsuki station in this manner. You must take the Fujikyuko line from Otsuki.
Book a Guided Tour to Kawaguchiko
If you believe that none of the options above are ideal for you and you do not want to take any risks, you can book this Mt. Fuji and Lake Kawaguchiko Day Tour from Tokyo. This is a day excursion that will cost you less than $100 and is an outstanding value for money.
Buy a great value for money Pass
You can also buy this Mt. Fuji pass, which will provide you free access to Kawaguchiko station from Otsuki (Fujikyu railway), access to Fujikyu Bus, Fuji-Q Highland (includes admission ticket to 1 attraction of your choice), Grinpa Amusement Park, Narusawa Ice Cave and Fugaku Wind Cave, Mt. Fuji Panoramic Ropeway, Kawaguchiko Excursion Ship 'Appare', Yamanakako an excursion ship of 'Swan Lake'.
Things to do in Kawaguchiko
Kawaguchiko has been dubbed a cloud magnet. Most of the year, the summit of Mount Fuji is enveloped by mysterious clouds. However, if you are lucky, you will have a sunny day, which means you will be able to experience some of the best views of Mount Fuji.
Walk in the Lakeside Green Belt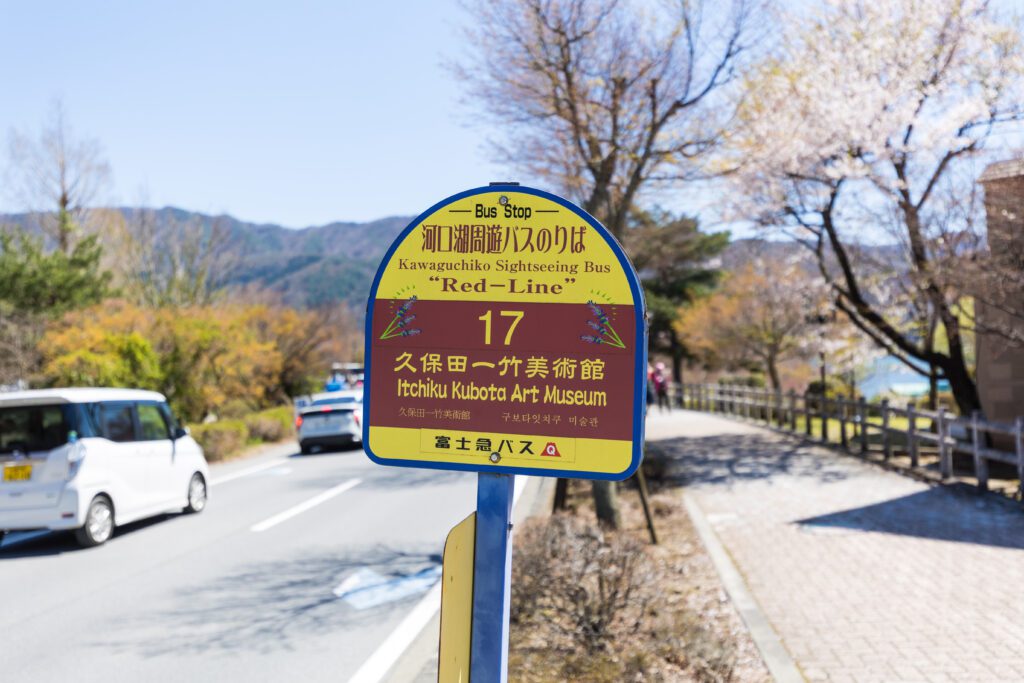 Get off the red line bus at this stop to go for a walk around Lake Kawaguchi.
Take the "Red-Line" bus from Kawaguchiko station to station number 17, Itchiku Kubota Art Museum. A short walk from here will take you to one of the lake's most gorgeous walking pathways.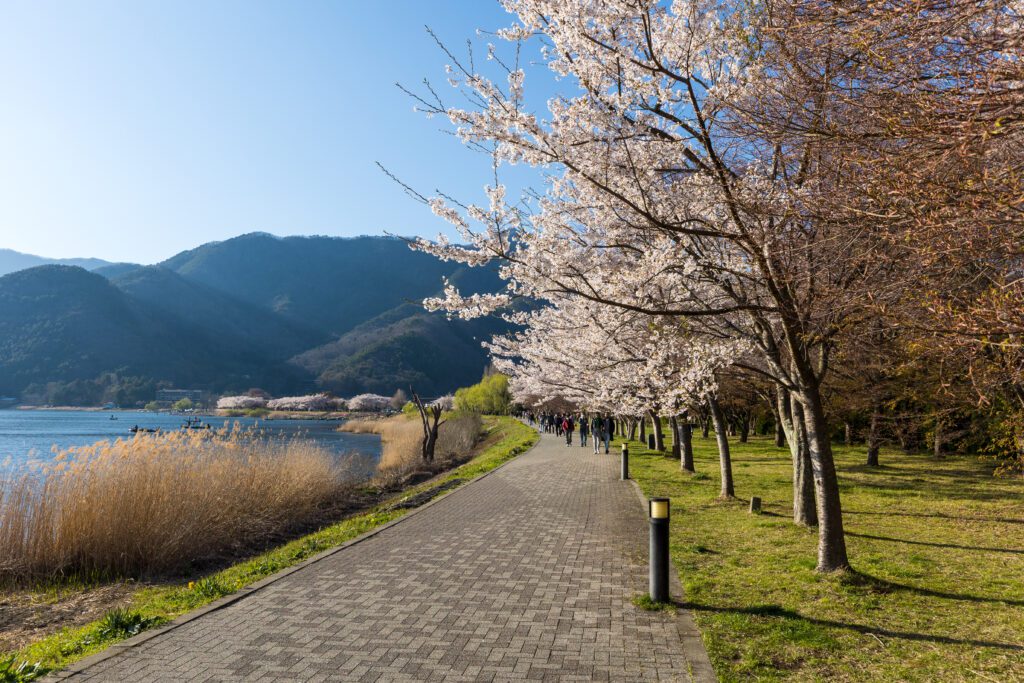 What more can you ask for when you're surrounded by vibrant trees, lakes, and mountains?
The promenade faces the lush mountains. After a while, you'll locate a place to rest. If you arrive in April (spring), you will be able to see the beautiful cherry blossoms – all pink! If you come during autumn, you will see a completely different color of red and oranges.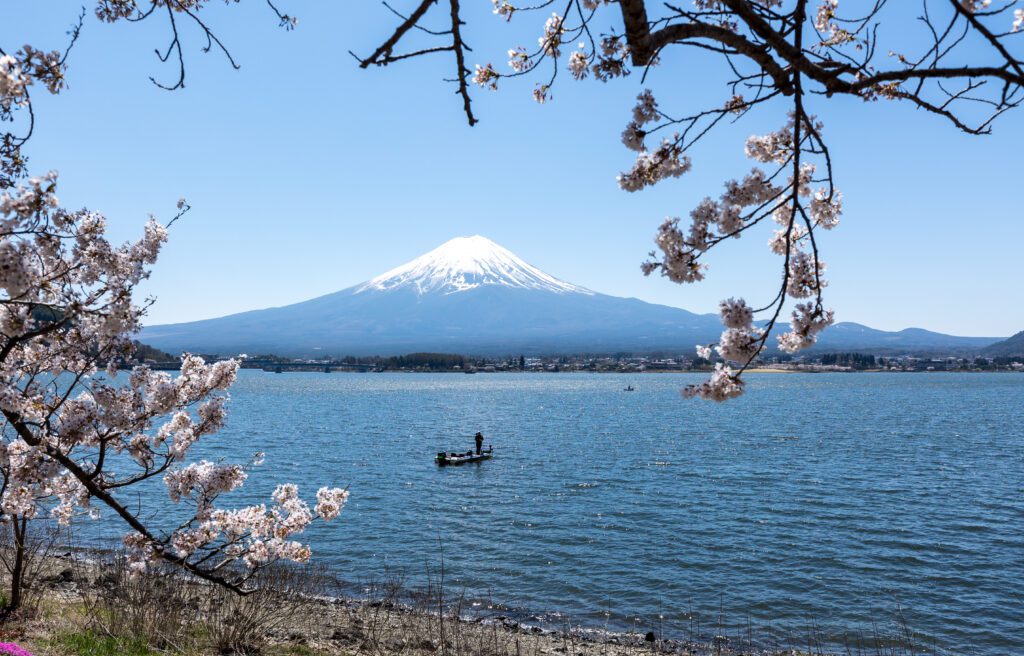 You can rent a boat and explore Lake Kawaguchi.
Mount Fuji, Japan's famed monument, may be found on your left side. It simply sits there like a wise monk. In front of it stands the lovely, ever-smiling Lake Kawaguchiko, one of Japan's famed five Fuji lakes.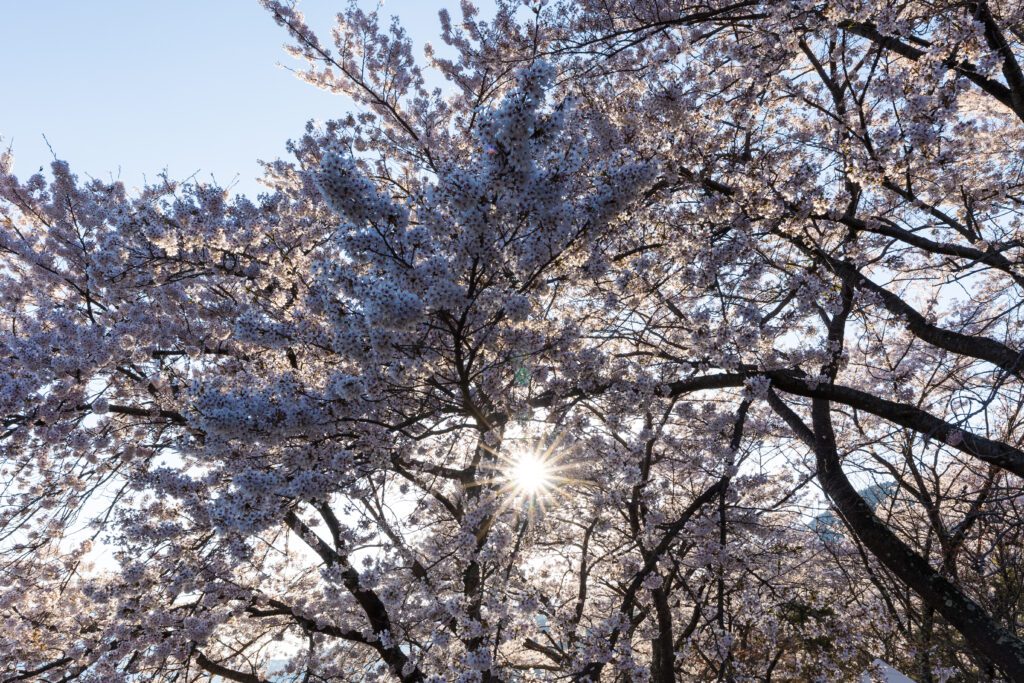 The sun looking like a star smiling upon the pink cherry blossom trees
I was simply fascinated by the surrounding beauty. All I did was walk on the paveway and observe the scenery.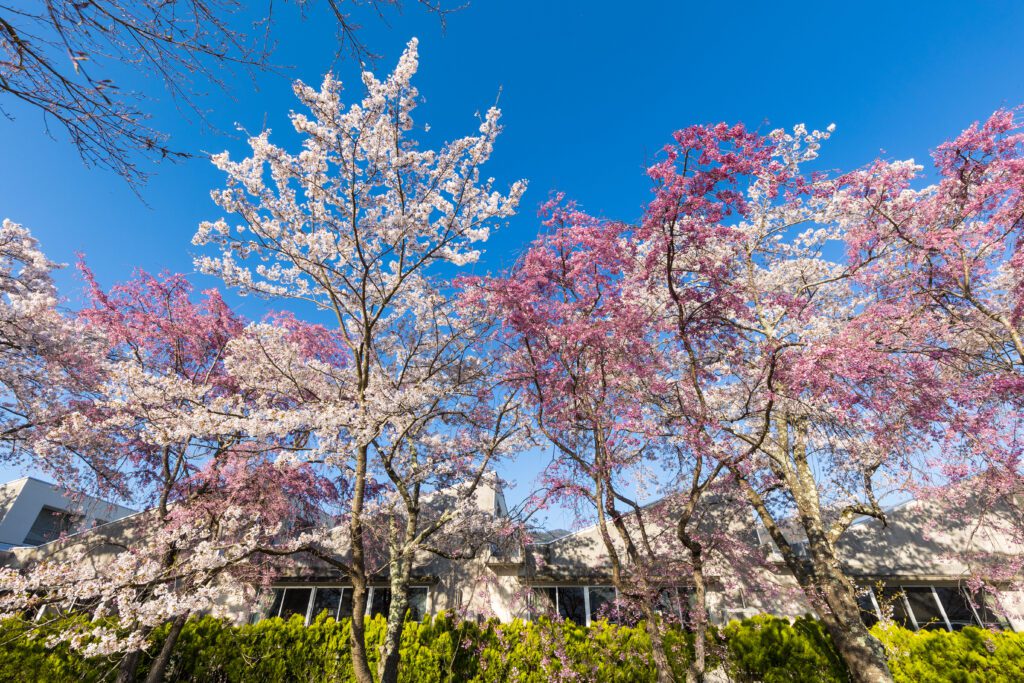 Nothing beats the beauty of nature's color combinations!
It wasn't just about the pink cherry blossoms and ume trees; there were also some other interesting colors. When you've had enough of walking around the lake, return to the main road and board the red line bus, keeping the lake to your left.
Visit Oishi Park to get great views of Mount Fuji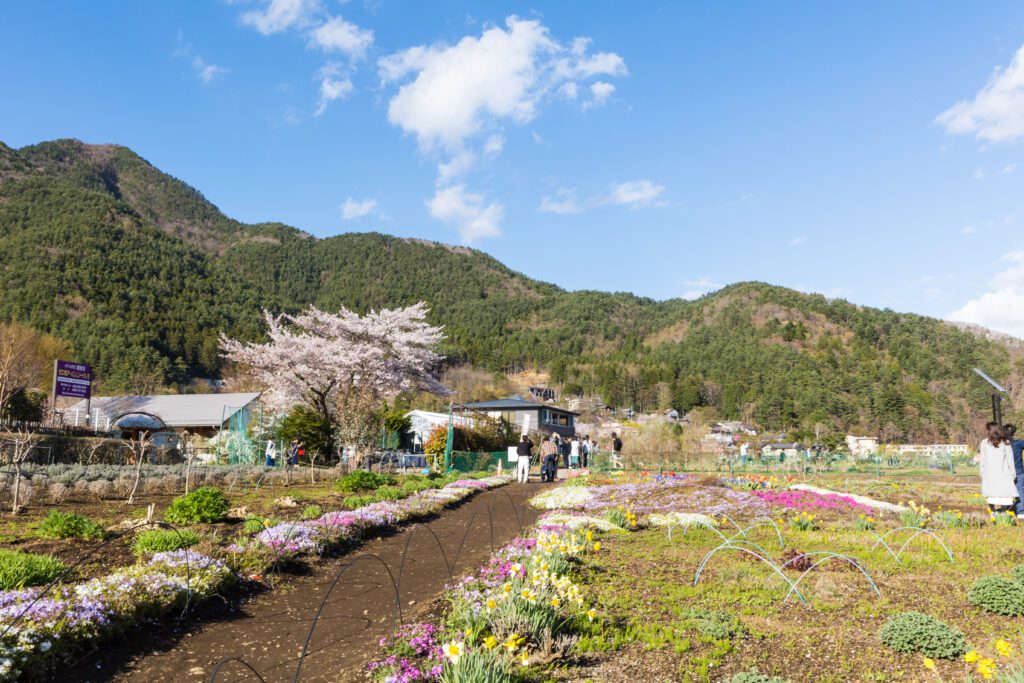 The ever colorful Oishi park!
Your next stop will be the lovely Oishi Park. You must go to the final stopping, #20, Kawaguchiko Natural Living Center. Crossing the street will lead you to Oishi Park. The park contains lovely flowers and a well-known gift shop.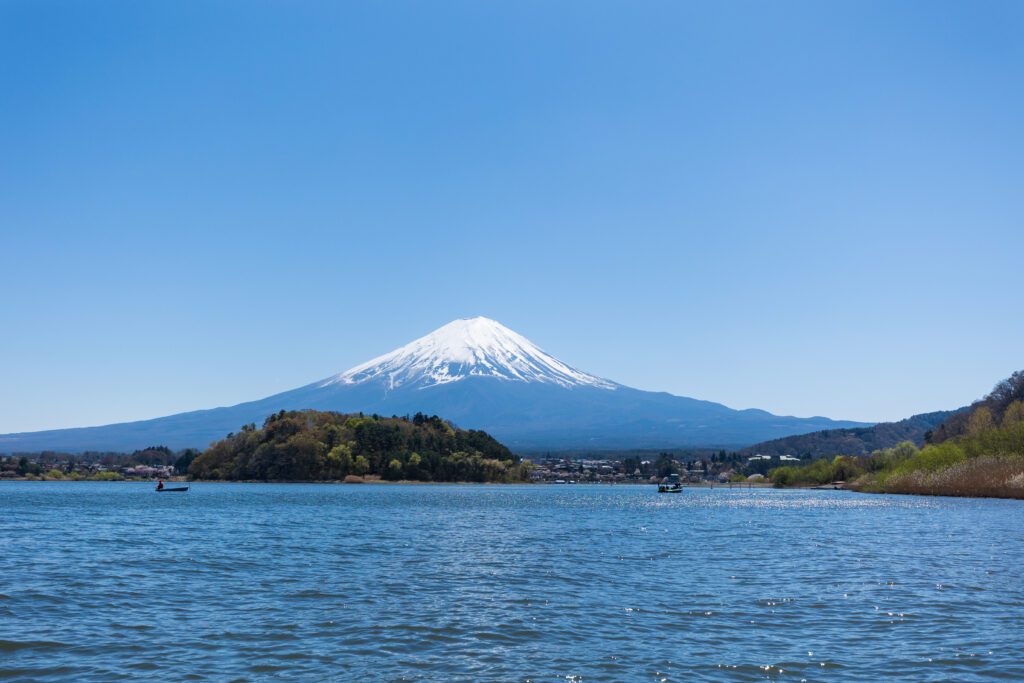 Mount Fuji as seen from Kawaguchiko's Oishi Park.
Oishi Park is located on the lake's northern bank and is one of the best spots to get unobstructed views of Mount Fuji. Grab an ice cream cone and sit on the grass to pass the time.
Mount Tenjo Ropeway
This ropeway will carry you to Mount Tenjo's observatory deck. A panoramic view of the lake, Aokigahara forest, and Mount Fuji will be provided. Expect a significant wait because this cable car is used by the majority of visitors.
Fuji-Q Highland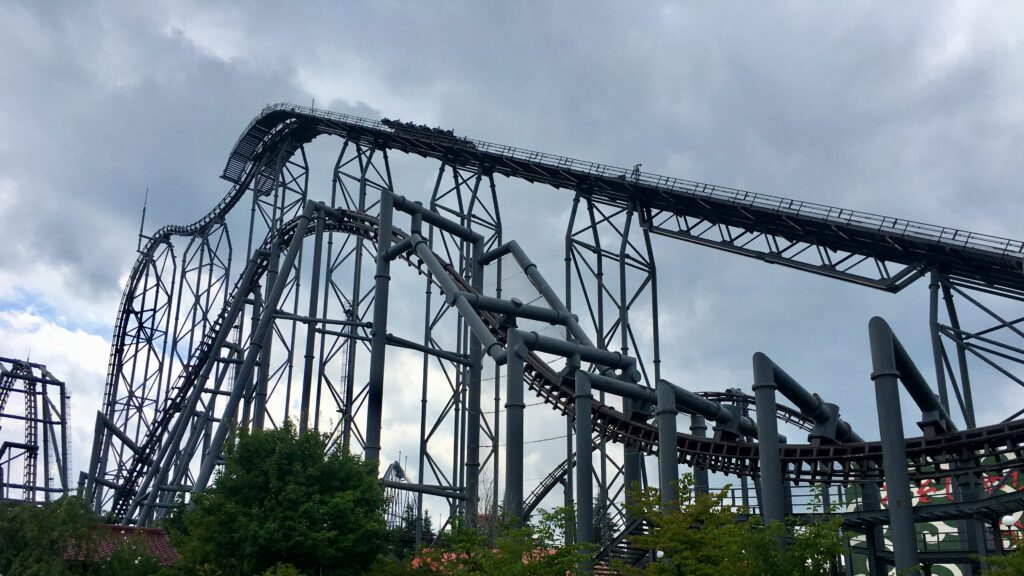 One of the five roller coasters in Fuji-Q highland amusement park
Prepare for an adrenaline rush! Kawaguchiko is more than just nature and Mount Fuji. Fuji-Q Highland is an excellent entertainment park. It includes some of Japan's most famous roller coasters. One of them, Fujiyama, stands 70 meters tall and travels at 130 kilometers per hour. As a result, it is the world's third longest and eleventh highest roller coaster. There are some haunted houses to visit there as well. Book your ticket for Fuji-Q highland, and get ready to scream while watching the gorgeous mount Fuji from top.
Hotels in Lake Kawaguchiko
Koyabashi (Best Ryokan in Lake Kawaguchiko)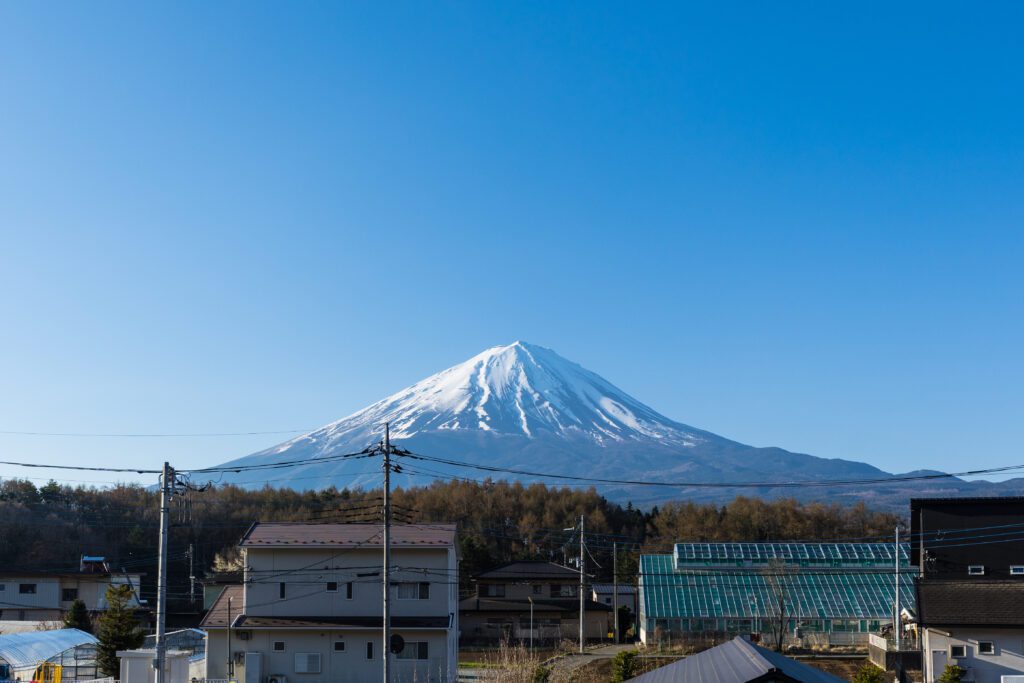 Mount Fuji view from the window of Hotel Koyabashi in Kawaguchiko
Koyabashi is a budget hostel, and one of the cheapest in Kawaguchi. Every accommodation has a spectacular view of Mount Fuji. The photo of Mount Fuji above was taken from the window of my Koyabashi hotel room. The only drawback is that it is a bit far from Kawaguchiko station; nevertheless, you may catch the Blue line bus here. Because the blue line bus runs infrequently, check the schedule (given at the bottom part of this blog) when planning your trip.
How to get to Lake Kawaguchiko from Kawaguchiko Station
Lake Kawaguchiko is relatively accessible on your own. Aside from walking around, you have two excellent possibilities.
Take a Bus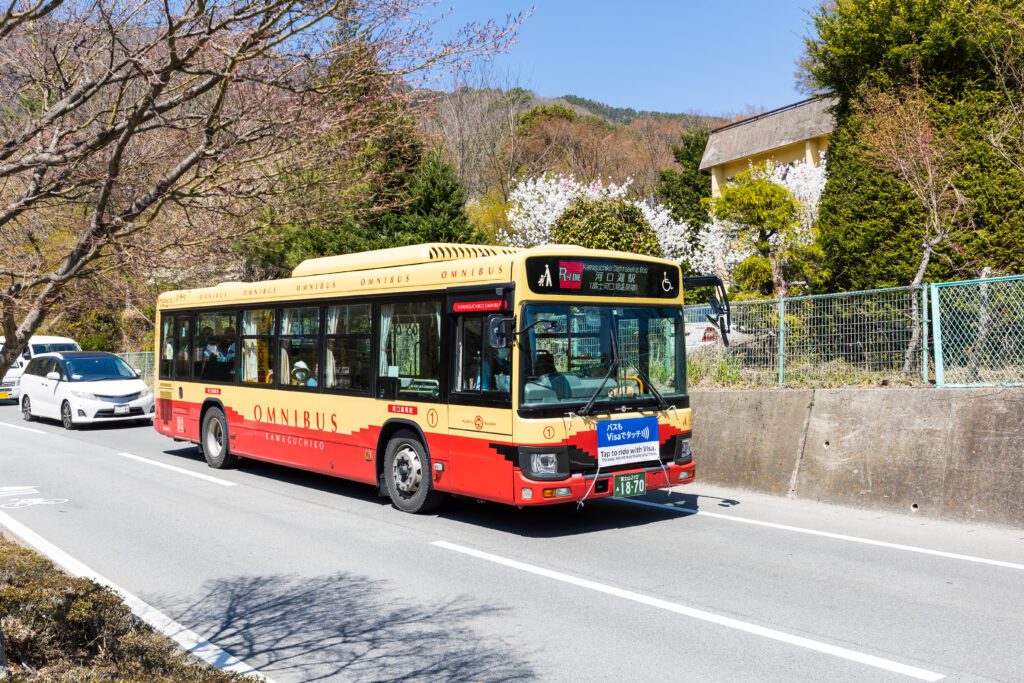 The Red-line bus is one of three lines that serve Kawaguchiko.
The town itself is little. Throughout the day, three bus lines (Red, Green, and Blue) service the majority of the areas. If you plan to stay in Kawaguchiko for more than a day, you should purchase a two-day permit for JPY 1500. You will be able to take any bus in town with this pass. You must enter the bus through the back door. You must present your pass to the bus driver while exiting. If you do not wish to purchase a pass, you may use an IC card such as Pasmo or Suica. They also accept Visa cards. All you have to do is tap them when you get inside the back of the bus. Remember to tap the card before going down again. If your primary goal is to appreciate the lake and Fuji Mountain, you should take the Red Line bus.
The red line bus runs every two minutes, the green line every hour, and the blue line every 2 to 4 hours. Kawaguchiko Tourist Bus Route Map
Kawaguchiko Tourist Bus Route MapDownload
Kawaguchiko Red line bus timetable
Red Line Bus schedule of KawaguchikoDownload
Kawaguchiko Blue line bus timetable
Blue line bus schedule of KawaguchikoDownload
Kawaguchiko Green line bus timetable
Green line bus schedule of KawaguchikoDownload
Rent a Bike
Riding a bike is another excellent way to get around town. You can rent either an electric or a normal bike. Near the station, there are various shops. Renting is simple; simply fill out a form, pay, and you're ready to go.
Frequently asked questions about Mount Fuji and Lake Kawaguchiko
Is it possible to roam around in Kawaguchiko without a car?
Absolutely! You can use the public transportation which is widely available. Besides, you can rent a bike or even walk.
Can I find any locker in Lake Kawaguchiko?
Yes, lockers are available for renting in Kawaguchiko train station.
How much does it cost to rent a manual bike in Lake Kawaguchiko?
1 hour ¥500, 3 hours ¥1,000, 1 day, ¥1,500, 24 hours ¥2,500, 1 night & 2 days ¥3,000
How much does it cost to rent a electric bike in Lake Kawaguchiko?
3 hours ¥3,000, 1 day, ¥4,000, 24 hours ¥5,500, 1 night & 2 days ¥6,500
On which day of the year did you take the photos of Lake Kagaguchiko in this blog?
Those are taken on 9 April.
The post Best Place to See Mount Fuji appeared first on A Walk in the World.