14 Amazing Restaurants and Cafes in Bir Billing that you Must Try
Anyone who knows me well knows that I am a big-time foodie and am always to try new and local cuisines wherever I go. So, it is only natural that on my 1-month trip to Bir Billing, I tried a few different Tibetan dishes and checked out different restaurants and cafes in Bir Billing to […]
Anyone who knows me well knows that I am a big-time foodie and am always to try new and local cuisines wherever I go. So, it is only natural that on my 1-month trip to Bir Billing, I tried a few different Tibetan dishes and checked out different restaurants and cafes in Bir Billing to find the best food for myself.
Since I was on a money crunch, I couldn't try every café and restaurant but a few of which I tried was actually really good. I had traveled to Bir from Delhi and since I am not a food blogger or anything so forgive my first attempt at describing these food places I tried. You don't have to travel to Bir to try these out too, you can easily plan a weekend trip and enjoy the tasty food here. So, if you are looking for general where to eat in Bir Billing and what to eat here, then this article will be able to help you out.
Trust me, you have to try a few of these places for the best food experience in Bir!
Disclaimer: I haven't been paid or asked by any of the below-mentioned eatery places to write this article or include their name in it. All of the views noted below are unbiased and concluded on my own personal experience at these places.
Cafes and Restaurants in Bir Billing I Tried
1. Garden Café and Restaurant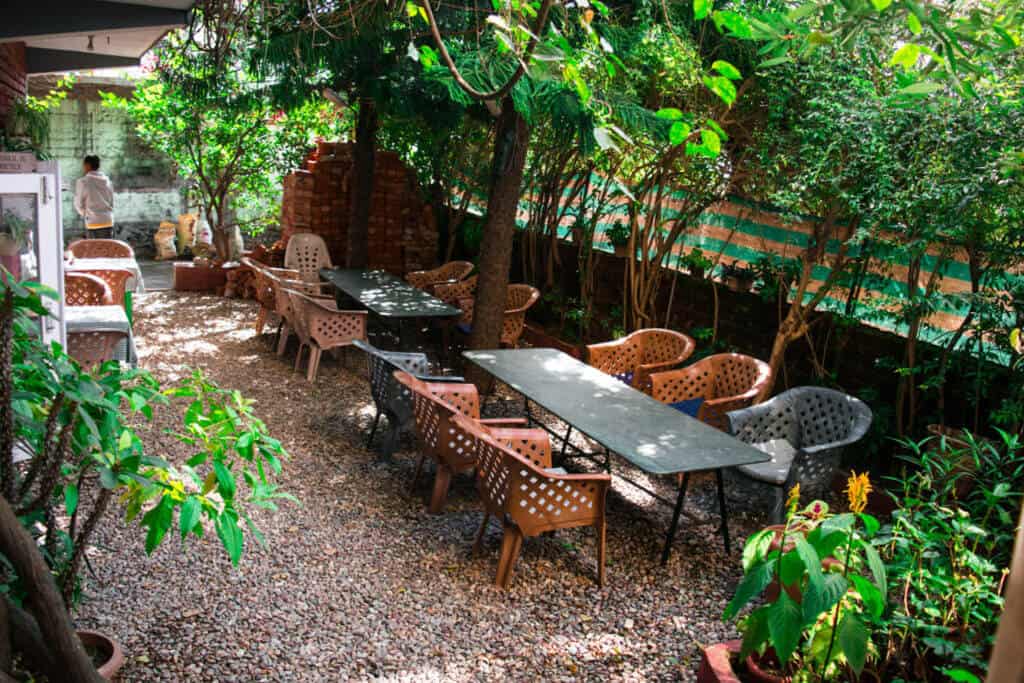 Honestly, it was during the last days that I ventured out to try the Garden Café and Restaurant because I heard so much about it from other guests. And when I checked the rating on Trip Advisor, all the reviews seemed to be raving about this place. So, I figured why not give it a try.
Frankly, I had assumed that the place would be expensive and they would serve tiny portions of everything that we ordered. But when I entered the place, I was left completely surprised by the décor. They had actually set the tables in a beautiful garden and also had a garden set up on the first floor.
It was quite beautiful and I could imagine how gorgeous it would look lit up, at night too. And then, another guest and I ordered a Pancake to share along with 2 cups of Tea. I had a quick look at the menu and found that the prices were decent and not as high as I was expecting. But it was when the Tea was served that I was truly shocked about the quantity.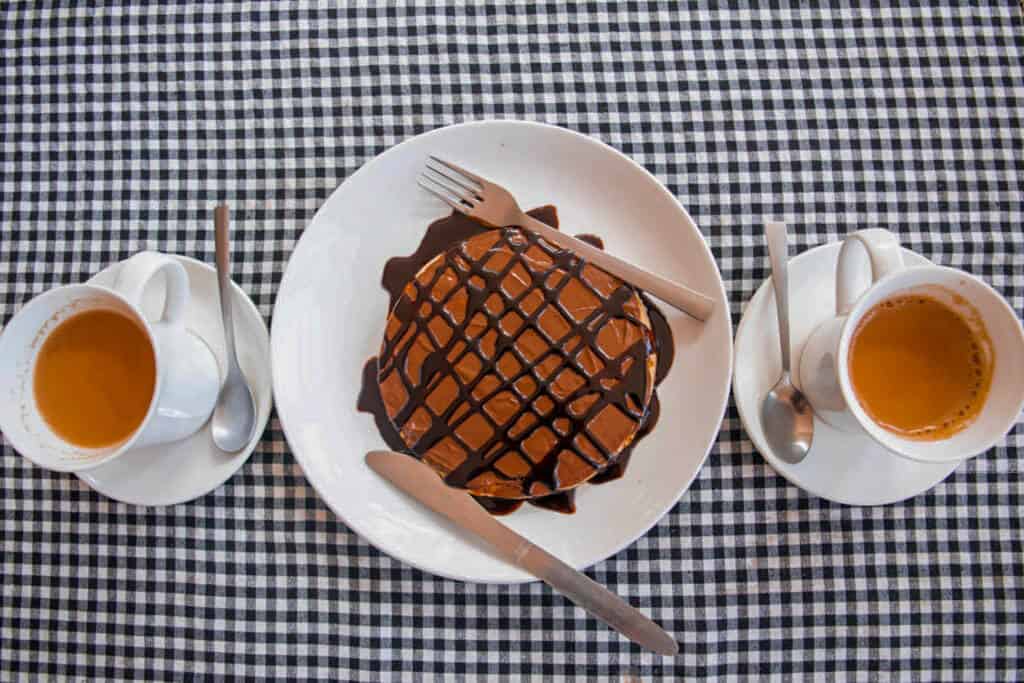 They had actually poured us tea (20 INR) in Hot Chocolate mugs instead of the small cups which I was expecting. Next came the Pancake (110 INR) which was again decently sized and looked really yummy. And that first bite, oh holy mother of god, I actually can't describe how delicious it was. The pancake with chocolate syrup just melted in my mouth and we both instantly had a foodgasm, it was that scrumptious.
So, I would personally recommend everyone to do try Garden Café and Restaurants at least once when visiting Bir Billing. It is undoubtedly one of the best cafes in Bir Billing for both ambiance and food.
Ambiance: 9/10
Food: 10/10
Service: 8/10
Quantity: 10/10
Overall: 9.25/10
2. Nyingma Kitchen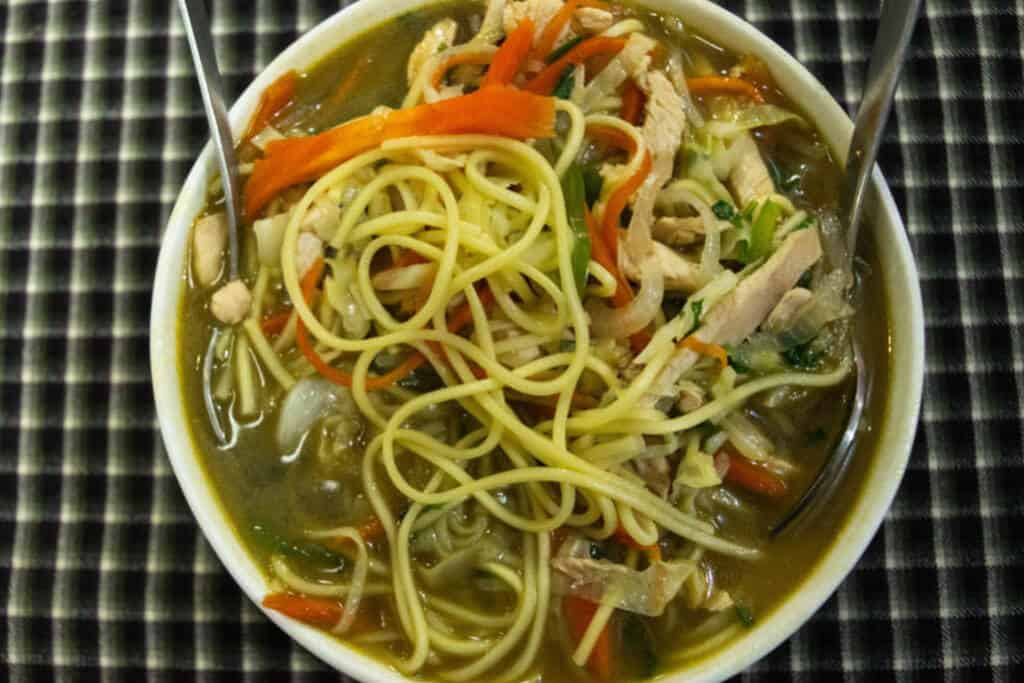 Another personal favorite of mine is the Nyingma Kitchen where you get the most amazing Tibetan and Chinese dishes ever. This is one of the best restaurants in Bir Billing and is budget-friendly too so you don't have to worry about spending a fortune here.
Personally, I have tried here Chicken Thupka (90 INR), Devilled Momos (Veg and Mutton (140 INR)), Chicken Fried Rice, Fried Momos, etc. And I especially loved the Thupka and the Devilled Momos here. Thupka is a Tibetan dish which is made up of broth, noodles, and vegetables (meat pieces if it is non-vegetarian) and is really delicious. I had tried Thupka at some other place in Bir Billing too but my favorite go-to place for Thupka in Bir Billing was always Nyingma Kitchen as it was spicy and not at all bland.
Also, the quantity of Thupka is a little too much so it is not possible for a single person to finish it up, you need the help of at least 1 other person. The next thing that I would highly recommend you to try here is the Devilled Momos which is a delight for any Honey Chilli Potato lover. Momos are fried and then covered in honey chili sauce which gives it a slightly sour yet delicious flavor.
Ambiance: 8/10
Food: 9/10
Service: 7/10
Quantity: 10/10
Overall: 8.5/10
3. Nyingma Café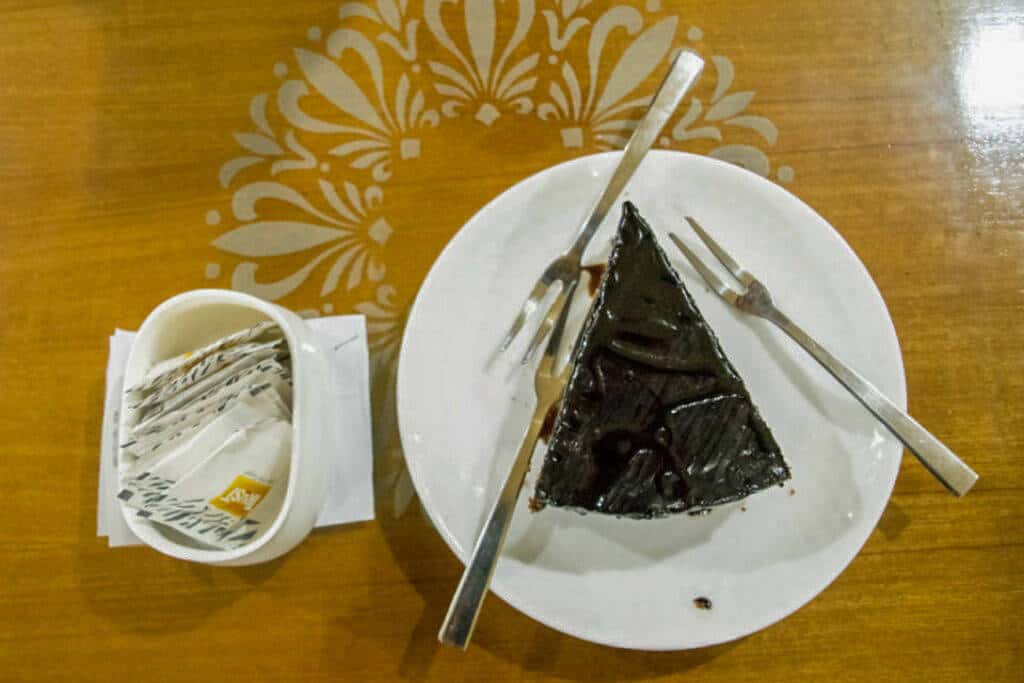 Another one of the best cafes in Bir Billing is the Nyingma Café where they serve the most delicious desserts ever. I tried here Chocolate Cake, Brownies, and Carrot Cake but it was definitely the Chocolate Cake that stole my heart here.
It just melted in your mouth and you could actually taste a hint of jaggery and Rum in it which gave it a slight taste kick. I loved it so much that I had it 2-3 times and I can still imagine it melting in my mouth as I describe it in this blog.
Trust me, if there is one thing that you have to absolutely try in Bir Billing, it is this Chocolate Cake at Nyingma Cake (90 INR).
Ambiance: 10/10
Food: 9/10
Service: 9/10
Quantity: 10/10
Overall: 9.5/10
4. 99 Not Out Restaurant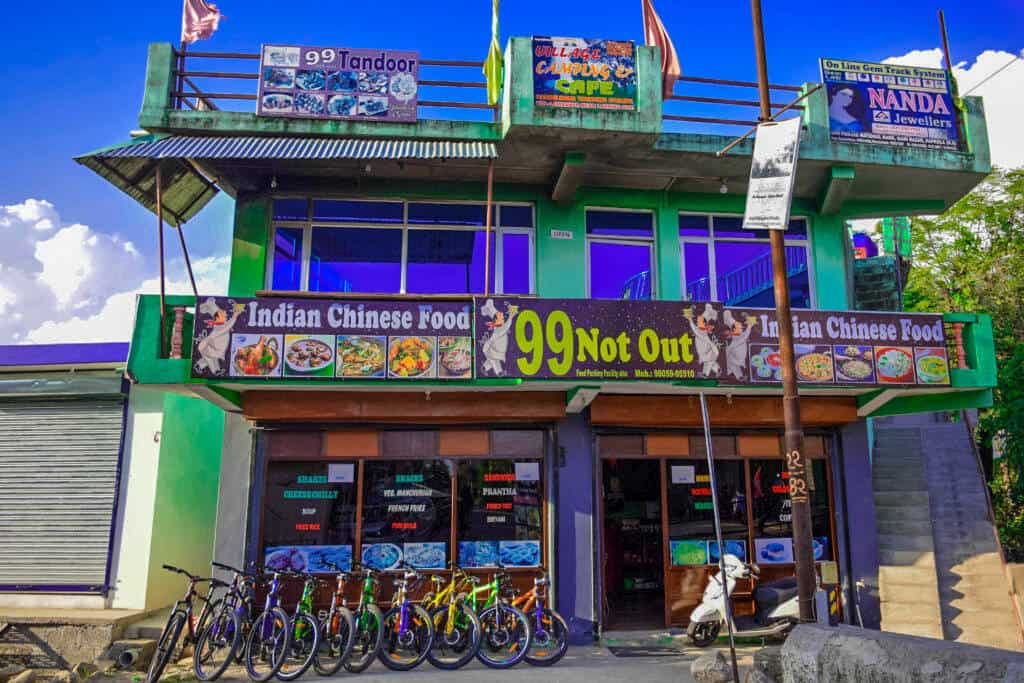 If you are craving a little North India cuisine and would like to have delicious Chicken curry then 99 Not Out Restaurant is one of the top restaurants in Bir Billing for you to visit. This place is located 100 m before the Landing site (Paragliding Landing site in Bir) and serves the most delicious North Indian dishes ever.
It is a small and clean restaurant and not at all fancy like other places in Bir Billing. The food is good and decently priced and the quantity is amazing too. I ordered a Half plate Chicken curry (160 INR) which had around 10 small pieces and 5 Chapattis (7 INR) which felt just like home food. So, if you crave some North Indian cuisine, 99 Not Out is the place to head to.
Ambiance: 7/10
Food: 9.5/10
Service: 9/10
Quantity: 9/10
Overall: 8.75/10
5. Vairagi Cafe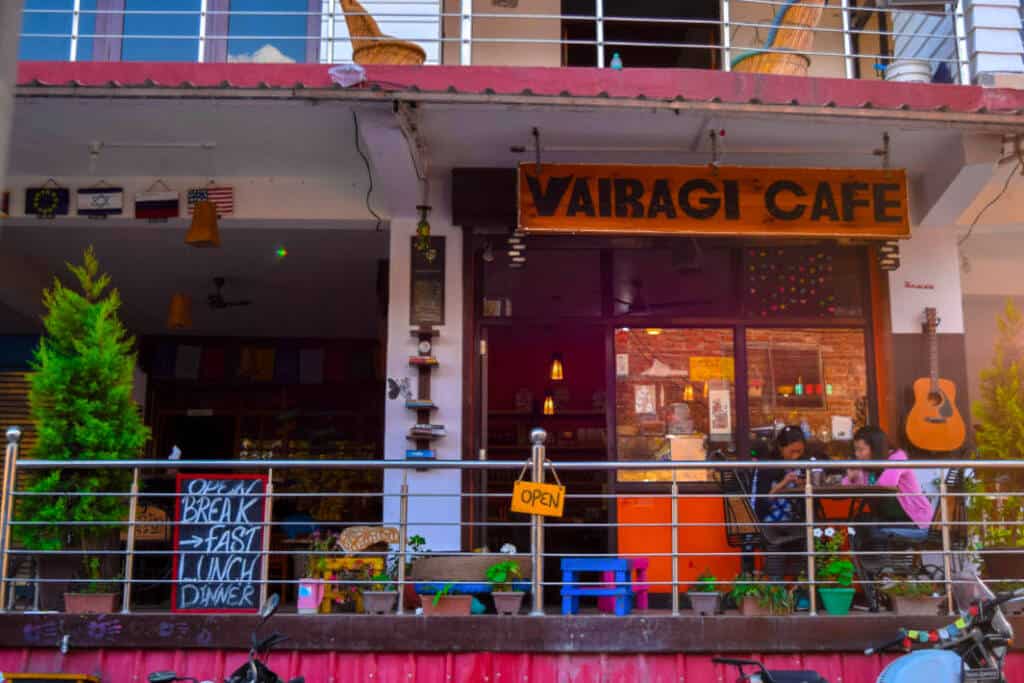 Another café that I frequented often in Bir Billing is the Vairagi Café where they served an assortment of snacks and fast food options like hot dogs, sandwiches, patties, and so on. The place is good, although the inside sitting area is small and the sandwiches are quite small so you would feel hungry if you don't have something to accompany it.
Personally, I liked the Egg sandwich here which was 50 INR and tasted quite good. However, it was not particularly filling so I had to order a Hot Chocolate (60 INR) with it to fill myself up. According to my mom, they do have the best Nescafe in the entire town though so you can give that a try too.
Overall, Vairagi is one of the top cafes in Bir Billing for a quick bite where you aren't looking to fill yourself up.
Ambiance: 9/10
Food: 8.5/10
Service: 9/10
Quantity: 7/10
Overall: 7.75/10
6. Glider's Pizzeria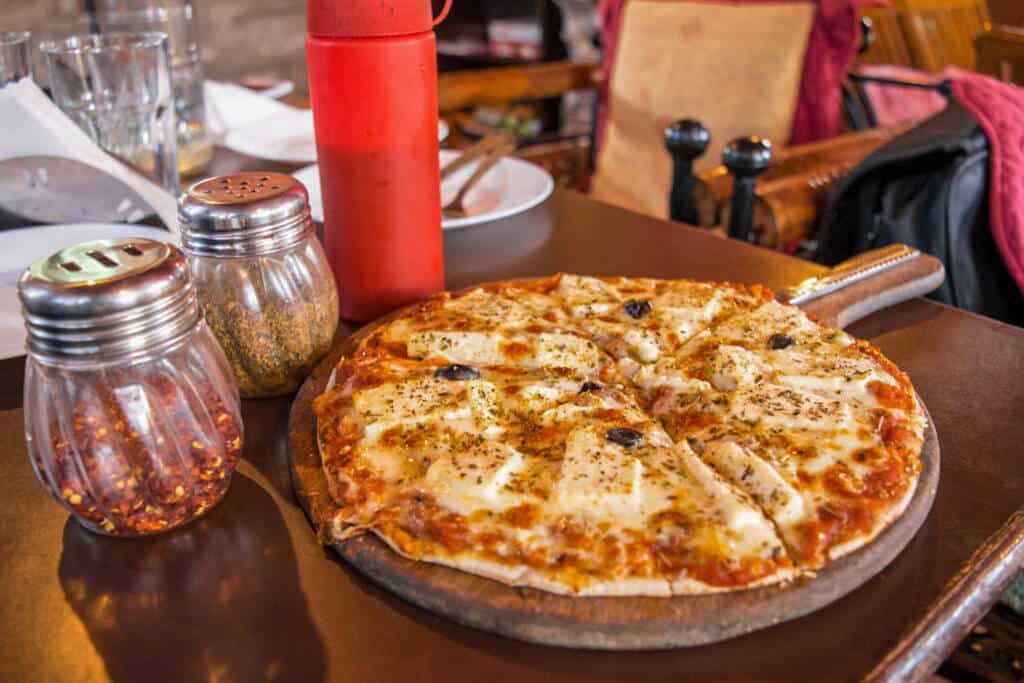 If you are craving Pizza in Bir Billing then Glider's Pizzeria is the best place to go to. They have a nice garden setup that looks particularly ravishing at night while the insides are cozy and comfortable. The entire place is nicely set up and has a good ambiance and although the food options are slightly limited here, with only 2-3 Non-veg pizza options and 4-5 Vegetarian Pizza options, the food is delicious here.
It is not a budget-friendly place so you have to be careful while ordering here but if you don't mind paying 300 – 500 INR for a meal then Glider's Pizzeria is a good place to visit. It is around 100 m ahead of the Landing site, opposite the Silver Lining Café.
Ambiance: 10/10
Food: 9/10
Service: 9/10
Quantity: 8/10
Overall: 9/10
7. Bimla Dhaba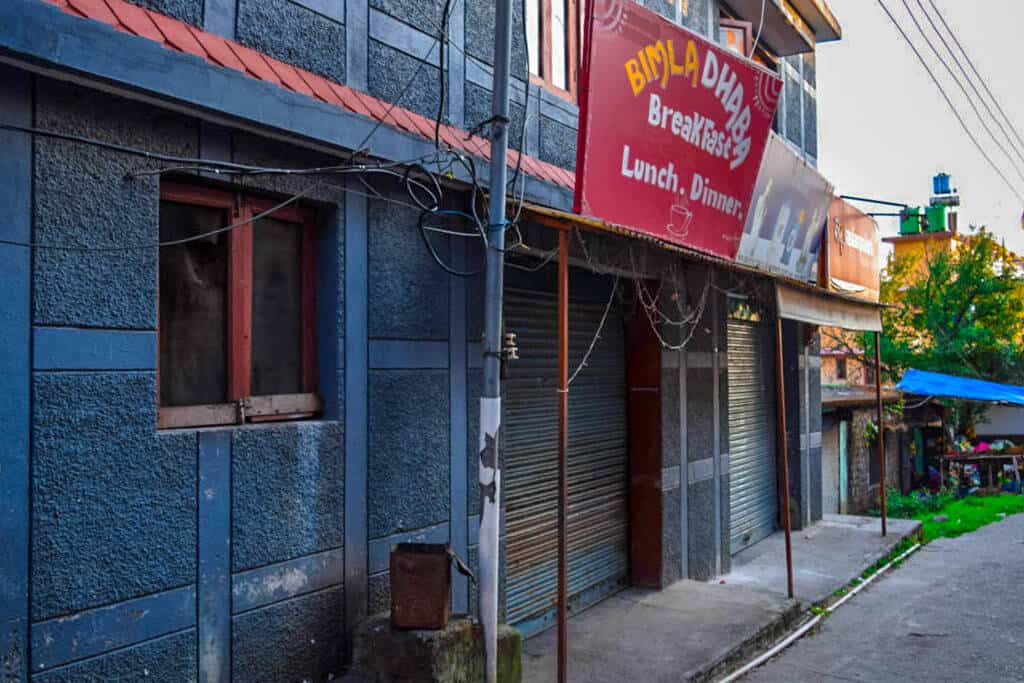 For people traveling on a shoe-string budget who aren't looking for some fancy dining experience, Bimla Aunty's Dhaba in the Tibetan Colony Chowk is the perfect place to try. You get here Vegetarian and Non-Vegetarian meals in the range of 80 – 150 INR which is quite filling and tasty.
The food cooked here feels similar to home-cooked food and is quite simple yet tasteful. You will get rice, curries, dhal, etc., and can take as many helpings as you desire. Also, do note that it is a small roadside establishment so there aren't any fancy chairs or tables here.
Ambiance: 7/10
Food: 9/10
Service: 9/10
Quantity: 10/10
Overall: 9/10
8. Ticksy Food Corner (Next to Zostel Bir)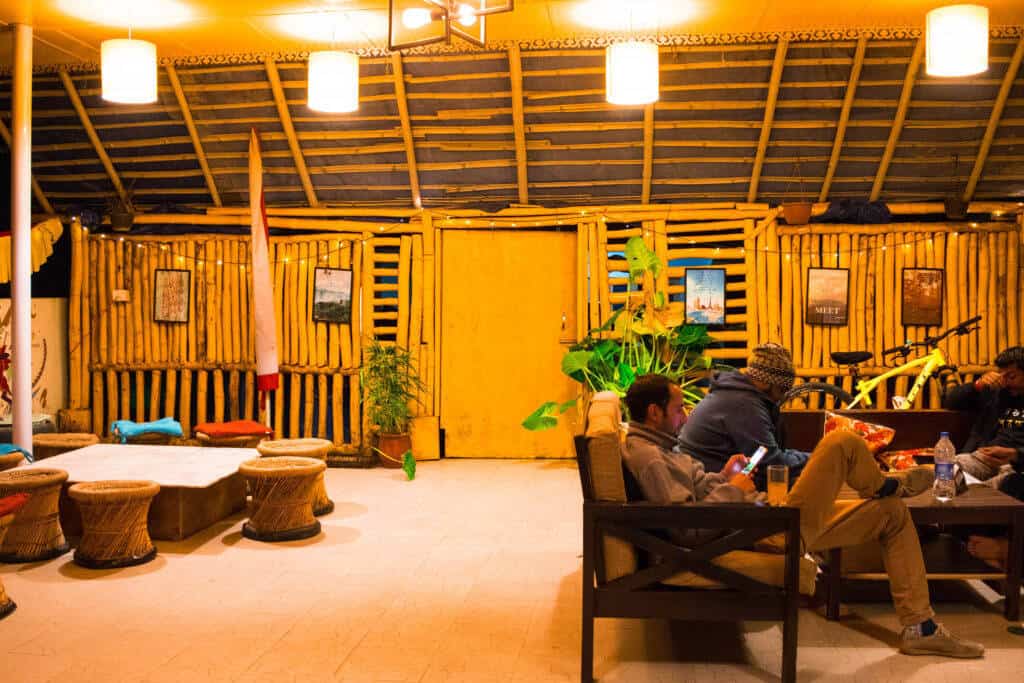 As most of the places open up late in the morning or close up early in the evening, Ticksy is a right savior for all the hungry tourists out there as it is open till 9:30 – 10:00 p.m. Although it is slightly expensive, if you are looking for a meal in the range of 100 – 150 INR but you do have some delightful Chinese and Italian options here.
Their Hakka Noodles is particularly scrumptious and their Juicy Chicken Sandwich is certainly filling and delicious. And they have a sitting area where you can enjoy some music or play games, as you wish. So, a visit to Ticky is sure to be fun and enjoyable.
Ambiance: 10/10
Food: 8/10
Service: 9/10
Quantity: 9/10
Overall: 9/10
9. Ram Bahadur Fast Food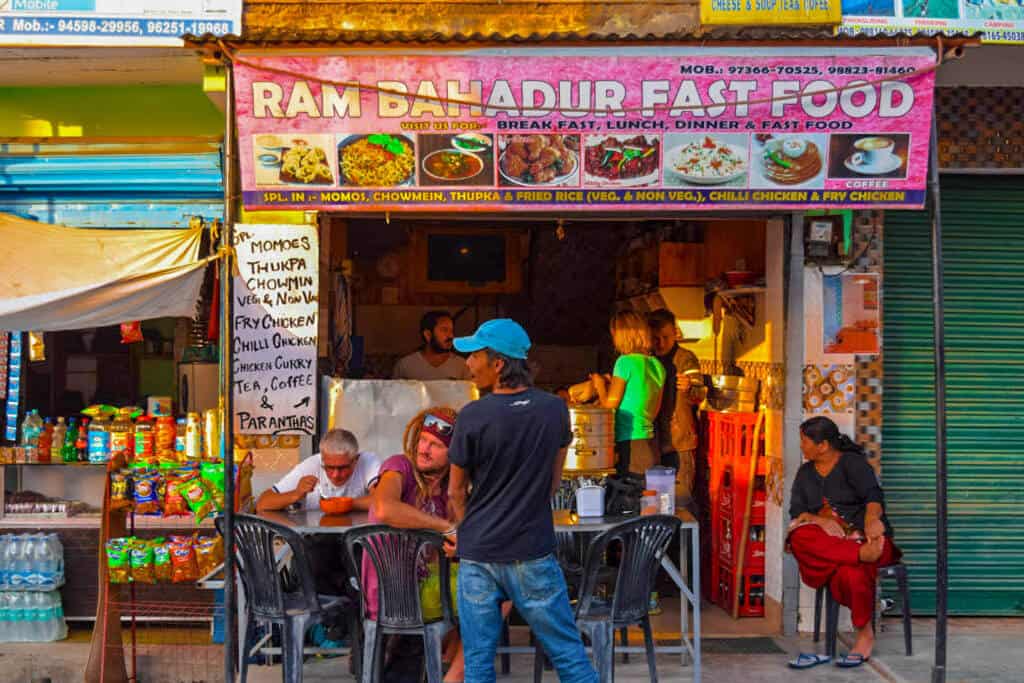 A local place opposite to the Surya Restaurant is the Ram Bahadur Fast Food where you get the most delicious Mutton Momos ever. The place is simple, with a sitting area both inside and outside on the verandah to choose from. You can eat here different Chinese and Tibetan dishes like noodles, Thupka, chowmein, etc.
The prices are reasonable, starting from 60 – 100 INR and one will easily feel sated after having a plate of Momos or Thupka here.
Ambiance: 7/10
Food: 9/10
Service: 9/10
Quantity: 10/10
Overall: 8.75/10
10. Silver Linings Cafe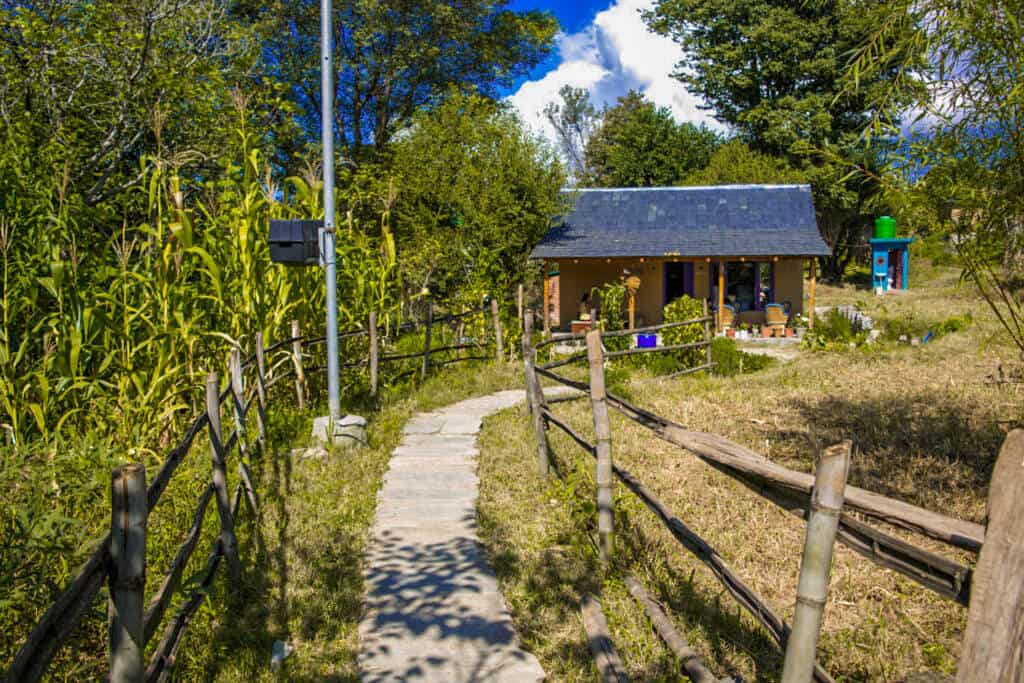 One of the most famous cafés in Bir Billing, Silver Linings Café is one of the few places that almost all tourists/travelers visit at least once during their stay here. Personally, I have been to Silver Linings Café twice and while I wouldn't say that they have the best food in town, they do have a beautiful setting which is comfortable too.
They have a few books inside the café which you can read to pass time and have the menu written on the blackboard. I tried here Brownies and a glass of Lemonade but really wasn't impressed by the taste. However, they do serve a delicious cup of Cappuccino if you are interested in it.
Not one of the most budget-friendly places in town, they do serve some good deserts which you can try here. Also, if you are sitting outside on the patio then beware of the mosquitoes here.
Ambiance: 10/10
Food: 7/10
Service: 8/10
Quantity: 8/10
Overall: 8.25/10
11. Avva's Café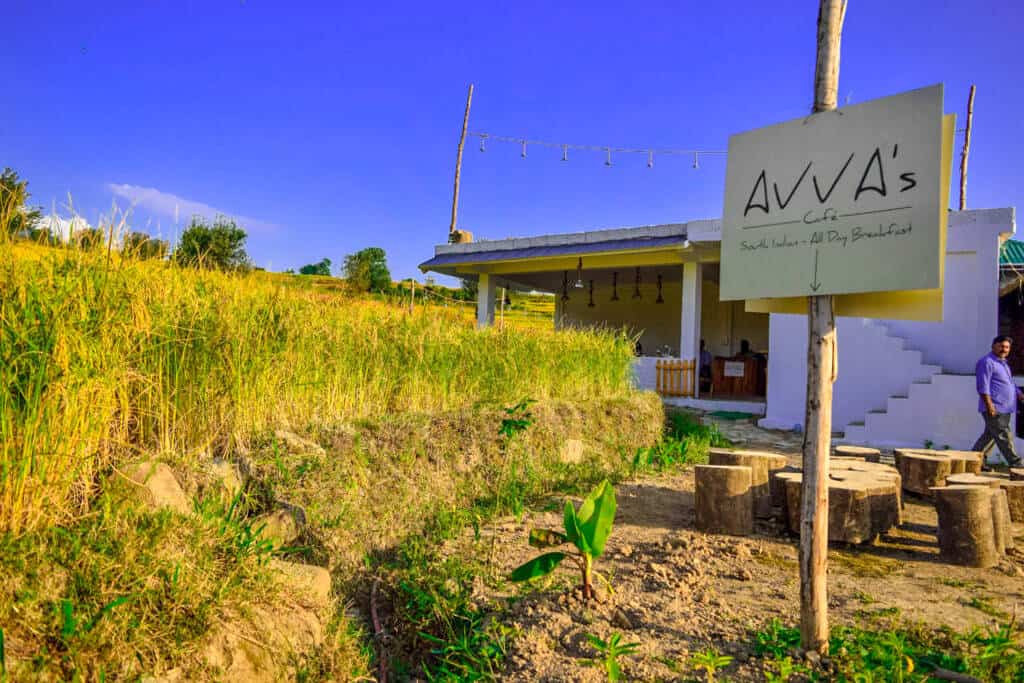 One of the popular cafes in Bir Billing for South Indian cuisine lovers, Avva's Café serves all the major South Indian delicacies like Dosas, Idlis, Rice dishes, etc. However, this is again not a place for budget-friendly eaters as just Masala Dosa costs 150 INR here.
However, they do have a beautiful setting as the place is constructed right next to a farm so you can see long green grass providing a great backdrop to this café. Also, honestly, it is not the best Dosa that I have tasted too (Sorry, after eating Dosas in Tamil Nadu, you kind of get spoilt) but most people swear by its taste so it is definitely worth trying once.
Ambiance: 10/10
Food: 9/10
Service: 9/10
Quantity: 9/10
Overall: 9.25/10
12. Simple Fast Food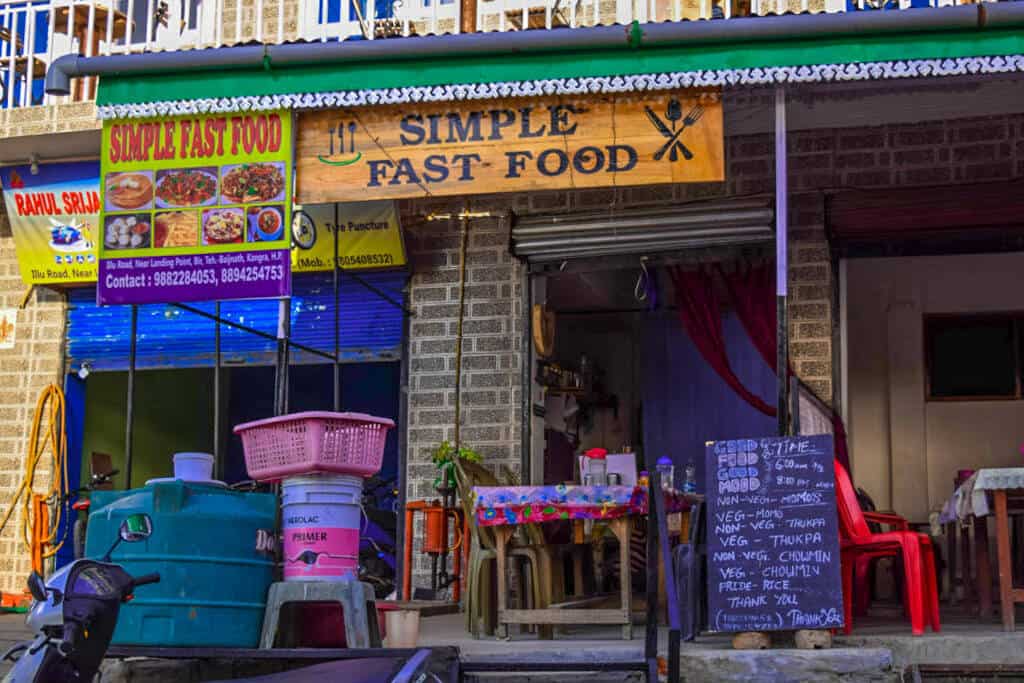 Another small establishment that you can check out for a cheap breakfast is Simple Fast Food where you get a huge Parantha for 30 INR only. You will also get some Tibetan and Chinese dishes here like Chowmein, Thupka, Sha Phakley, and so on and a few drink options as well.
The food is simple and good so don't expect anything fancy here. But yet, it is a great way to save some bucks while traveling in Bir Billing.
Ambiance: 6/10
Food: 8/10
Service: 9/10
Quantity: 9/10
Overall: 8/10
13. Byron Bay Café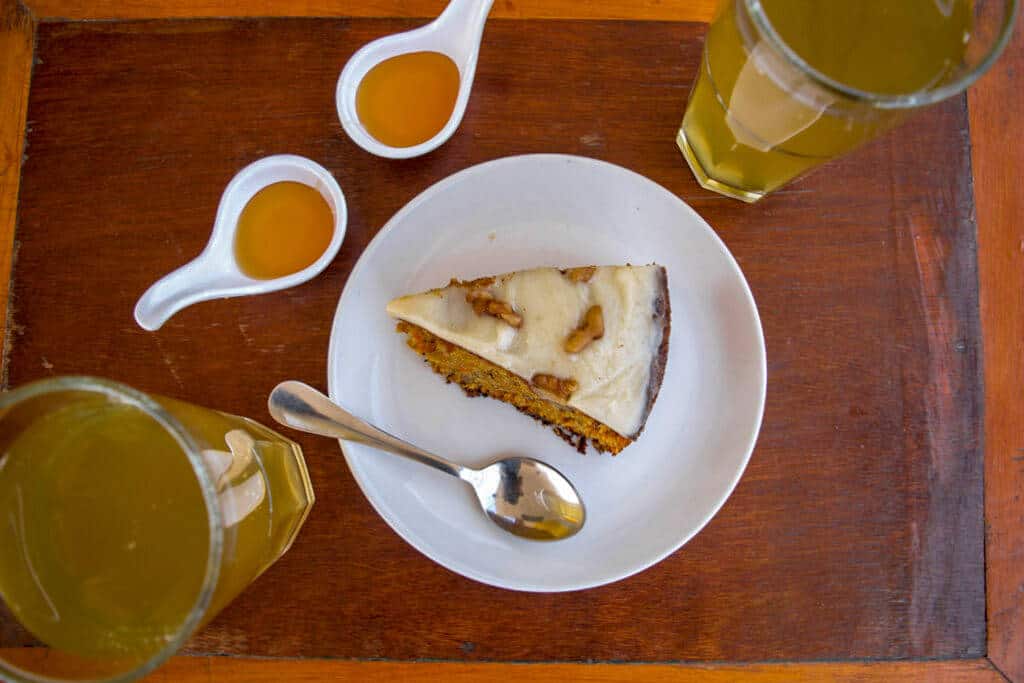 I am not sure how to be diplomatic about this café but honestly, I didn't like the food here at all. So, I would start by suggesting that only go to this place during the evening as they have a beautiful setting or if you are into organic food. Because their entire menu is filled with organic dishes and can be a bit on the pricey end.
Also, a lot of the dishes here won't have prices mentioned so always ask before ordering something. We ordered a Walnut cake piece which cost us 150 INR and Mint Iced Tea which definitely didn't taste like Iced Tea.
Overall, I would advise you to go here only if you are into organic or vegan food because this place is certainly not for people like me. Byron's Cafe is one of the top cafes in Bir Billing for ambiance and organic food.
Ambiance: 9/10
Food: 7/10
Service: 9/10
Quantity: 9/10
Overall: 8.5/10
14. Norbu Ghakyil Cafe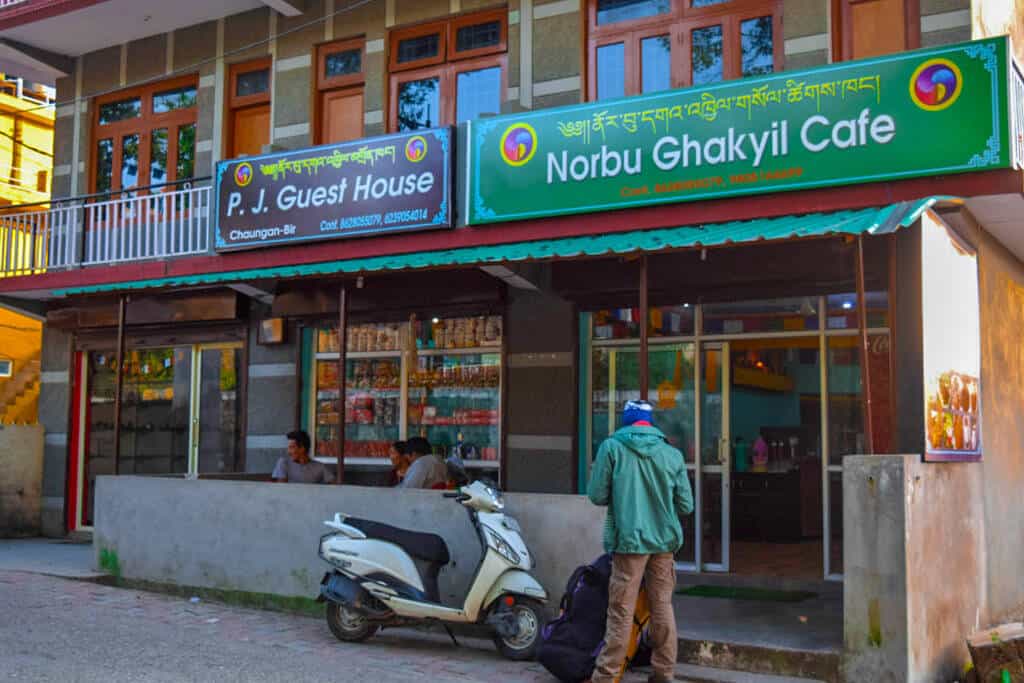 One of the places which I liked the least in Bir Billing is Norbu Ghakyil Cafe. This is really something because usually, I am a lenient judge of food. However, our order of Non-Veg Fried Rice was fucked up at such intensity that I cannot help but pass this verdict.
Earlier, I had met a guest at Zostel who told me that Fried Rice here is cheap and good so I thought why not try for myself. But I am not sure if it was a one-time thing or normally how Fried Rice is made up there. The food was too salty and when returned to fix it, came out bitter than before. And I did feel weird stomach cramps the next day so I am not sure.
Anyway, if you do try out this place, please be careful while trying out the dishes here. Although, their Cold Coffee was delicious so I would definitely recommend it.
Ambiance: 8/10
Food: 6/10
Service: 7/10
Quantity: 9/10
Overall: 7.5/10