The Holi Travel Guide to India: What it is and Where to Celebrate
Read about the Holika Dahan and the significance and meaning of the Holi play. See the best destinations for the Holi festival in India, from Krishna's birthplace in Uttar Pradesh, to cosmopolitan New Delhi with booming Holi music festival season.
The Holi festival will take your breath away from the very first day. Starting as Choti Holi, or Holika Dahan, with songs and dances around the lighted pyres to celebrate the triumph of good over evil, the Holi festival culminates on the next day with play — children and young people armed with dry colors, pichkaris (water guns), and balloons go on streets and splash each other blue, yellow and green. Read our Holi travel guide to learn more.
But what is there so special that this ancient Hindu festival has surpassed many others? Coined as the spring festival, festival of colors, and festival of love, Holi is celebrated differently around the Indian subcontinent, but unites people, as they celebrate the end of winter, and meet others to forget and forgive.
Learn about Holi festival celebrations, traditional meaning, and read our guide to the best Holi celebrations in India or around the world.
Note: Make sure to double-check COVID 19 precautions, protocols, and operating hours before you visit any of these sites, aside from checking the areas with a high risk of yellow fever transmission.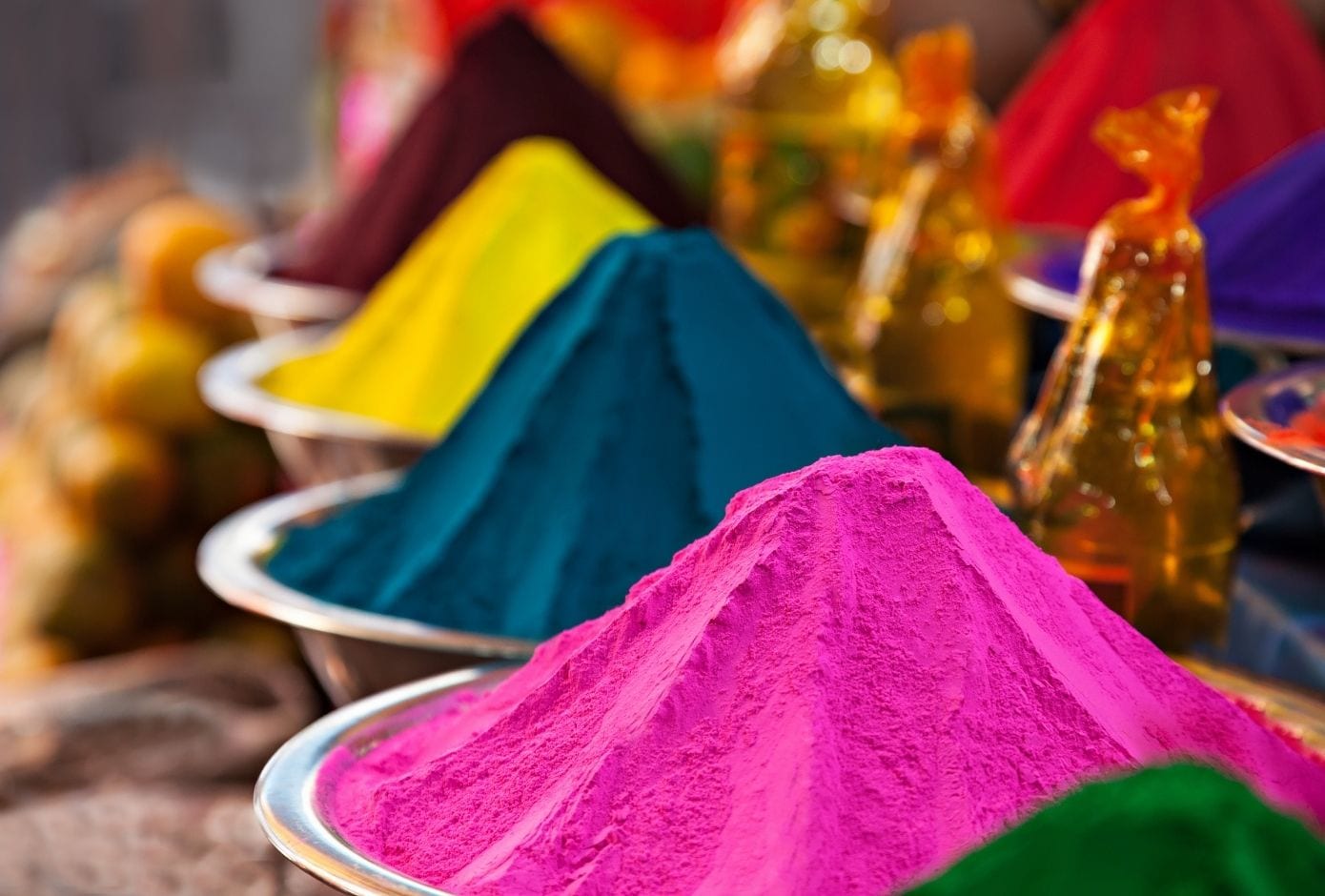 Top 5 Interesting Facts about Lathmar Holi Festival
First, let's dive into some interesting facts about Holi, the festival of colors.
Holi celebrations may last over a week in Northern India. There, men are walking around with shields and women can softly beat them with sticks. In the Brag region in Uttar Pradesh where Krishna was born, the Holi festival endures for at least 16 days.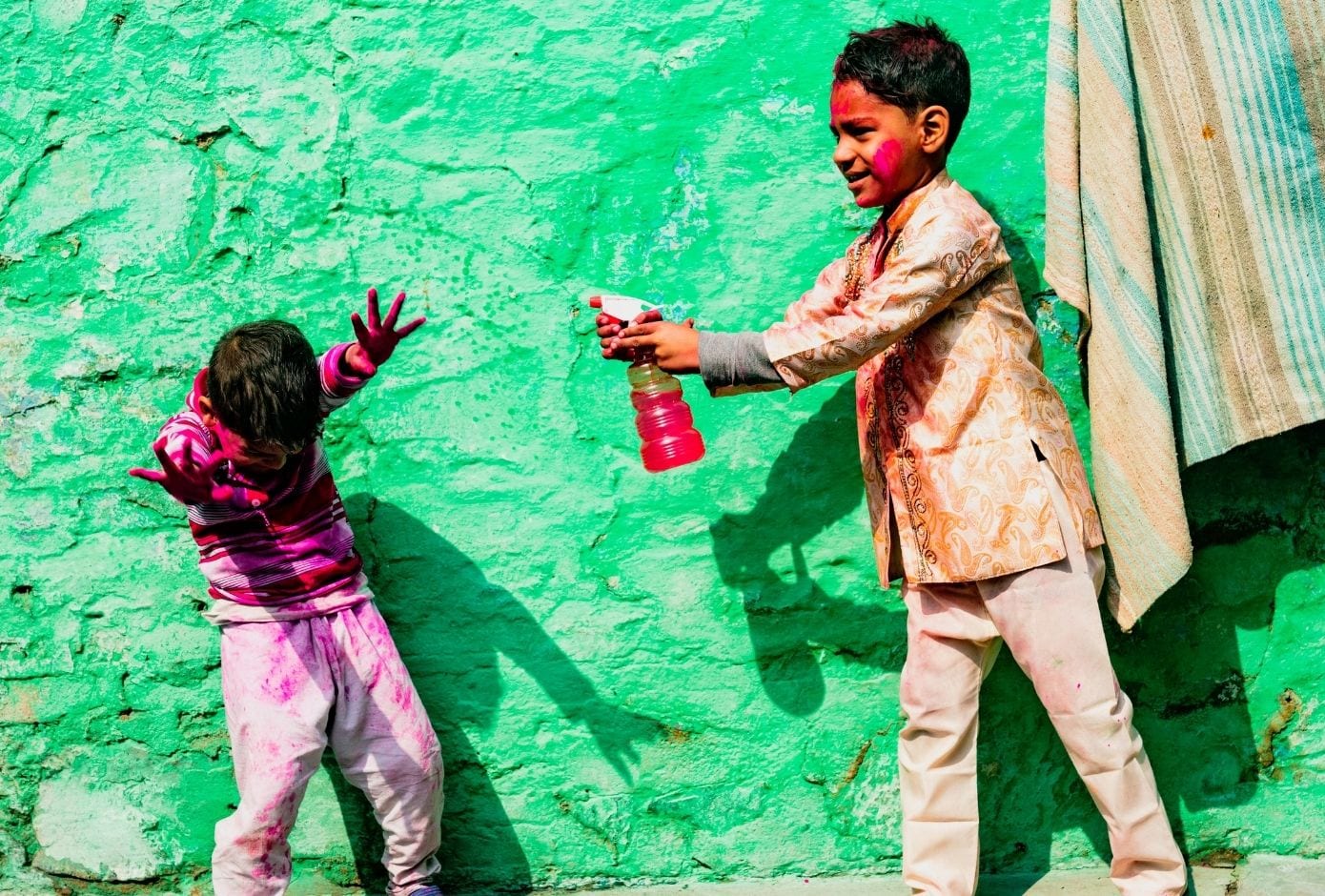 Kids start using water pistols and color powder a week before Holi, targeting passersby on the street. The fetsival is so large that airborne fine particles rise by 600 percent!
A special delight of Holi is Gujiya, a dumpling-like sweet delicacy stuffed with dry fruits and nuts spiced with cardamom. Fillings with pistachios, cashews, coconut, and raising exist, too.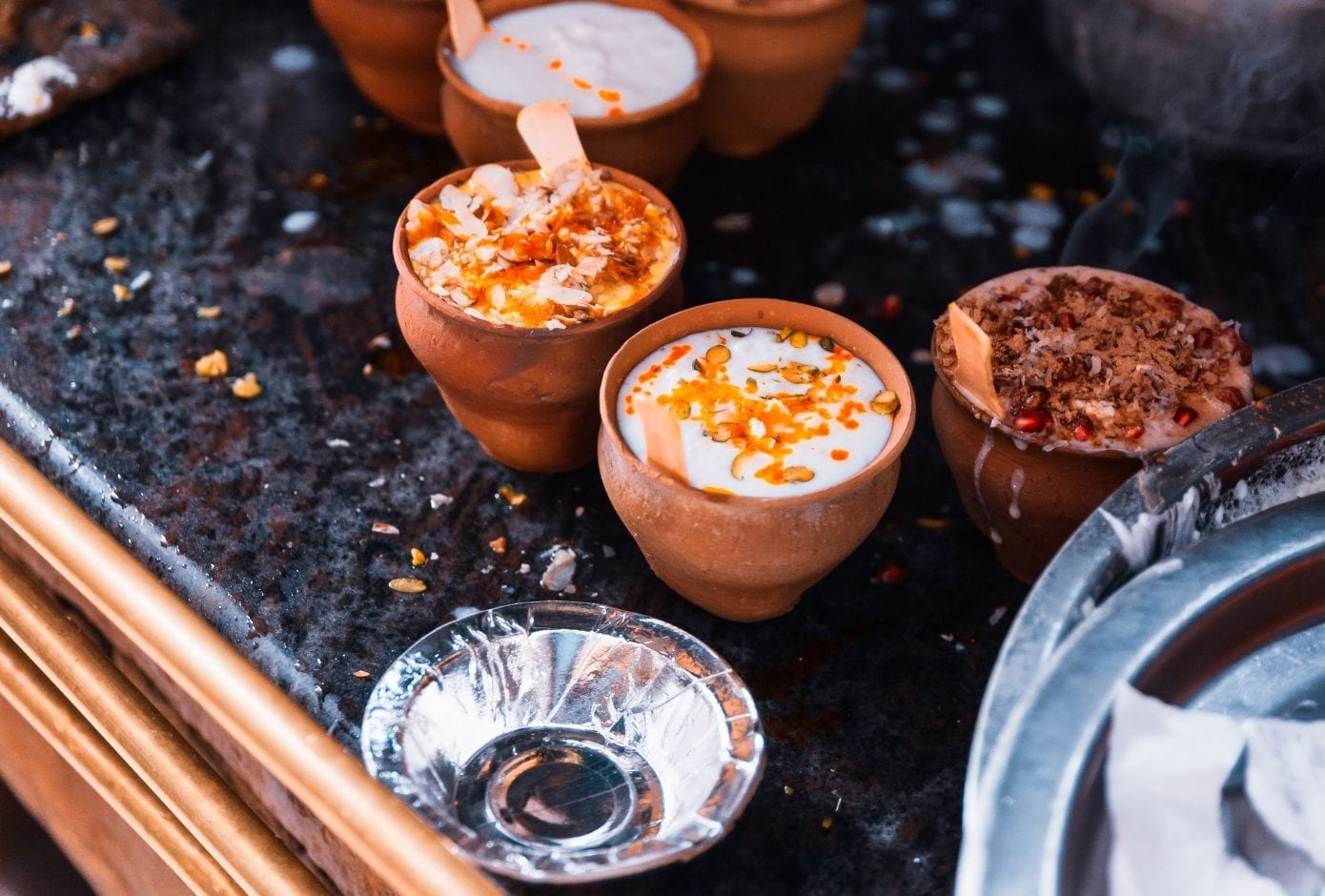 Bhang lassi — a drink made of yogurt, nuts, spices, rose water, and cannabis grown high in the Himalayas — is old in government-run shops and is especially popular during Holi. This milkshake connects through mythology to the powerful monk god Shiva.
The colors splashed during the Holi festival hold special meaning: red symbolizes love, fertility, blue represents Krishna, and green — new beginnings. Natural Holi colors are derived from sandalwood and Indian coral tree (red), henna (green), or indigo plants (blue). The yellow comes from turmeric. Choose your colored powder well!
But this is not all. Learn about the traditions and origin of the Holi festival to know how to celebrate the day of Holi, and where to travel for the festival of colors in India.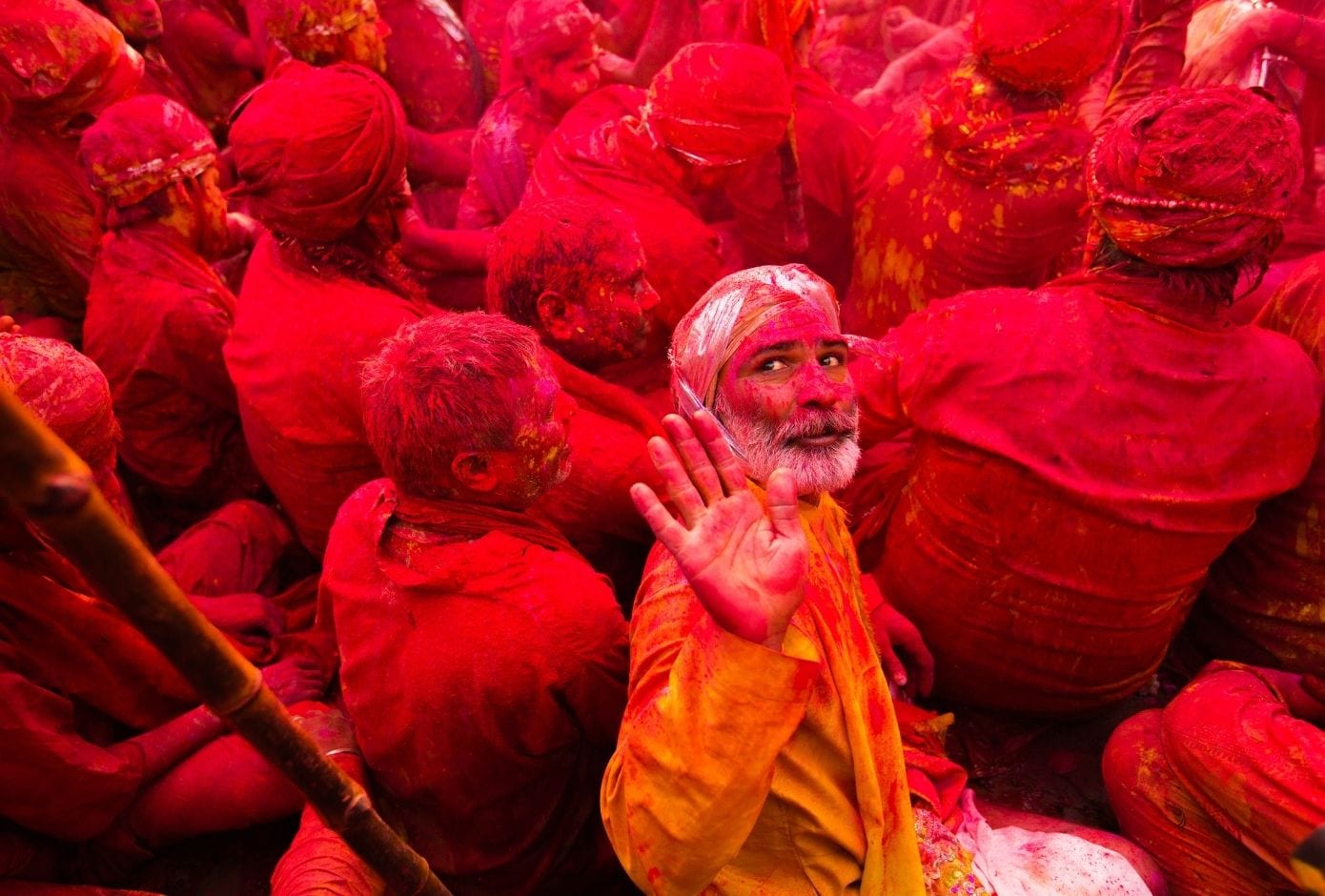 Things you Should Know about Holi
When is Holi celebrated?
Holi celebrations take place after the full moon every year during the month of Phalguna, which generally falls in February or March. The dates are based on the lunar calendar. The eve of the main day of Holi is known as Holika Dahan and is also celebrated across India.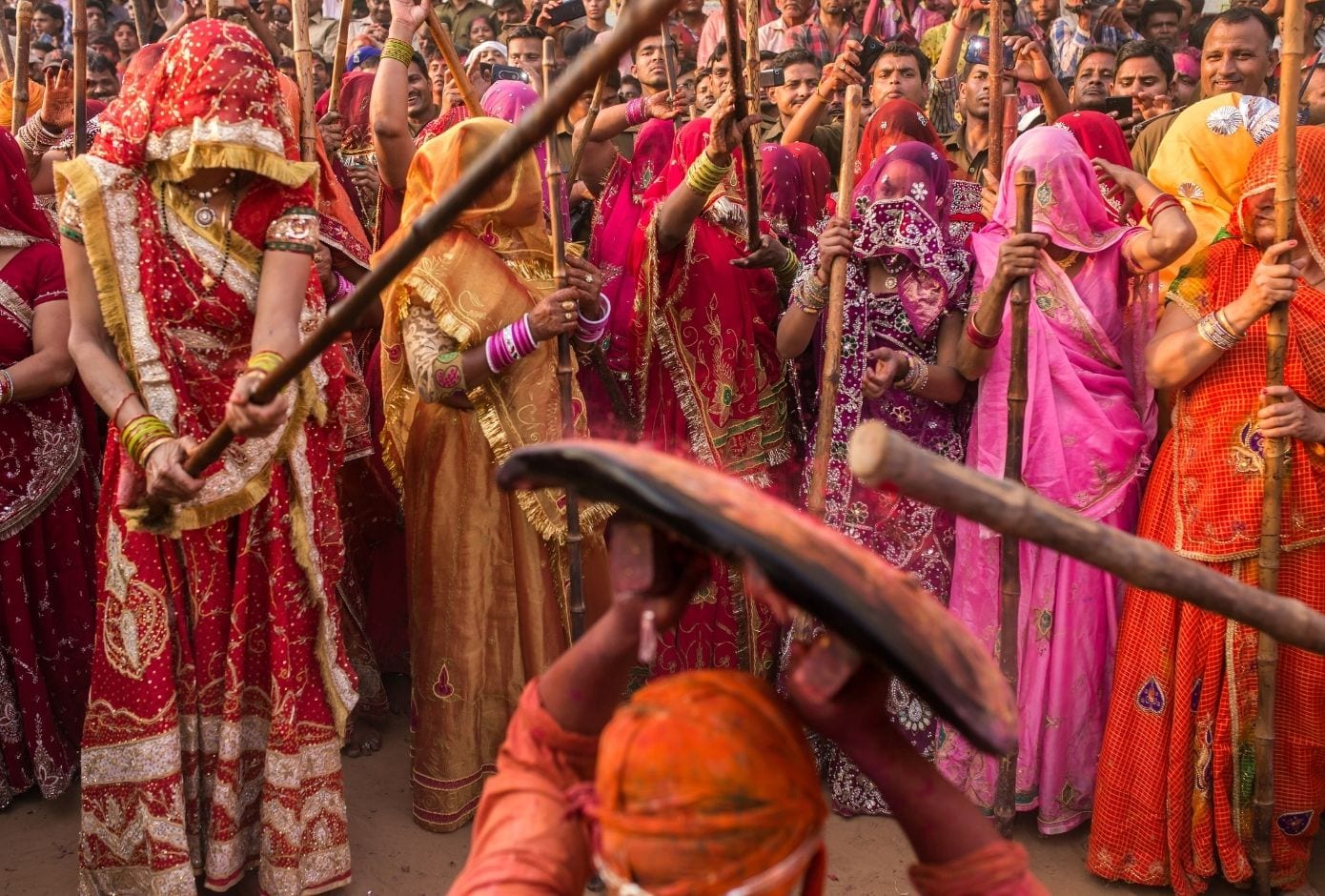 What is Lathmar Holi and why is it celebrated?
Lathmar Holi is a local Nandgaon and Barsana celebration for Holi in Uttar Pradesh that takes place days before actual Holi. The name means "Holi of the stick".
The story behind the Lahmar Holi, literally translating into sticks and colors, is derived from a famous Hindu legend of Lord Krishna, who hailed from Nandgaon and while visiting his beloved in Barsana, teased Radha and her friends, who drove him out of the city. In sync with the legend, men visit Barsana every year, only to be hit by lathis by women, and unlucky ones are captured, dressed up in womens' clothes, and made to dance in public. The whole scene takes place in Radha Rani temple in Barsana, the only temple in India dedicated to Radha.
The festivities last for over a week, and people dance, sing, and drink thandai, a traditional drink made with milk, peppercorn, almonds, and spices, like cardamom and saffron.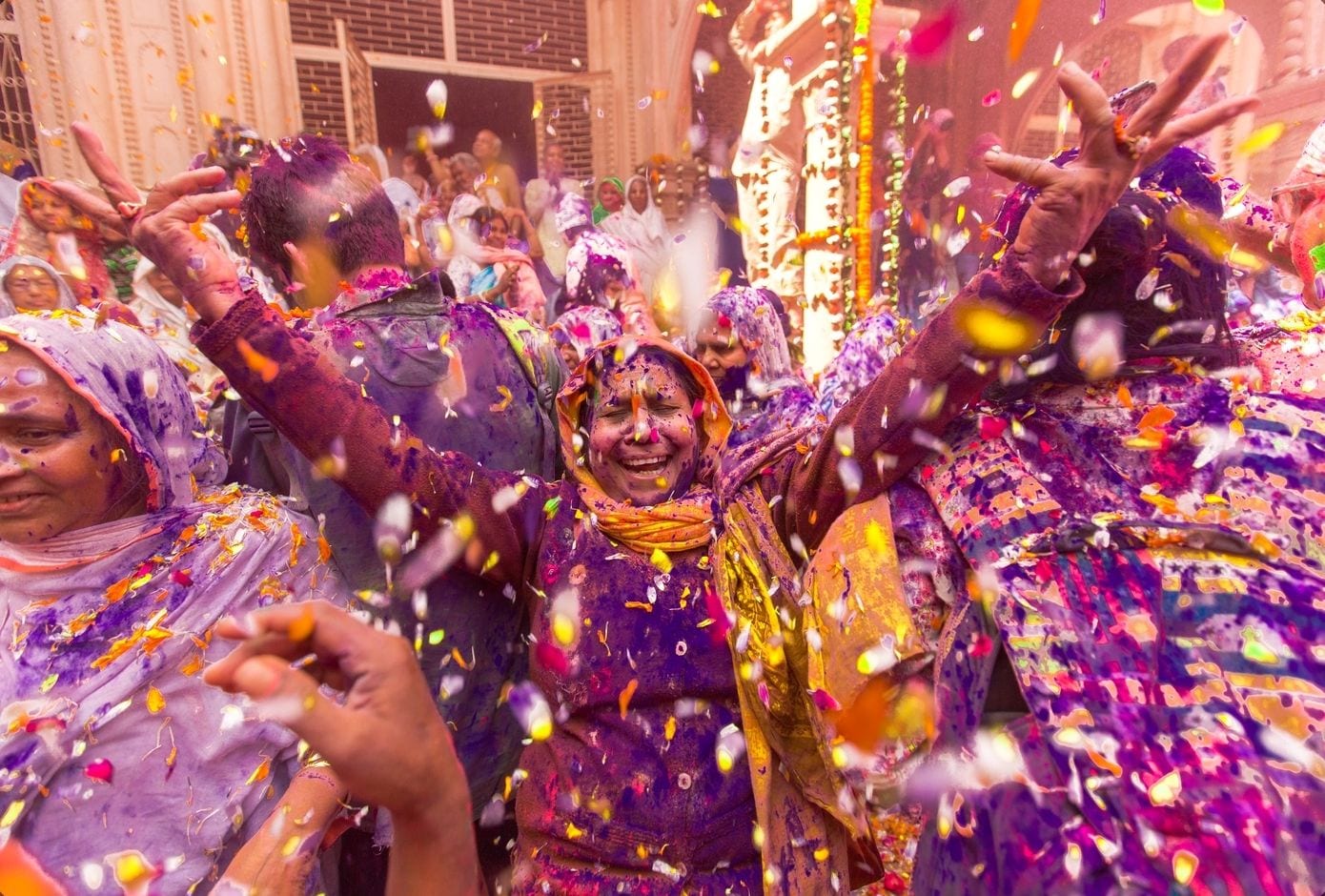 What is Phoolon Wali Holi?
Much like the distinct way of celebrating Holi in Barsana a couple of days before young Hindu faces are smeared in color across the whole country, Phoolon Wali Holi is also a celebration of Holi festival in India's Northern region Uttar Pradesh that boasts color and joy days before.
Instead of tossing color pigments in the air or dropping balloons with colored solutions in the crowd, the city turns into a blossoming field — the priests in the temple smear flowers on devotees, and flowers and rose, lotus, or marigold petals are thrown in the air. Flower Holi with flower petals raining can also be experienced in temples of Mathura and Vrindavan.
What are other unique regional types of Holi celebrations in India?
Holi is known by different names in India and celebrated differently across the regions. The Holi celebrations range from Shimoga or Rang Panchami in Maharashtra, where festivities can go on for a week, Royal Holi in Rajasthan with grand processions organized by the royal Mewar family of Udaipur, to Hola Mohalla in Punjab in North, where the Sikhs display traditional martial arts in celebration of the bravery of Sikh Warriors.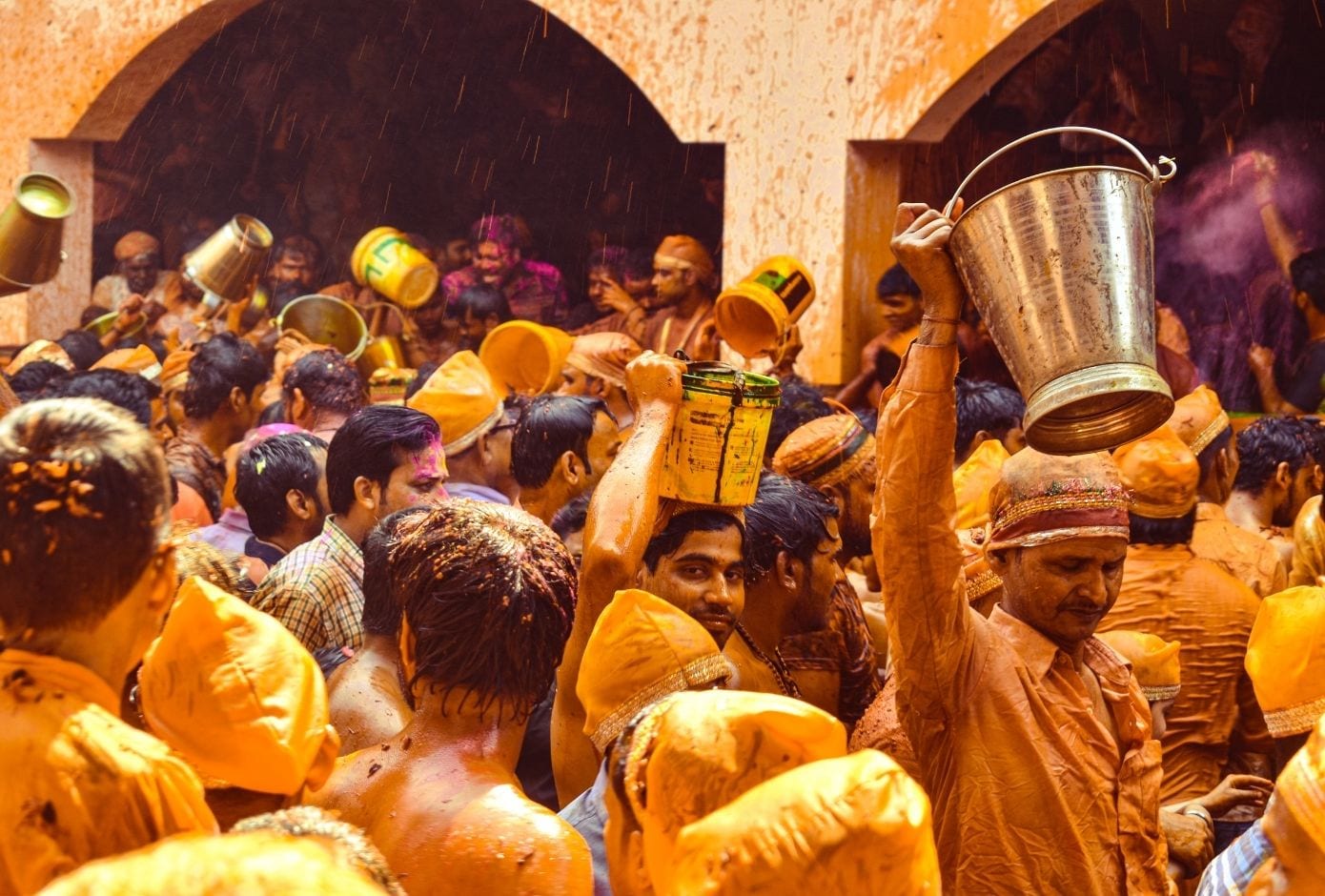 What is the history and meaning of the Holi festival?
Holi festival in India dates back to at least the 4th century. Holi in India was also noted by European traders since the 17th century. If you wish to experience the traditional Holi, it's a good idea to learn about the meaning behind these century-old Holi traditions.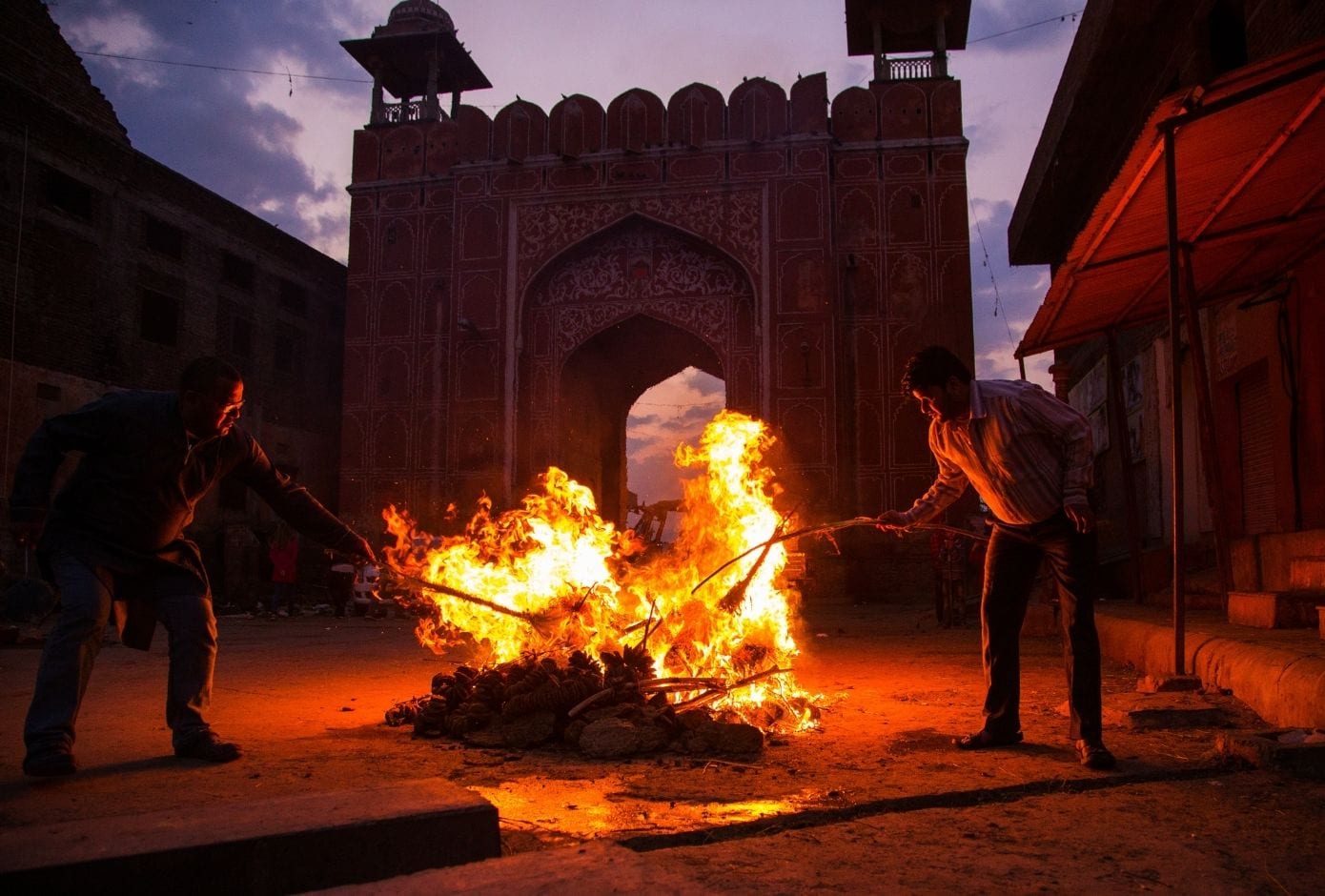 Holika Dahan Significance
Holika Dahan is celebrated by the burning pyre, singing, and dancing around the fire on the eve of Holi. The bonfire represents the burning of Holika demoness to save Prahlad, a king and devotee of Lord Vishnu, and the victory of good over evil.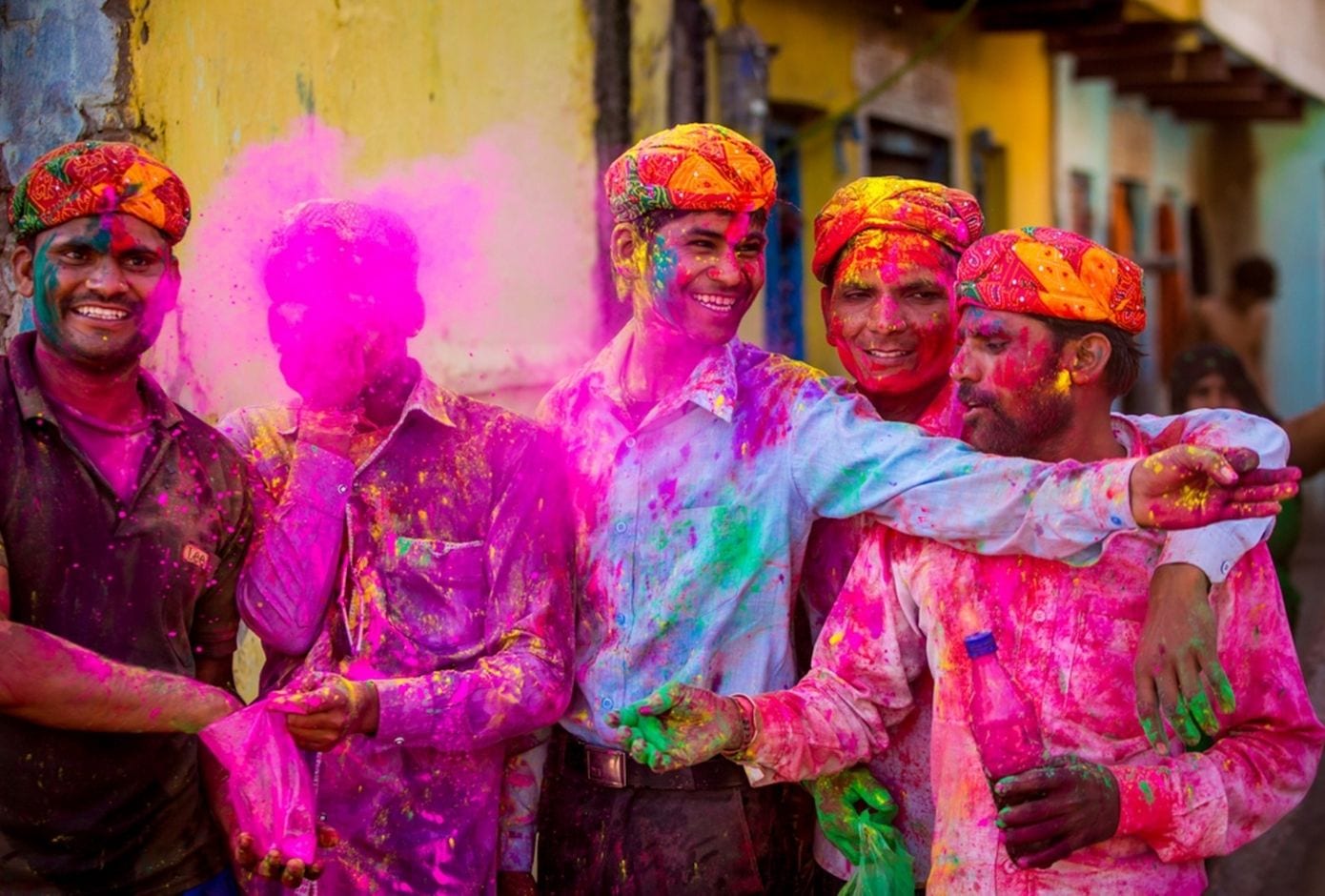 Play Holi Tradition Significance
The story of Radha and Krishna goes back to the region of Braj in Uttar Pradesh, where Krishna grew up. When he was a baby, he acquired blue skin color after drinking poisoned milk and would ask his mother whether Radha would like him because of his skin color. Krishna's mother told him to go and color Radha's face with any color — and when he did, they became a couple. Playing with colors, dancing, and singing along music of drums and other musical instruments is now a custom while spreading happiness and love. Thanksgiving for a good harvest used to be the origin of the festival centuries ago, and today, Flower Holi still largely carries the meaning of an agricultural feast.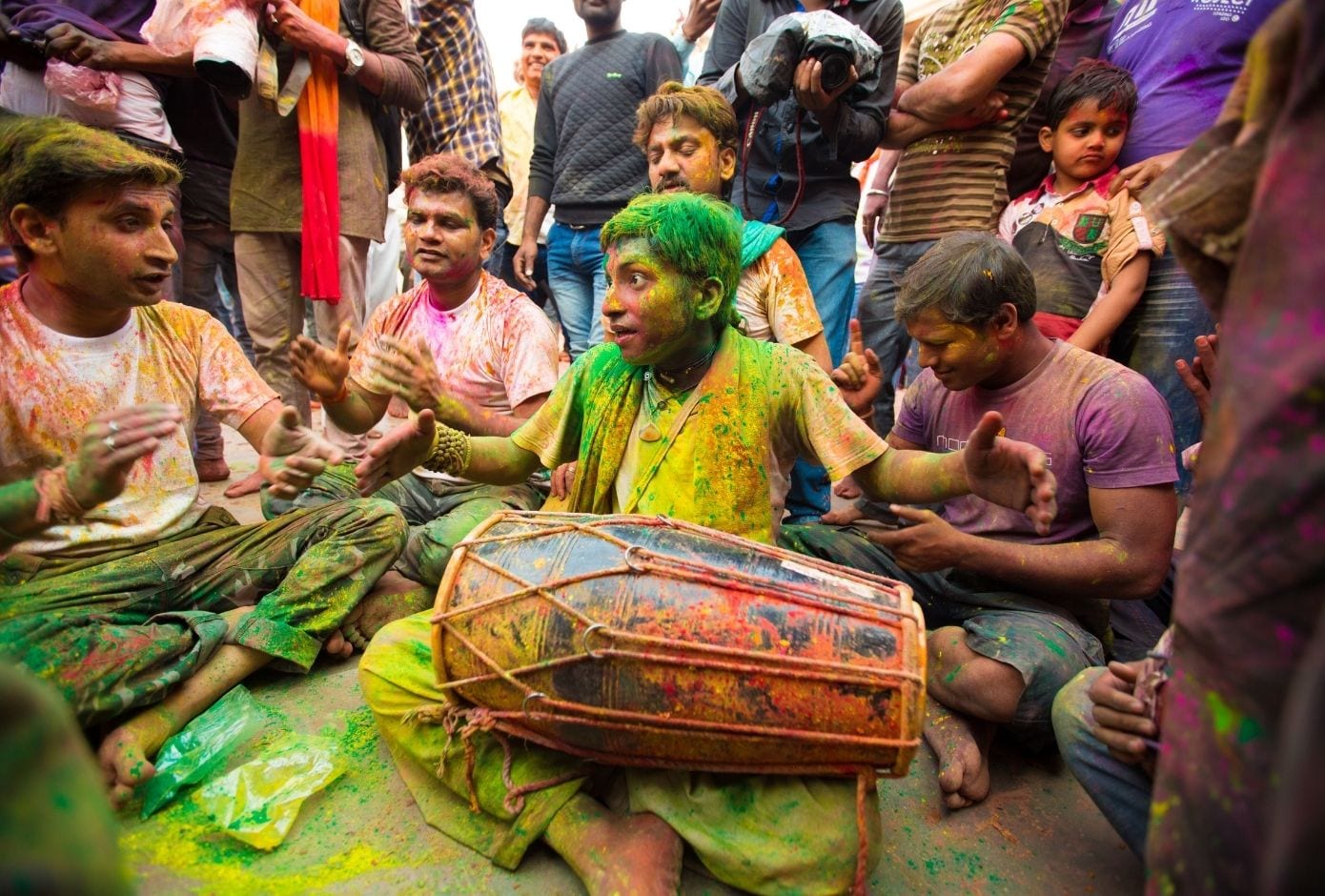 Celebrating Holi Festival
The Best Places to Travel for the Holi Festival in India
During Holi, people traveling to India search for authentic experiences, which can best be enjoyed in distinct places. We cover the things you need to know to celebrate Holi in India.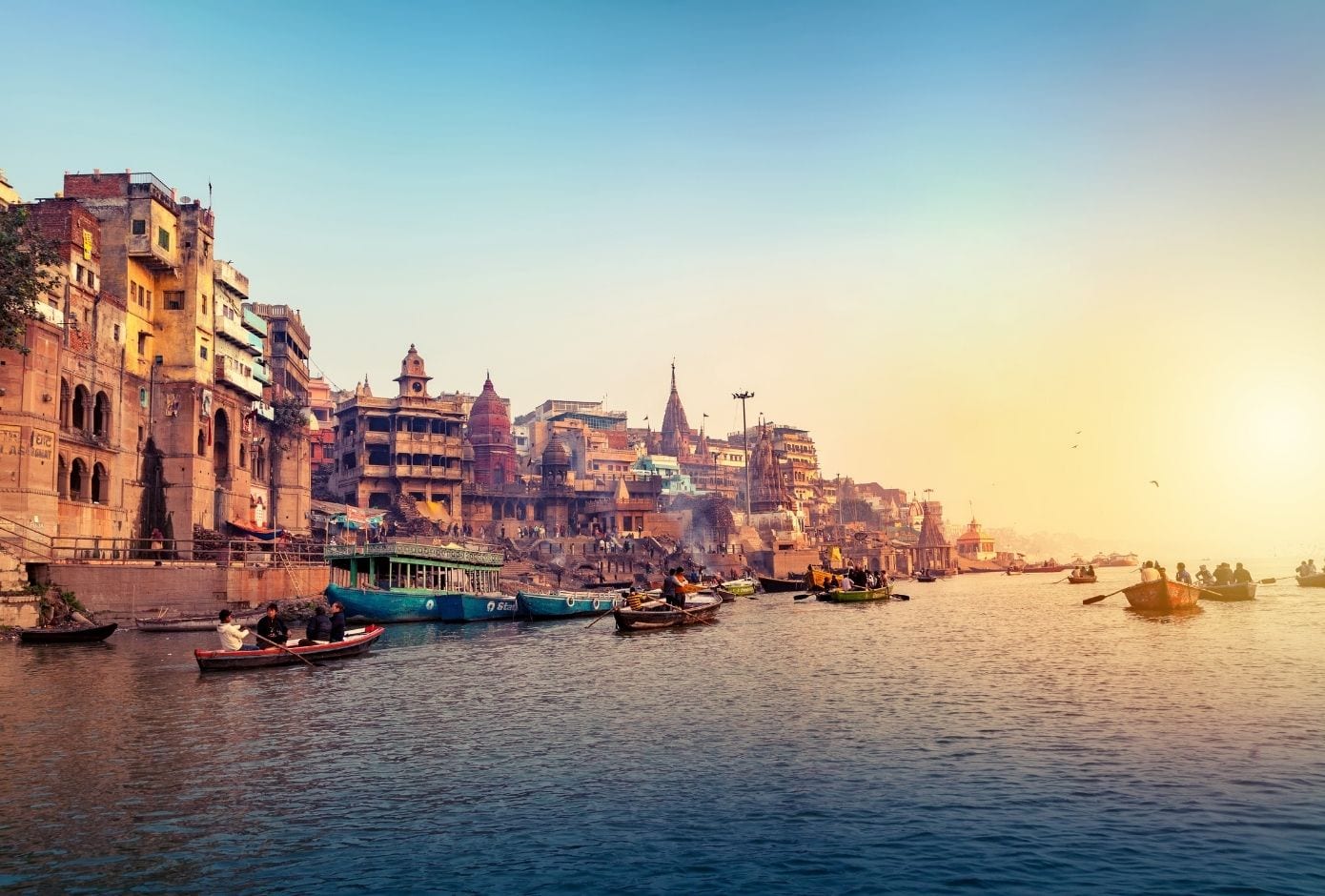 Uttar Pradesh
Holi festival in India is most widely celebrated around areas associated with Krishna's life, such as Braj, Mathura and Vrindavan, Barsana, and Nandgaon. These cities are a great choice for those who want to celebrate Holi in a large crowd and do not wish to step off the beaten tourist destination path, as the region receives the most tourists during Holi.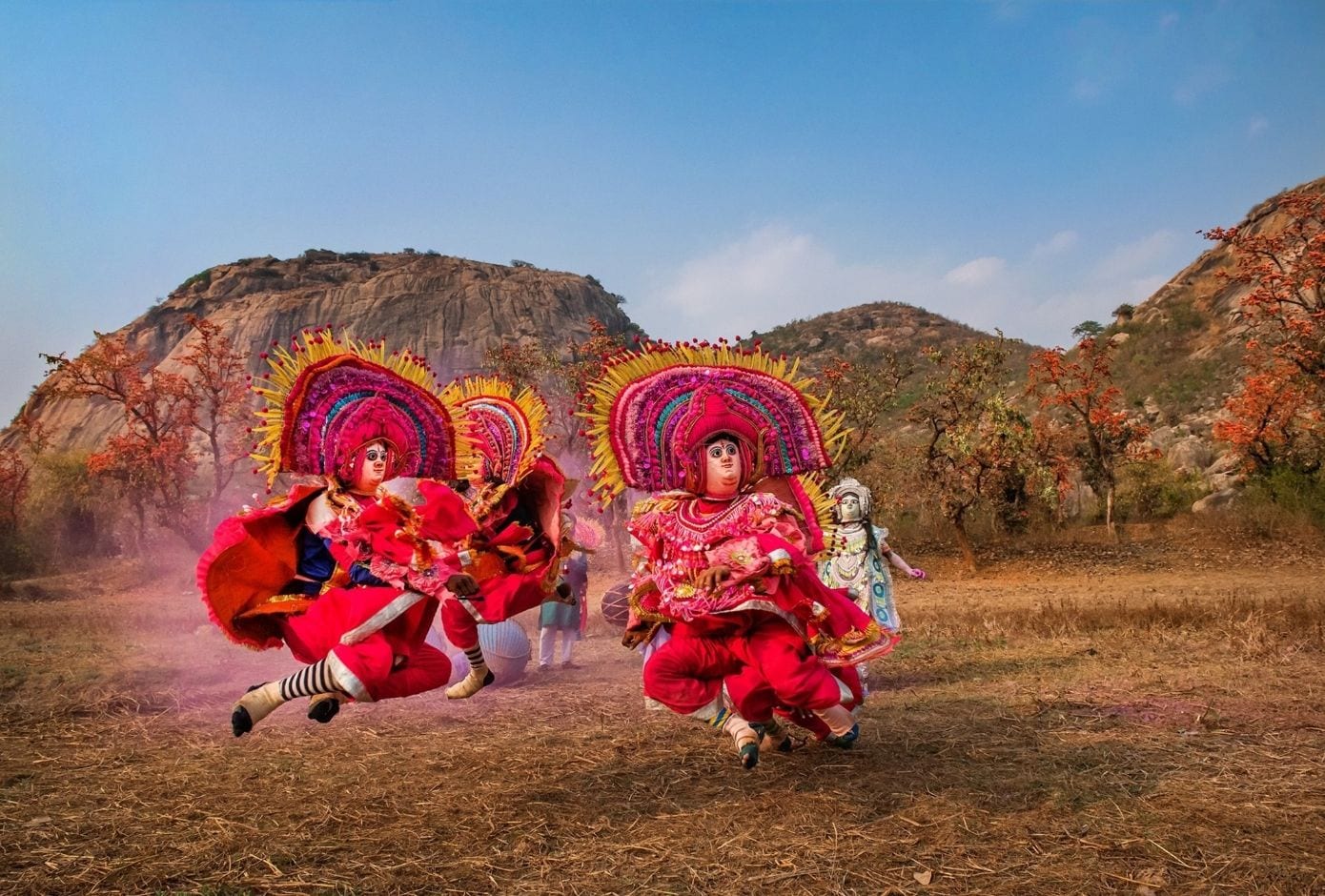 West Bengal
West Bengal celebrates Holi by a different name — Dol Jatra — with singing and dancing ( Chau dance in the picture). To experience a smaller—scale Holi celebration, you can go to Nimdih, a little-known village located on the border of West Bengal and Jharkhand, which has mostly a tribal population. There, folk songs are sung and dances performed. Traditional to the region, the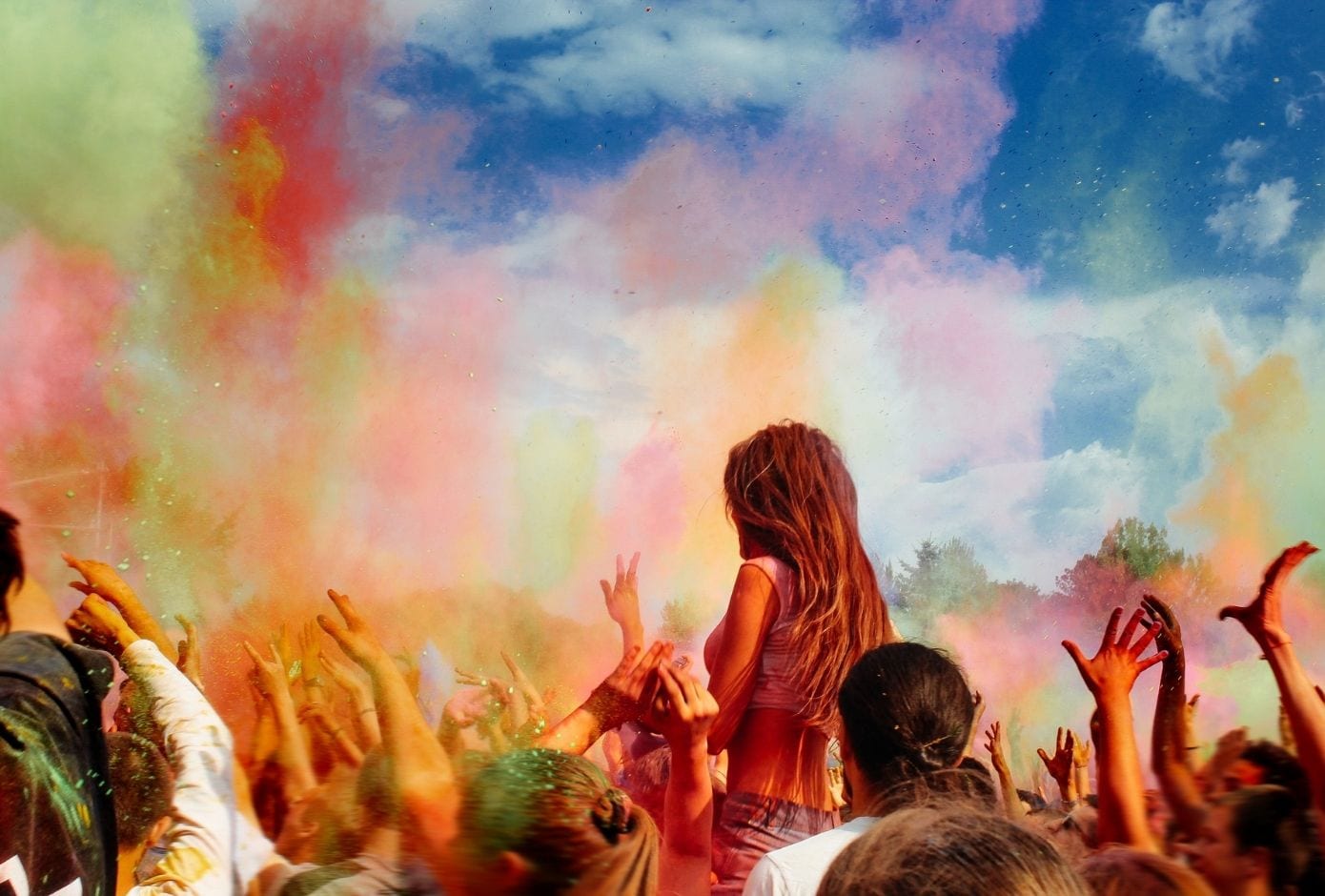 New Delhi
Delhi is home to some of the wildest Holi parties. With Holi Cow! Festival, or Holi Moo, as well as Unite Holi Music Festival and Holi Sangria taking place in New Delhi, the city is bustling with vividly colored experiences awaiting you.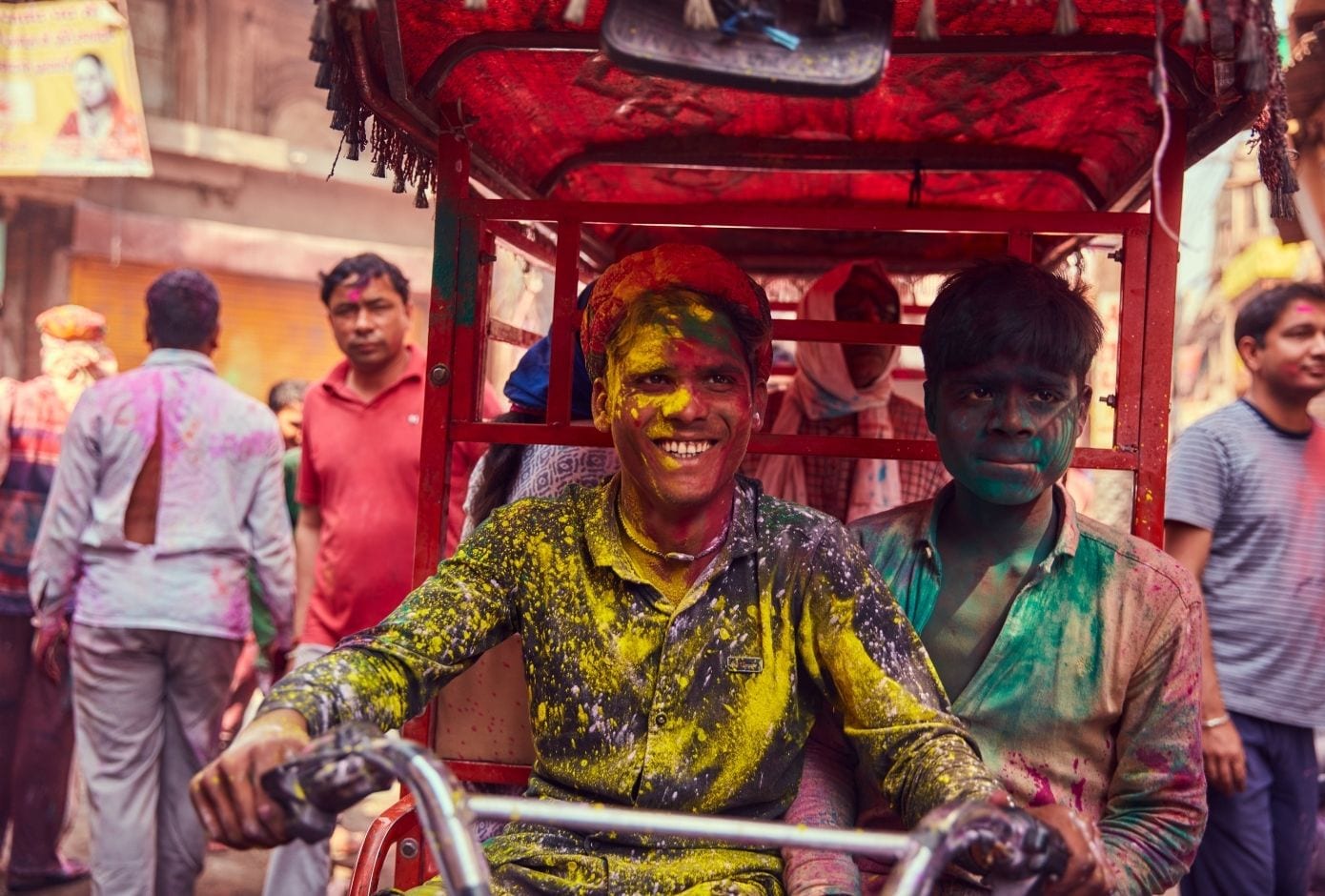 South India
Called Madan Mahotsav or Kama Mahotsav, Holi celebrations in South India revolve around God of Love. Although the Holi festival originates in the North, do expect to see the same playing with colors, but on a smaller scale. To see more traditional South India festivals, plan your visit around Pongal, Onam, or Ugadi.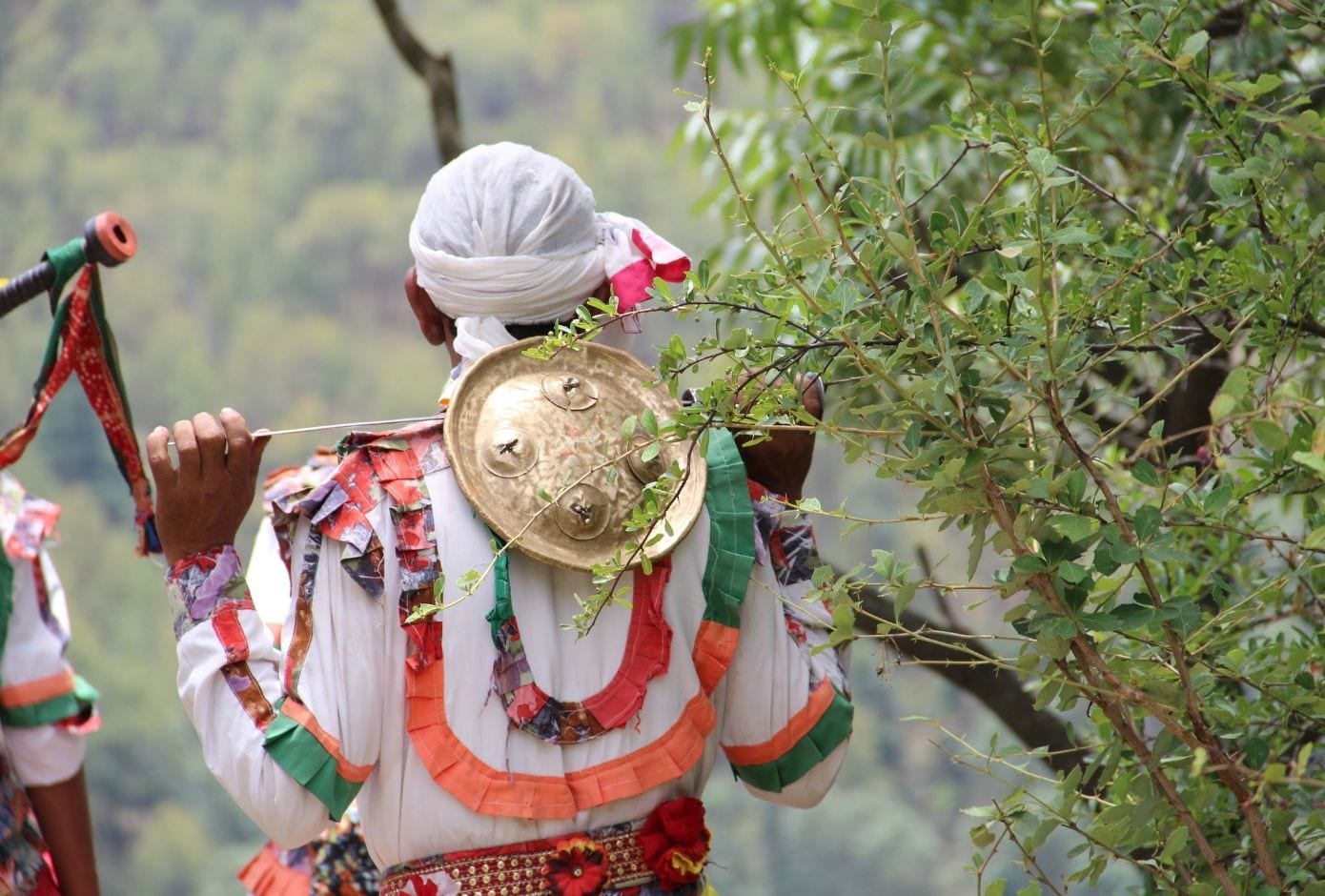 Uttarakhand
There, three forms of Holi are celebrated. Biathki Holi begins from the premises of temples where Holiyars (singers of Holi songs) gather to sing with instruments like tabla and harmonium. Later, during Khadi Holi, people — usually men — dressed in white nokdaar topi, churidar payjama, and kurta dance in groups, and visit houses of loved ones singing songs. During Mahila Holi, you can listen to folk songs sung by women, devoted to love and spirituality.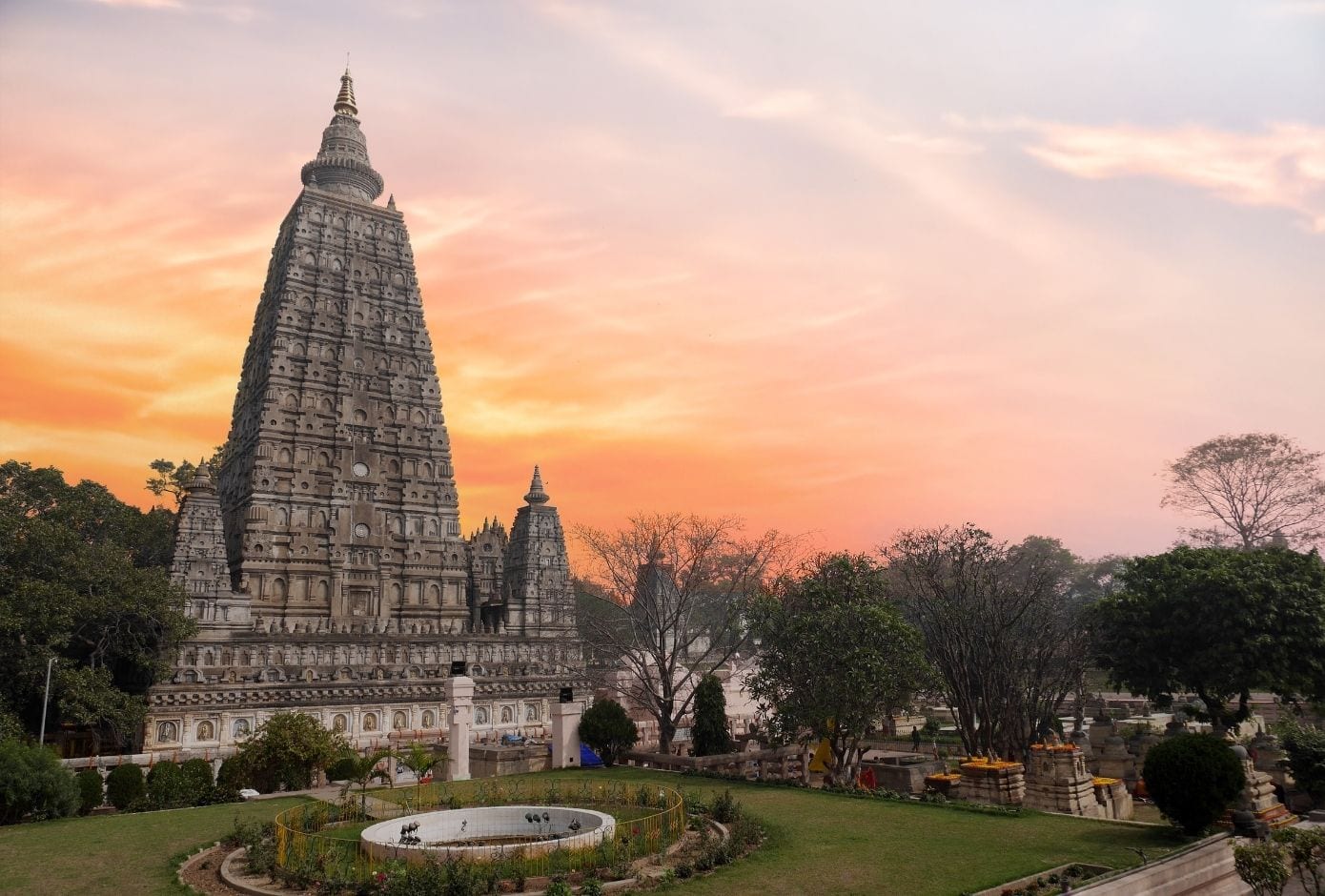 Bihar
In Bihar, be ready to get drenched in the mud! Playing Holi involves not only colored powders, but also mud, but it is worth all the fun! Just like other cities celebrating Holi in India, Bahar fills with joy and gaiety, as Bhojpuri folk songs are performed, and you can taste malpua, dahi vada, and other traditional dishes.
Where to Celebrate Holi Around the World
Holi festival celebrations take place all around the world, by the Indian diaspora and people inspired by the celebration of love, joy, and spring arrival. Holi—inspired events, as music festivals or color runs are also becoming increasingly popular. In addition to India, there are celebrations in Nepal, Canada, Jamaica, South Africa, Mauritius, Suriname, UK, and the US. People love to celebrate color, joy, love and the start of spring all around the world!
Tips for Celebrating Holi Festival
Buy colored powders without chemicals, and when possible, choose natural pigments
Some colors, like malachite green, have been linked to severe eye irritation, so it is best to keep sunglasses on and wear a face mask to avoid inhaling synthetic color pigments
To easily wash the colors off, smear your face and hair with coconut oil before heading out to play Holi
Wear a white top to allow colors to pop (but make sure you choose old clothes and shoes that can get wet)
The post The Holi Travel Guide to India: What it is and Where to Celebrate first appeared on CuddlyNest Travel Blog.